Sinag Maynila, the brainchild of director Brillante Mendoza and film producer Wilson Tieng, started with a goal to promote independent Filipino films that inspire, educate and enlighten audiences. Now on its fifth year, the festival opens with yet another set of competitive films that live up to their tagline, "Sine Lokal, Pang-Internasyonal".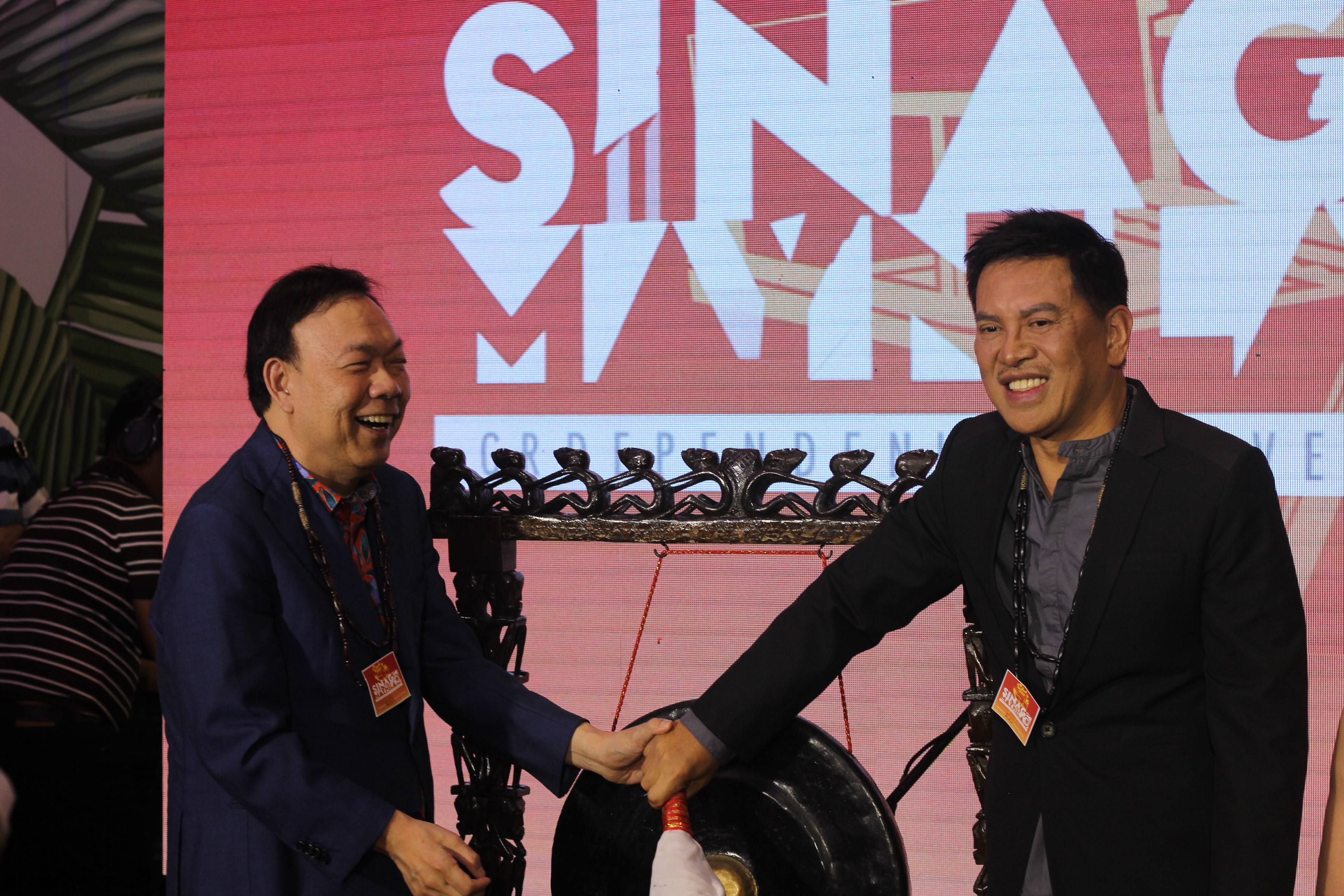 Sinag Maynila founders, Wilson Tieng and Brillante Mendoza officially opens the festival's fifth run at Director's Club, The Podium | Photo by Jam Victorio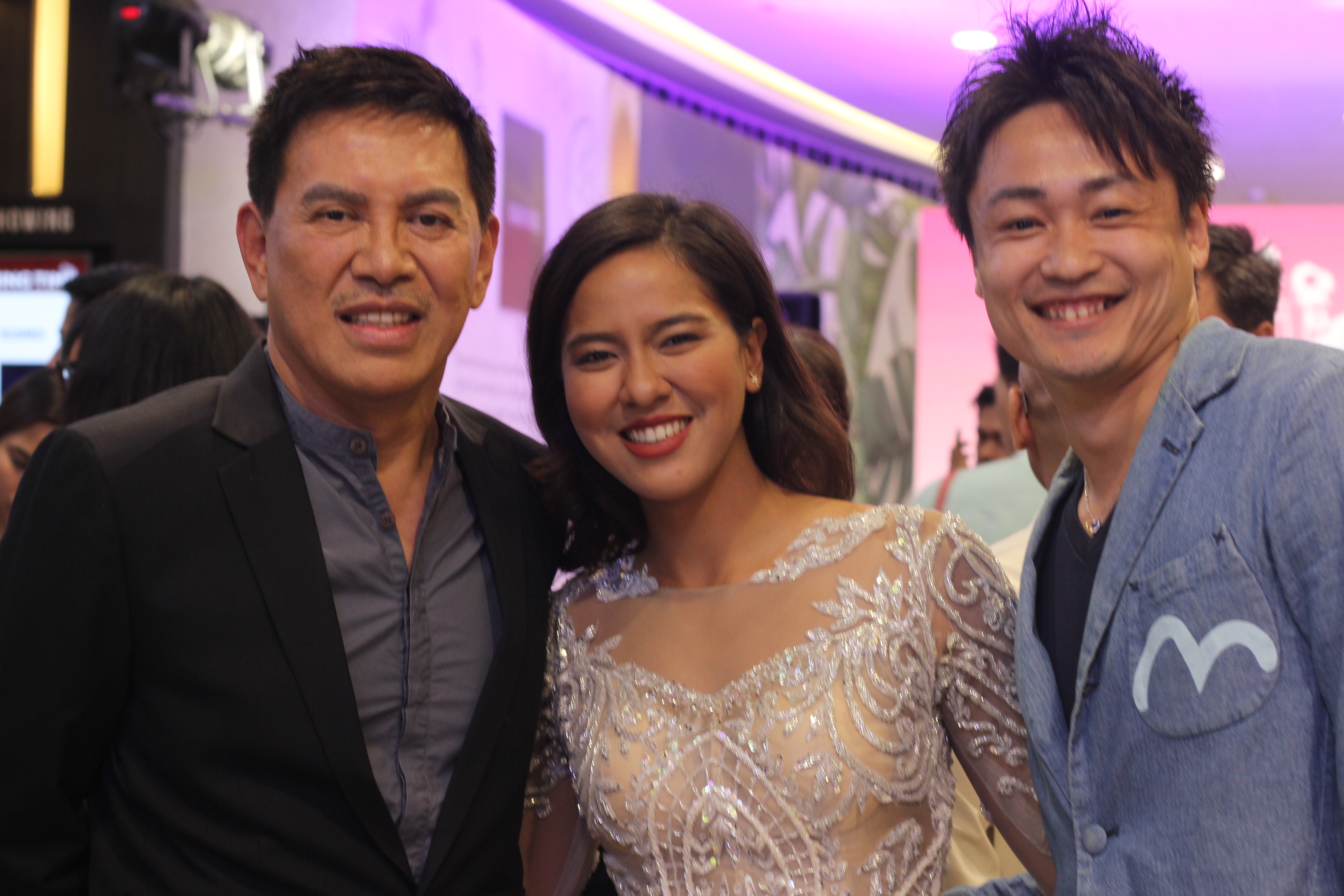 Brillante Mendoza with actress Mara Lopez pose for a photo | Photo by Jam Victorio
From April 4 to April 17, an exciting lineup of full-length and short films, documentaries and even workshops will be shown and held at selected SM cinemas (SM City North EDSA, SM Manila and SM Megamall), Gateway mall cinemas, and micro cinemas (Cinema 76, Black Maria Cinema, Cinema Centenario and Cinematheque Manila). Click here for the film schedules.
Check out the competing films, and other Sinag Maynila events below:
Akin ang Korona by Zig Madamba Dulay

Reality shows are mainstays of Philippine television, and this entry uses a comedic approach to mirror one on the big screen. In this Zig Dulay film, Angel Aquino plays the host of Akin ang Korona, a live show that tries to resolve "real-life conflicts" between two arguing parties who come from local communities. Yes, kind of like TV5's Face-to-Face. As the show struggles to keep its ratings, in comes a promdi boy and agrees to be a subject on the show in the hopes of finding his long-lost father.
Jesusa by Ronald Carballo
The trailer shows Jesusa, played by Sylvia Sanchez, whose life seems to revolve around poverty and grief. Sanchez' character has turned drug-crazy when her unfaithful husband moves in with his new mistress. The film depicts Jesusa's struggle to cope with an ugly society, in a setting that is not far from real life.
Jino to Mari by Joselito Altarejos
When asked to describe this film, indie director Joselito Altarejos refers to Jino to Mari as a "brave" one. It tells the story of a young man and a young mother, portrayed by Oliver Aquino and Angela Cortez, who were hired to act in a porn film.
In a quick chat with 8List during Sinag Maynila's opening night held at the Podium, Altarejos', who is known for his films about same-sex relationships, admits that his past works were controversial, and this one is possibly not an exception; it is his "most courageous movie to date." He describes Jino to Mari as "philosophical and humanist", and the "most provocative film that they've ever programmed in the festival."
Pailalim by Daniel Palacio
In Pailalim, Joem Bascon plays the role of gravedigger, who made a choice to dig a newly-buried body in exchange for money for his critically ill daughter. It's mostly shot in the cemetery, and Brillante Mendoza serves as the executive producer and creative consultant for the film.
Persons of Interest by Raltson Jover
Persons of Interest follows the story of a man with two different personalities: one is a blind cook accused of mass poisoning, and the other is a jolly, imaginary friend of his six-year-old son. The film is  by renowned director Raltson Jover, whose films were mostly shot in the province. The main cast all hail from Pampanga, and the film is shot in Mexico City.
Lakbayan by Lav Diaz, Brillante Mendoza, and Kidlat Tahimik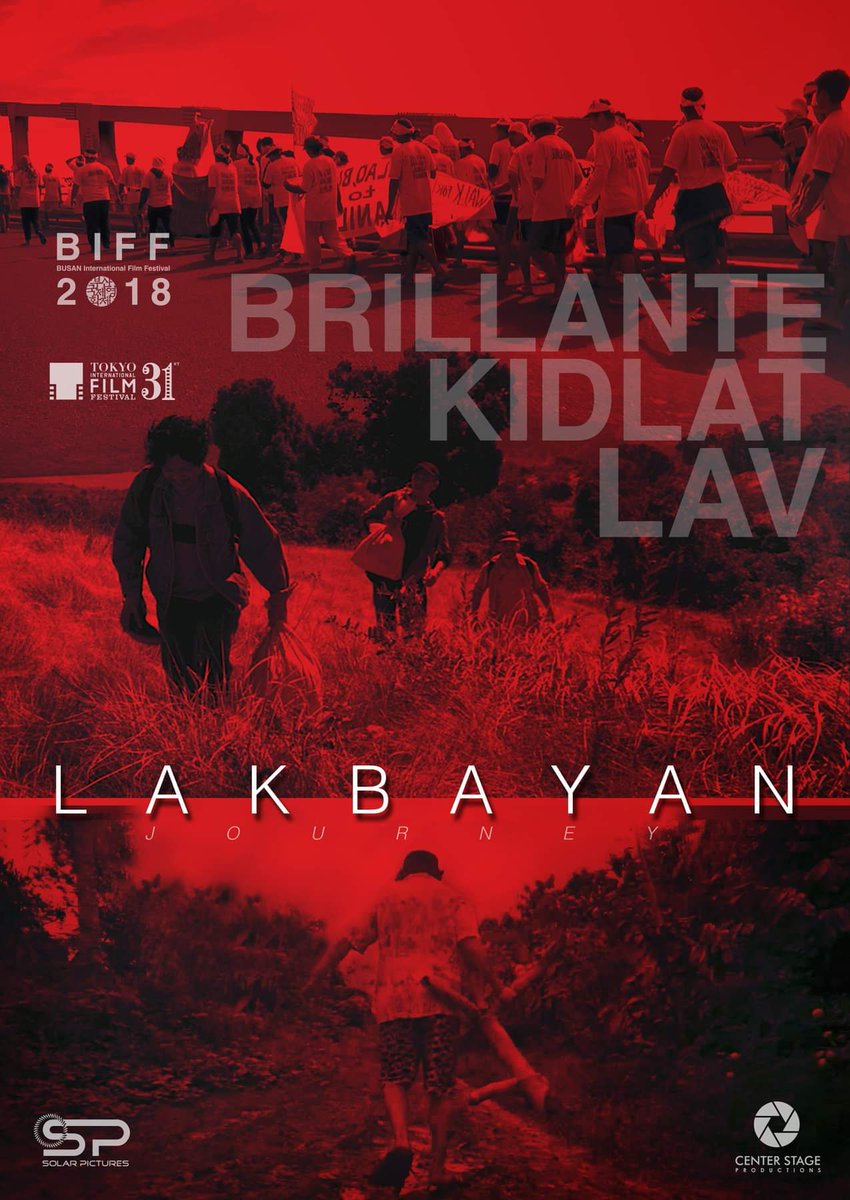 After going international, this three-part omnibus from three of Philippine cinema's most reputable auteurs is showing again on local screens, and it served as the festival's opening film. Lakbayan is an ode to the Philippine's socio-political culture through different stories and perspectives. The film starts with Lav Diaz' Hugaw, a story about young miner who challenges the status quo. Descofado, a film by Brillante Mendoza, tells the real-life story of the Sumilao farmers' journey, from Mindanao to Manila to reclaim their land. Kidlat Tahimik featured his son, Kabunyan de Guia, on his film titled "Lakaran ni Kabunyan." It's about a guy leaving his comfort zone and taking in his new circle, while appreciating the art and ethnic culture of the places they're crossing in between.
Journey

Journey tells three different stories as told by three directors from three different countries. A project by the Japan Foundation, this omnibus film showcases contemporary Asia in different perspectives. "The Sea," directed by Degena Yun (China) tells the story of a mother and child's journey along the Beijing sea. "Hekishu," a Japanese film by Daishi Matsunaga, centers on a Japanese businessman who is confronted by his emotions when he realized the societal impact of an infrastructure project he was involved in. "Variable No. 3", directed by Edwin and Nicholas Saputra (Indonesia), is about a travelling couple who was given an advice by a mysterious man.
This Asian-three fold mirror project is the festival's closing film, and will be shown on April 8 at The Podium.
Shorts, Documentaries and Workshops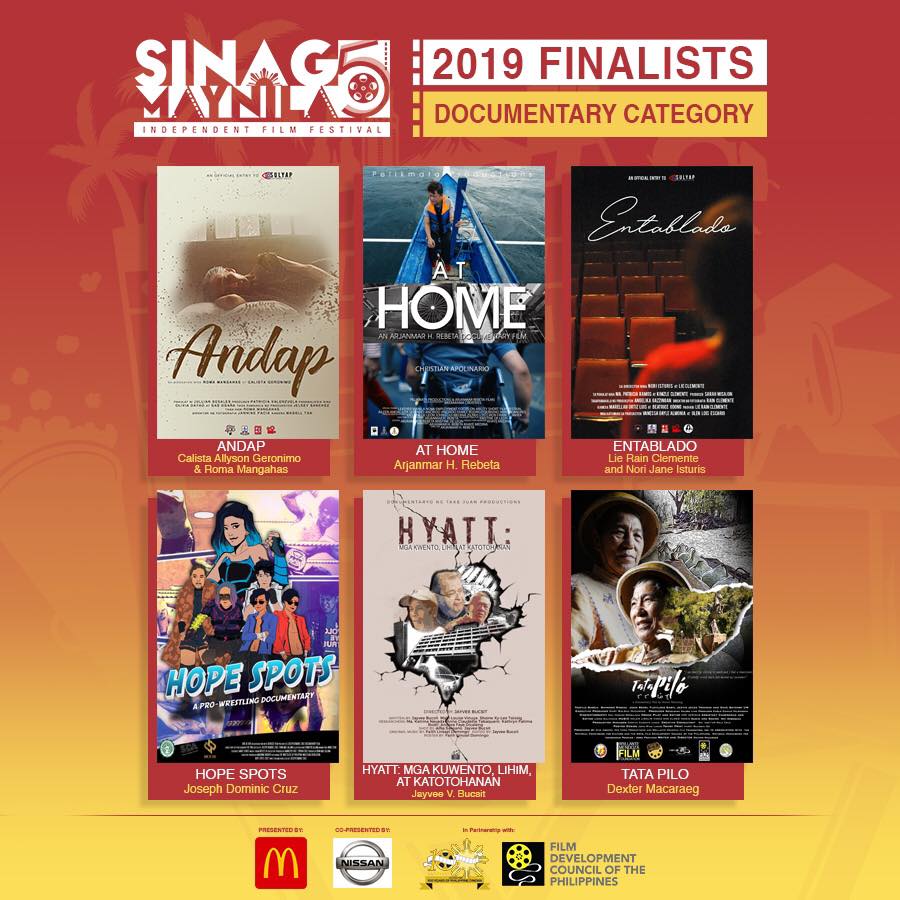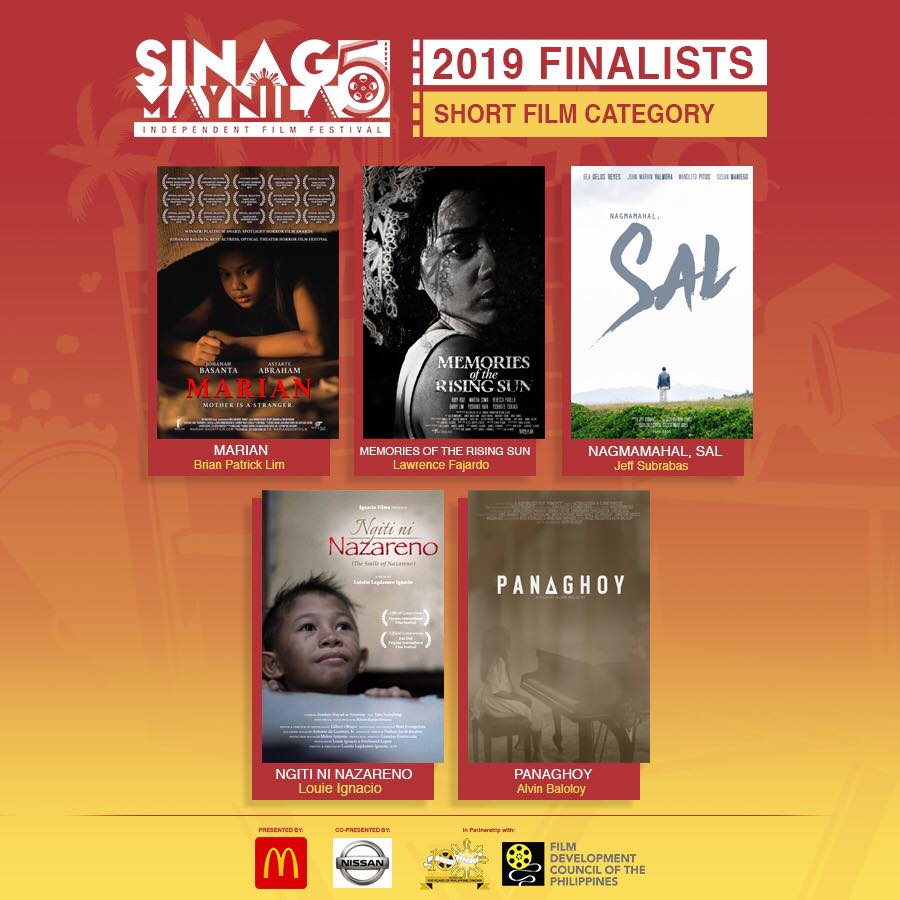 Aside from the full-length films mentioned above, Sinag Maynila 5 also has a shorts and documentary categories. The finalists for the Documentary category includes At Home by Arjanmar H. Rebeta, Entablado by Lie Rain Clemente and Nori Jane Isturis, Hope Sports by Joseph Dominic Cruz, Hyatt: Mga Kwento, Lihim at Katotohanan by Jayvee V. Biscuit, and Tata Pilo by Dexter Macaraeg.
Competing in the short film category are Bisperas by Raph Quincena, Dana Jung by John Rogers, Dude, Pare, Bro by Lora Cerdan, Kiss by Harlene Bautista, Kilos by Marjon Santos, Marian by Patrick Lim, Memories of the Rising Sun by Lawrence Fajardo, Nagmamahal, Sal by Jeff Subrabas, Ngiti ni Nazareno by Louie Ignacio and Panaghoy by Alvin Baloloy.
The winners for the respective categories will be announced at the Gabi ng Parangal which will be held on April 7 at Conrad Hotel, Pasay City.
Workshops and forums will also be held on different dates: Film Talks at SM City North EDSA on April 6, an environmental film screening and forum and film editing workshop on April 12 at Solar Century Tower.
What films are you planning to watch? Tell us in the comments section below!