In 2013, we were introduced to Anna, Elsa, and the rest of the Frozen (2013) crew in a film that would become memorable for its deft remixing of the classic Snow Queen fairy tale, stunning animation, post-modern sensibilities, and, yes, the song that your kids/nephews/nieces/etc. are probably still singing, "Let It Go". It's hard to believe that it's been 6 years since Frozen delighted audiences and critics alike, going on to become the highest-grossing animated film of all time, but now, Frozen II is here to continue the story. Will it fare as well?
Age of the Disney Sequel
As far as Disney Feature Animation releases go, we truly live in interesting times. This isn't in reference to Disney Plus's original content or the live action remakes of films such as The Lion King or Aladdin, but today's fans have no idea how good they've got, as far as proper sequels to their favorite Disney animated films goes. Indeed, younger viewers may be shocked to learn that, aside from Pixar sequels (Toy Story 4, etc), the only actual big screen sequels to Disney animated movies were The Rescuers Down Under (1990) and Wreck It Ralph 2 (2018)*.
Sequels which saw frequent rotation on the Disney Channel, such as Mulan II (2004) or Aladdin and the King of Thieves (1996) were low-budget affairs, originally released direct-to-video, featuring cheaper animation and fewer big-name voice actors. While there were some gems, the majority of these were largely forgettable. This practice ended when Pixar's John Lasseter took over as head of Disney Feature Animation and declared an end to the direct-to-video assembly line. From that point on, any future sequels would be made with proper care and respect, which resulted in the aforementioned interesting times we now enjoy, when the House of Mouse is able to put its full might behind proper sequels made by the creative teams who made the original films such hits.
*Return to Neverland(2002) doesn't count, as it was made by Disney's TV division and the decision to release it to cinemas was made at the last minute.
The Story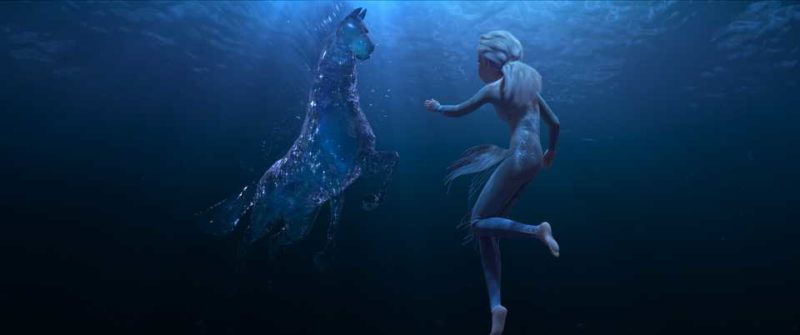 Three years after the reveal of her powers to the world, Queen Elsa (Idina Menzel, Rent) of Arendelle begins hearing a voice calling to her that may have links to a story told to her and her sister Anna (Kristen Bell, Veronica Mars) by their father, King Agnarr (Alfred Molina, Spider-Man 2). Determined to find the source of the voice, Anna and Elsa set off on a quest with their friends Kristoff (Jonathan Groff, TV's Mindhunter) and Olaff (Josh Gad, Beauty and the Beast) to find the source of the voice, and learn the truth about their kingdom's past. Along the way, in addition to facing elemental spirits representing earth, air, fire, and water, the relationship between the sisters will be tested, Kristoff will muster the courage to finally ask for Anna's hand in marriage, and Olaf the snowman will have an existential crisis in relation to his advancing age.
Growing with the Audience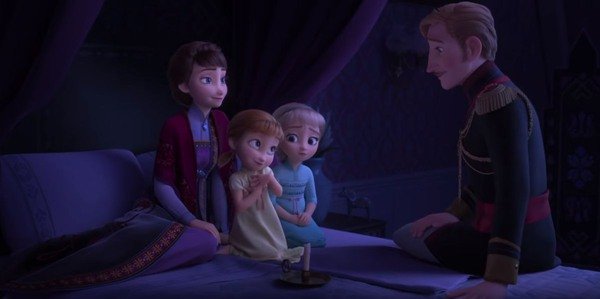 The most remarkable aspect of Frozen II is its willingness to not only go bigger than its predecessor in terms of visuals, narrative, and tone, but its seeming acknowledgment that its target audience has aged six years since the first film. Indeed, while one expects larger, more elaborate versions of everything they loved the last time around, sequels to animated films aren't really known for being brave enough to mature along with their viewers. Frozen II goes for broke, and it is refreshing.
Sister, Sister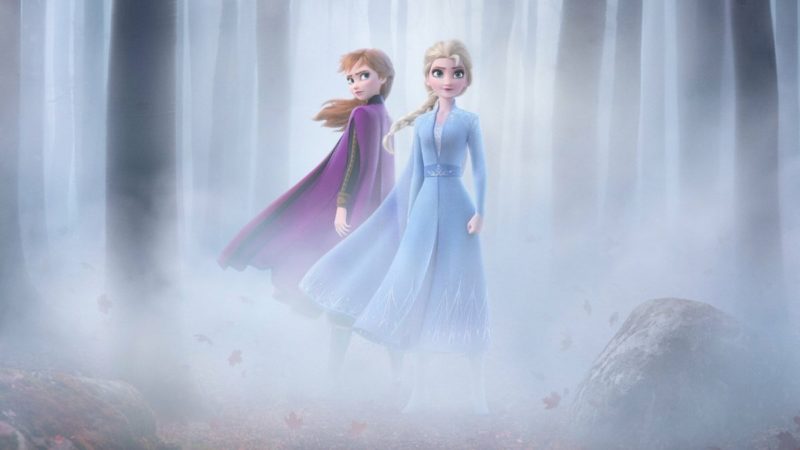 Anchoring it all, as in the first film, is the relationship between Anna and Elsa. Here, their bond is tested as Elsa decides to go off on her own to learn unpleasant truths, while Anna is forced to make her way across a magical land where each element has a distinct personality. Menzel and Bell play their parts well, in appropriately sisterly fashion; whether they're playing, bickering, or appealing to each other for trust and understanding, we believe it. If anything, the film leans on their pairing a bit too much, with Anna making one plea too many for Elsa to honor her promise that they would face future challenges together. Fortunately, there's enough going on around them that this doesn't become tiresome.
The Plot Thickens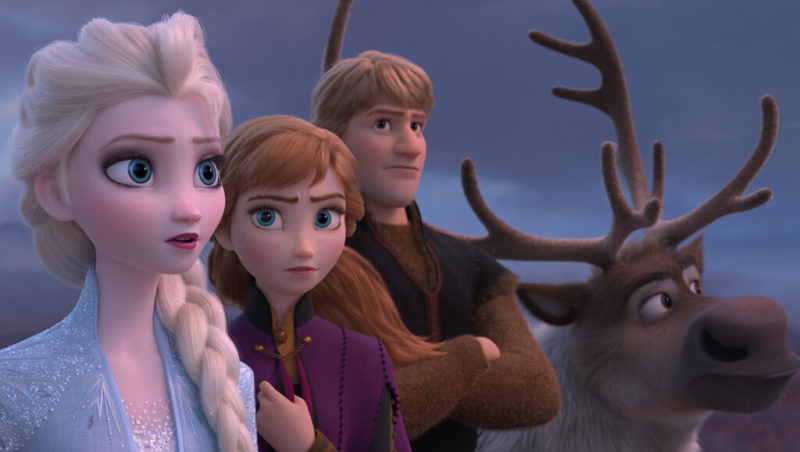 The plot of Frozen II goes into the history of Arendelle, and how it ties into Anna and Elsa's backstory with regard to the deaths of their parents many years ago. Now, this in itself would have been ripe material for a sequel, as it builds and expands on the characters and situations established in the first film, but Frozen II throws in a yarn about (clearly) indigenous people and the attempts of our heroes' ancestors to conquer them. It's a heavy topic for a Disney animation, and not one the studio has been altogether successful at tackling in the past (1995's Pocahontas comes to mind).
In any case, while the notion of the two ethnically opposed factions in conflict following a foul betrayal is one discussion, it is handled and acted rather well. The use of magic as a (literal) barrier between them and the rest of the world is an effective plot device, and the voice actors (including This Is Us's Sterling Kelby Brown) do their best to make it work.
Frozen II takes what began as a simple fairy tale and ratchets up the narrative, introducing new twists to the story, especially with regard to the origins of Elsa's powers, and the importance of making an effort to understand the people (and entities) we share our world with.
Visual Splendor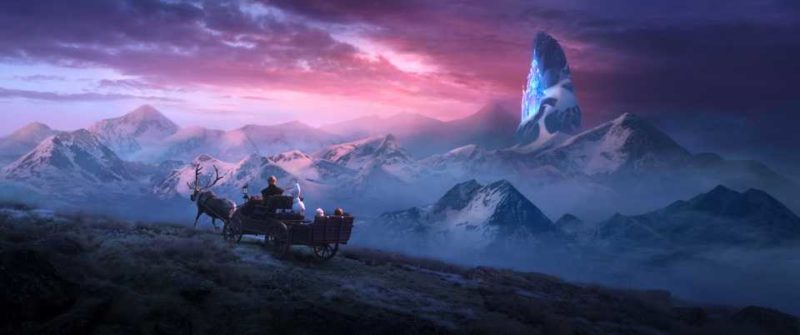 If the first film was a feast for the eyes, Disney outdoes itself here; from finely detailed forest landscapes to showstopping imaginative displays of Elsa's powers, Frozen II, as Frozen II is a veritable smorgasbord of visual wonders. While some of this was hinted at in the film's first teaser, with Elsa forming ice bridges and platforms in an attempt to cross a stretch of turbulent ocean, believe me when I say, you ain't seen nothing yet – from depictions of the four elementals and their respective powers, to enormous stone giants, Frozen II's use of computer-generated imagery is nothing less than magical.
Comic Relief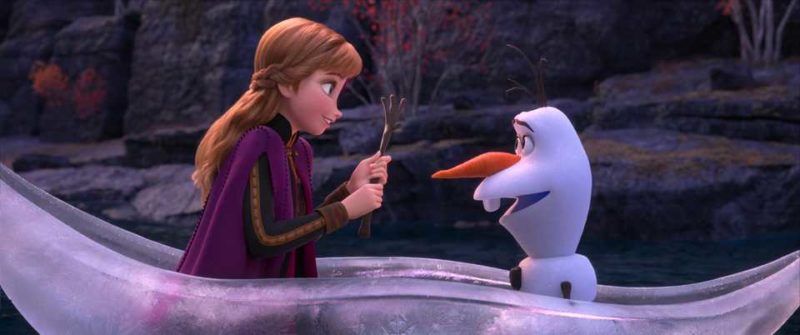 Whereas the previous film took knowing stabs at the Disney Princess convention of falling for the first guy they meet, the self-aware humor and observations are largely missing here, save for a blink-and-you'll-miss-it instance of Elsa wincing and shrugging at a reprise of her signature song.
Humor-wise, Olaf takes center stage; some of this is hilarious, as in a sequence where he recounts the entire events of the first film in inimitable fashion. Amusingly, the bulk of Olaf's material is derived from his desire to understand the changes and implications that come with growing older, leading him to pull a reverse-"Let It Go" (Elsa's signature song on giving into one's emotions) with a ditty on repressing his feelings. For Olaf fans, be sure to stick around after the credits, you won't be disappointed.
On the other hand, if you find yourself tiring of Olaf, Kristoff and his trusty moose, Sven, are there to pick up the comedic slack. While nothing could have prepared this reviewer for Kristoff busting out an awesomely retro rock ballad –complete with cheesy 80s music video backdrop– I am glad it's in there, for the older kids in the audience.
The Bottom Line
If you have kids, you know you're going to see this one sooner or later. Thankfully, Frozen II makes a fine argument for the proper treatment of Disney sequels, as a fine cast and a whimsical sense of humor offset one too many storylines in an ambitious, visually resplendent expansion to an animated classic.
Have you caught Frozen II in the cinemas? Let us know what you think of the sequel in the comments below!