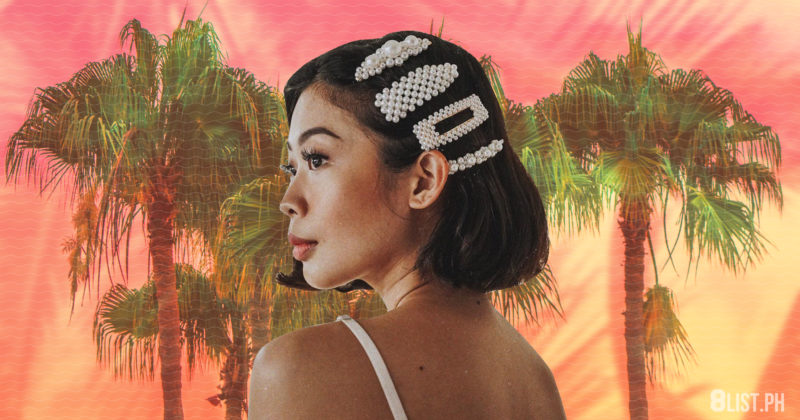 Store away those sweaters and jackets, if you haven't already, and update your wardrobe so it screams "Summer!" Our favorite season is here and we all know what that means: endless outings, reunions, and vacations – a ton of fun time with quality people. Look your best and feel your best, these fashion trends celebrities are incorporating into their daily looks might inspire you to amp up your OOTD game.
Sheer tops
View this post on Instagram
As summer hits full swing, it's bound to be extra warm and even your thin t-shirts might still cause you to break a sweat. Your wardrobe should have items that will guarantee you're cool – literally – for the summer. If you'd like to jump into that hubadera outfit trend, you might want to try this look. Wear a bralette, a bandeau, or just a decent bra underneath and you're good to go.
Where to buy: Zalora, Shop Copper, Bershka, Zara
Pretty hair clips
View this post on Instagram
View this post on Instagram
Complementing your hair with sparkly, pearly, or colorful big hair clips is a rising trend this summer. They're cute and they do the job of keeping your hair properly in place during the day. These clips are eye-catching and are such a fashion statement, you can even layer 4 at once on your hair and they'll still look pretty.
Where to buy: Caviar PH, Frost, Jukaykay
Layered necklace
View this post on Instagram
View this post on Instagram
If you think your OOTD is already pretty smashing, wait 'til you add the perfect jewelry to complement it. Most ladies ignore the power of jewelry, don't sleep on the pretty earrings and necklaces! Layer and mix and match necklaces and remember to be as creative as you can.
Where to buy: WearCari, Heyjow, The Cleanup Files, Quielle
This International Women's Month, Avon Philippines renews its Promise To Help End Violence Against Women And Girls. More than shining a light on the different forms of abuse and stigma these women encounter, Avon has also created the limited edition Free as a Butterfly jewelry set (Php 299) to help fund partner NGOs that empower abused victims and survivors through support, guidance, and inspiration with proceeds of the collection sales. Each purchase gives Php 50 to the programs which impact the lives of hundreds of Filipino women.

Vibrant tees and tops
View this post on Instagram
View this post on Instagram
When we think of summer, we think of epic sunsets and peaceful sunrises. We think of adventure and fashion and an explosion of color. Regardless if you do actually get to have a vacation by the beach this year, make it a point to be that explosion of summer color fun wherever you go. GUESS Philippines recently launched their Vibras collection designed by multiple Latin Grammy award winner J Balvin; it brings a piece of 90's Miami vibe to the Philippines. And aren't you obsessed with Issa Pressman's colorful shorts?!
Where to buy: GUESS Stores: Glorietta, SM Megamall, Trinoma, Robinson's Ermita, Ayala Alabang Town Center, and Ayala Cebu.
Denim fashion
View this post on Instagram
View this post on Instagram
One item that should definitely be in your wardrobe this summer is denim; it's something that's guaranteed will never go out of style. From ripped jeans, trucker jackets, denim shorts, and even graphic tees, you'll never find pieces as good looking and as iconic as Levi's. The greatest thing about denim is that you can mix and match it with almost anything from your wardrobe and you'll still look fab. Put a denim jacket on top of that sleeveless dress, pair that tee with denim shorts, or wear those ripped jeans with a polo!
Fanny packs
View this post on Instagram
View this post on Instagram
The popularity of belt bags has risen and we're definitely here for it. Whoever said they're only for bus conductors or vendors is wrong – they're the most practical and most throwback 90s item! You just belt them on your waist and stash your important items: phone, passport, and wallet, all within easy reach. These babies free you from heavy backpacks and uncomfortable shoulder bags and they make you look cool!
Where to buy: Tropically Made,  Shopee, Wear Lucida, Free Beer Friday Co.
Ear cuffs
View this post on Instagram
View this post on Instagram
Since Catriona's Miss Universe win, we've all contemplated getting nice ear cuffs to accentuate our own ears. Why not buy one for yourself this summer? It doesn't have to be as bold as Cat's, it could be dainty and elegant or whatever style you prefer. Ear cuffs are perfect for anything whether you're going to the beach, everyday office look, or even formal gatherings. Plus, they add a little bit of spice to your Instagram photos!
Where to buy: Jukaykay, Tessera Jewelry,  Lilith
Chunky sneaks
View this post on Instagram
View this post on Instagram
Chunky sneakers – gotta love them. Although we like our plain white normal sneakers for everyday wearing, huge chunky sneakers are scene stealers we equally appreciate. With the amount of padding and cushion on your feet, they're comfortable to walk distances with. Wear a loose shirt tucked in classic denim shorts and chunky sneakers and you're ready for the day.
Where to buy: Fila PH, Adidas PH, WorldBalance PH, Nike PH
What's your style going to be this summer? Share it with us below!