Isn't it just ironic that the most wholesome source of entertainment we have on the internet right now is a former macho dancer gyrating just to spread good vibes for everyone? Say what you want about Dante Gulapa, but the man has proven to be a better instant celebrity than most other instant celebrities that came before him, seeing as nobody who has worked with the man has ​a single bad thing to say​ about his work ethic. Neither are we being inundated with tell-alls from people about his numerous affairs and ​questionable life choices.​ The only thing missing is a guarantee that he'd never leverage his popularity for a political run, and he'd practically be a unicorn.
Like we said: wholesome. A macho dancer. Who would have thought?
One thing people don't realize about Mr. Gulapa, though, is that his dance moves, as mesmerizing as they are, happen to be subtle homages to some of the best wordsmiths we've ever known. Where Ex-B was all about ​hidden philosophical messages,​ Big Papa Dante is all about poets. And not just the poet he likes showing off while dancing – some of the most important names of all time.
Yes, Dante Gulapa isn't just macho dancing: he's doing an interpretive dance, and here are just 8 of the poets who inspired 8 of his dance moves:
Halukay Ube: Soul Mates, by Lang Leav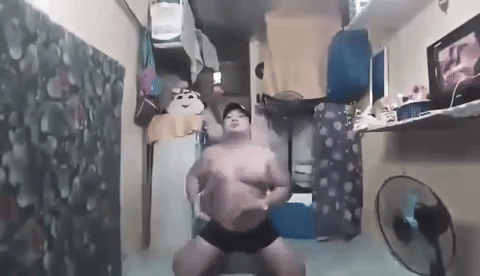 "I don't know how you are so familiar to me—
or why it feels less like I am getting to know you and more as though I am remembering who you are. How every smile, every whisper brings me closer to the impossible conclusion that I have known you before, I have loved you before—in another time, a different place, some other existence."
The Move: ​Dante Gulapa takes all the energy from the ground, and gathers it while he is kneeling. While this move hasn't officially been named, "Halukay Ube" seems to be perfectly apt.
The Symbolism: ​Gather energy from the self, for the self. Halukay Ube seems to be a dance step that is almost narcissistic in nature, yet self-aware enough to hint at its knowledge that it is shallow and self-referential.
The Poet: ​Lang Leav​ is perhaps the most contemporary poet in this list, and arguably also the most controversial. While many of us may have opinions about her and whether or not she's a great poet, it's precisely her contemporary, almost conversational style that makes her so accessible to today's poetry readers.
Her poetry can be classified as narcissistic, self-indulgent, and often wallowing. Dante Gulapa took all these qualities and added in a dash of self-awareness to actually improve​ on the Lang Leav formula. Hard to argue with that.
Rolling Thunder: Do Not Go Gentle Into That Good Night, by Dylan Thomas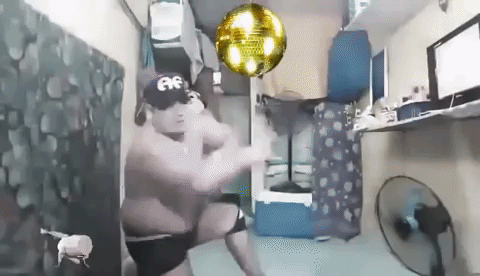 "Grave men, near death, who see with blinding sight
Blind eyes could blaze like meteors and be gay, 
Rage, rage against the dying of the light." 
The Move: ​It's the macho dancer staple we all know and love – Dante Gulapa makes rolling motions with both hands as if to simulate punching a speed bag in a boxing gym. It's a move everyone has associated with macho dancing even long before Mr. Gulapa came into the picture.
The Symbolism: ​You have to roll with the punches and to keep on going, no matter what life hands you. Adversity should never stop you, and if you're going to go out, you want to go out in a blaze of glory, going down swinging, instead of disappearing in passive resignation.
The Poet: ​Dylan Thomas's​ most popular work reflects this never-say-die attitude, even in the face of death. It was his plea to his father to not just go quietly that defined his magnum opus, as far as most fans of poetry are concerned. Dante Gulapa faced ​so much adversity​ in his life, too, from being a macho dancer to having his place of work raided to his own wife initially feeling disgusted over his viral videos, yet here he is, still facing the world with positivity. Master Daigo is anything but gentle about going into that good night.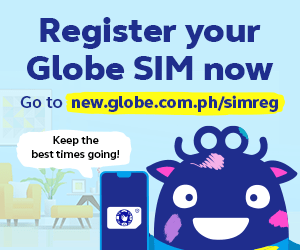 Emote-Emote: On His Blindness, by John Milton

"​Doth God exact day-labour, light denied?" 
I fondly ask. But Patience, to prevent 
That murmur, soon replies: "God doth not need 
Either man's work or his own gifts: who best 
Bear his mild yoke, they serve him best." 
The Move: ​Naming the move himself, Big Papa Dante starts off by looking like he's headed into his usual skating move, but instead folds into himself, as if he's shy, or perhaps, even ashamed of himself.
The Symbolism: ​Macho dancing is often stigmatized as shameful mostly because of its sexual implications. But the thing is if he's not hurting anyone and he's not deceiving anyone, is it not still dignified work in the end?
The Poet: ​John Milton​ is often regarded as a poet who knows how to pack symbolism and depth in every corner of his writing. His style was literally epic, as he often wrote with the grand scale of an epic, and it shows. But as he aged and slowly turned blind, he asked himself if God was happy with what he has accomplished. Like Dante, this introspection is something Milton goes through, coming to the conclusion that in bearing his hardships as God has given unto him, he is indeed honoring God, which, no doubt, is something Big Papa D can relate to.
Skateboard: The Road Not Taken, by Robert Frost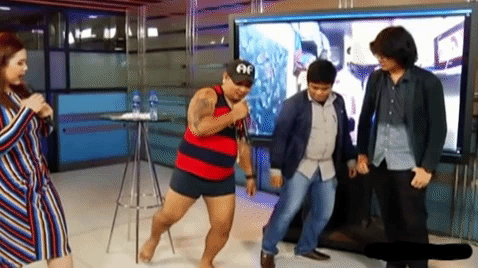 "I shall be telling this with a sigh
Somewhere ages and ages hence: 
Two roads diverged in a wood, and I— 
I took the one less traveled by, 
And that has made all the difference."
The Move: ​One of the most famous moves in his repertoire, this is the one where Mr. Gulapa moves from side to side as if he's skating, which then transitions to his #1 move, but more on that later.
The Symbolism: ​Mr. Gulapa's life experiences have taken him down a unique road, and it is a road that he looks on with fondness as he travels down it.
The Poet: ​Oh, please. We all know ​Robert Frost.​ As one of the greatest modernist poets, his masterpiece, "The Road Not Taken," is often recognized in the same breath as "Invictus," by William Ernest Henley, which gave the world the line "I am the captain of my fate, the master of my soul." Dante Gulapa is forging in the road less traveled, and we are all witnesses to his journey.
Pating: The Tiger, by William Blake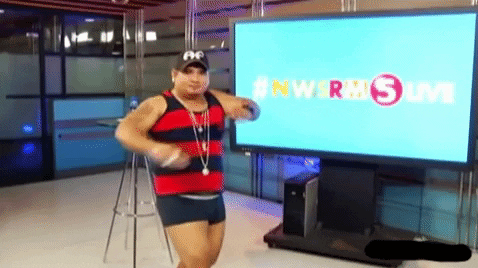 "​Tiger Tiger burning bright, 
In the forests of the night: 
What immortal hand or eye, 
Dare frame thy fearful symmetry?" 
The Move: ​As if raising his hands in prayer, Dante Gulapa suddenly puts his clasped hands up to his head and continues gyrating, and by the name of the move, it is both prayer-like and an ode to one of the apex predators of the world – the shark.
The Symbolism: ​We praise God for His goodness because He made all things possible, but dare we ask if this possibility is also what led to the presence of evil and misery?
The Poet: ​William Blake,​ one of the key figures of Romanticism, asked the very same question Dante's Pating dance move asks – why did a good and loving God allow for such evil and misery to enter His creation? It is a deep discussion we've often had, and always, the answer has boiled down to our exercise of free will. It is our choices that bring upon us our misery and evil, not God's creation itself.
The Scorpion: The New Colossus, by Emma Lazarus
"Give me your tired, your poor, 
Your huddled masses yearning to breathe free, 
The wretched refuse of your teeming shore. 
Send these, the homeless, tempest-tossed to me, 
I lift my lamp beside the golden door!" 
The Move: ​Dante Gulapa drops on all fours, then proceeds to raise one leg to resemble the leg of a scorpion. Fairly self-explanatory, this one.
The Symbolism: ​It may seem merely a symbol of betrayal or venom, but the scorpion move is an act of defiance from a position of vulnerability. It is an act of acceptance and humility through the calm realization of one's capabilities. But yes, it is ​also​ a show of betrayal and venom.
The Poet:​ ​Emma Lazarus's​ poem is famous not only because it is a beautiful sonnet, but also because it can be found inscribed on the base of New York's Statue of Liberty. It represents America's desire to accept the cast-offs, the rejects, those who are forgotten by society, for America to lovingly welcome in her arms. Given how the immigration situation in America has grown to absurd proportions, and how many Americans now insist those who hail from other nations should "go back to where they came from," The Scorpion symbolizes the ultimate betrayal of a nation that once begged everyone to send her their outcasts that she may turn them into something far better as they turned their back on their own ideals.
Robotech: We Wear The Mask, by Paul Lawrence Dunbar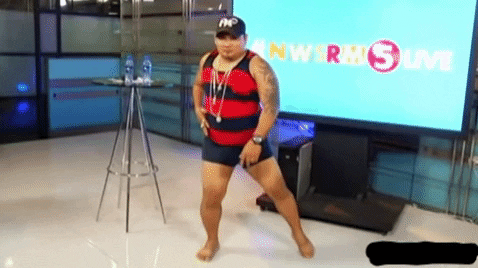 "We wear the mask that grins and lies, 
It hides our cheeks and shades our eyes,— 
This debt we pay to human guile; 
With torn and bleeding hearts we smile" 
The Move: ​Jerking back and forth as if almost stuttering, Dante Gulapa dances from side to side as if he were dancing like the sexiest robot alive. Whoah. Domo arigato, Mr. Roboto!
The Symbolism: ​Are we human? Are we machine? Are we just pieces on the board of people and powers far beyond our ken? We think we are in control but are we merely puppets? Perhaps, this is the exact opposite of Ultron's and Pinnochio's ​"There are no strings on me,"​ as one acknowledges their lack of autonomy.
The Poet: ​Paul Lawrence Dunbar​ stands out in American literary history for writing in a way that evoked the African-American "dialect" of the English language, a dichotomy, and code-switching that exists to this day. Robotech is an attempt to represent that dichotomy and duplicity. After all, should we not wear masks to bring forward a self-others would desire? Dante Gulapa, in all irony, expressed the real him, and not merely an artifice in performing the Robotech.
The Flying Eagle: How Do I Love Thee, by Elizabeth Barrett Browning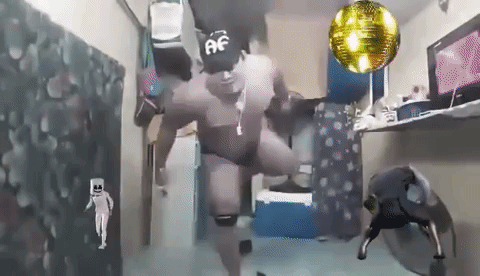 "How do I love thee? Let me count the ways. 
I love thee to the depth and breadth and height 
My soul can reach, when feeling out of sight "
The Move: ​This is Papa Dante's signature move. With one leg raised up, he flaps his arms. Like an eagle. Of course.
The Symbolism: ​To fly and to free one's self. To love with reckless abandon. To give one's all. Basically, anything that has to do with liberation and freedom, the Flying Eagle epitomizes.
The Poet: ​Well, few poems are more popular than this one, to say the least. ​Elizabeth Barrett Browning's​ unmistakably Victorian poetic style evokes spirituality and faith, as her love is characterized as passionate yet pure. In "How Do I Love Thee," her love is measured beyond measure, only by the lengths her soul can reach. The Flying Eagle, quite simply, is an attempt to approximate that flight of soul, and its purity and love.
What's your favorite move? Tell us, don't show us!