[dropcap letter="Y"]ou might say that Liam Neeson has made a pretty decent living off of playing a laundry list of bad ass roles that may or may not be iterations of each other, while Sean Penn's filmography has had a more diverse range, with his action roles leaning more towards gruff men of righteousness that, more often than not, are caught in moral quandaries whether or not to pull the trigger after a labyrinthine struggle to get to the supreme bad guy—see his war movies.
Both have earned a place among the hoary heads of the action movie hall of fame and both have new movie out this March 2015.
Sean Penn's The Gunman is a mixed bag of mercenary security services running around Africa, kicking down banana governments as fast as they can rise up, and an awkward star-crossed love that serves as both motive and overarching theme to this CSR (Corporate Social Responsibility) romance.
Penn stars as Jim Terrier, an ex-special forces government contractor working in the increasingly volatile DCR (Democratic Republic of Congo), tasked to protect a team of doctors working to mitigate the casualties of the civil war. Jim is also dating Dr. Annie (Jasmine Trinca), which would be great since they used her as a big emo plot device for Jim, but they didn't even bother to give her a last name.
Jim is betrayed by the organization he once worked for, and must go on the run in a relentless chase across Africa and Europe. While it's got a stellar cast in Javier Bardem, Idris Elba, Ray Winstone, and Mark Rylance, the cohesiveness of the plot is like badly baked bread and runs the gamut from Save Africa, Beware of Interpol!, donate to charitable institutions, support Doctors Without Borders, and a lot of stabs at the harm that security firms (hello, Blackwater!) staffed by ex-military operatives can do to small, fledgling nations.
International intrigue! Do gooders caught up in corporate assassination plots! Hard man and bleeding heart hippie doctor fall hopelessly in love in defiance of operations fallout! It's all too much for the story to hold in, even if Penn tries his best to interlace everything with his intense glare (that, to his credit, bagged him Charlize Theron)
There are some very cool close quarter battle scenes, like the one through the Barcelona bull ring, where the first event reinstating bullfighting in Catalonia takes place, but there's very little this movie has to offer aside from the Special Forces fighting flair and a very ripped Sean Penn—even the supposed femme fatale lacks much in the fatale department.
In contrast, Run All Night is as straightforward and personal as they come. How many times have we seen Liam Neeson as Jimmy Conlon? Many many times (hello, Taken trilogy!). In this one Neeson's Conlon is an ex-Brooklyn mobster and prolific hit man once known as The Gravedigger. Conlon has seen better days and his son, his only family still among the quick, hates his guts.
Jimmy used to work for his longtime best friend, the mob boss Shawn Maguire (Ed Harris). Now 55, Jimmy is haunted by the sins of his past—as well as a dogged police detective (Vincent D'Onofrio) who's been one step behind Jimmy for 30 years.
A huge fuck up, a big candidate for AA, with no prospects for Father of the Year award, things look bleak for Jimmy. But when his estranged son, Mike (Joel Kinnaman), becomes a target for the mob he used to work for, Jimmy must make a choice between the crime family he chose and the real family he abandoned long ago. Can he keep his son alive for one night?
With these two action movie showing in the same month, we wanted to situate these two action heroes in a hypothetical heads-up battle of eight rounds to see who'd possibly take the prize and be worth your theatrical peso.
It's the ex-Special Forces turned security mercenary Jim Terrier versus ex-mafia hitman Jim Conlon. Fight!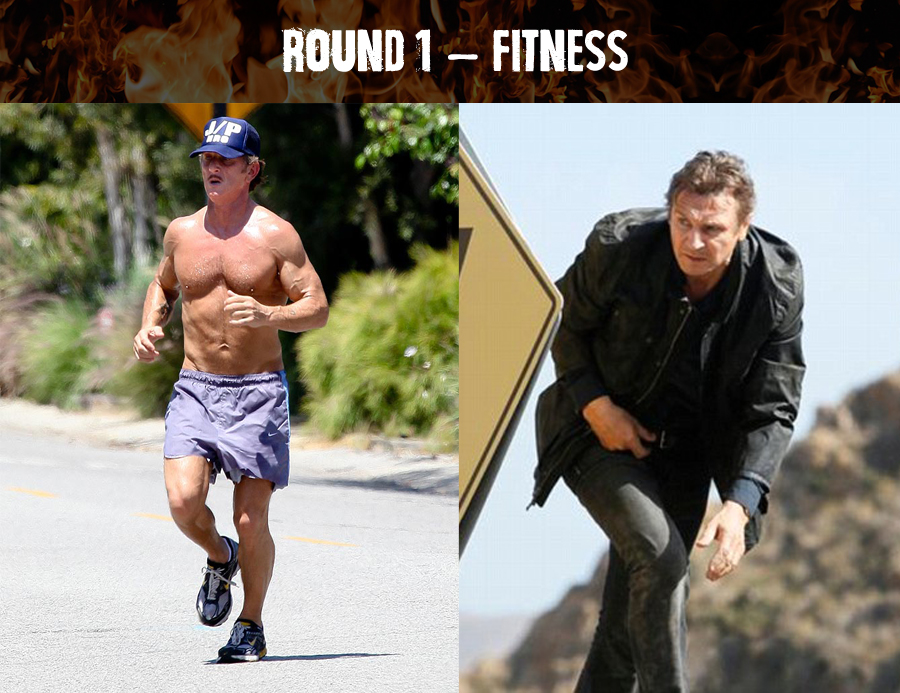 Sean Penn really ratcheted up the ripped factor to prep for this one (here's one of him running to inhabit his ex-Special Forces role). I mean, notice those guns at 54 years of age? And In contrast, Neeson never takes his shirt off and, come to think of it, hasn't at all in his last action few movies (Taken 1-3, Walk Among the Tombstones, etc). then again, Neeson is the elder statesman at 62.
DECISION: Sean Penn wins!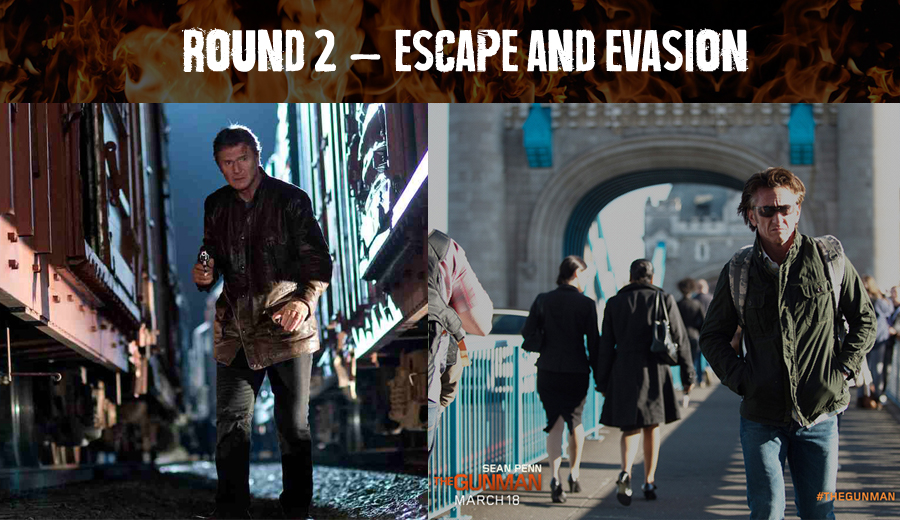 While Terrier's ex-Special Forces he makes way too many rookie mistakes because of his emotional investment in the outcome. Conlon, meantime, has had some very intense experiences with disappearing from the radar after his mob wetwork. Plus, for a big guy, he's pretty limber and makes for a better than average ninja.
DECISION: Liam Neeson wins!


Conlon's gruff voice is a tad less scary than Bryan Mills'(Taken series) so Terrier's strong but silent type ex-military man can't even hold a candle to someone who can put ice in your heart with a phone call.
DECISION: Liam Neeson wins! (Not even a contest)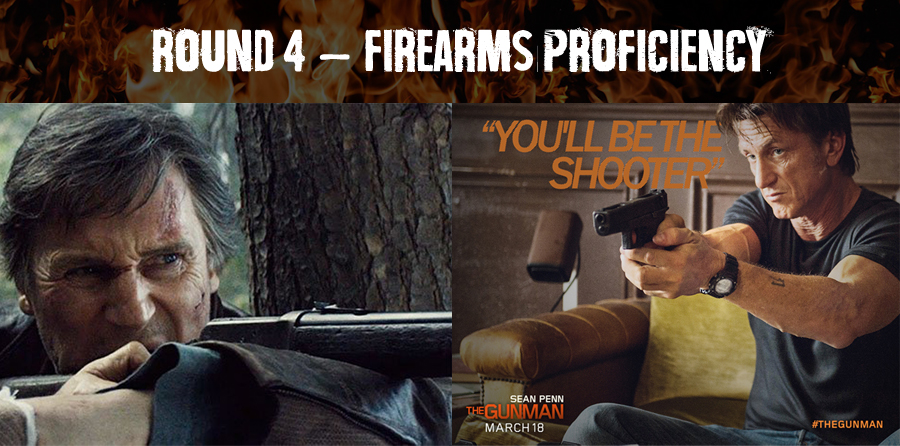 This was a hard one, but ultimately clinched by the gangster way that Conlon handles firefights and just all around points for brutality. Terrier's great in a gunfight (and very handy with a sniper file) but he's way too minimalist because of his SF training
DECISION: Liam Neeson wins!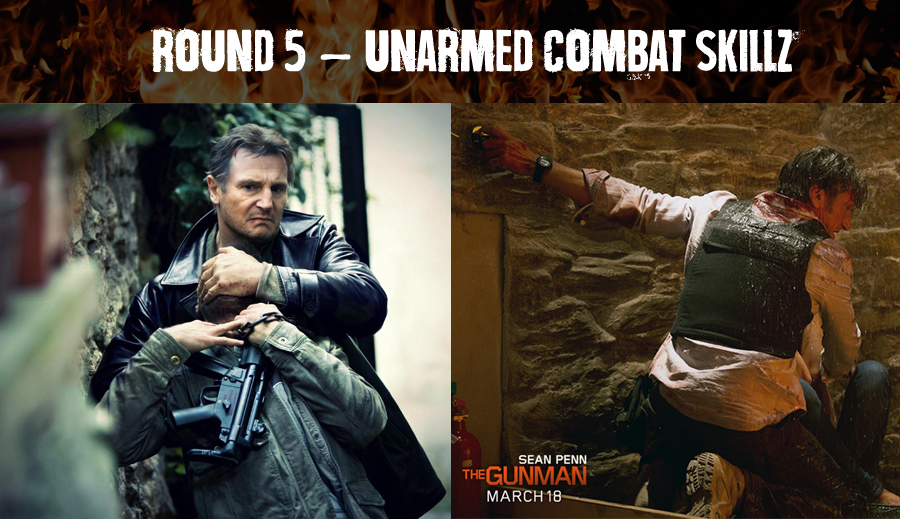 There's just way too much martial combat knowledge in the sinews of ex-military operative Jim Terrier for a streetwise criminal like Jimmy Conlon to contend with. Terrier would destroy Conlon in an MMA fight.
DECISION: Sean Penn wins! (likely via head kick)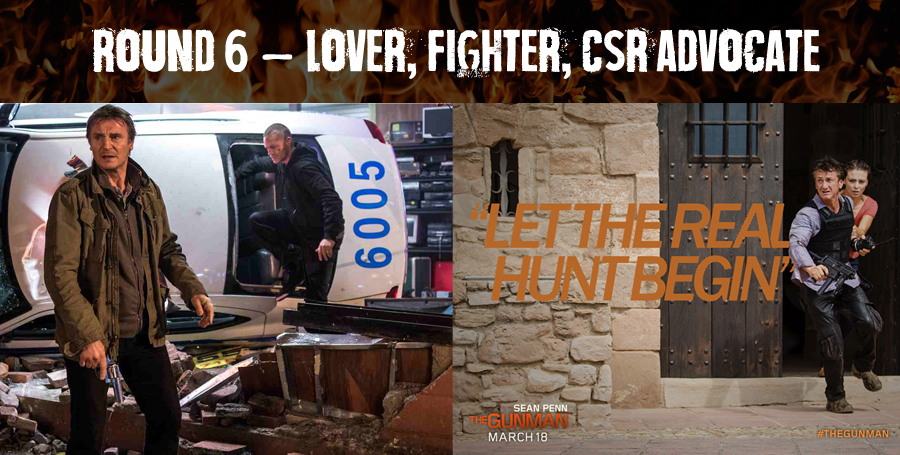 Jim Terrier is a secret softie with a bleeding heart who returns to work for an NGO in the Congo after his gig as a security ops. Conlon is an ex-mob hitman trying to make up for being a bad father. Um, yeah, with more dimensions to his character and an eye on the bigger picture of his actions Penn's got this.
DECISION: Sean Penn wins!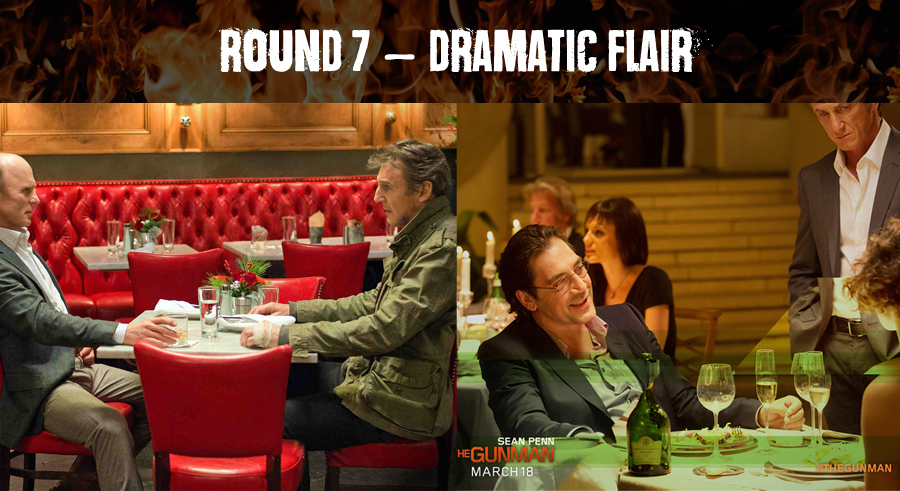 Terrier wants to reunite with his lost love of a doctor. But Conlon's just got so much cop-killing anger.
DECISION: Liam Neeson wins!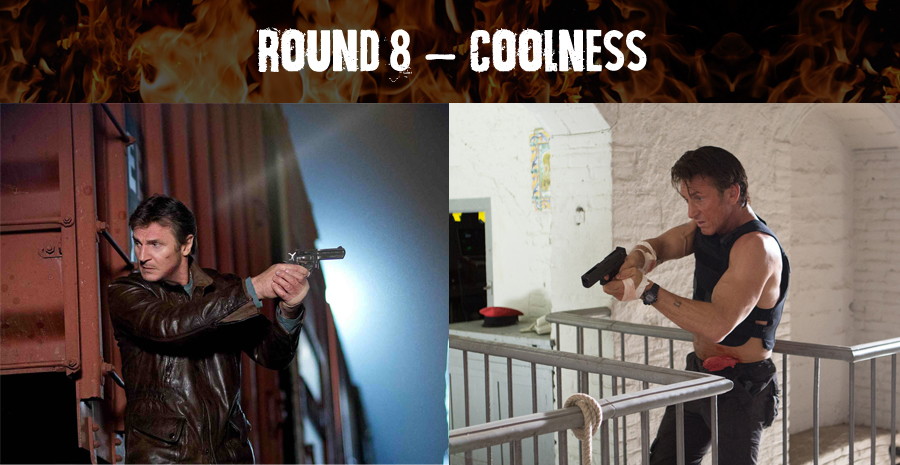 Terrier's got that thousand yard stare but swagger points go to Jimmy Conlon and that twisted mouth of anger. After all those roles, Neeson knows how to portray men who live and die by the gun like the back of his hand.
DECISION: Liam Neeson wins!
After eight rounds. . .LIAM NEESON clinches the win by one round!
Run All Night is rated R-16 from Warnr Bros Pictures and is now playing in all major theaters. The Gunman opens March 18 from OctoArts Films International.