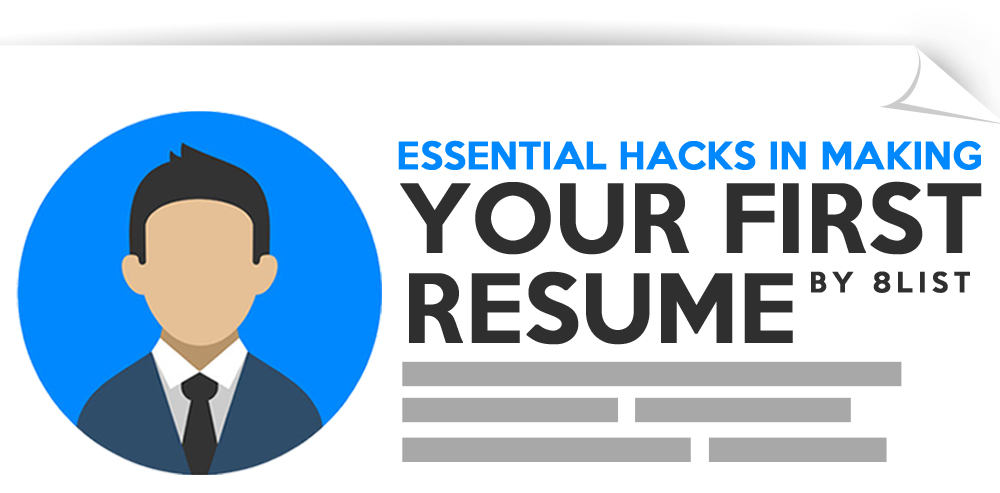 [buffer="10px"] So you're ready to join the workforce. (Or are you?)

You begin this wonderful journey with this thing we call a resume. It's a document that, in a nutshell, answers the question "why, of all the deserving candidates, should we hire you?"

Making one sounds like a daunting task, but trust that it's nothing an embarrassing amount of research and a lot of thinking can't accomplish. To help you out, here are a few pointers. [/buffer]


[buffer="10px"] First, remember that your resume has to stand out in a sea of other resumes—that, and the medium is the message. Say no to the usual black-on-white, 12-point single font format we all imagined our first resumes would look like. There's a corresponding sea of tools to help you out there and there's no excuse to be boring.
Second, how it looks should represent you as a person—but only the parts that will be attractive to potential employers. Don't make it too bright, too avant-garde, or too personal.
[/buffer]


[buffer="10px"] Convenient, yes. But only until you realize that a lot of other people might have already used it, thus defeating the point in #8.
It's okay to find inspiration in templates but always, always, make them your own. This whole exercise of creating your resume should mean more than filling in the blanks.
[/buffer]


[buffer="10px"] Your resume will greatly benefit from verbs like planned, initiated, assessed, directed, created, built, managed and strengthened.
Action words make it feel like you did something before you wrote on this sheet of paper, and these are the words that will pop out of your resume when a potential employer scans through it.
[/buffer]


[buffer="10px"] Stick to concise, substantial language. Words like I am seeking a job/position, or detail-oriented, or strong work ethic and the like don't deserve space in your resume. These are qualities that need to be shown not told.
As a rule, be straight to the point, and use action words but use them sparingly. Oh and we don't think you should put all your schools from pre-school in it. College will do.
[/buffer]


[buffer="10px"] Be ready to make more than one version. Tailoring a version to each potential employer will increase your odds of landing a job. Research the culture and values of each company and adjust accordingly.
Good employers won't waste time on generic resumes—you'll stand out if they see that you know what you're applying for.
[/buffer]


[buffer="10px"] Employers think in ROI (return on investment) and measurable KPIs (key performance indicators). Measurable skills and capabilities will seem more real to them.
It will also give them an insight on your self-awareness and how much you're willing to learn, stretch and improve.
[/buffer]


[buffer="10px"] The ideal length of a great resume is one page. Especially if you're looking for a first job. The trick is to ask yourself these three questions: what are your marketable skill sets? How would you describe yourself as a worker? What's so special about you?
Condense your answers to highlight the most significant ones. It's okay to show off a little—as long as it's worth it.
[/buffer]


[buffer="10px"] If you overblow your accomplishments, embellish you skills, or exaggerate relationships with your references, chances are, it will all come back and bite you in the ass. Sooner than you think.
This should be common sense, but we're telling you anyway because we know how tempting it is to be a little creative with your credentials. You'll get the juicy CV meat you're dreaming of one day, but for now, for your first job, start with a clean slate.
Got anything to add? Post your thoughts in the comments or shoot us an email at editor@8List.ph.



[/buffer]