Harry Potter is one of the world's well-loved books and series, its fan base spanning generations and with the continuous movie franchises, it's beginning to earn fans from kids of the new age too. This year marks the 20th anniversary of the publication, and as Filipinos who love the series as much as anybody else, where else can we celebrate it but by spending time in themed restaurants and cafes? Since we don't yet have our very own Wizarding World, this is the next best thing, so Potterheads unite!
The Nook Café
Maginhawa St., Sikatuna Village, Quezon City
Contact: 0915 534 2320
Tuesdays to Sundays 1pm – 10pm
This quaint café along Maginhawa has been quite popular to Filipino Potterheads since it opened some three years ago. Step inside the small space and you're immediately transported inside the world of Harry Potter. There's the cupboard under the door, Hogwarts robes, Harry Potter books, a complete set of wands, and even the legendary Nimbus 2000!
The Nook Café is a cozy place: their menu includes Butter Beer which is perfect when paired with their Bacon Wrapped Chicken and Cheese Potato Wedges. Tip: get there early because the place is quite small and the line is always long!
Wizardry Cup Café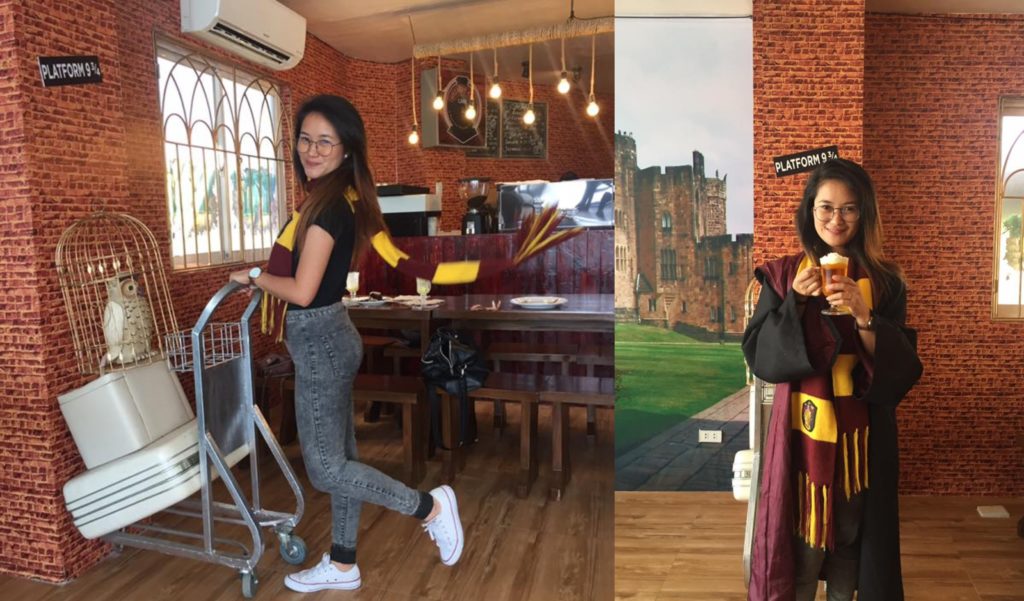 2F NGC Plaza J. P. Laurel (Ayala) Highway, Batangas
Contact: (043) 724 5938
Mondays to Sundays 7am to 12am
We might be deprived of Harry Potter theme parks but that won't stop us from creating a Harry Potter world of our own! Wizardry Cup Café in Batangas only requires dedication, time, and a working vehicle to get there. Inside the café's wide space, fans can try calling from the phone booth like visitors to the Ministry of Magic, riding a broom to play Quidditch, entering Platform 9 3/4, and taking a photo with the various Harry Potter backgrounds.
The Witches Brew Diners
Ground Floor, Noah's Place, Aguirre Avenue, BF Homes Paranaque
Contact: 0923 169 7711
Mondays to Sundays 10am – 10pm
The Witches Brew Diner is a restaurant gem located in the south conceptualized by avid Harry Potter fans. The first branch in Sucat was a Game of Thrones and Harry Potter themed bistro, the first and only in the Philippines. It included elements such as Harry Potter wands, Butter Beer, and Game of Thrones' famous Iron Throne.
The second one in BF Homes which only opened to the public early this year is entirely House of Gryffindor themed. Self-proclaimed Slytherins will be ashamed to even enter! The Diner serves full all-day breakfasts, salads, burgers, pastas, and of course delectable desserts.
Trapdoor Tasting Room
22nd & Lacson Street, Bacolod City
Contact: 0949 113 3719
Mondays to Sundays 5pm – 1am
Although not entirely Harry Potter themed, the Trapdoor Tasting Room is every bit just as magical. It might even feel like a modern day Hogsmeade to you! The magic and adventure starts at the door – literally. In order to get inside, you'd have to find a blank slab of concrete with an ace of spade handle, pull it open, and ta-da!
The Trapdoor Tasting Room is one of the first magic-themed pubs in the Philippines. In one corner are photos of magicians hung on a wall and framed with velvet curtains, another corner is a bookshelf with one shelf trickily leading to the restroom, the waiters can also perform magic tricks to entertain guests. If that isn't enough to invite you over, maybe their excellent glasses of craft beer would?
Chapter 9 ¾ Coffee House
88 Locsin St., Brgy. 38, Bacolod
Contact: 0907 966 4198
Mondays to Sundays 10am – 8pm
This café in Bacolod invites guests over for coffee, breakfast, and arts, and of course a Harry Potter experience. Find all kinds of collectibles and memorabilia at Chapter 9 ¾ all the while sipping your Butter Beer contentedly. Don't be too shy to take photos in this place, after all, it's rare we muggles get invited to a place like this without a Hogwarts letter!
Café Diem
SM City Iloilo Southpoint, Iloilo
Contact: (033) 508 3436
Mondays to Sundays 10am – 12am
Café Diem was the answer to the dreams of Iloilo Potterheads when they started years ago on their first branch in Miag-ao (now temporarily closed). Now they're thriving in a new branch in SM Iloilo, perfectly accessible to anybody. Café Diem invites customers over for a cup or two of coffee while being surrounded with Harry Potter-themed interior decoration.
Their menu is placed on the wall Umbridge Educational Decree-style, there's Butter Beer available and all kinds of food to snack on while you're studying or having a small meeting.
Swish and Flick
The Yard Streetfood Cinema, Quezon City
Contact: 0927 272 0112
Mondays to Sundays 4pm – 2am
Adult Harry Potter fans would love the concept of Swish and Flick, and when we mean 'adult' we mean fans that are of the right drinking age. Wink wink!
This stall in The Yard incorporates cocktails with the magic of Harry Potter. Their famous drink Incendio is served flaming and with a wand filled with cinnamon to swish over the drink, once the cinnamon ignites in the flame making the wand look as if it has sparks coming out of it. Their other drinks have names like Unicorn Blood, Golden Snitch, Love Potion, and of course Butter Beer.
Mystic Brew Café and Curios
312 Capitoline Hills St., BF Resort Village, Las Piñas
Contact: (02) 905 5155
Wednesdays to Mondays 10am – 11am
Mystic Brew caters to a small community so the space doesn't get easily crowded. While also not entirely Harry Potter-themed, Mystic Brew offers Butter Brew, their take on the famous Butter Beer. Have a mug-fill of mellowed flavor fused with fizzy, buttery sweetness! And because we all know how travelling from south to north is seriously tiring, it's a great thing we can have Butter Beer at the south anytime we like.
Mystic Brew is celebrating their 6th anniversary this month, make sure to follow their page for promos and details!
BONUS: More Butter Beer!
Addicted to Butter Beer? Where else can you get it?
Starbucks Butter Beer
Starbucks version of the famous brew is included in their secret menu, meaning you'd have to tell the barista your specific instructions on how to make a butter beer. We're afraid simply shouting 'Accio Butter Beer!' at the counter won't work. Click here for the recipe!
BONO Gelato
Butter Beer in gelato form? Humans are truly creative beings! Butterscotch, a dash of alcohol, and a sprinkling of pretzels makes this gelato 2die4. Click here for BONO branches.
Up in the Clouds
Ice cream is always a great idea! Up in the Clouds' Butterbeer ice cream is made with rich caramel butterscotch ice cream mixed with toffee nut bits, a cold treat perfect for any weather.
Got anything else to add? Share it with us below!!