In anime, anything is possible. The medium effortlessly juggles adventure, comedy, drama, science fiction and fantasy. It trades in laughs and tears, heartbreak and excitement. Sometimes a series will even try to do all things at the same time. Whether you're a die hard neo otaku or a wannabe a boo, anime brings entertainment and joy in a style like no other medium.
That being said, because anime pushes the envelope so hard on what stories can be told and what visual delights can be crafted, there are times when things can get a bit more than risqué. When you watch anime you risk summoning twisted and inexplicably perverse things onto your screen. That's why unless you know what you're getting into, you'd best be careful when you watch anime in public.
Here're eight anime that you can't watch in public, or at least, you don't want your parents walking in on. For the purposes of this list, we're avoiding anime whose premises center solely on fan service and the perverse. I don't want e-mails from you about the warrior who gains power from breast milk or the girl who can absorb breasts or the prison where peeping Toms perv on their female wardens. Save it.
Devilman Crybaby
If you ever thought your friends dragged you to some weird stuff, then you should thank your lucky stars you're not Akira Fudo from this reboot of the classic 70s series. When Akira catches up with a long lost friend, they drive, party and uniting with a destructive demon. The story is subtle, nuanced and has something to say amidst the drugs, motorboating, decapitation, masturbation, body horror, vagina demons and more!
High School of the Dead
On paper, this series sounds like a pretty paint by numbers premise: teens fight to survive the zombie apocalypse. But the choice of camera angles and subject choice that send it straight up to Don't Let Your Parents See This Alley. The entirety of High School of the Dead frames narrative beats and dramatic moments around upskirts and boob shots, even though sex plays virtually no role in it.
Kill La Kill
A personal favorite of mine, Kill la Kill is a high intensity action comedy series about a young girl named Ryuko Matoi who seeks revenge against her father's killer. The series' high concept centers around Life Fibers, powerful threads that unlock human potential. These manifest as the school uniforms worn by the antagonists, student president Satsuki Kiryuin and her fearsome council.
Matoi has an advantage in her battle dress, Senketsu, which transforms her into a powerful battle maiden. Every episode of the series features implied nudity, uncomfortable clothing and some leering camera angles. Kill la Kill as a whole is a great series that will leave you humming its motivational theme songs, but explaining away the provocative outfits as empowerment will only draw you looks.
 Domestic Girlfriend

Image source: Sentai Filmworks
In this anime, a young high schooler tries to get over the crush he has on his teacher by having sex with a schoolmate. Then his father remarries and turns out both the teacher and his one time fuck buddy are now his sisters. The rest of the series is some weird perverse love triangle that asks the question no one was asking, which is if there is such a thing is retroactive incest.
Jojo's Bizarre Adventure: Star Crusaders
The entirety of the Jojo saga is already famously weird, but because it's so relentless in its pursuit of comical machismo, it's very rare that it veers into the gratuitous boobs and boners humor. But it's in this third story arc that things get suddenly sexual.
Giorno face-licks a sweaty Bucciarati, there's an infamous cherry-rolling Noriaki, a grown man gets turned into an infant and gets some Freudian sexual relish from a woman's bosom. And of course, there's that epic time when Joestar and Avdol got magnetized into compromising positions.
Eromanga Sensei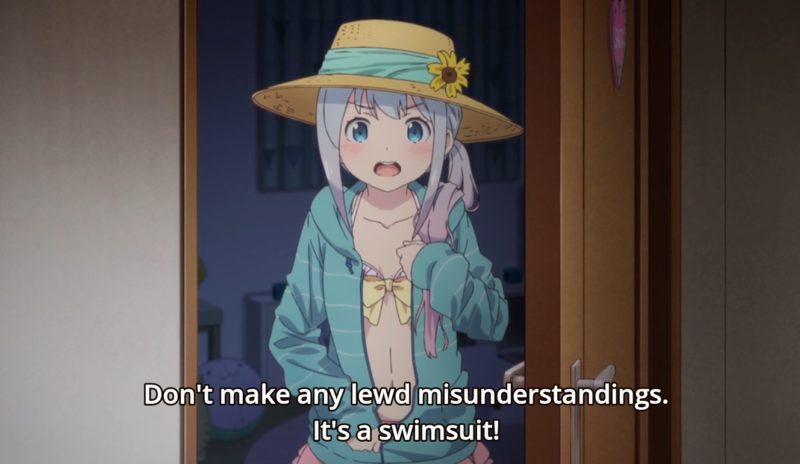 Image source: Crunchyroll
If Domestic Girlfriend is about retroactive incest, then Eromanga Sensei is about the deliberate pursuit of incest. Novelist Masamune Izumi is obsessed with the illustrator of his work, who goes by the pen name of "Eromanga Sensei" who turns out to be his twelve year old sister!
Though they aren't related by blood – which seems like a conceptual pretense rather than an actual reason for this to be okay – Masamuni tries to get with his sister. Things get even weirder when a sexy shojo author moves in next door. Yeah this is the kind of show that gets you on a watchlist.
Food Wars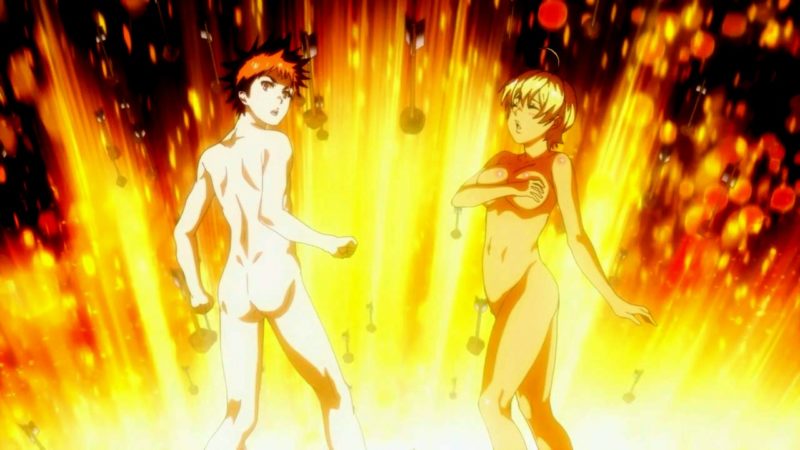 Image source: Netflix
Easily the most popular and well known anime on this list, Shokugeki no Soma or Food Wars capitalizes on the thrilling experience of eating properly cooked food and exaggerates it into a sublime, transcendental experience. In Food Wars, aspiring chefs compete to be the best at what they do, and what they do is make people have confusing sexual feelings about tempura.
When you watch Food Wars, you'll see some lovingly illustrated and animated dishes, sensible cooking advice and the erotic responses of people who have clearly never been to Flavor Town or Properly Cooked Town for that matter. Make sure to delete your Netflix history every time you watch.
Oreimo aka My Little Sister Can't Be This Cute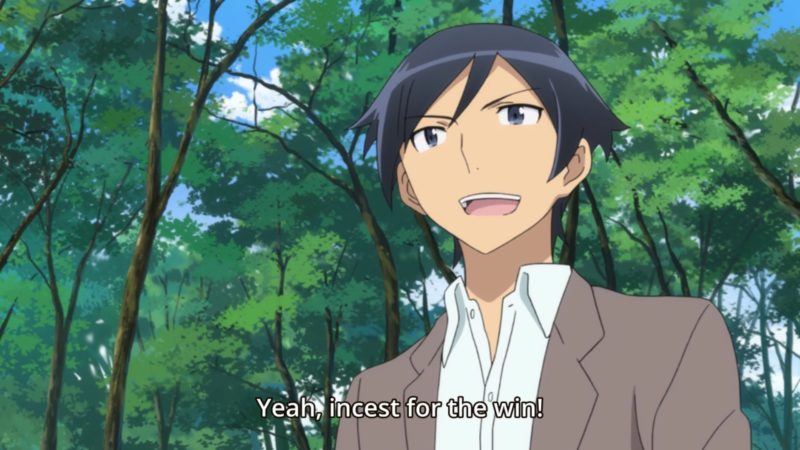 Image source: Crunchyroll
As if the recurring fixation on incest wasn't bad enough, Oreimo kicks things up a notch by making the female object of interest a perv. When Kyosuke Kasaka discovers that his estranged sister Kirino is an otaku obsessed with magical girl anime, moe girls and erotic games, he becomes her confidant. It's not that young women can't be lecherous, Oreimo fetishizes a woman in charge of her sexual interests.
That aside, the anime has a bizarre sense of what's wholesome and/or romantic. As the relationship between Kyosuke and Kirino mends, viewers get to witness how two young individuals come to terms with the distance that has grown between them. It's when that relationship becomes romantic and implicitly sexual in nature that things get weird. Tears of joy and tears of shame, everybody.
What else should be on this list? Share them with us below!