Here's How to Shop Smarter During the Sale Season
Jan 19, 2019 &nbsp • &nbsp 8List
Retail therapy, or shopping, is one of the few things in this world that can put a smile on anyone's face. It lets us look at pretty things, try them on, and actually take them home. If regular shopping excites us, how much more shopping when items are on sale? But don't let your inner shopaholic get the better of you. We're here to help you shop smarter and bag the items that would really spark joy for you!
1. Be early!
Once you find out about a sale, make sure to go as soon as possible. Every day you wait results in your options and sizes diminishing until you're left with the discarded pieces. Don't go crying on the floor when you miss your size for that beautiful pair of black heels you need! A Sale also often has additional special offers for members and cardholders of the specific brand, that's an extra discount you wouldn't want to miss.
2. Create a budget and stick to it
Easier said than done but setting a realistic budget could help you immensely. Resist the temptation to go over the budget you decided, chances are you won't really need the items you add to your list.
As much as possible, pay with cash. Knowing that you'll be paying via credit or debit card might make you feel like you're not overspending because you aren't forking over wads of cash but the bank statement the following month might shock you. Withdraw the right amount of money you've decided from your budget and use it wisely.
3. Plan your day and list down the items you want to buy
Plan before you go shopping. Wear a comfortable outfit such as a loose dress and slip-ons so you can easily try on the clothes you're eyeing. Make sure you also take care of your necessities first! You can eat beforehand at a nearby restaurant in the mall or grab a snack to munch on while walking around so you can shop in peace and avoid getting hungry easily.
Planning the items you want to buy alongside a solid budget plan will help in curbing impulse spending. Make a list of items you need and rank them according to priority. To maximize your budget, you can mix and match items within your spending limit such as purchasing a pair of pants and two or three blouses that go well with it.
4. Buy multiples of things you frequently use
Stick to the classics, the ones whose styles you are already familiar with and are comfortable wearing daily. For one person it could be trousers, so then buy a couple of pairs for everyday use. It could be plain shirts, office blouses and polos, or even underwear. These items, although they may look alike, can actually help ease your everyday decision of what to wear to work.
5. Bring a friend to help out
Friends are not just a distraction to you when it comes to shopping. Yes, you might goof around and make fun of yourselves but they can help you in choosing clothes that would fit you perfectly. Their opinions on the pieces you try on and model for at the fitting room definitely matter! And besides, it's more fun to shop with a group of friends rather than alone.
6. Shop smarter and go for bundles
One way to maximize your budget and get the most out of the sale is to grab those Buy 1 Take 1 bundles. Look out for these offers and you just might get two of the products you like for the price of one! Now that's a steal.
7. Go around and compare prices
Be a smart shopper and don't buy the first item you lay your hands on. Take the time to look around and compare prices and quality because you never know if you'll hit the gold mine and get the best discounted piece in the department.
8. Prioritize bags and shoes that will last you a few years
You can always find discounted clothes on sale that match your taste but finding great quality bags and shoes are tricky. If you happen to encounter a bag with a style you like and a quality that could last you a few years, purchase it. It's an investment. Hunting for the best bags and shoes during a sale might be taxing but you're a winner in the long run.
Shopping during sale season doesn't necessarily mean burning a hole in your wallet. If you're smart enough, you can make the most out of it and come out with extra cash to spare.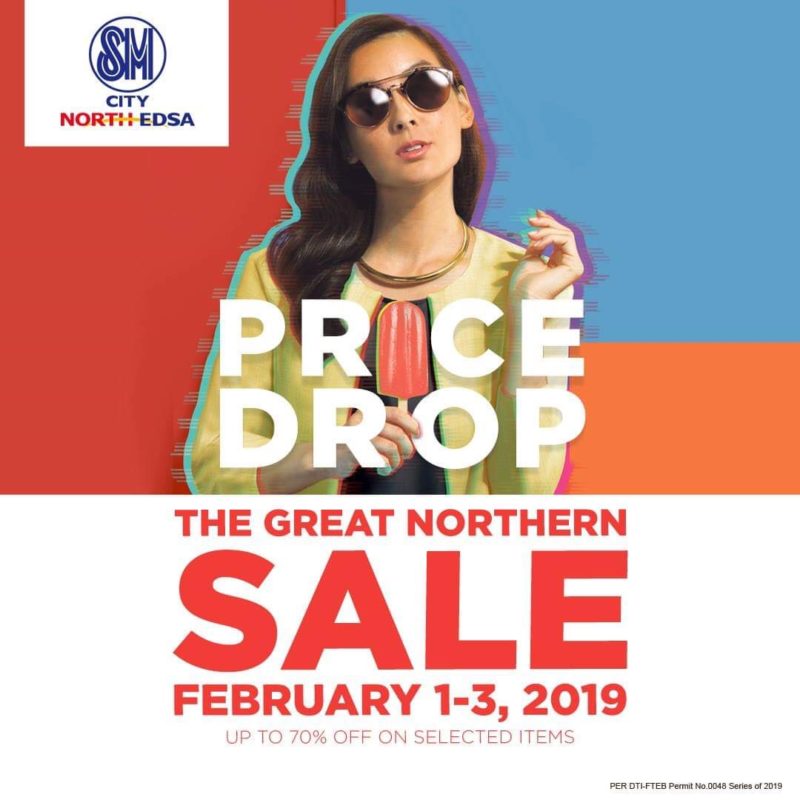 Prices are dropping at SM City North EDSA! Score amazing finds at The Great Northern Sale on February 1-3. Enjoy up to 70% off on selected items!