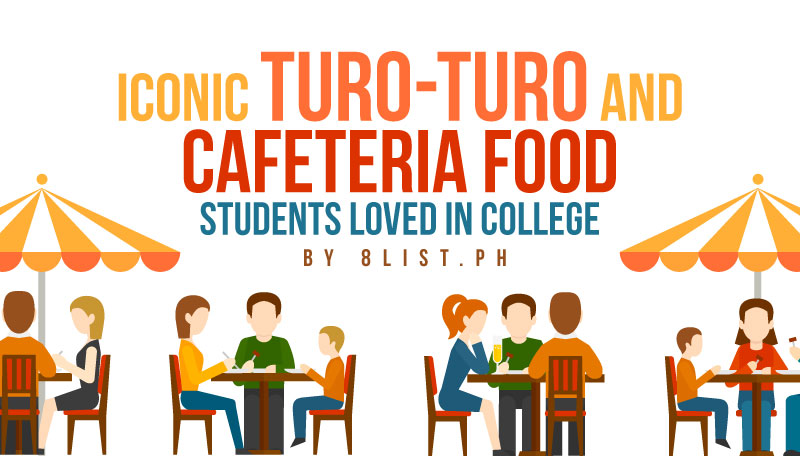 Put a bunch of kids in an educational and stressful environment (aka college), and they're bound to go searching for food in order to cope. Add the issue of a student budget to the mix, and the search narrows down to very cheap yet extremely comforting grub.
So, you looked (not for long thanks to upperclassmen) and found your favorite places for silencing belly growls and forgetting requirements for a while. For the graduates, these places and their iconic dishes have become something more than sources of satisfaction.
Nowadays these places aren't just important hotspots on the campus of your alma matter–they're places integral to the college experience. Here are just 8 of the most iconic cafeteria and carinderia food students loved in college.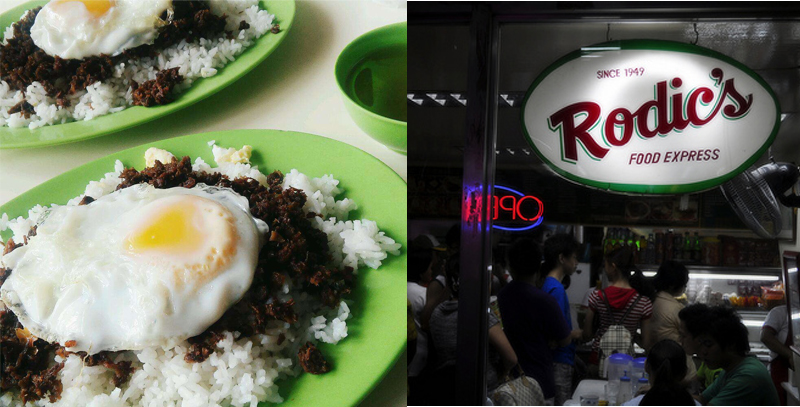 When you're stressed out, starving and on a tight budget, going to a carinderia is probably the best idea. Rodic's Diner has been that refuge for UPD students since 1949. There's nothing like ordering their tapsilog on a bad day; their garlic rice, malasadong sunny side up and shredded tapa really just equate to comfort.
Aside from their branch inside UP Diliman, Rodic's Diner has branched out to several other locations as well. Find them here.
This one's fairly new on the UPD culinary scene, but Snack Shack has already made a lot of buzz among UPD students for its no-frills, generous and juicy burgers. Snack Shack is far from a fast food burger joint; Snack Shack makes your burger only when you've ordered it, so you can watch while they make your scrumptious meal.
Their burgers are simple, without fancy Wagyu patties or experimental sauces, but reliably satisfying. In the chaotic world of college, where unreliable group mates abound, a consistently good burger like Snack Shack's is very much appreciated.

Whether it's for breakfast, lunch, merienda, or dinner, Ate Rica's Bacsilog is saving grace for the stressed, hungry and broke Lasallian. There's nothing like the ridiculously good combination of sinangag, bacon, eggs and Ate Rica's special chiz-Knorr sauce. It's not the healthiest meal, but the comfort it brings will leave you with #NoRagrets.
Ate Rica's iconic food stall offers other –silog options also, which feature tocino, fried chicken and other student-favorite proteins. If you're more of a breakfast sandwich person, Ate Rica won't disappoint either.
Small, humble and emitting lots of smoke–this is how Noel's eatery looks like for a passerby of Agno street. Stop for a meal here, and you'll find that this carinderia doesn't serve your usual P8-barbecue. Of course, Lasallians already know this hidden gem all too well.
Not only is it extremely budget-friendly, Mang Noel's barbecue is also really tasty! It's probably because he worked for Aristocrat before, and he would make Aristocrat's well-raved about barbecue. Lucky for Lasallians, Mang Noel extended his expertise to DLSU. Lasallians also get the pleasure to indulge in other grilled treats like isaw, balunan, atay and hotdog. Perfect for pig-out sessions after stressful classes or meetings, you'll find Noel's packed with students, especially at night.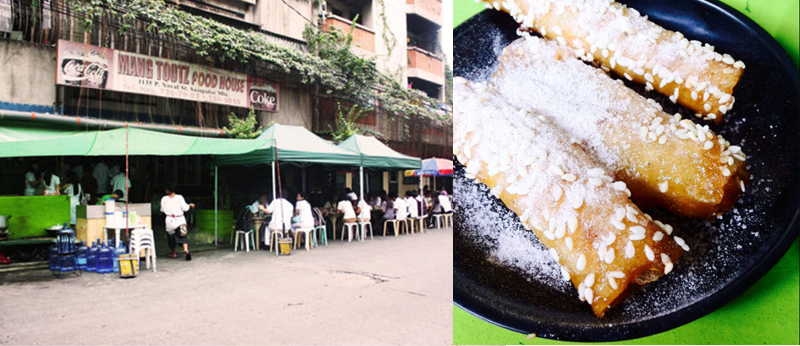 Mang Tootz Food House serves typical carinderia dishes like sisig and liempo that Thomasians love, but it's their signature turon that can make any alumni miss eating here. They call this iconic dessert "banana-rum-a," and the slight tweaks to the typical turon make a huge difference. Mini turon pieces are topped with confectioner's sugar and sesame seeds. This sweet treat is the perfect energizer before or satisfying reward after a killer exam.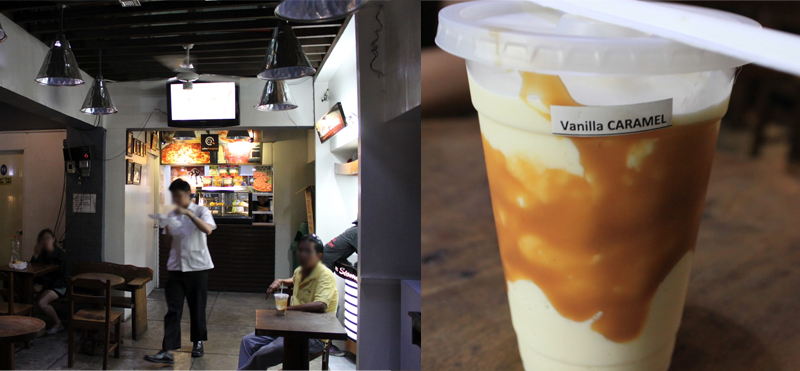 For most college students, coffee is a necessity. It's that cup of salvation when you're feeling weak, sleepy and unable to do anything else. Unfortunately, coffee doesn't usually come cheap, especially with a student budget.
Thank the heavens (Thomasians already have) for Coffee Indulgence's cheap, tasty and effective coffee concoctions. The crowd favorite is Vanilla Caramel, which is a much cheaper version of popular establishments' caffeine-infused shakes. With all beverages below P100, Coffee Indulgence lets Thomasians gratify themselves without compromising their student budget.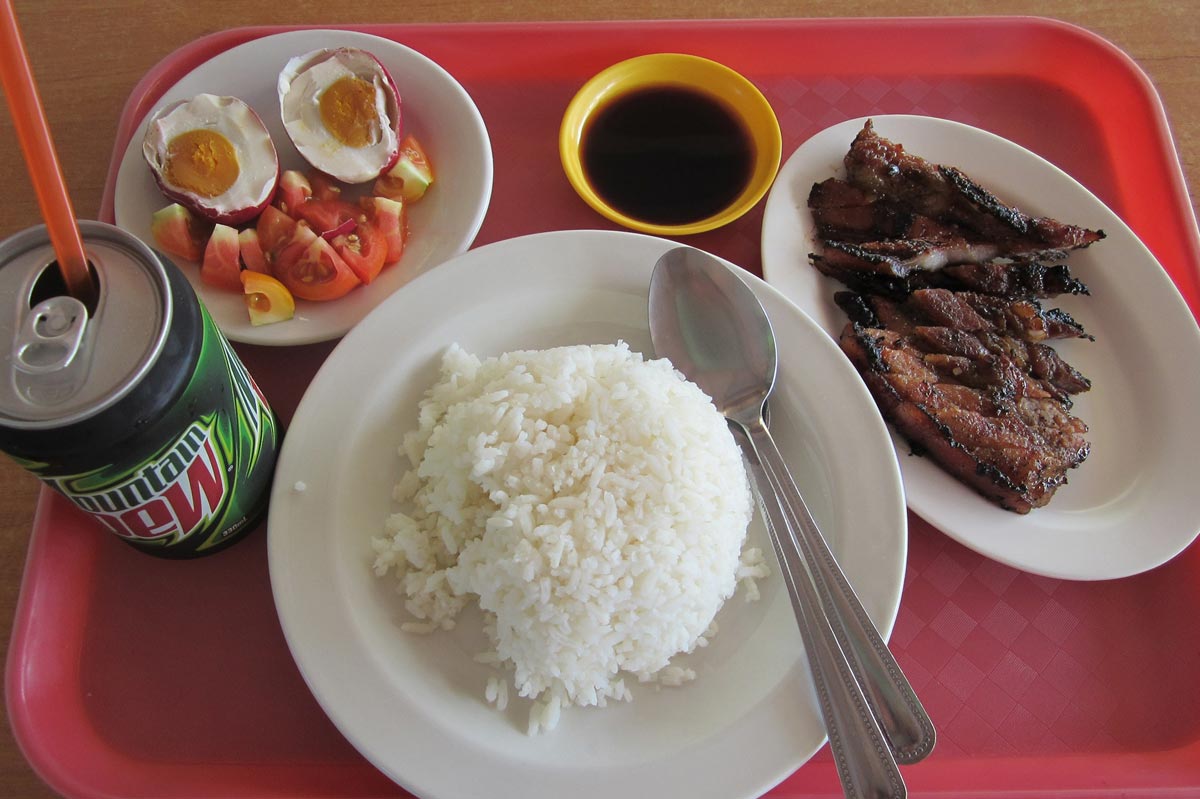 The metro is so saturated with fast-food chains that college students, especially those who dorm, really appreciate honest to goodness home cooking. Luckily for Ateneans, they don't have to go far for that. Right inside their campus is the legendary Manang's. This eatery has been around for 21 years and has already witnessed countless pleased expressions from Ateneans eating their grilled liempo.
Aside from Manang's famous liempo, Ateneans also rave about the sauce that comes with it. Simply enough, this sauce is composed of vinegar, soy sauce, garlic, onion and a little bit of something no one has figured out yet. Whatever that may be, what's for sure is it makes a grilled liempo rice meal incredibly enjoyable.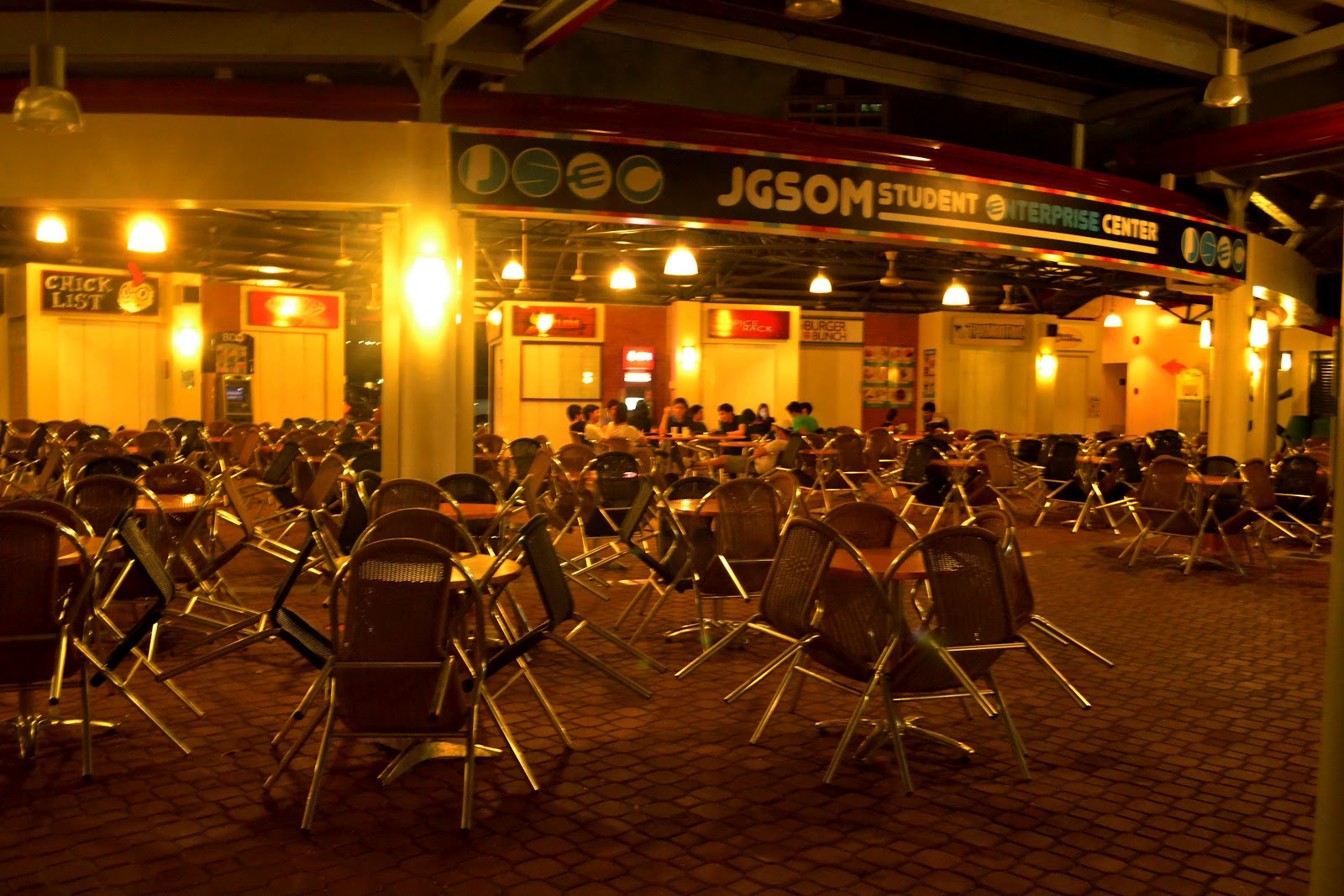 Ateneo is known for their great JSEC, or JGSOM Student Enterprise Center, program that gives students the entrepreneurial opportunity to run a food stall inside campus. While there have been numerous food stalls that come and go, only few leave a lasting impact. One of which is Chris Tiu's Chinky Chickens, which features Pinoys' most loved protein.
Probably for its convenience, the crowd-favorite is the chicken nuggets. They also serve rice meals, though. It's hard not to like chicken adobo flakes, grilled chicken, etc.
What else did you love to stress-eat in college? Make this #throwback more interesting, and sound off below!