There may be no dungeons nor dragons in Netflix's Stranger Things but the hit sci-fi throwback series has no qualms about lifting from Dungeons & Dragons to frame its most important plot points. That's because while the show is written as a love letter to an entire generation's childhood memory of the 80s, it has no interest in simply cribbing references wholesale.
Instead, what Stranger Things does is invoke some of the best bits of the 80s and use them as tools to tell their story, and in some cases jettisoning aspects which feel useless, irrelevant and hopelessly backwards. What Stranger Things does with The World's Most Popular Roleplaying Game is provide an accessible language for the children and the audiences to talk about and understand some of the crazier going-ons in Hawkins, Indiana.
In the first season, Eleven and Dustin used the Vale of Shadows as the framework to understand the alternate dimension that's been opened in Hawkins, referred to broadly as The Upside Down. And in the second season, the ominous presence that is trying to psychically dominate the town from the other side is referred to as The Mind Flayer.
Dungeons & Dragons will undoubtedly continue to play a role in the series, possibly even up until the kids turn 18, which is as old as they can get before their world enters the milieu of the 90s. And little geeks, dorks and nerds that they are and always will be, they will continue to find ways to express the supernatural danger in terms that only an RPG can explain.
Here're eight monsters that really need to find reference in future seasons. For the sake of this list, we've focused only on monsters that appear in the edition of Dungeons & Dragons that Mike, Will, Dustin and Lucas are playing: the first edition of Advanced Dungeons & Dragons that was published in 1981. It's that edition's Monster Manual that has appeared in the series so far.
 Troglodyte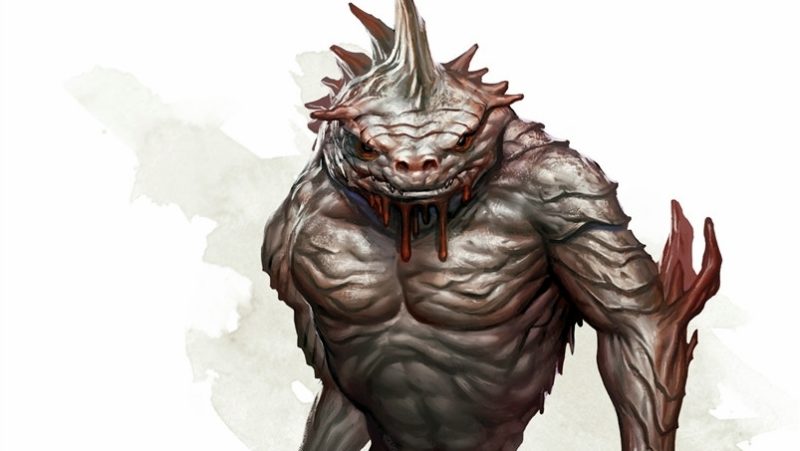 Image source: Wizards of the Coast
With the show being done with "Demo-Dogs" for now, the Mind Flayer's going to need a brand new army and while Goblins and Kobolds are typical minion fare in Dungeons & Dragons, I'd suggest the Troglodytes instead. Famous for their filth, their stench and their ability to blend in the surroundings, Troglodytes are terrifying because you smell them before you see them and before you realize it you're probably screwed.
Carrion Crawler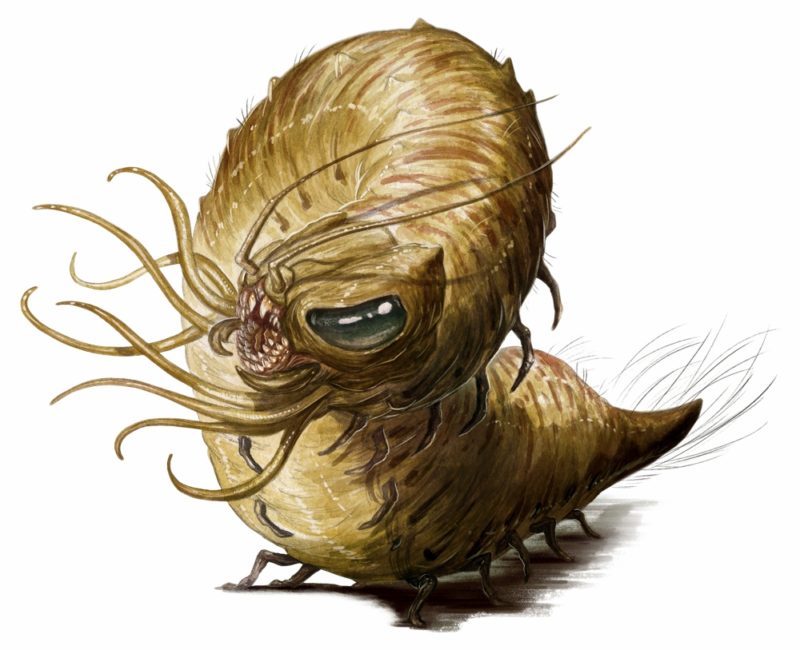 Image source: Wizards of the Coast
It's been said by showrunners Ross and Matt Duffer that the third season will draw more influence from horror masters like George Romero, John Carpenter and David Cronenberg. And what could be more Cronenberg than the body horrificness of a Carrion Crawler which crawls on multiple legs, paralyzes creatures with its secretions and implants eggs into corpses. This season's "Recurring Guest Star" better watch out.
Rust Monster

Image source: Wizards of the Coast
One of the more oddly specific monsters in the Dungeons & Dragons menagerie, the Rust Monster was specifically written to target materialistic players by presenting a threat that craved not adventurer flesh but the ferrous metals that made up their weapons and armor. In Stranger Things, the Rust Monster could appear as a lesser minion that makes life for everyone harder in its hunger for bicycles and flashlights.
Displacer Beast

Image source: Michael Komarck
You know what'd be worse than the "Demo-Dogs?" Displacer Beasts. These vaguely puma-like creatures are famous for a displacement effect that always makes them to appear slightly off from their actual position. In current lore, Displacer Bears roamed the Feywild for ages until they were hunted down by elves and driven into the Material Plain. From the Seelie Court to Starcourt Mall, why not?
Black Pudding

Image source: Wizards of the Coast
Oozes are an iconic species in Dungeons & Dragons and the Black Pudding is a favorite. A sticky black sludge that can ooze out of cracks or appear as a blot of shadow, the black pudding dissolves flesh, wood, metal and bone leaving only stone behind. I suspect the public bathrooms of the Upside Down are very clean thanks to Black Pudding. Wait, do they have bathrooms in the Upside Down?
Otyugh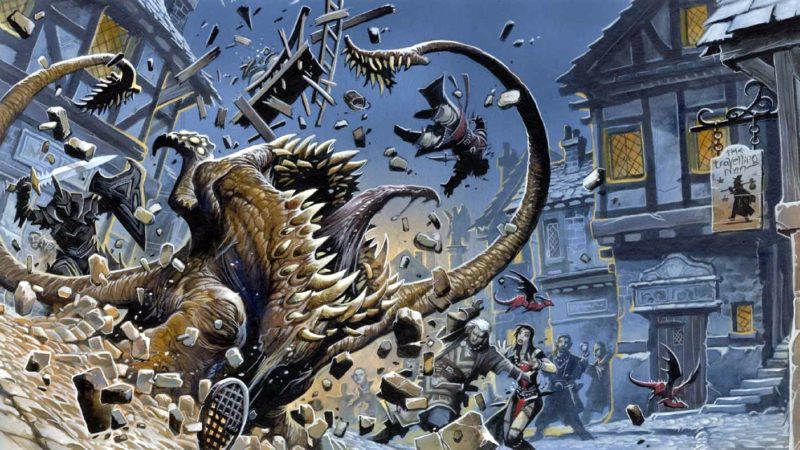 Image source: Wayne Reynolds
Stranger Things isn't exactly a series that trades in thematic metaphor, but if it ever needed one it would struggle to do any better than to have an Otyugh appear in it. These freaky monsters are famed scavengers that will eat dung, offal, carrion… pretty much anything. They are literal garbage monsters and their digest anything is not unlike the consumerism that defined the 80s. So, you know, metaphor.
Medusa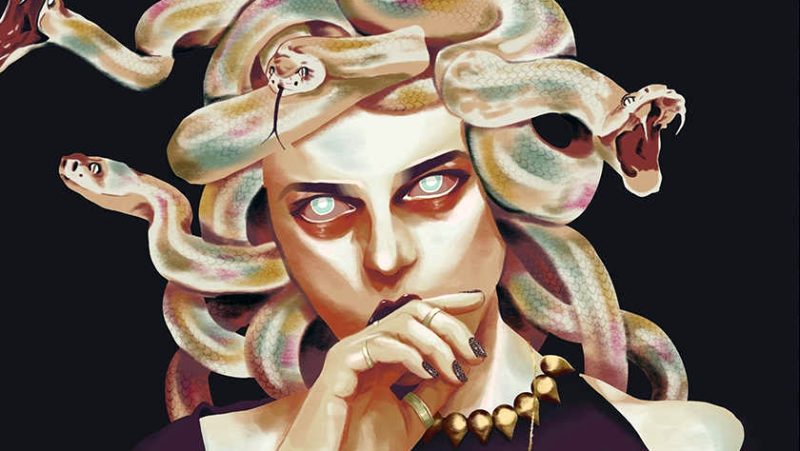 Image source: Samantha Darcy
While not exclusive to Dungeons & Dragons, the Medusa has been a fixture in the game for many editions and with good reason: their combination of beguiling countenance and hateful personality makes them a compelling foe. In Stranger Things they might serve as complicated pawns of The Mind Flayer, or manifest as a curse inflicted upon one of the teens.
Beholder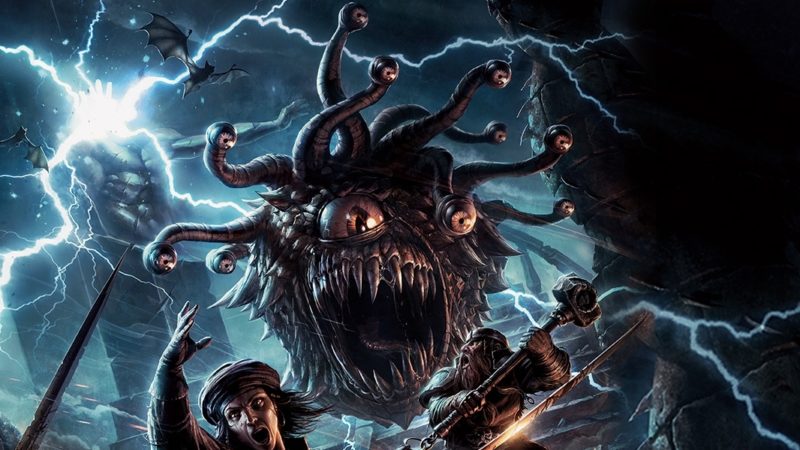 Image source: Raymond Swanland
Should the Mind Flayer ever be defeated before the series declares its final season, then I can think of no better monster to replace it than the Beholder. These crazy flesh-orbed creatures wield fantastical magical power and are nicknamed 'eye tyrants.' Beholders fight each other constantly but also supplicate themselves before Hive Mothers who will gladly rule over them.
Just imagine what it'd be like for the town of Hawkins, Indiana to deal with something worse than a megalomaniacal shadow monster: A hateful, xenophobic species that can only set aside their differences to conquer and destroy other monsters. Imagine if they systematically eradicate every Mind Flayer hovering over every town and turned all their eyes to the Material Plane.
What other D&D monsters should be on this show? Tell us below!