Filipinos like the Korean wave, or Hallyu, a little too much and this has always been an issue for some. Back in November, ex-Miss Earth Philippines Imelda Bautista Schweighar expressed her distaste for K-Pop and got plenty of backlash for saying that Filipinos are "losing their identity trying to be Koreans". Now, we have Filipino actor Janus Del Prado posting his own unsolicited opinion on K-Pop and how Filipinos have simply "copied" it. Here's your week's dose of P-Pop vs. K-Pop as told by one actor and the rest of the internet.
It started with his Facebook post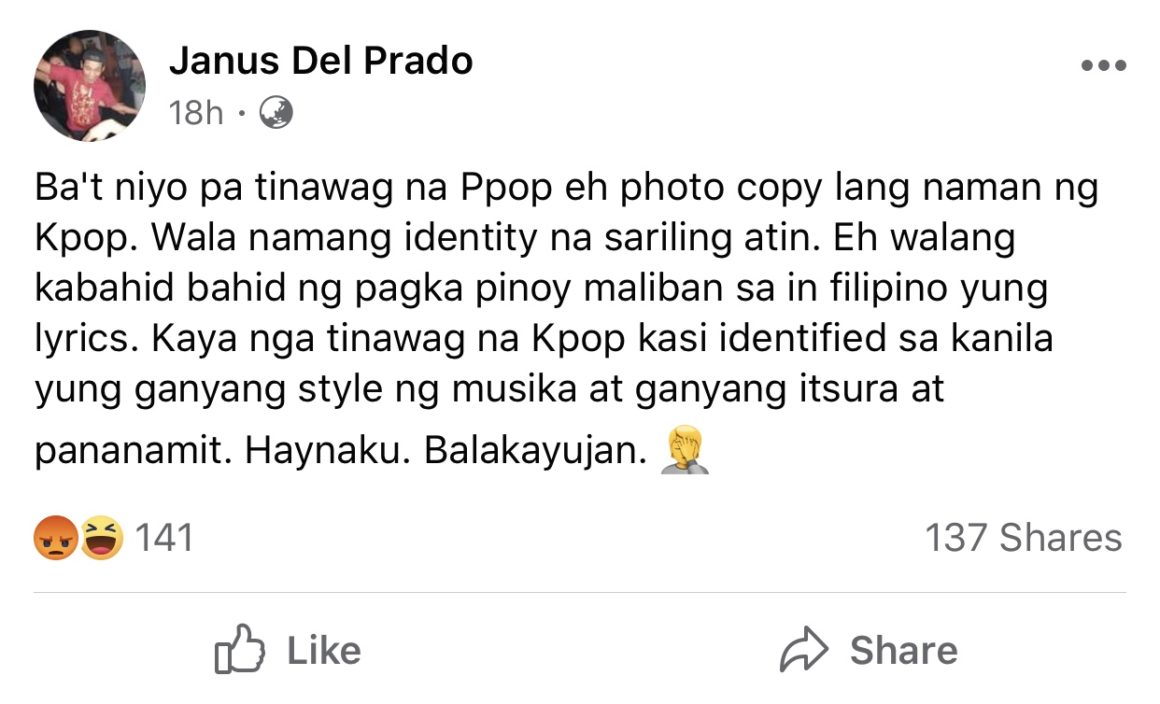 If Janus Del Prado seems slightly familiar to you, it's because he has played a number of supporting characters in huge movies like One More Chance (Chinno a.k.a the friend who drank a bottle of shampoo) and Four Sisters and a Wedding (Frodo, Teddie's partner). On Jan. 31, he took to Facebook to post his rant. "Ba't niyo pa tinawag na Ppop eh photocopy lang naman ng Kpop," he said. "Kaya nga tinawag na Kpop kasi identified sa kanila yung ganyang style ng musika at ganyang itsura at pananamit."
He reposted it on Instagram with *additional insights*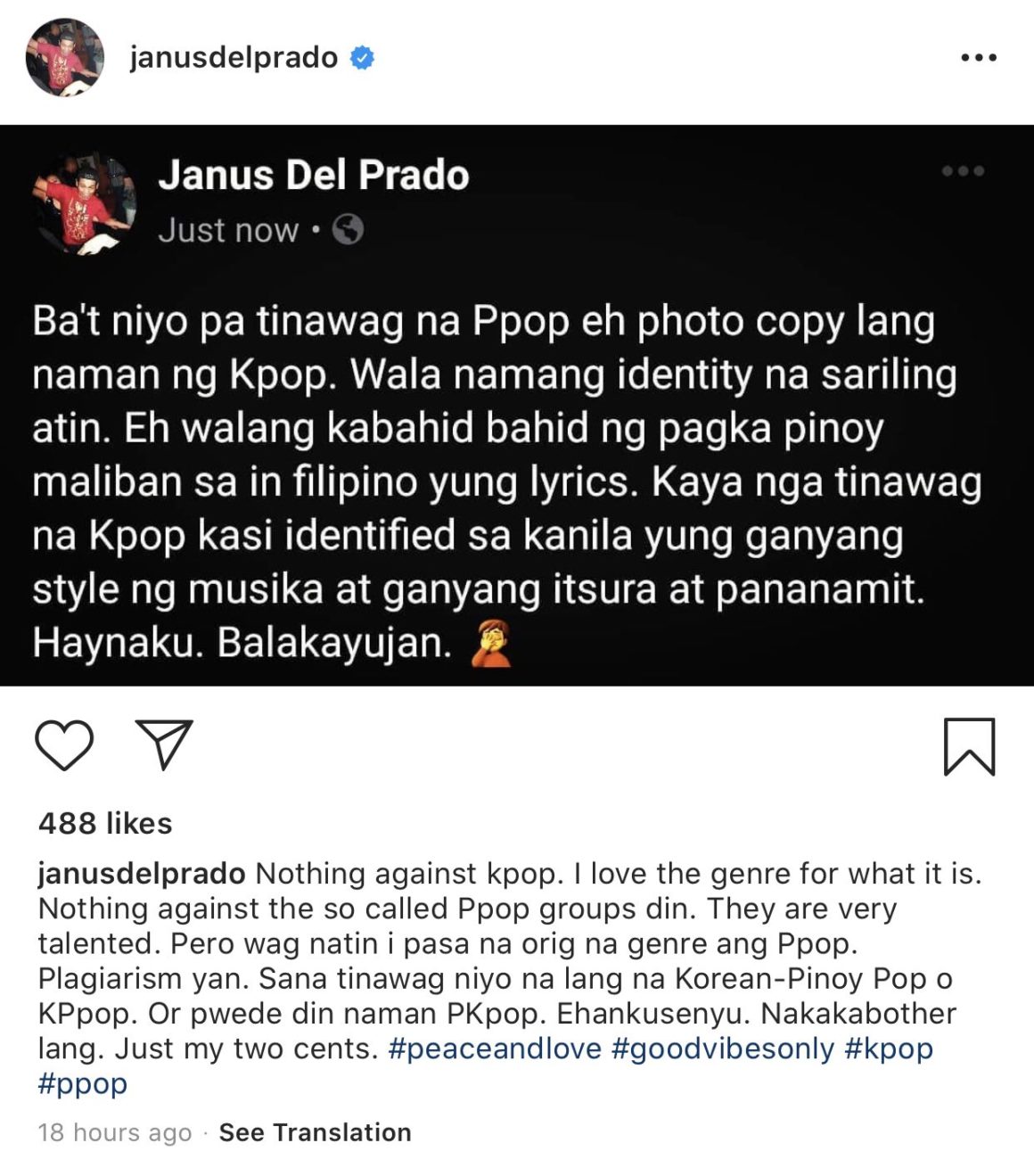 Del Prado insisted that he had "nothing against the so-called Ppop groups" but calling the genre an original is where he draws the line. "Plagiarism yan," he continued. "Sana tinawag niyo na lang na Korean-Pinoy Pop or KPpop." He ended the post by saying he was simply bothered by the entire thing.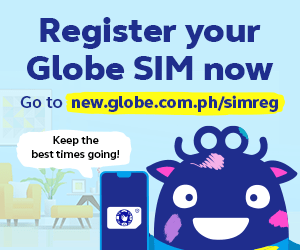 What prompted Del Prado's rant?
kung di mo pa gets, bakit?? pic.twitter.com/4coK6mGZRu

— kayneeeee (@aestellsthetic) January 31, 2021

Although he didn't explain what triggered his need to express his opinion, many assumed it was because of last week's new P-Pop group debut. Last Jan. 29 ABS-CBN Entertainment debuted BGYO, a five-member group with members JL, Mikki, Gelo, Akira, and Nate. They were well-received among Pinoys who are not new to this genre and are, in fact, very much excited for more groups to form and debut. Maybe Del Prado came across BGYO's debut single "The Light," which had an accompanying music video, and decided P-Pop was just not for him.
P-Pop fans defend their favorite groups
I would love to engage and educate pero mukhang masasayang lang oras at pagod ko. Kaya naman I'll choose to be kind and let the boys achievements clap back at the haters. After all, we can't please everyone.

Yes, I am talking about Janus Del Prado's remark on Ppop.

— Maria ✨ (@heymaria08) January 31, 2021

When it comes to P-Pop perhaps the first group that comes to mind is SB19 and so for A'TIN's (the group's fanbase), this is a blatant attack on the genre they love the most. "I'll choose to be kind and let the boys achievements clap back at the haters," one fan tweeted.
For their part, the phenomenal five-member group that debuted in 2018 has a goal to "introduce the P-pop genre to the world." There's no denying SB19 is a force to be reckoned with, the pride of Filipinos. They have been making waves online (they ranked 6th in the 2020 Billboard Top Social 50 Artists list!), much to the ire of those who have issues with P-pop as a genre.
Janus Del Prado, a Filipino artist said "PPOP is a photo copy of KPOP." Hello sir. First of all, PPOP is not a photo copy of KPOP. Sabi nga ni MNL48 Abby, mag-search ka kase.#MNL48 @mnl48official

— ApRoN 48 (@apronfortyeight) February 1, 2021
Seryoso yung kay Janus Del Prado? Sinabi niya talaga yun? Di yun peyk news? 😬

Kasi kung totoo yan, kakalimutan kong kilala kita. Hahaha

Tsk. Kasama sa OPM ang PPop. Lalo na kung likhan pinoy yan. Matuto tayong wag laging magkumpara. @SB19Official #SB19#SB19isComing

— CanorrS || Hanggang sa Huli 💕💫 (@KomandoCanorri) January 31, 2021
P-Pop has always been around
OPM has a lot of colors in it and that includes PPOP.
I just don't understand Janus Del Prado's tweet about plagiarism.
So if nag revive or gumawa tayo ng songs for any genres, will you call it copycat?
PPOP has been there from the time of Sexbomb Girls, Sarah Geronimo now SB19.

— Echo Dee (@EchoDee8) January 31, 2021
educate yourself Broadcast code of the Philippines 2007 said that if Any music which is composed, performed, adapted, translated, or arranged by a Filipino – including adaptations and translations into Pilipino or a Philippine dialect of foreign works – shall be considered an OPM

— Nadeem (@Bini_Nadeem) January 31, 2021

Sure, today's version of P-Pop is too similar to K-Pop but that's because our groups are either trained under Korean entertainers and Korean entertainment companies or are inspired by the good music of K-Pop. "PPOP has been there from the time of Sexbomb Girls, Sarah Geronimo now SB19," said one tweet. OPM is evolving and if people prefer this style better, there's nothing wrong with that.
But is P-Pop really copying K-Pop?!
Para sa mga taong iniisip na KPOP ang PPOP. Oo, ikaw Janus del Prado.@SB19Official pic.twitter.com/Np6JFPBCDi

— 😼 (@SBLunATIN) January 31, 2021
BTW SexBomb was also considered a Ppop group#PpopIsNotKpop#Ppop

— 💙ColMieMaybe💙 (@StanFiloIdols) January 31, 2021
What about the number of Pinoy artists inspired by American pop culture? K-Pop isn't entirely original either, as it's heavily inspired by entertainment from all over the world. It just so happened that Koreans have created a huge music industry and perfected marketing their artists in ways that have proven to be irresistible. And their success has prompted aspiring artists to pattern their journey after their K-Pop idols.
Encouraging words from Ebe Dancel himself
" We should welcome all forms of Filipino music. " – @ebedancel

As someone who grew up listening to Pinoy bands, this is very reassuring to hear. Thank you, Sir Ebe, for encouraging new generation of artists. 😢💙@SB19Officialpic.twitter.com/4ylQpzFOoB

— Stream HSH! Check end of 📌twt (@SB19_Stats) February 6, 2020

OPM isn't locked to one musical style, take it from the Ebe Dancel himself. It's ever-evolving, it has various subgenres, styles that are unlimited. What's more important than the flashy clothes and coordinated dancing is the fact that these Pinoy artists poured their hearts and souls into creating something that will resonate with their fans.
It's 2021
mr. janus del prado, the world is changing. almost everything is evolving. mindset mo na lang hindi 🤩

— el | was godlyjcs (@aestheticullen) January 31, 2021
Music is ever-evolving and shouldn't we be thankful for that? The OPM punk rock songs we grew up with have a special place in our hearts but imagine if nobody ever tried a different subgenre. P-Pop is a rising industry and instead of pulling each other down, why not support your fellow Filipinos? Or at the very least, don't meddle in things you're not the least bit interested in. Sabi nga ni Nadine Lustre:
nadine lustre annual tradition pic.twitter.com/Zdsg0ydzvg

— ً (@chrsdle) December 31, 2020
What do you think of Janus Del Prado's mini-rant?