One does not simply mess with fandoms, especially not when they're as dedicated as KathNiels. One political blogger learned this the hard way after he felt the wrath of one of the internet's most passionate fandoms as they trended #WeBlockAsOne.
Where it all started
Actors Kathryn Bernardo and Daniel Padilla — or KathNiel — make up arguably one of the biggest loveteams in the industry. Earlier this week, the IRL couple shared their views of ABS-CBN's shutdown on Instagram:
View this post on Instagram
View this post on Instagram
Like Angelica Panganiban, Angel Locsin, and Coco Martin, Kathyrn and Daniel publicly shared their opinions regarding their network's shutdown Both received praise from netizens for breaking their silence and bravely speaking out.
"Ang choice hindi lang dapat 'yan sa may pera."
Actors, learn from your characters. https://t.co/eG1wyJegU1

— Juan Miguel Severo 🏳️‍🌈 (@TheRainBro) May 13, 2020
Kathniel is THAT couple
A few years ago, the couple received flak from netizens for endorsing a political candidate. Both were bashed, ridiculed, and bullied. However, the previous event didn't stop them from publicly sharing their political opinions this time. As Daniel said in his post, "Pilipino tayo".
No one can actually downplay Kathryn Bernardo and Daniel Padilla's fear of speaking up politically. A few years back, they were harassed, threatened, and almost shoved into severe depression just because they advertised a candidate they believed in.

— sarcastic alien (@xandyeugh) May 13, 2020
daniel padilla and kathryn bernardo is THE power couple no one can change my mind

— juls (@httpsjulia) May 13, 2020
Like other celebrities, they used their influence and platform to educate their audience and respectfully shared their opinions. Because after all, it's the virus that the country should be fighting, not a television network.
KathNiel Fans VS Banat By
Despite the praise from netizens, the hateful comments continued; especially from diehard fans of the current administration. Trolls have been attacking and harassing the couple since they released the video, but a line was drawn when blogger "Banat By" insulted the couple for sharing their views during a Facebook live.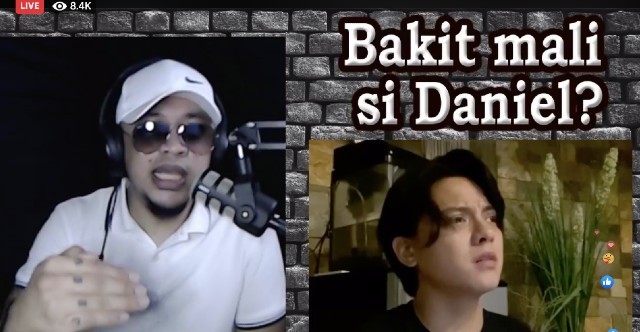 KathNiel fans weren't having any of it. Clearly, these DDS trolls and pages underestimated the fandom. KathNiel has millions of fans locally and even internationally, with fanbases in countries like Thailand, Malaysia, and Indonesia.
TAWAGIN NA NATIN BUONG SEA?@KathNielMsia @KaDsIndonesia @KathnielVNFC @KathNiel_BKK

Hello! PLEASE HELP US IN REPORTING SEVERAL USERS. WE ARE CURRENTLY HAVING OUR FANDOM BLOCKING AND REPORTING PARTY FOR THESE HARMFUL TROLL ACCOUNTS ON VARIOUS SOCIAL MEDIAS. SEE #WeBlockAsOne . https://t.co/FykoQutbCi

— 👀 (@justinmacki) May 14, 2020
The fans gathered to mass report Banat By's Facebook page to defend their idols. This gave birth to the hashtag #WeBlockAsOne, which became the top trending topic in the Philippines on Thursday evening.
#WeBlockAsOne: A fight against online trolls
JOIN US AS WE HOST THE RBM PARTY TONIGHT! we need all the help you can extend to this fanmily and lets all work together to protect #KathNiel at all cost.
SPREAD THE WORD!@min_bernardo @Estrada21Karla @imdanielpadilla @bernardokath @Influencer_KN @KDKNUpdatesPH pic.twitter.com/ZQ3zuYIk2w

— KN Social Media Moderators (@KNSMModerators) May 14, 2020
KathNiel's fanpages on Twitter invited the whole fandom to a "Report. Block. Mute. Party" to help take the blogger's page down. They also shared reminders on how to successfully report pages without mentioning their names (so they wouldn't trend).
Friendly Reminder 📣#WeBlockAsOne pic.twitter.com/JiWUreTLci

— KN Social Media Moderators (@KNSMModerators) May 14, 2020
KATHNIEL fans otw to end and block the fucking trolls. #WeBlockAsOne pic.twitter.com/QX1Wsb3XKk

— mark geronimo (@markgeronimo_) May 14, 2020
Obviously, the campaign and battle against trolls are just a piece of cake for fandoms. Fans are very hardworking: from lining up for hours to show support to their idols to making hashtags trend within a couple of hours. TBH, these trolls chose the wrong fandom to mess with because KathNiel fans are fearless.
kathniels right now#WeBlockAsOne pic.twitter.com/V2S9Or5z7x

— ekka ❤️💚💙 (@kyryntaydall) May 14, 2020
y'all have no idea how powerful our fandom can be.#WeBlockAsOne #StarveTheTrolls pic.twitter.com/bsWGtBFVyH

— Jors (@wandxrlustard) May 14, 2020
Let us not forget this iconic scene from Four Sisters and A Wedding. Angel Locsin dragged Mocha Uson, literally.
Even non-fans joined the cause
Tonight, I join the KathNiels in tweeting #WeBlockAsOne. Pay no attention to all those trolls who are castigating @bernardokath and @imdanielpadilla for standing up for their beliefs. I've learned the best way to deal with trolls is to starve them. Don't give them any attention.

— Julian Mauricio (@JulianMauricio) May 14, 2020
This isn't the first time that netizens joined arms in mass blocking troll pages. What makes this one special though, is it started as a way to protect idols. Netizens realized that it is more than that and the continuous spread of fake news and propaganda must finally come to an end. How can you #StarveTheTrolls? Do not engage, mute, block, and report.
Your freedom to troll ends where our freedom to block begins. #WeBlockAsOne

— Gideon V. Peña (@gideonpena) May 14, 2020
It seems like the trolls have attacked the wrong fandom. These KathNiel fans are not just fans. They know what they're doing. I admire the act of #WeBlockAsOne 👏 It's like giving the trolls the response that they never expected. Fan or not, this is a good move. Let's help!

— maria alaiza ✨ (@binibining_alyy) May 14, 2020
How Paid Internet Trolls Work and Why You Should Ignore Them
How Paid Internet Trolls Work and Why You Should Ignore Them
Kyzia Maramara | Apr 06, 2020
Fandoms aren't just about idolizing celebrities
This is proof that "fandom" is way beyond idolizing celebrities. It is also about MAKING A DIFFERENCE. If you are a die hard fan of any celebrity, artist, band, or group, please know that you are POWERFUL. You can make a difference. #WeBlockAsOne

— KCMB Bulletin (@KCMBBulletin) May 14, 2020
Fans, remember that you are as powerful as your idols and always bring that energy to a good cause. It's one way to make your idols proud and of course, contribute to having a safer online space for users. In fact, on top of the mass reporting, KathNiel fans have an ongoing donation drive for frontliners! How remarkable is that?
Let's reach half a million mark! We're almost there! 🤩 Our #KathNielsShareTheLove donation drive is extended until May 25th — Kath and DJ's 8th anniversary! 💙

You can still send in your donations! Let's help more frontliners! 🥰💙 pic.twitter.com/S1FJXMWIUP

— Bec (@immharvic) May 1, 2020
KathNiel fans are THAT fandom.
WOW, THE POWER OF THE KATHNIEL FANDOM?! Just 🔛🔝💯

This goes to show how important it is for celebrities/big names to take stands on important issues. Thank you! 🙏🏻

DONATION DRIVES? ✅
MOVEMENTS TO END TROLLS? ✅
PROPER SOCIAL MEDIA USE? ✅#WeBlockAsOne

— Robert Dominic Gonzales (@robertkaaatz) May 14, 2020
Just checked out the #WeBlockAsOne hashtag and saw KathNiel fans blocking & reporting D/D/S accounts from bashing their idols and maligning Filipinos.

Grabe talaga power ng KathNiels! You really can't mess with them. Also great job for standing up for what's right hehe.

— Hannah M. (@gabmallorca_) May 14, 2020
With the success of #WeBlockAsOne, it seems that this wouldn't be the last time we'll see different Pinoy fandoms battle against trolls.
Join #WeBlockAsOne
If you want to join the cause and block more trolls, one Twitter account has a list of suspect accounts to make blocking easier:
Hi everything! Gumawa kami ng blocklist ng DDS trolls para hindi niyo na sila makita at para hindi na rin sila makapag-engage sa inyo. Sa kasalukuyan, may 500+ na ang nasa list, karamihan followers ni Mocha, TP, at ng iba pang pasimuno ng mga troll farms. #StarveTheTrolls

— DDS Trolls Blocklist (@ddstrolls) April 5, 2020
And when going against trolls, remember these tips:
This Indian High School's FB Page Has Had Enough of DDS Trolls Who Think It's About Them
This Indian High School's FB Page Has Had Enough of DDS Trolls Who Think It's About Them
Kyzia Maramara | May 15, 2020
How many troll pages have you blocked this ECQ? Tell us below!