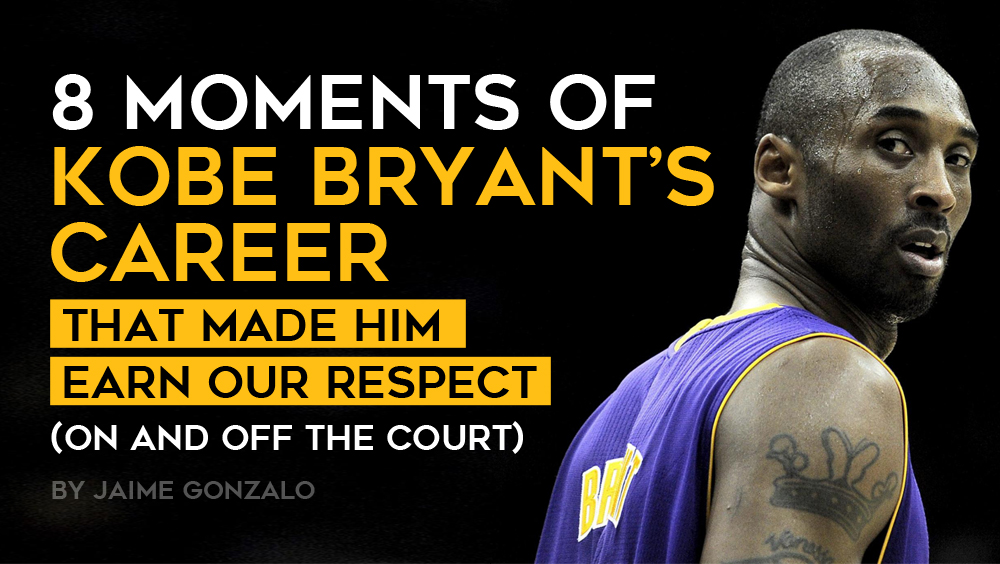 In 1996, the NBA received a gift in the form of Kobe Bryant. Love him or hate him, you have to give Kobe due respect for what he's done for the game of basketball.

Kobe recently announced that this will be his last season and today is his last game. The news hit hard, not only for Lakers fans, but for fans of the game in general. What Kobe did in his career shouldn't be compared to that of Jordan's or LeBron's because Kobe always made it clear that what he was doing was for himself, and to become the best version of himself. He won our hearts on and off the courts with his charisma and his drive. Here are 8 moments of Kobe Bryant's career that made him earn our respect (on and off the court).
8. When he won the Slam Dunk Contest as a rookie in 1997
He was only 18 years old and had a very skinny frame, but that didn't stop Kobe from outshining his idols on the big stage.
7. When he made a rap album
Let's face it, ballers want to be rappers and rappers want to be ballers. Kobe's album "visions" didn't live up to its expectations but let's give him some credit for his self-titled track "Kobe" which is actually pretty catchy. He even performed the single during the 2000 All-Star Weekend. The song is now a gem, and is honestly better than some of the stuff we hear on the radio today.
6. When he gave back through philanthropic efforts
Basketball players make a lot of money doing the thing they love. It isn't uncommon for athletes to give back but Kobe's philanthropic efforts were more than just admirable. He is the official ambassador of the After-School All-Stars, a non-profit organization that provides after-school programs to children across America. He also founded the Kobe Bryant China Fund which is a fundraiser for education and health programs. Last but not least, he helped make the dreams of a certain Make A Wish participant come true by playing him in a game of Horse.
5. When he led the Lakers to their first NBA Finals since 1991 and started a dynasty with Shaquille O'Neal
Down by 15 points in the fourth quarter, all seemed lost for the Lakers and it looked like they were going to be eliminated from the conference finals yet again. In comes Kobe, who got his team together and made a final push to tie the game with 15-0 run in the fourth quarter. With time running out, Kobe made an incredible alley-oop pass to Shaq who buried in the dunk with authority for the lead.
The Staples Center witnessed the start of a dynasty. Kobe had 15 rebounds in that game despite the abundance of taller players in that game. The Lakers would eventually win the Championship that year and the following two years after.
4. When he scored at least 40 points in nine consecutive games
There have been many comparisons between Jordan and Kobe but Kobe insists that he doesn't want to be recognized as "better than Jordan" but instead as "the best he can be". When Kobe scored at least 40 points in nine consecutive games in 2003, he definitely raised the comparisons again because what people were witnessing was definitely one of the best basketball players to ever play the game.
3. When he made a sick behind the back pass to Ronnie Turiaf
One of the best assists of all time. Enough said.
2. When he surpassed Jordan in the All-Time Scoring List with one of the most iconic free throws of all time
As Kobe hit the free throw that would seal his name as third in the NBA all-time scoring chart, the whole arena, including the fans and players of the Timberwolves, payed their respect to Kobe in one of the most heart-warming ovations you'll ever see in a basketball game.
1. When he dropped 81 points against the Toronto Raptors
Somebody should've told the Raptors' Coach that they needed to double team Kobe that night. Kobe singlehandedly destroyed the Raptors in 2006 when he dropped 81 points to secure a come from behind victory for the Lakers. The scoring feat put Kobe in second for highest points in a single game, coming behind Wilt Chamberlain and surpassing Michael Jordan. What a legend.
What are your favorite Kobe moments? Sound off in the comments below!
Updated April 14, 2016