Madonna Songs
Bigots Will Hate

Local media and social media discussions have been filled with discussions on Manny Pacquiao declaring homosexuals as worse than animals. He even said that common sense dictates that even animals don't Netflix and chill with the same sex. The funny thing is, there have been 1,500 documented animal species that demonstrate homosexual behavior. There's also a lot of things worse than people merely celebrating love, like politicians shamelessly screwing over the people they serve. The fact that we're still having this debate over LGBT rights and the hateful comments over social media in the 21st century is ridiculous.
Well, bigots have another reason to frown and spew hate from their keyboards as Madonna is set to perform in the country.
Madonna gained commercial success with her debut single Everybody in 1982. She then debuted her self-titled album the following year and never looked back. In the decades in the music industry, she became a very influential musician, capable of adjusting and experimenting with musical ideas to the latest trends and transforming her sound. She's the queen of re-inventing. Her music transcends definition. Besides one of the best-selling acts of all time, she's also a fashion icon and an icon for the LGBT community.
Madonna has been a very outspoken and vocal supporter of the gay community, LGBT rights, and AIDS advocacy. Her lyrics and performances are always controversial, much to the chagrin of conservatives everywhere. Hell, she even helped a gay couple get engaged at one of her concerts.
Will we see another protest like what happened with Lady Gaga in 2012? Who knows. That being said, let's take a look at some of the pop queen's songs and videos on tolerance and expression. Maybe we can all learn a thing or two about being more accepting of one another.
8. Justify My Love
The lyrics: Poor is the man/Whose pleasures depend/On the permission of another
People depending on another's approval to love someone is pretty laughable. You tell them Madonna! Newsflash: she doesn't need anyone to justify her love. Fun fact: due to the video showing nudity and various couples engaging in BDSM, the music video was banned from MTV at a time.
7. Like A Prayer
The lyrics: When you call my name it's like a little prayer/I'm down on my knees, I wanna take you there
Subjected to different interpretations, Like a Prayer is Madge's most popular tracks. It's a song with sexually charged lyrics combined with religious imagery, as if engaging in passionate acts is a religious and spiritual experience in itself. The video was also controversial in itself. It flashed images of burning crosses, stigmata, and Madonna kissing what appears to be a black saint. It's not surprising that religious groups protested the release of the video.
6. What It Feels Like for A Girl
[vimeo id="43410678″]

The lyrics: "Do you know what it feels like for a girl/Do you know what it feels like in this world/What it feels like for a girl"

The opening spoken word part of the song pretty much nailed it: "Girls can wear jeans/And cut their hair short/Wear shirts and boots/'Cause it's OK to be a boy/But for a boy to look like a girl is degrading/'Cause you think that being a girl is degrading/But secretly you'd love to know what it's like/Wouldn't you/What it feels like for a girl"

The video was eventually banned due to its violent content, with Madonna going around on a crime spree.
5. Frozen
The lyrics: "You only see what your eyes want to see/How can life be what you want it to be/You're frozen/When your heart's not open"
She further adds, "You're so consumed with how much you get/You waste your time with hate and regret/You're broken." Love transcends all barriers. If we just started to start loving each other and stop being selfish twats, the world will be a better place.

Photo via: Justin/Giphy
Tell 'em Bill! Sidenote: we need another Bill and Ted movie.
4. Papa Don't Preach
The lyrics: "Papa don't preach, I'm in trouble deep/Papa don't preach, I've been losing sleep/But I made up my mind, I'm keeping my baby, oh"
The song talks about teenage pregnancy, with Madonna playing the role of the teenager asking her dad for advice during this very difficult time. But ultimately, it's about a woman making a very big decision in her life and doesn't want her relationship with her father to be strained. The release of the track caused different groups to criticize her, alleging that Madonna was encouraging teenage pregnancy. Asked in a 2009 interview on why the song held a lot of meaning for her, she said, "It just fit right in with my own personal zeitgeist of standing up to male authorities, whether it's the pope or the Catholic Church or my father and his conservative, patriarchal ways."
You go girl!
3. Human Nature
The lyrics: "Express yourself, don't repress yourself/And I'm not sorry/It's human nature/And I'm not sorry/It's human nature/I'm not your bitch don't hang your shit on me"
This is Madonna in all her unapologetic glory. Flashing her fangs and proudly waving her middle finger on what society considers topics too taboo or scandalous to be discussed. She's not sorry at all, she's not your bitch and she's not going to take your shit.
2. Express Yourself
The lyrics: "Don't go for second best baby/Put your love to the test/You know, you know, you've got to"
Express Yourself was an anthem of empowerment, that of embracing your true identity. Don't settle for second best. You deserve to love and demand what's real. You deserve to be who you really are. You deserve to express yourself and let your freak flag fly.
1. Vogue
The lyrics: "It makes no difference if you're black or white/If you're a boy or a girl/If the music's pumping it will give you new life/You're a superstar, yes, that's what you are, you know it
Vogue isn't just one of Madonna's best songs, it's one of the best songs ever written, period. It gave birth to Voguing and it's the ultimate LGBT dancefloor anthem. The song talks about escaping from all of life's heartaches and retreating to the dancefloor, be yourself and just dance. Ultimately, we all just want to dance and enjoy ourselves. Cut the BS, hate and prejudice, let's all just put on our dancing shoes and Vogue.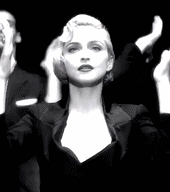 How about you? What are your favorite Madonna songs? Strike a pose and let us know in the comments!