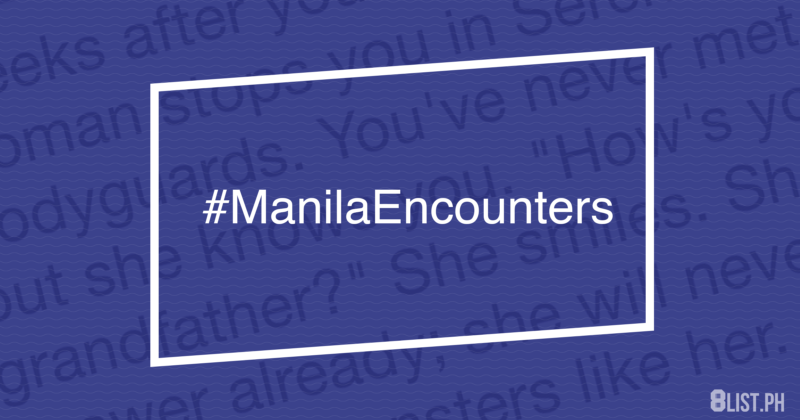 Over the course of the long weekend, the hashtag "#ManilaEncounters" has been gaining traction on Twitter. What started out as an attempt to crowd source random encounters for an emerging urban fantasy game, rapidly became a cool writing prompt that has since generated weird, spooky and bizarre tales around the Metro.
Stories cover the broad spectrum of supernatural realism that could exist around us. Whether it's round-the-clock call centres to the memory of People Power, to the secrets of children on the streets and the dark side of Club Intramuros. Together they've constructed an urban fantasy version of Manila, and it all started with this tweet by game designer Billy Recio:
THE DRAGON OF PASIG, as large as your house and 5x as smelly. Its skin is plastic bags and shit and tetra packs. Its breath is corrosive factory smoke. It eats people, but it is tired of the taste of masa and wants to know what glutathione skin tastes like.

— Nosfecatu (@bjrecio) February 24, 2019
Writer John Philip Corpuz explains the appeal on his own Twitter, saying: "[What really helps sell #ManilaEncounters is that so much of it is just a half-step removed from our everyday routine, with fickle, nebulous forces beyond our ken alternatingly shitting on us and then showering us with delightful synchronicities."
There are already tens of thousands of #ManilaEncounters stories, creating a tidal wave of microfiction that has even inspired other territories to take up the challenge. #KLEncounters took off when game designers from Malaysia picked up on it. #CDOEncounters and #IloiloEncounters takes the challenge to Cagayan de Oro and Iloilo.
Here are some of my personal favorites, in no particular order.
Familiar?
Weeks after your grandpa died, an old woman stops you in Serendra, flanked by bodyguards. You've never met her before, but she knows you. "How's your grandfather?" She smiles. She knows the answer already; she will never forget those who hunt monsters like her. #ManilaEncounters

— Erich von Lichnowsky (@lichcasts) February 27, 2019
Erich von Lichnowsky serves up an encounter in which an older monster lets slip the masquerade for just one moment.
Chills
#ManilaEncounters You're sure that you found the turn that you got wrong. You dial your friend's number to apologize for being late. The route to their house is trickier than you thought.

The voice that picks up is a mirror of your own: "Wag ka nang pumunta. Andito na ako."

— noeychii 🐾 (@thenoeychu) February 26, 2019
Play Without Apology's Noey Pico tells the story of a doppelganger that's more punctual than you.
Nothing is ever free
#ManilaEncounters She laughed when her mother insisted she give her boyfriend a piso in exchange for the beautiful new shoes.

She wasn't laughing when the shoes walked her into the river, heedless of her screams and clawing hands.

In the riverbed she waits, coins in her hair.

— Jammi (@temporalhiccup) February 26, 2019
Jammi (@temporalhiccup) shares the fate of those who dare to defy an old wives' tale.
Who are you, Pepe?
Salcedo Auctions. Invite only event. Auctioneer unveils a glass vial with misshapen lead slugs. "The bullets that killed Rizal" he exclaims. Fakes, i chuckled inwardly. My companion makes a bid. "Wtf are you doing Pepe?!" I say. "It would be funny" he says #ManilaEncounters

— Karlos Rey Manalo (@bakerofish) February 26, 2019
Karlos Rey Manalo lets us know that Rizal lived again to laugh the rest of his days.
Where have all the good men gone?
(From an antique shop somewhere along Recto)

Things to dispose:
1. A white pebble
2. A rusty barbell
3. A dagger that turns into a sword

Reason: Nobody wants to inherit the noble task of saving the city anymore.

— #postmodernunicorn (@tofi_alonte) February 26, 2019
#postmodernunicorn (@tofi_alonte) answers the question of where the heroes and their tools of power are
Deadly Whispers
#ManilaEncounters The front page of the local dyaryo boasts a buxom female, winking provocatively at the reader. If you put your ears to the paper, you can hear her whispering strange nothings; how she would love to broil your bones with Knorr chicken cubes.

— Bim (@momatoes) February 25, 2019
Bim (@momatoes) asks us to listen closely for the vicious threats that reside deep within the newsprint
Sakay na!
Midnight. I get a passenger. Nothing unusual – I helped her strap on the helmet, got on, and went on our way.

We arrived safe and sound. She gives me back the helmet as she joyfully walks away.

In my hand was the helmet.

With her head still intact.#ManilaEncounters

— Angkas (@angkas) February 27, 2019
Ride-sharing service Angkas got in on the action, delivering every driver's horror story.
The Less You Know
#ManilaEncounters Whatever happens, do not ask for the secret formula for Ministop Fried Chicken. Keep the illusion alive.

— Mahar Mangahas (@Maharhar) February 26, 2019
Mahar Mangahas recommends you don't question where the flavor comes from.
Got your own #ManilaEncounters story? Share them with us below!