Do you know what PCD means? Are you aware that there is such a thing and that there are real people who suffer from it? The fans of Mayday Parade are probably neck deep in Post-Concert Depression (PCD) from the concert last Saturday, October 7. Pulp Live World brought Mayday Parade back to the Philippines again but this time it isn't just for another concert – it's the 10th year anniversary of their album A Lesson in Romantics. If you weren't there then read at your own risk because this article might hurt your fangirl/fanboy side in ways you wouldn't even imagine. Here's what went down last Saturday at the Kia Theatre.
1. It was a gathering for old friends and new friendships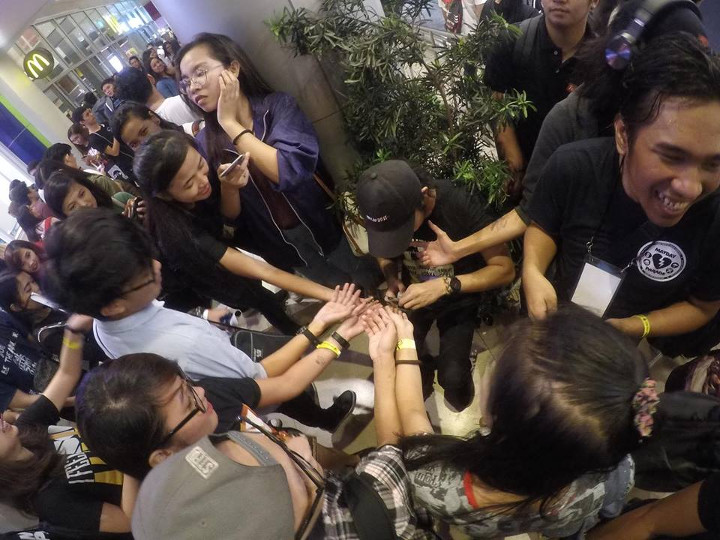 Where's the fun in going to a concert if you don't have friends to go with? It's a good thing Mayday Parade fans are such a friendly and loving bunch, it's easy to belong even if it's your first time meeting them. Outside the venue before the concert, Mayday Parade stickers were being handed out, friends who just met on social media are finally meeting in person, and the air was buzzing in excitement. Bonding over shared love for a band is definitely something, especially when you're hours away from seeing the band live!
2. The setlist was the whole album and more!
I don't know what the fans were expecting but I wasn't expecting the whole album to be sung. Only when I saw the setlist from a previous Mayday Parade concert did it finally dawn on me that they're singing everything! And why not? You won't properly celebrate the 10th year anniversary of an album if you don't sing every song on it!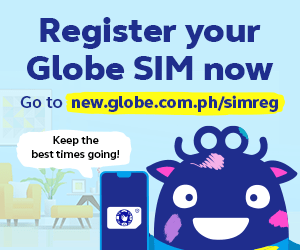 3. The energy of the band and of the crowd
..was amazing! The band immediately dove into the intro of Jamie All Over and killed it the first five seconds in! The roar of the crowd was deafening and with the bass thumping the same time as your heart and your favorite band on stage, every concertgoer can't deny it was a marvelous feeling. With the theater awash in colorful pulsing lights, you'll realize that suddenly your long wait is over and Mayday Parade is now in front of you, live and in the flesh!
4. Derek's speech
More than the music, we were there for the words we wanted to hear from the band. Concerts are unscripted moments where the band can tell you anything they wanted to.
The longest speech Derek Sanders, the vocalist, made was before the last song of the A Lesson in Romantics album. And I'll be bold enough to say that it's what every one of us needed to hear that night.
"Here's the one thing I wanna ask with everyone here tonight. The one thing. Please don't ever feel like you don't matter, okay? Don't ever feel like you don't matter 'cause I promise you that you do. You always have, and you always will. And to anyone here tonight who is struggling right now, just remember that some of the very best people in this world are the people who have really struggled and learned from it and become better because of you, right? So you guys will be okay. I love you all so much."
– Derek Sanders, Mayday Parade
5. The sad songs bringing sad, sad feels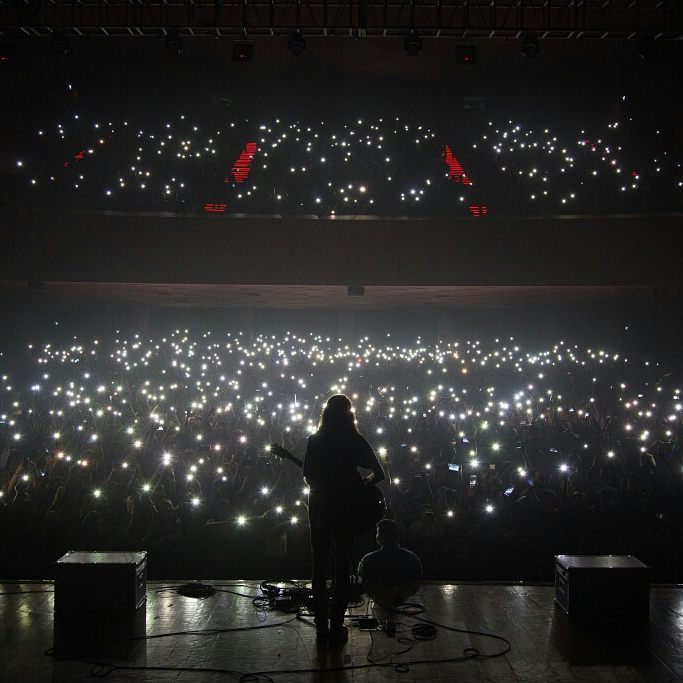 Mayday Parade is known for their songs that will rip your heart in pieces but you'd still be willing to listen to them over and over again. Their sad songs Terrible Things, Miserable at Best, and Stay were live performances that were to die for – literally because like I said, it'll crush your heart! But Mayday Parade wouldn't be what we all loved if they didn't sing the sad songs. Besides, it gave us the chance to sing at the top of our lungs and not be judged.
6. The unexpected encore
After Kids in Love and a couple of songs other than from A Lesson in Romantics, Mayday Parade bid goodbye and left the stage. It was too abrupt and everybody was in disbelief! They didn't sing Stay and Oh Well, Oh Well yet. Stay wasn't in the leaked setlist but Oh Well, Oh Well was. The fans weren't about to accept that fate so everybody chanted "We want more!" shouting "Stay!" in between. Nobody was willing to leave and it's a good thing because Derek walked on stage again, in a different outfit, saying that they'll still be performing 2 more songs. And guess what, he started singing Stay! At this point, I'm sure a lot of fans were already crying because them singing Stay wasn't really expected.
They ended the whole concert with Oh Well, Oh Well and there we were wishing the last line dragged a little longer because we don't want the experience to end just yet.
7. The after concert high
But everything has to end at one point. And so with slightly deaf ears, hoarse voices, and a happy heart we exited the Theatre. There was a long line for the surrendered bags and everybody was looking for their friends. Shouts were heard here and there "Ang ganda! Gusto ko pa!" It was a great way to end the night, although if given a choice we wouldn't want the night to end.
8. Until next time, Mayday Parade!
Of course, I have every faith in the band that they will return once again on Philippine soil, after a few years perhaps. They will once again be breathing the same air we're breathing and gracing the concert stage with their classic songs. Until then, we're all back to our PCDs and listening to them on Spotify. But it was such a great night Mayday Parade, definitely one of the greatest concerts this year.
Thank you to Vernon Go and the Pulp Live World team for bringing such wonderful acts, it means so much to the fans! Pulp will be bringing Slayer next on October 11, and Mr. Big on October 12 both live at the Kia Theatre. Don't miss your chance to see them live!
If you want to watch the Mayday Parade concert or just look back at the night, here's an album on Facebook from a fan that you can watch from.
Were you there at the concert? Share your experience with us!