Meet the UAAP Season 81 Courtside Reporters
Sep 13, 2018 &nbsp • &nbsp Karina Sitaldas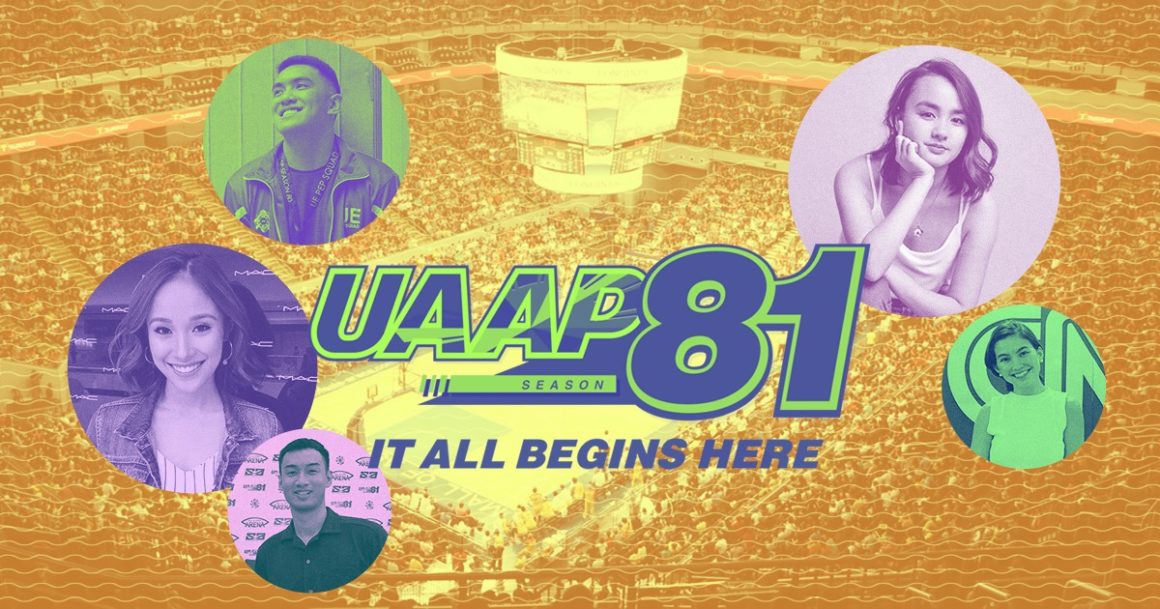 The long-awaited UAAP season is finally back and opened this past weekend at the SM Mall of Asia Arena. There are lots of things to look forward to this season: new players, different coaches, and, as usual, new faces giving us the rundown of each action-packed game. There are five new courtside reporters for Season 81, and the other three are making a return. Here are this season's friendly faces who will help us get with the game:
Aiyana Perlas – De La Salle University
View this post on Instagram
Aiyana is a Psychology sophomore in DLSU. She was a finalist in the MYX VJ search 2018, and she's also a Youtube vlogger. As a result, she is very well-spoken and brings a certain charm to her reports. There's no doubt that Aiyana will be a sight for sore eyes this season.
Makyla Chavez – University of Santo Tomas
View this post on Instagram
Although only a freshman, it's no hard task for Makyla to represent the UST Tigers. She's an Asian Studies major, and has been loyal to UST even pre-college. Hosting is her first love, but she is also a commercial model, which is something you'd easily be able to tell watching her reports. Soft-spoken, well put together, and a natural in the spotlight is how we'd describe this UST reporter.
Cor Catibayan – Adamson University
View this post on Instagram
Cor is a Broadcast Communication senior from UP. She's also a Student Jock at RX 93.1, and a member of hip-hop dance group, Legit Status. She has great camera presence, and a contagious bubbly personality: something you witness the second she starts reporting. There's no doubt that she was born for this.
Sam Corrales – University of the Philippines
View this post on Instagram
Currently in her 5th year, taking up Journalism in UP, Sam was previously a part of the UP pep-squad. There is something chill and relaxed about her approach towards reporting which is a refreshing change. The UP Pride and passion for sports is undeniable with this baby-face.
Frannie Reyes – Ateneo de Manila University
View this post on Instagram
Frannie is a Management Economics junior at ADMU. Without any previous hosting experience, she described the audition process as "learning and learning again," something that will surely help her break out of her shell. Although she's new to this, her knowledge of and love for the game works to her advantage.
Syd Crespo – Far Eastern University
View this post on Instagram
Syd is an AB communications major at FEU, and this will be her second year returning as FEU's courtside reporter. She's also a Junior Jock and events host at Magic 89.9. Coming from her experience, Syd has a very natural and effortless reporting style — one that'll keep you reeled in for sure.
Dyp Dypiangco – National University
View this post on Instagram
Season 81 will be Dyp's 2nd year reporting for National University. He's a Broadcast Communications major from UP, and he's also a Student Jock for RX 93.1. His humor and ability to be relatable are what make Dyp's reports stand out.
Migs Gomez – University of the East
View this post on Instagram
Migs is an Electrical Engineering student at UP, and this will be his second year reporting for the University of the East. As someone who plays basketball himself, it's been his dream to write and speak about basketball, he told ABS-CBN. His first-hand knowledge of the game manifests itself in his reports, and that's what makes his style unique.