8 Metal Albums to Watch Out for in 2015
Jan 26, 2015 &nbsp • &nbsp Karl R. De Mesa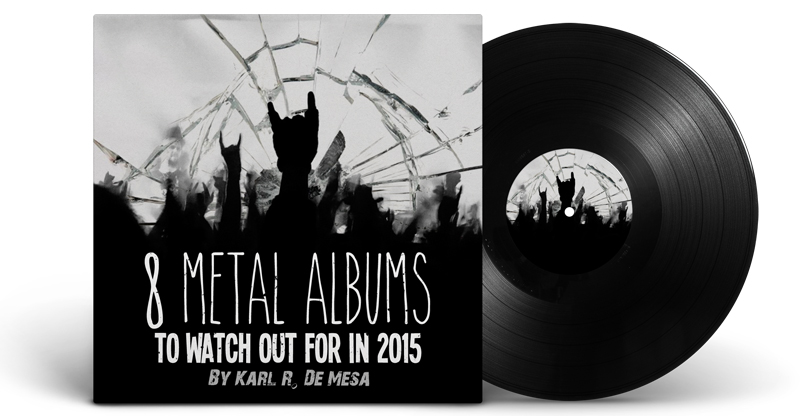 While we wait for the product of the unholy alliance of Saint Vitus vocalist and guitarist Scott "Wino" Weinrich and ex-Queens of the Stone Age bassists Nick Oliveri and Alain Johannes, as well as drummer Joey Castillo, also called Royale Daemons, here are some LPs that are scheduled to be released this year, at least if we take it from the news circulating on the metal grapevine.
I would have included Tool, Dream Theater, and Metallica being in the studio but due to unconfirmed reports and the fact that either they're just now in the studio — or they're MJK and quite full of mystery — I put them off the list until there's a more substantial kind of statement; like some teaser music or marketing push.
Meantime, let us hope that all these come to pass, brothers and sisters.
OTHER RUNNER-UP NOTABLES:
*LEVIATHAN, Scar Sighted
*RWAKE, Xenoglossalgia (demo re-release)
*OCEANO, Ascendants (slated for March)
*ROYAL THUNDER, Crooked Doors (slated for April)
*ENSLAVED, In Times
*CANNABIS CORPSE
*SUNN O)))
*FIVE-FINGER DEATH PUNCH
*MOONSPELL


ALBUM TITLE: ?
RELEASE DATE: ?
Ghost and Papa Emeritus III are currently polishing their follow-up to 2013's "Infestissumam" and have confirmed it's release this year sometime in the second quarter, saying that the album will be "more metal" angle.
"From a guitarist point of view, I think that 'Infestissumam' turned out a little bit too vocal sometimes," guitarist Nameless Ghouls said in an interview with Berlin TV. "I'm pleased with the record, I'm just saying that in the future, we're probably gonna add more instrumental parts, which you in a way can probably regard as 'more metal' just because it's gonna be more guitars playing and more things happening."
"GHOUL INTERVIEW"


ALBUM TITLE: ?
RELEASE DATE: ?
News is that there are solid plans for the release of a new album out sometime this year. Earlier this month, vocalist Chuck Billy and guitarist Eric Peterson posted pictures of the band laying down some tracks in what appears to be a home studio, just to keep fans wet. The new record will be the first to feature bassist Steve DiGiorgio since the re-recordings of old material in 2001. I really liked the cohesiveness of "Dark Roots of the Earth" so, hopefully, Bilyl and Co keep up their momentum.
"TESTAMENT IN STUDIO 2015"

ALUBM TITLE: Eros
RELEASE DATE: ?
To commemorate the passing of their bassist, Chi Cheng, the band took to Facebook last year and posted a song off Cheng's last recorded album with the band, "Eros," that was never released. However, as time has progressed, the band has hinted that Eros may in fact be released at some time. Is this year the lucky year? Teasers online seem to point to a solid enough confirmation. It's all instrumentals, by the way.
"SMILE"

LEAKED STUDIO FOOTAGE


ALBUM TITLE: Juggernaut: Alpha and Juggernaut: Omega'
RELEASE DATE: January 27, 2015
The poster boys for djent are back with ambition. Drummer Matt Halpern has explained the gigantic two-disc concept album with Floydian (or perhaps, mroeaptly, Coheed and Cambrian) epic proportions.
He says: "'Juggernaut' is a story that is told through our music, and we want our audience to fully digest the whole experience. . .'Juggernaut: Alpha', the first part of the story, focuses on the back story and character development, while part two/album two, 'Juggernaut: Omega', focuses on some pretty serious and gut-wrenching events, taking you for a thrill ride along the main character's complex journey.
You can stream both albums on the links ahead of next week's release date.
"JUGGERNAUT ALPHA"

"JUGGERNAUT OMEGA"


ALBUM TITLE: ?
RELEASE DATE: ?
Dave Mustaine has already announced that their new LP will definitely drop in 2015, despite the recent departures of drummer Shawn Drover and guitarist Chris Broderick.
Mustaine also noted that the guys need a year off to recuperate. "In August we'll start writing the next record," Mustaine told Full Metal Jackie. "We'll probably have a new release in 2015, we're going to take next year off. We've changed management, we've had a lot of stuff happen over this year that's been really good for us."
Well, I hope they do better this year because "Supercollider" was pretty much a low point in their discography.
Take some tasties from their live tour last year in South America.
"TRUST LIVE IN CHILE 2014"


ALBUM TITLE: ?
RELEASE DATE: ?
During the 2014 holiday season, Iron Maiden teased a 2015 album in a Christmas card sent out to fan club members. It pictured mascot Eddie entering a studio, so although it's possible Maiden's record won't come out in 2015, recording sessions seem likely. It will be Iron Maiden's first since "The Final Frontier" in 2010.
Of course, everybody on the Maiden message board promptly went ape shit with speculation. Is Maiden really releasing a new album for 2015? If you notice on the lower left, it says UROTON 51, which some astute fans have pointed out is an anagram for ON TOUR 2015. Of course, fans can read into just about anything.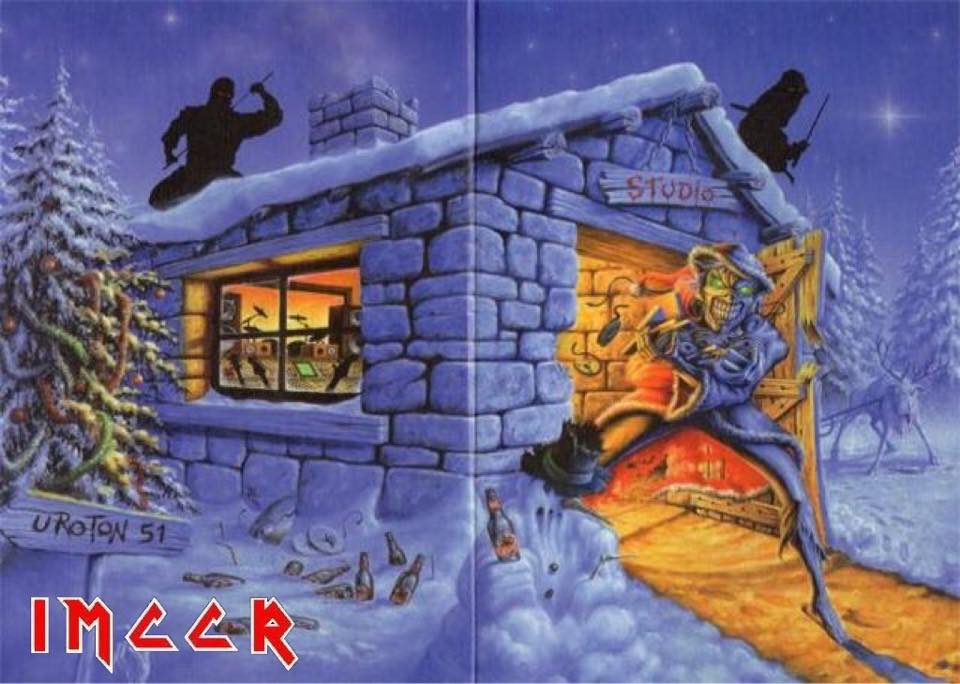 Meantime, here's Maiden's show live last eyar at the Rock AM Ring
IRON MAIDEN ROCK AM RING


ALBUM TITLE: ?
RELEASE DATE: April 2015
Hello, Mike Patton! Faith No More said their farewells after 1997's "Album of the Year," but came together again for a 2009 tour. It's true that the new track "Motherfucker" is an awesome prelude of things soon to come.
"MOTHERFCUKER"


Guitarist Kerry King spoke at the Specialty Equipment Marketing Association show in Las Vegas and announced the big news: "We just pretty much got done recording. We're going to go in for, like, ten days at the end of this [tour]. . .and record some more stuff. We've got enough for a record now. We're just going to go in and record some more, 'cause we have time. And that should be out early next year."
Here's some KFK shredding from the trunk of a car's audio system at the same Scion x Slayer Mobile Amp tC, to get you pumped meantime.
"KERRY KING LV CAR SHOW INTERVIEW"

Got anything to add to this list? Share them in the comments section below!