There are three kinds of people: 1) people who don't care for milk tea; 2) people who love milk tea; and people who LOVE milk tea. If you belong to the latter group, the good news is you don't have to stick with your go-to order to get your milk tea fix. In fact, you don't even need to enjoy your milk tea in its usual liquid form to satisfy your cravings! Here are some amazing milk tea-flavored desserts and snacks that you should definitely try.
Milk Tea Souffle Pancake from Puffy's Souffle Pancake Cafe
View this post on Instagram
The souffle pancake is far from over, and if you haven't had a chance to sample one of these fluffy pancakes, a good place to start is at Puffy's Soufflé Pancake Café, a Taiwanese cafe that incorporates boba into their Milk Tea Souffle Pancake.
Address: 4F The Block, SM North Edsa or get it delivered via GrabFood.
All the Places in Manila Where You Can Order Fluffy Souffle Pancakes
All the Places in Manila Where You Can Order Fluffy Souffle Pancakes
Kyzia Maramara | Feb 16, 2020
X.O. Milk Tea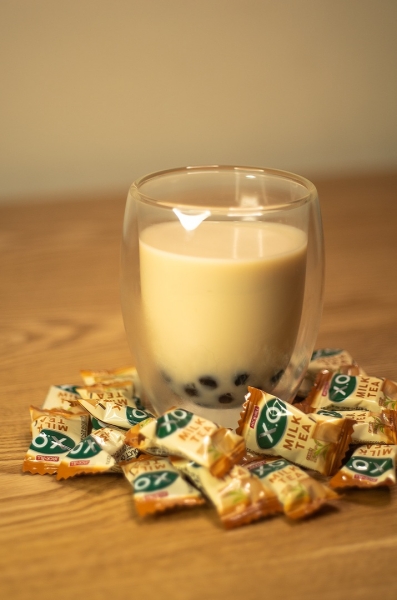 Yup, your favorite coffee candy now comes in a milk tea flavor. It's got that sweet wintermelon and cream taste you know love, and the best part is you can basically enjoy it anytime, anywhere, for just P1 a piece! Look for it at supermarkets, your local sari-sari store, or at URC's official Lazada and Shopee store.
Bubble Tea Cake from NBC Baking School and Cake Decorating
The recipe was created by Hannah herself. "The cake has four layers," she says. A wintermelon cake, modified rock salt and cheese, a milk tea float, and pearls! The cake comes refrigerated in a tin can, with the pearls all in a separate container. It's best enjoyed when you pop it into the refrigerator before eating it (but not with the pearls! The pearls stay outside to be added once you're ready to eat the cake).
To order, send them a message on Facebook or call/text 09155983050; 09350035030; or 09197390000.
Shaved Milk Tea – La + Tearia
Love bingsu? La + Tearia in Manila does an amazing job combining this Korean shaved ice dessert with milk tea, which incorporates frozen milk tea shavings, boba, rock salt and cheese, and milk. On hot days, there's nothing better. You can eat it while it's fresh, and drink it if it melts — this all depends on how quickly you eat it, of course. They also have a matcha version!
Address: 963 1008 Padre Noval St, Sampaloc, Manila
Milk Tea Creations Ice Cream from Nestle
Don't live near a place that serves a milk tea dessert? You can just make a trip to your nearest supermarket or convenience store and pick up one of these babies from Nestle. However, these are limited edition flavors, so move quickly before you miss your chance to try them!
Boba Basque Burnt Cheesecake from El Quezo
View this post on Instagram
The burnt basque food craze is still alive and kicking, and we're seeing plenty of unique spins on the recipe. El Quezo upped the game when they started whipping up milk tea cheesecakes topped with boba. And they didn't stop there — their milk tea burnt basque cheesecakes come in three flavors: original, matcha, and Earl Grey.
To order, fill out this order form.
Burnt Basque Cheesecake: Satisfy Your Craving With These Bakeries That Deliver
Burnt Basque Cheesecake: Satisfy Your Craving With These Bakeries That Deliver
Kyzia Maramara | Aug 11, 2020
Brown Sugar Boba Ice Cream Cone from Tiger Sugar
View this post on Instagram
You might have already seen those Tiger Sugar ice cream bars that the internet was raving about early on in the quarantine, but these cones are new and worth trying. This has got black sugar milk tea ice cream, boba, and dark chocolate and crisp flakes.
They're available at S&R, select Robinsons Supermarkets, and FrozenMNL.com.
Boba Donuts from Bobba Donuts MNL
View this post on Instagram
As their name suggests, Bobba Donuts MNL is devoted to serving up boba-filled donuts. And they don't just come in a milk tea flavor (though that's the bestseller, of course) — they've also come in strawberries and cream, ube and parmigiano, and Milo!
Follow them on Instagram to learn about their new flavors as soon as they roll out. And, of course, just send them a DM when you're wanting to indulge.
Which of these milk tea treats are you most excited to try?