Give Your Neck and Back a Break with These Aesthetic Monitor Stands
Sep 23, 2021 &nbsp • &nbsp Cristina Morales
If you've been getting neck and back pain from sitting at your desk all day, perhaps it's high time that you invest in a monitor riser. These risers elevate your monitor (or laptop) so you don't have to slouch to read things at eye-level. Best part? They can make your desk look extra aesthetic as well! Here are some great monitor stands or risers than can literally elevate your desk setup.
Raise the Grain

Are you a bonafide member of #TeamKahoy? Instead of the MDF route — get the real deal and support local craftsmen at the same time! Raise the Grain is a small business that specializes in handcrafted desk accessories made of different kinds of wood — mahogany, birch, teak, acacia, walnut, maple, and kamagong. Their monitor risers start at ₱3,000 and they also accept customized orders (you can even get a monitor stand long enough for two monitors!). Apart from monitor risers, they also offer headphone and cellphone stands, wrist rests, mousepads, and more.
For inquiries and orders, send them a DM on Instagram.
Clear Acrylic Monitor Riser

If you love the less-is-more aesthetic, you can't get more minimalist than something that's actually transparent. This clear acrylic monitor riser doesn't draw attention to itself, and if you've got a good-looking mechanical keyboard, you can still admire it even when it's tucked away under the stand. Get it on Shopee for ₱1,164.
Crazy About Paper

Want to add some color to your setup? Crazy About Paper's acrylic risers will let you do just that. And you won't just be dressing up your desk, you'll also be supporting local artists! The ones pictured above were designed by illustrator Cynthia Bauzon-Arre, but there are so many other designs to choose from. You can even get a custom riser with your own design! Get one at Crazy About Paper's website for ₱950+.
Orico
Need more USB ports? Say no more — this monitor riser has 4 built-in USB ports and a wireless charging spot so you can charge all your devices at the same time easily. Convenient, eh? Get it on Lazada for ₱3,402.
Homemade Office
View this post on Instagram
This lightwood monitor riser's sleek and clean look has made it a crowd favorite, so if you've seen it in your social media feeds, you know where to get it. Unfortunately, it's currently sold out, but you can keep posted for restocking updates by following Homemade Office on Instagram. And when it's finally back in stock, you can get it on Lazada for ₱1,690.
Level Up Your WFH Setups With the Coolest Deskmats You Can Buy Online
Level Up Your WFH Setups With the Coolest Deskmats You Can Buy Online
Kyzia Maramara | Jul 27, 2021
Llano

Made of steel and plastic, this monitor riser also comes with a built-in mobile phone/tablet holder, as well as a little drawer for your knick-knacks. Cool eh? Get one for yourself on Shopee for ₱1,799.
RYTStorage

This white steel monitor riser might look delicate, but it's made of steel, so it's actually heavier (it's 2kg) and sturdier than it looks. It's also got grooves where you can put your pens and other desk items without worrying about them rolling away.
True Vision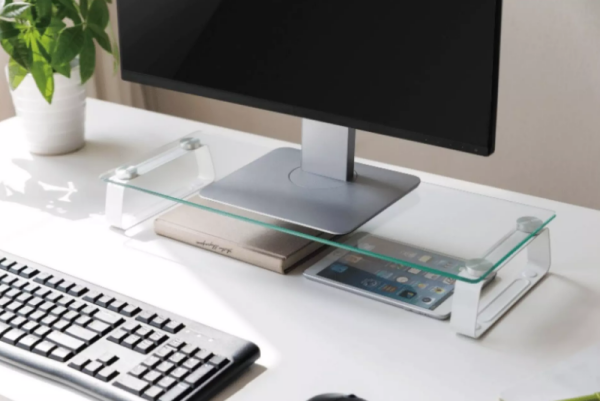 You'd be hard-pressed to find a more elegant-looking monitor stand than this tempered glass and steel riser. The glass is 5mm thick and can carry up to 20kg/44lbs of weight, so it's not just pretty, it's sturdy, too. Get it on Lazada for ₱1,160.
Seen other great monitor stands for desk? Tell us about them in the comments!
Check us out on Facebook, Instagram, Twitter, and YouTube to be the first to know about the latest news and coolest trends!