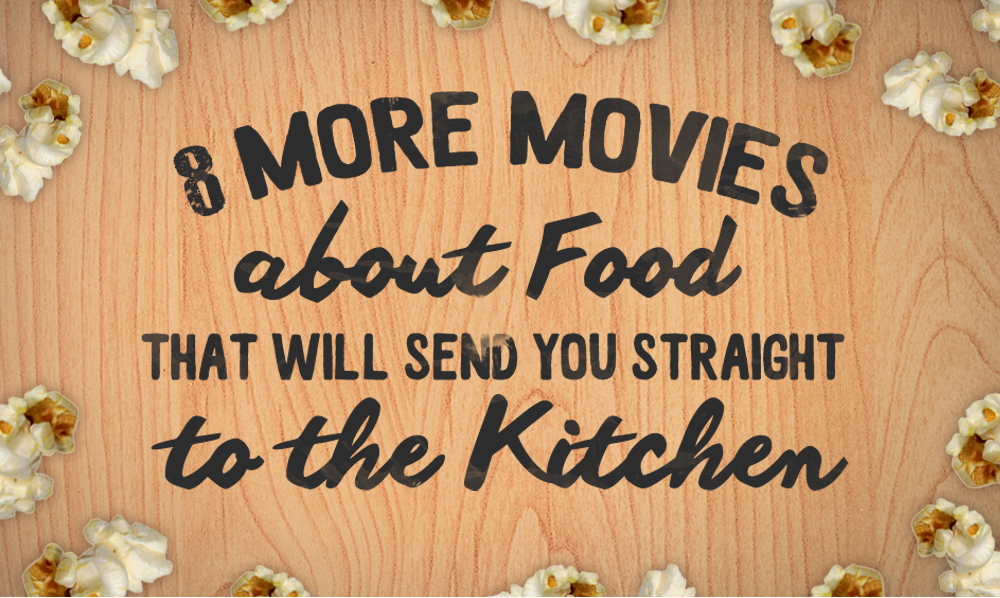 It's mid-summer and for some of us, the hot and balmy days are already starting to slow down. With most of our summer vacation plans already behind us, all we have to look forward to now are seemingly endless days that are hot and sticky.
Fret not, for here we have compiled 8 movies about food that promise to not only kill time, but to also get you in such a good mood that you're going to either want to cook or drag your butts over to the nearest restaurant.
There's just something about watching copious amounts of glorious-looking food being consumed on screen. Something about gorgeous food porn that ignites passion.
8. Julie and Julia
The film adaptation of a novel that was once a blog that was once just someone's idea of passing the time. Julie and Julia is a cinematic triumph when it comes to seamlessly weaving two very distant timelines and settings (Julia Child is in Paris in 1949 while Julie Powell is in Queens, NYC sometime after the events of 9/11) and telling one full, cohesive and well-rounded story. Julia Child is in Paris for the very first time and we are shown how she discovers butter, sole meunière, French wine, champagne and so many other deliciously French food items. On the flipside, Julie Powell has just moved to Queens with her husband to an apartment above a pizzeria. She battles the sadness she feels for her dislike of her new surroundings by deciding to cook her way through Julia Child's Mastering the Art of French Cooking. The movie takes the appetite for a spin. Be ready to hit a French bistro when you are done, this film is one of those that just won't let you sleep until you've had an acceptable amount of butter coursing through your system.
Recipe: Julia Child's Sole Meunière
7. No Reservations
I've never been a real fan of Mrs. Zeta-Jones Douglas, but I just adore her in this movie. Her portrayal of someone so anal retentive and OC makes one wonder if this is art imitating life. Anyway, Miss Zeta-Jones Douglas (ZJD) is an accomplished chef who, as mentioned, struggles with perfectionism and borderline OCD. She is the executive chef of her own kitchen, at a restaurant which she does not own, but acts as if she is the queen of a tiny kingdom and everyone in it, including the restaurant owner, are under her rule.
Her undisputed crowm gets unexpectedly knocked off her head when news of her sister's death reaches her through the arrival of her now newly-orphaned niece. Together, they are forced to learn how to live with each other, and eventually, learn how to welcome a new man into their lives. The story is of course, peppered generously with delicious, cuisine-level food. Handsome steaks, delicious plates of scallops, the works! But my favorite comes in the form of the most unassuming bowl of simple spaghetti, served as a way to take the story from sad to happy, just like what a bowl of pasta does to people in real life.
Recipe: Emeril Lagasse's Spaghetti Oreganata with Tomato Sauce
6. Simply Irresistible
This one is a surprise fairy tale. And I mean that in the sense that I was surprised to find out that this was, in fact, a fantasy movie. The lead character played by Sarah Michelle Gellar (SMG), is the owner of a charming little restaurant in one of NYC's boroughs. The restaurant was left to her by her mother, who passes away before the movie even begins. SMG is a novice, and is messing things up in the kitchen in every possible way. The restaurant has a small following of loyal customers, but as rent goes up and sales go down, the restaurant soon faces closure. All is seemingly lost until SMG chances upon a magical crab (not crabs) that breathes new life into SMG's cooking, her dishes, her restaurant and her relationships. The magic crab is so good at what he does that the food SMG makes become vehicles of emotions: emotions that SMG was feeling at the time of cooking. The movie has hilarious twists and has more than its fair share of odd turns, but one scene in particular makes this movie a truly memorable one, and it involves Patricia Clarkson consuming an eclair made by SMG at a time when she was feeling very romantic and lusty. Patricia Clarkson has waves of orgasms at every bite, which is both funny to watch and also quite enticing. Makes me want to have a piece of that pastry every single time!
Recipe: Caramel Eclairs
5. Woman on Top
Penelope Cruz plays a Brazilian sea enchantress in this charming story of food, passion, sex, sweat and love. After a failed relationship with the equally luscious Toninhio in her native town of Bahia, Brazil, Penelope Cruz packs her bags and takes her motion sick butt north to the USA. There, she somehow charms her way into landing her own cable cooking show called Passion Food, which allows her to cook her way into every American home (well, at least in San Francisco). On that show, she prepares amazing Brazilian dishes, using exotic ingredients, sexy spices and lots and lots of chili peppers. Her love interest Toninho is a hottie in his own right. He decides he just can't live without Penelope Cruz, and so he, too, flies to San Francisco (with his bossa band in tow, take note) to look for his love. Toninho eventually finds Penelope, and crashes her show. He adds just the right kick to make this movie one that leaves a delicately spicy aftertaste in your mouth.
Recipe: Moueca de Camarao –  Brazilian Shrimp Stew with Coconut Milk
4. Eat. Pray. Love.
There are lots of different feelings about this movie. I for one liked it for what it was: a true chick flick. So the story starts when the lead character's life is spun on its head when she herself decides it's time to divorce her unconditionally loving husband. She is convinced that this is the right decision and what is best for everyone, so she goes through the whole mess of it. She then goes on a world tour, traveling from one country to the next, with each destination chosen specifically for its potential to re-awaken skills and passions the lead character has somehow forgotten. Okay, very first world problem, but HOW CAN ANYONE FORGET THE JOY OF EATING?? Okay, okay, it's possible. I've seen it happen. But yeah, her first leg takes her to Italy, where she sets out to recover her long lost appetite. She takes us on a visual tour of some of Italy's well known culinary regions like Napoli and Rome. She enjoys plates of pasta, sugary pieces of napoleones, huge balls of gelato (in cones!), gargantuan slices of pizza, and my favorite, a plate of pappardelle con ragu de coniglio, or pappardelle with ragu of rabbit. It sounds so gamey but also sounds so balanced with the ragu sauce, the pappardelle almost seems excessive!
Recipe: Braised Rabbit Pappardelle
3. Under the Tuscan Sun
While this story isn't exactly centered around food, food does play a crucial part in bringing the lead character back to the land of the living. And we are not talking about just any food, we are talking about real rustic Tuscan food. Our lead character goes through a very messy divorce, and while dealing with the rather unsavory business of uncoupling, she suddenly finds herself in the middle of a gay and away tour group that is making its way through Italy. While there, she chances upon an ad for an old villa that is for sale. She goes through a series of breakthroughs: one of which makes her the owner of the old family villa with numerous dilapidated rooms filled with knickknacks, bric-a-brac, and other memorabilla. She eventually hires men to do housework, and while the men work on her house, she takes up cooking with the old lady next door. A short, but lovely scene has the lead character presenting her evolving cooking skills to her more than happy audience. Other moments in the movie has us learning about limoncello, olive oil and gelato. Buenisimo!
Recipe: Giada's Homemade Limoncello
2. Chef
This is John Favreau's masterpiece, if we do say so ourselves. The story revolves around a once promising chef who through years of dedicated and rather mechanical service to a restaurant owned by someone else, loses his luster and kind of fades into the woodwork. Things pickup when the chef gets a horrible review and through his own Twitter fauxpas, gets himself out of the job, reluctantly into a food truck and on the road. The story gets real heart when the chef starts to bond with his son as they travel through America on their food truck that serves authentic Cubanos, or Cuban sandwiches, and many other menu items they sort of make up and add along the way.
Recipe: Mojo Pork Cubanos
1. Hundred-Foot Journey
The one movie on this list that we won't give away too much of. This is such an endearing tale of an immigrant family of cooks who finds their way in the heart of the French countryside—an area ruled by a Michelin-starred restaurant and its overbearing owner. The immigrant family is from India, so you can just imagine the clash this makes with the French traditionalist gourmands in town. This movie gives classical French Cuisine a new spin that, frankly, nobody saw coming. This film makes you crave spices you've never tasted before, long for flavors you've never ever had, and yearn for dishes you didn't even know how to pronounce, until now!
Recipe: Boeuf Bourguignon a la Hassan