8 of the Best MTV Unplugged Performances
Aug 1, 2015 &nbsp • &nbsp 8List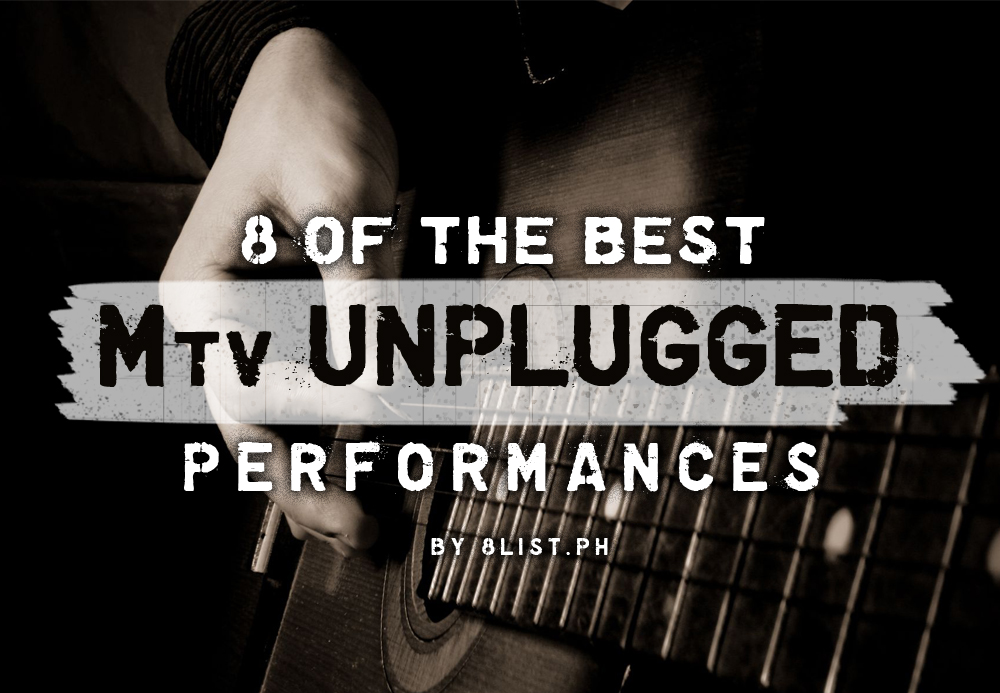 On August 1, 1981 MTV went on air for the very first time. From that point onwards, they radically shaped the landscape of pop culture, music and entertainment. Over the course of the next few decades, they made shows that were either iconic or infamous.

One of the most memorable shows they ever made was MTV Unplugged. The show's schtick was to take a famous band or artist who was either coming out with a new album or who was making a comeback and have them perform a live set, pretty much trading their electric instruments in for acoustic ones.
Any music fan will tell you that all music is better live, a fact which is undeniable when you watch the show. The episode's guest always added a bit of personal history, or an on-the-fly rework of their songs, making it more unforgettable. Here are 8 of the best performances we've seen on Unplugged
8. Bon Jovi, 1989 MTV Music Awards
It has been said that Bon Jovi and Richie Sambora's performance of "Livin' on a Prayer" and "Wanted Dead or Alive" gave MTV the inspiration to create Unplugged. If it wasn't for this live set, we would've missed out on the great sessions that would come out of Unplugged.
7. Aerosmith, September 20, 1990
This episode is probably the longest time that Steven Tyler has ever stayed put. In this episode, Aerosmith did things a little differently. Instead of featuring songs from their post-comeback album, they decided to play some of their more obscure songs like "Season of Wither" and "One Way Street". They wanted to show their Blues roots and they didn't disappoint. Overall, pretty killer set.
6. Eric Clapton, March 11, 1992
Eric Clapton's episode set the bar for what the show had set out to accomplish. This episode was never equaled in its entire run. He played a heart-wrenching version of "Tears in Heaven" and a masterfully reworked "Layla". One of the best episodes ever. Also worth noting how the long-time Stratocaster player decided to use a Martin instead.
5. Bruce Springsteen, November 11, 1992
The Boss was well-known for aversion for appearing on television. Everyone was on edge when he showed up for his set with a new band. After his solo acoustic rendition of "Red-headed Woman", he got rid of his acoustic guitar and brought out a Telecaster. Rumour has it that the MTV executives were very unhappy with this but seriously who would tell off The Boss? In case you didn't catch it back then, when this episode was aired, the UN on Unplugged was crossed out.
4. Nirvana, December 14, 1993
It's been said that "In Utero" was supposed to down scale their fame after the game-changing success of "Nevermind". So, everyone was surprised that they agreed to perform for MTV Unplugged. Just listen to that version of "The Man Who Sold the World". Months after Kurt Cobain's suicide, everyone would refer to this episode to show the supposed tell-tale signs of his mental state.
3. Jimmy Page and Robert Plant, October 12, 1994
While it wasn't the Led Zeppelin reunion we wanted (John Paul Jones wasn't even asked), it was still one of the greatest artistic achievement they'd accomplished since their breakup. The full string section that played along to their performance of "Kashmir" and "Battle of Evermore" made those awesome songs even better. We don't know about you, but we would've killed to be in the audience for this.
2. KISS, October 31, 1995
Unplugged did what everyone claimed to be impossible: They made the KISS reunion happen! Old hurts were put aside as Ace Frehley and Peter Criss went up on stage with Paul Stanley and Gene Simmons for the first time since 1980. This event brought the group together again and they ended up doing a lot of tours (and even Psycho Circus) afterwards. Criss and Frehley left again by 2004, but this episode was a great gift to all their fans.
1. Alice in Chains, May 28, 1996
Prior to their 1995 album release and 1996 appearance in Unplugged, things weren't so great for Alice in Chains. Their '95-'96 period was good to revitalize them performance-wise, considering they hadn't performed together since 1993. On a sad note, this was one of lead singer Layne Staley's last performances before his death in 2002. Which makes this kind of bittersweet.
Happy anniversary, MTV! What are your favorite Unplugged performances? Sound off in the comments below!