Burger Bucket List:
8 of the Most
Outrageous Burgers
By Shen Mascariñas

When done right, or wrong in the most sinful kind of way, a burger can be your own handheld heaven. With these bad boys, taking a graceful bite is impossible, using utensils unacceptable and the satisfaction incomparable.
For all burger-lovers out there, here's the most delicious kind of bucket list. You probably can't handle all these outrageous buns, but you'll have the time of your life trying each one.
8. The Burger Lab: Cardiac Burger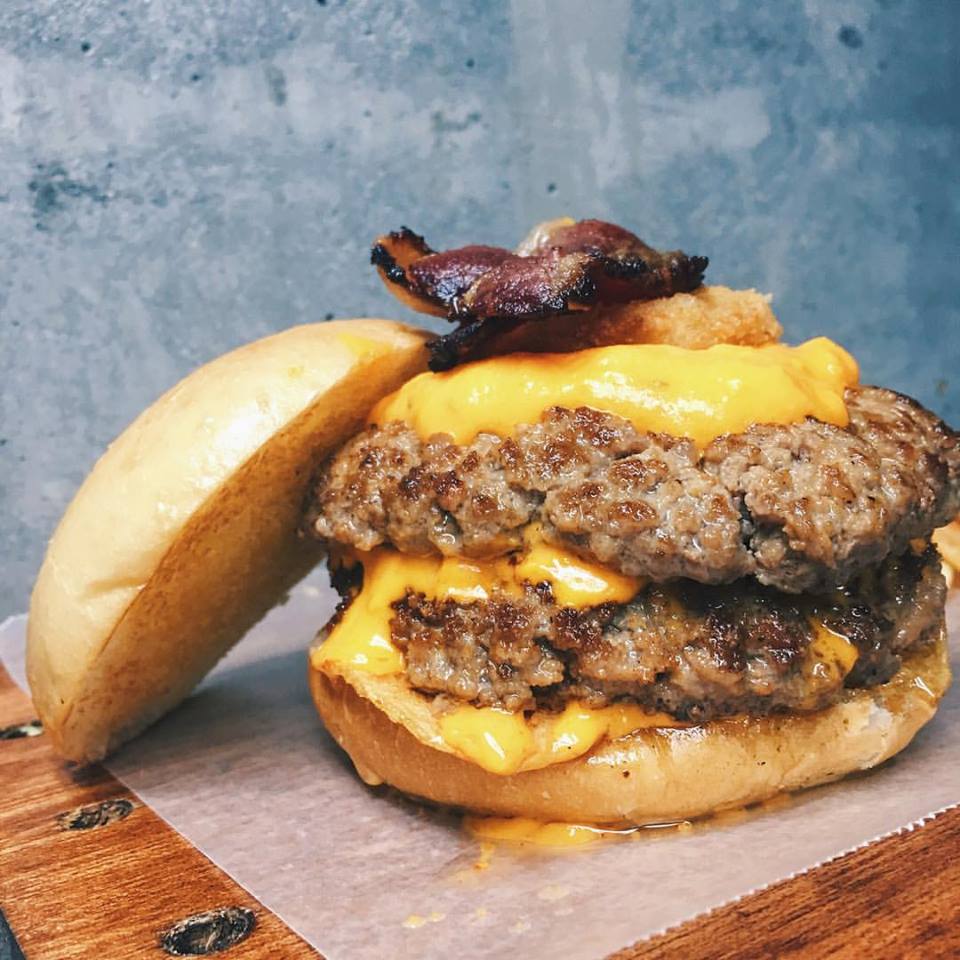 4L Two E-Com Center, Ocean Drive, Mall of Asia, Pasay City
(02) 832 5838 | Facebook
Open Mon to Thurs from 11am to 12am, Fri and Sat from 2pm to 3am
P360
You'd be surprised how huge a difference bacon fat makes. The Cardiac Burger's double beef patties are cooked in bacon fat, elevating its flavor. It also features potato chips, cheese sauce, onion rings and bacon.
7. Burger Geek: The Hangover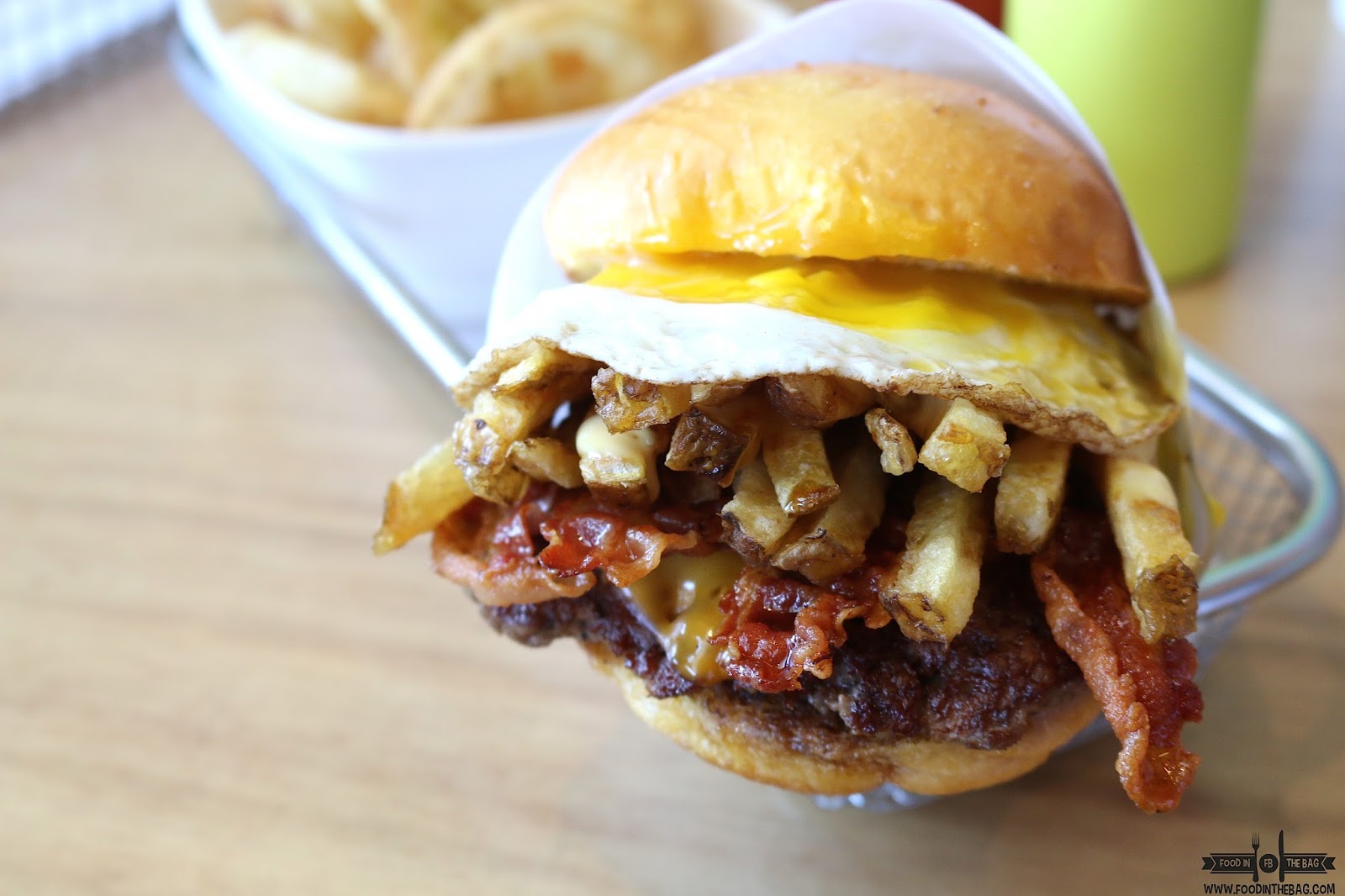 Molito Commercial Complex, Alabang, Muntinlupa City
(02) 801 2903 | Facebook
Open every day from 11am to 11pm
P335
After a taste of Burger Geek's The Hangover, you might go drinking more often just so you can have this every morning. Their distinct smashed patty is topped with cheese, French fries, bacon, a fried egg and beer syrup. There's a hint of beer in there in case you start missing alcohol that soon.
6. 8 Cuts: Four Cheese 2.0
Locate the branch nearest you here. | Facebook | P345
Why settle for just one modest piece of melted cheese when you can have four? This isn't your typical rendition of four cheese either. Imagine the gooey combination of Cheddar, Monterey and Parmesan-crusted, fried Mozzarella. That's made even better with fried basil and garlic aioli.
5. Charlie's Grind & Grill: Double Black Angus Burger with Shrooms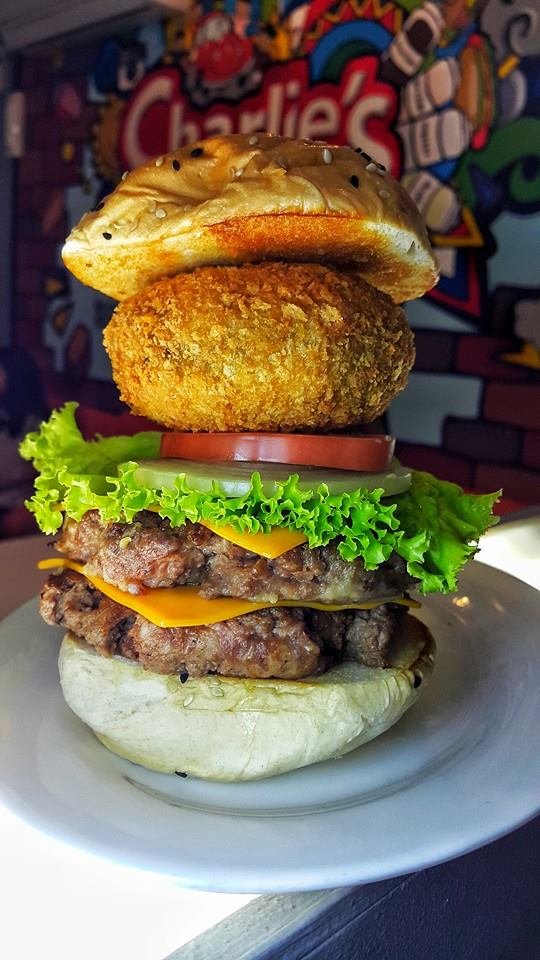 Locate the branch nearest you here. | Facebook | P575
Fine, for this one, you can bring out the fork and knife. Don't even try to fit this beautiful burger in your mouth. Savor two Angus burger patties and a huge deep fried mushroom, perfectly complemented by burger staples cheese, lettuce, onion and tomato.
4. Naked Burger Café & Bar: Shroom Burger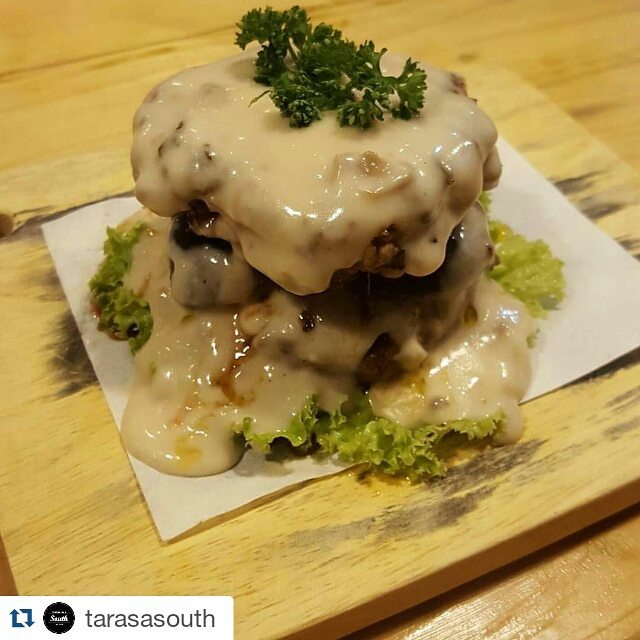 Commercial 1, Unit 2, Pilar Development Corporation, Pilar Village, Almanza, Las Pinas City
0995 968 0875 | Facebook | P160
Here's another outrageous burger that can't be handled by unarmed hands. They've replaced boring-old burger buns with beef patties. Those meaty buns sandwich sautéed shitake mushrooms and cream cheese. All that goodness is smothered with creamy mushroom sauce.
3. Burgers & Brewskies: Call the Nurse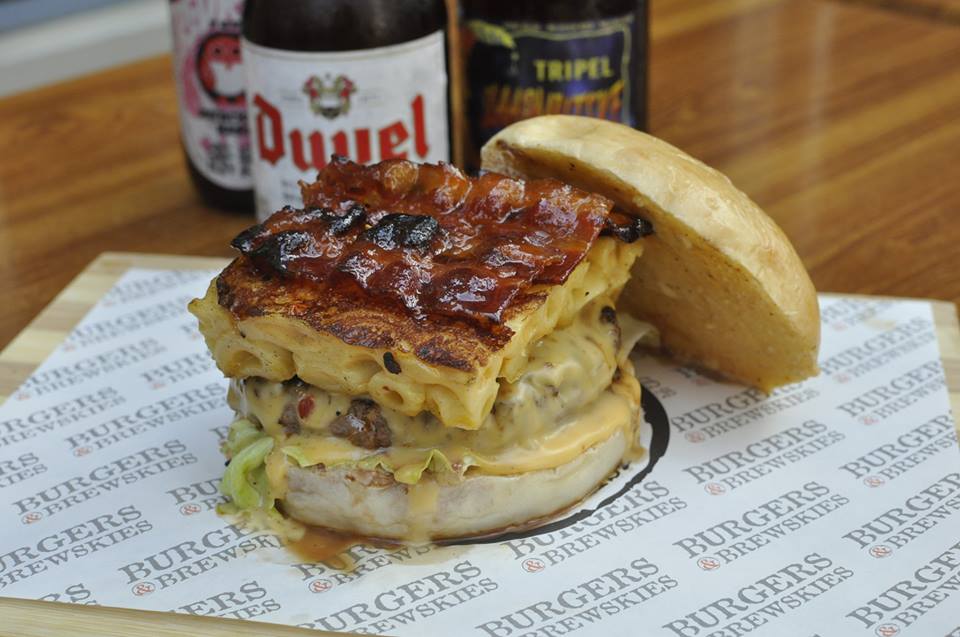 Bellagio 2, Forbes Town Center, Burgos Circle, BGC, Taguig City | (02) 403 4038
Open Sun to Tues from 11am to 12 mn, Wed to Sat from 11am to 1am
GF Estancia Mall, Capitol Commons, Oranbo, Pasig City | (02) 531 5632
Open every day from 11am to 12mn
P280 | Facebook
Just browsing B&B's menu will get you drooling, and be warned—picking just one will be a real challenge. If you're a fan of mac & cheese and bacon (who isn't, anyway?), Call the Nurse will be your burger dream come true. Look forward to spiced mustard aioli, cheese sauce, seared mac & cheese and honey Sriracha bacon.
2. Pound: Foie Gras Burger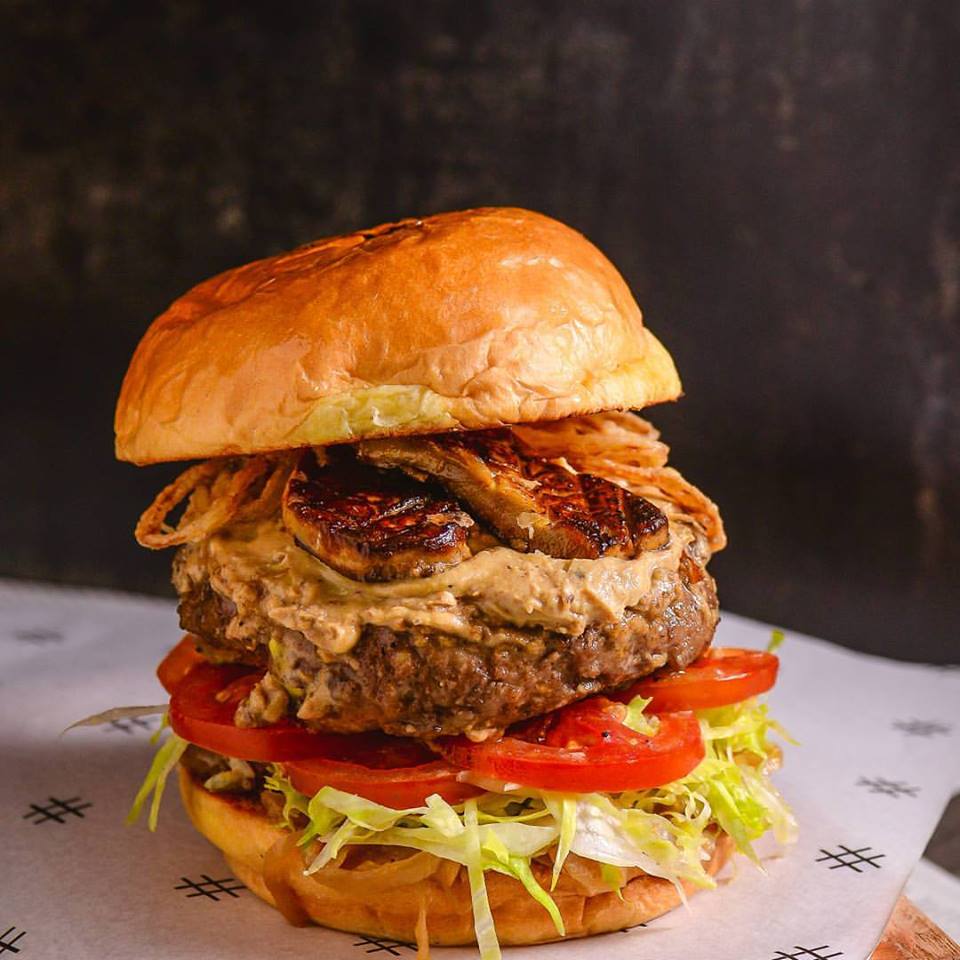 B3 Bonifacio High Street, 9th Avenue, Bonifacio Global City, Taguig City
(02) 617 8633, 0977 858 8633 | Facebook
Open every day from 11am to 11pm
P999
The burger's hefty price may have toned down your hunger, but we promise you it's worth it. When Pound says it's their Foie Gras Burger, they're damn serious about it. No shy swipes or tiny pieces here. Treat yourself to 50g of seared foie gras and a generous serving of foie gras mousse. Trust us—you've never had a burger as indulgent as this.
1. Zark's Burgers: Chokeslam
Locate the branch nearest you here. | Facebook | P335
What that glorious photo doesn't show is that the Chokeslam also has two pieces of Spam and a fried egg. Because four beef patties smothered in cheese aren't enough, of course.
Any other outrageous burgers we need to add in this bucket list? Sound off below!