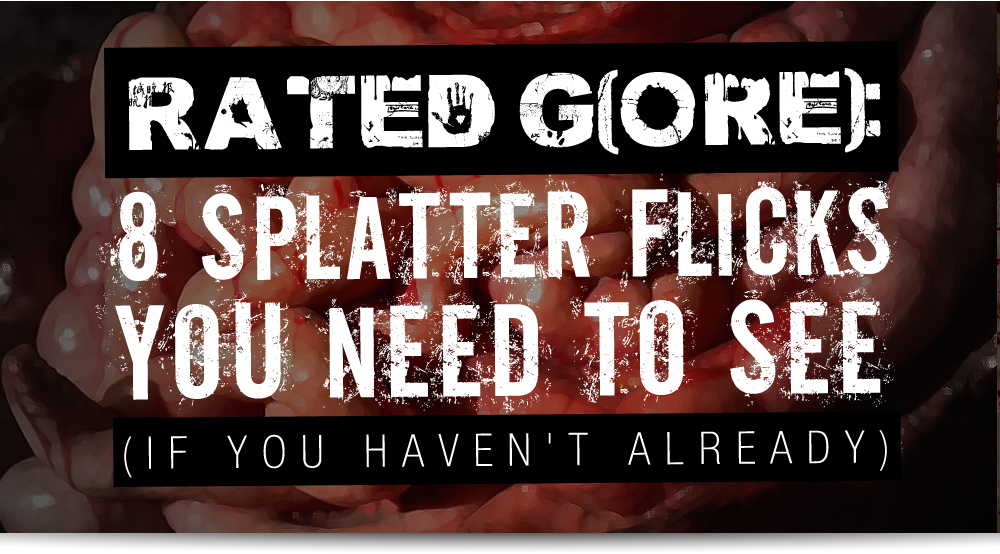 [dropcap letter="B"]y no means was this list easy to make. As a lover of all things gruesome, bloody and bold, I'm a very outspoken fan of the horror/gore genre. Call it messed up, but a plot that doesn't drown despite (literal) buckets of blood and sensationalized violence thrills me in a way that emotionally manipulative tearjerkers can't. It takes a discerning eye and impeccable taste to know which punches to pull and when without sacrificing content or delivery. Who needs catharsis when movies that make you all too aware of your own skin exist in the world! What I'm championing here isn't gratuitous violence or the hyper-sexualization of abuse, but instead an exploration of the depravity of the human condition. That, and things that go splat.
What better way to explore the state of being human than by turning human beings inside out! And halved, and quartered, and diced.
Assuming you've seen at least one of the Saw movies, these 8 lesser-known gore films are a must for any fan of the craft.

Whether your prom night was a total bust or a total dream come true, this film is guaranteed to make you stay away from glitter (and power tools) for quite a while. The Loved Ones has got it all, from a crazed, kidnapping classmate to self-mutilation to incest to lobotomies, all the way down to matricide and a bone-crunching finale.
To die for scene: Our hero Brent (the gorgeous Xavier Samuel) gets his feet nailed to the floor with knives. KNIVES. This is after he gets bleach injected into his throat to keep him from screaming for help. Like screaming was going to make a difference.
If you've got a soft spot for kids or pregnant women in general, I suggest you stay away from this movie. Following the death of her boyfriend in a car accident, the protagonist Sarah (Alysson Paradis) prepares to give birth the next day. Unfortunately, fate has other plans. A strange woman demands entry into the house in the middle of the night and carnage ensues, ending in matricide, a couple of cases of homicide, and an impromptu cesarean section with a pair of scissors. Most definitely not for the faint of heart (or stomach).


Lucie, having survived trauma and abuse as a child, goes back to the scene of the crime to enact revenge. Her only friend Anna rushes to her aid, cleaning up corpses and trying to protect Lucie from her hallucinations. In the process Anna uncovers a secret sect that is devoted to the creation of martyrs—kidnapping young women and methodically beating and torturing them to bring them to a state of transcendence and a glimpse into the afterlife.
To die for scene: After getting flayed alive, Anna kneels under lights, bound at the wrists, completely skinless. Good luck getting that image out of your head before bed tonight.


While the original film is a cult classic, the 2010 remake was the one that turned me into a fan of revenge flicks. Both work off the same premise: writer Jennifer Hill (played by Sarah Butler in the remake) goes to a cabin to work on her manuscript when she's brutally raped and tortured by locals from the town. The remake takes you through more emotional turmoil than the original, giving you hope at salvation before viciously taking it away. Jennifer survives despite the atrocities, and sets about exacting her revenge in the most poetically just way.


There isn't much that I can say about Ichi without giving a lot of the plot away. Takashi Miike is at his best with this film, contrasting the highly stylized tension in Audition with the all-out brutality and bloodiness of Ichi. Fans of mob flicks and splatter will attest that not a lot of other films come close to this. Try to get your hands on the uncut version – it'll be worth the extra effort, I promise!


Remember Peter Jackson? Yeah, the guy who directed Lord of the Rings. Before he ran after Hobbits and Elves around Middle Earth, he was making works of gore-filled comedic genius like Dead Alive, also known as Braindead. Mama's boy Lionel basically does his best to cover up his domineering mother Vera's infection, caused by a bite from a "Sumatran Rat-Monkey", and ultimately fails. The latter half of the film is filled with gratuitous gore, complete with a zombie baby, and in an epic final sequence, Vera "gives birth" to Lionel one last time in a river of blood and guts. Cue Lionel and his love interest Paquita walking away hand-in-hand as the authorities arrive.


Once you get past the painfully 80's quality of the special effects, Hellraiser II clearly surpasses any of the other films in the franchise in terms of gore. The second installment heralds the return of Pinhead and a skinless Julia, and opens up a whole new chapter in pain, torture, and suffering. What other film will take you into another hellish dimension where the god overseeing it is a giant puzzle?


What would this list be if it didn't have a film that has the word "gore" in it? Set in a not-so-distant-future Tokyo, Ruka is intent on finding her father's killer and avenging his murder. She assists the local police force in hunting down "Engineers," monstrous human hybrids that can regenerate weapons from injuries. This film quite literally rains blood, from exploding heads, detached faces, and blood-sprouting limbs. A definite must-see for fans of samurai swords and all things campy and Japanese.
What's gore film is next on your list? Share it with us in the comments!