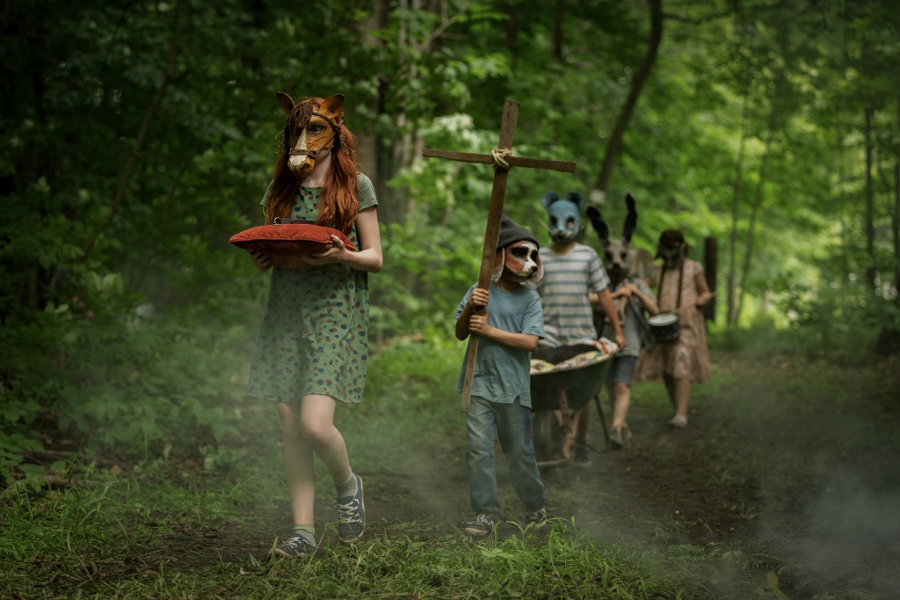 There's a certain satisfaction to the fact that we've now reached an age where sitting through a horror movie that is uncompromising and relentlessly just full of its self that it gives you no breaks or glimmer of hope. And that, that can be just as or even more satisfying as getting through one with a redemptive arc.
Which is a long way of saying that I thank the animal gods of resurrection that we got this reboot of the Stephen King's 1983 horror novel, really the first big market sale of then fledgling author King, getting his family out of poverty, nominated for a World Fantasy Award for Best Novel in 1986, and eventually adapted into a 1989 film.
Not only is it really, technically good in almost all of its aspects, it shows very astute visual and emotive intelligence in dealing with the intimate and tender domestic issues that propel this horror story forward.
Here are 8 reasons why you should watch this reboot of a horror story for the ages.
IT'S CLOSER TO THE BOOK
When Stephen King first wrote the novel's manuscript, he shelved it, believing it was not ready for any serious mainstream publisher to take. But it was only when his wife, having read the story and wept over its ending, told him to take it to his publisher that it became the .
At the center of the novel's horror is, of course, the unimaginable pain of losing your child. Then, driven by grief, the subsequent and incredibly surprising pain of getting that child back. Except in a very changed and different way. The movie's catchphrase "Sometimes dead is better" will resonate with you long after the credits roll.
While the 1989 movie changed up some of the major plot twists to make it more palatable to mainstream audiences, this reboot holds back no punches and keeps the spirit of King's original book alive like a dark flame consuming our movie-going souls whole. By the by there's also a 1992 sequel to the first movie but we won't speak of that hideous monstrosity.
THE NEW-OLD HAUNTING OF THE CREEDS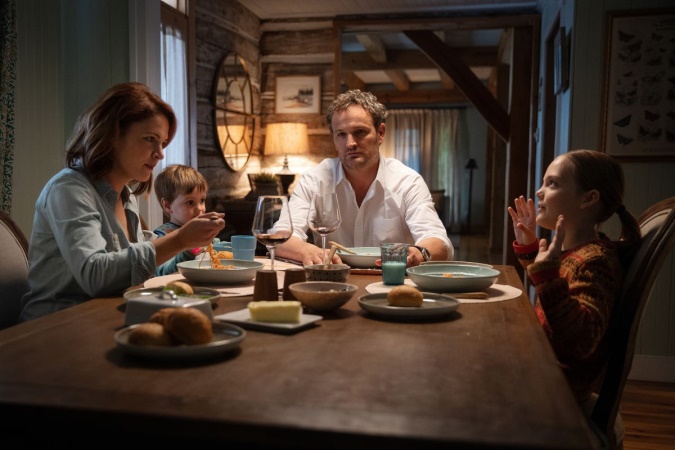 Based on the seminal horror novel, Pet Sematary follows the Creed family composed of Dr. Louis Creed (Jason Clarke), his wife Rachel (Amy Seimetz), and their two young children Ellie (Jeté Laurence) and Gage (Hugo Lavoie and Lucas Lavoie), who have just moved from Boston to rural Maine.
Through a series of very unfortunate events, Dr. Creed discovers a mysterious burial ground hidden deep in the woods near their new home. He turns to his unusual neighbor, Jud Crandall (John Lithgow), and sets off a supernatural chain reaction that unleashes an old, angry evil with horrific consequences. Can the Creeds survive this horror?
One of the biggest and most apparent changes (you can already see it in the trailer) to the story of this reboot from the first movie is the switcheroo of the child who dies and comes back.
In the original, the Creeds' 2-year-old son Gage is killed in a traffic accident. In this film, it is their 8-year-old daughter Ellie who dies and is resurrected. The filmmakers rationalized, and rightly so, that Louis and Rachel have a different connection to their older child, which helps the audience feel more deeply connected to her, too.
DIRECTED BY THE "STARRY EYES" DUO
Kevin Kölsch and Dennis Widmyer are the directing powerhouse behind the 2014 dark horse hit Starry Eyes.  While the producers met with many directors, some of them very big name Hollywood players, Kölsch and Widmyer stood out in a crowded field because of their thrilling, now multi-award winning, and quite perverse take on Hollywood stardom. Lending their cinematic skills to this reboot makes a whole lot of sense with the fresh visuals and uncanny atmosphere of dread.
THE MYTH OF THE WENDIGO
While the original screenplay of the 1989 movie featured the Wendigo that was mentioned in the novel, it was eventually left on the cutting room floor. We're glad that this cannibalistic Native American demon, best known through Algonquin folklore, has been put back in as context for the resurrections happening in this reboot. In the movie, the demon is an unseen but always felt presence, in the form of something gargantuan crashing in the woods and possibly cutting down trees. It can also be hard in its eerie howls that sound like a combo of a machine's whir and a very feminine howl. Once, a character even says the howls are "just a loon" but it's clear he doesn't believe any of the crap coming out of his mouth.
ZOMBIE CAT GOT THESPIAN SKILLZ, TOO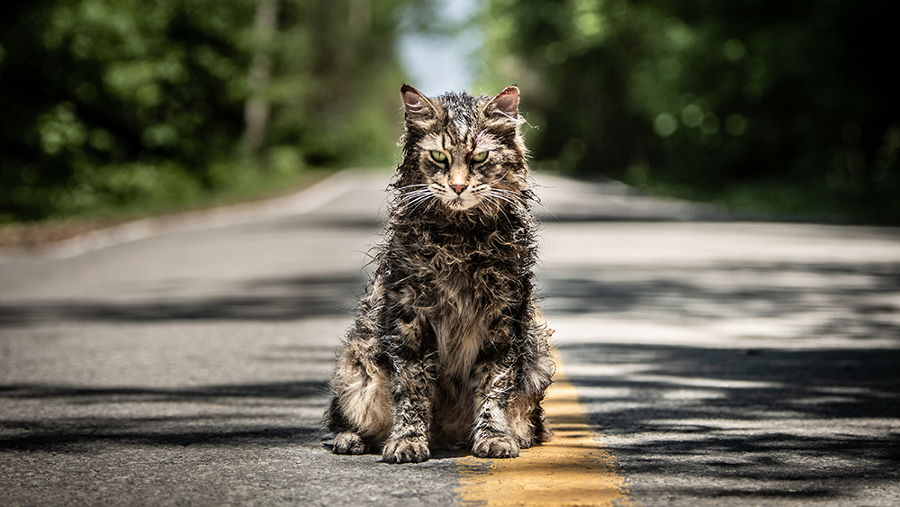 The cat of the Creed family, who eventually comes back after being buried in the unhallowed ground of the Wendigo's swamp, is named Church, short for Churchill, after former British Prime Minister Winston Churchill.
She is Ellie's cat and he's playful, affectionate and loveable at the outset of the story. When the burial ground reanimates him though, he becomes violent, clawing his owners. What's worse is he always smells like rotting flesh.
The film's leading feline actor is Tonic, a Maine Coon cat. The largest domesticated cat breed, Maine Coons are an intelligent and sociable breed with a unique ruff and a luxuriant coat. The special-effects makeup team also created replicas of Church to supplement the work done by the real cat actors. Another cat, Leo, played the resurrected and quite volatile Church.
JASON CLARKE PUTS ON A BRAVURA PERFORMANCE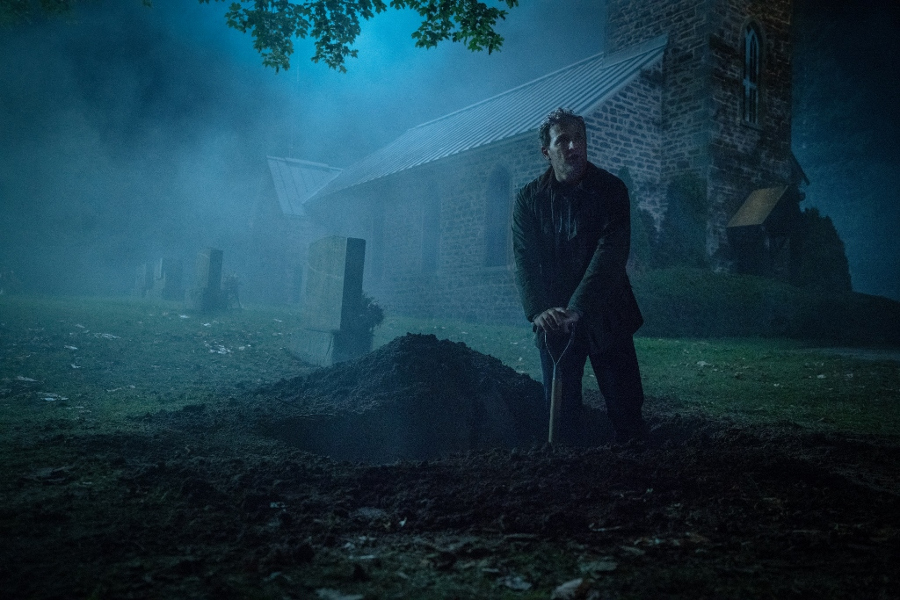 Grief puts you through a real wringer and Dr. Louis Creed's life has just turned upside down because of the death of his firstborn. Originally a physician with a Boston practice, Louis gave this up for a job at a university health center in rural Maine, hoping the move will make his family's life less stressful.
Jason Clarke as the grieving and motivated Louis puts on his mourning suit and face and spills his guts to show us what the loss of a child will do to a man. "It goes into a deeper level of what true horror is," notes Clarke. "There's a great line in the book after Louis has gone through the swamp and seen the Wendigo. He says to himself something like, 'think about this.' But he does it anyway."
JETE LAURENCE KNOCKS IT OUTTA THE PARK AS ELLIE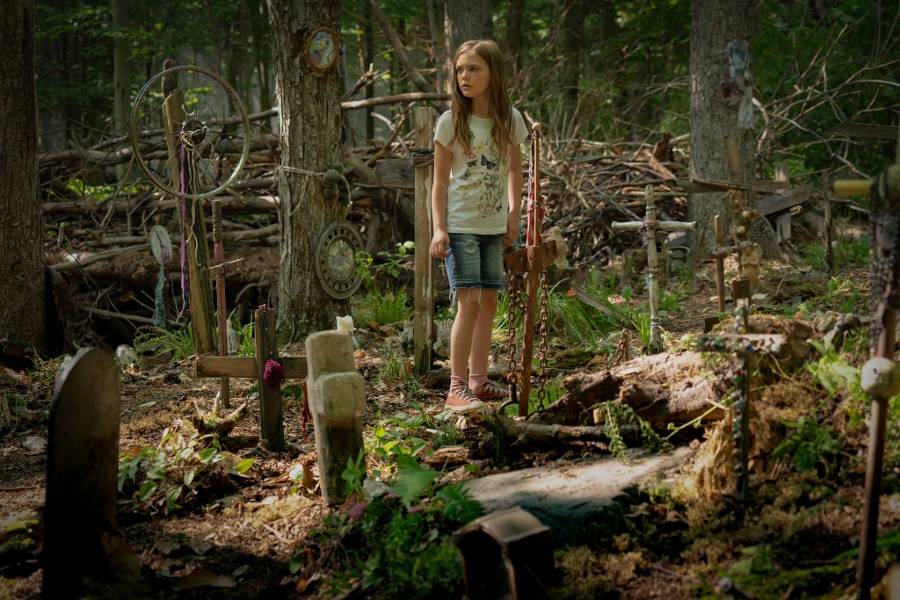 Jeté Laurence plays the pivotal role of 8-year-old Ellie Creed, who turned 11 on the set of Pet Sematary.  With her expressive eyes and natural vulnerability, it's hard to imagine how she played the sweet and adventurous Ellie and then turned herself into the murderous resurrected zombie Ellie, knife-wielder and breaker of furniture. A big star in the making, Jeté has already appeared in The Snowman with Michael Fassbender, and  guest-starred on The Americans, Gotham, Falling Water, and on Jessica Jones. She loves singing, dancing, gymnastics, creative writing, and doing hot yoga.
At the start, Ellie is just anxious about moving to Maine. It's when her beloved cat Church is killed by a truck that everything starts to unravel, with her family just wanting to protect her from the specter of death just a wee bit longer.
Which brings us to another crucial element in King's story: denial. The inability to cope with what has transpired and so we find ways to try and reverse what has been done to us, we think unfairly.
KING STILL TERRIFIES


I'm one of the many people who've been influenced by Stephen King's 1983 novel. But I'm not alone. Generations of enthusiastic readers have already experienced King's gift for melding the everyday with the extraordinary to create supernatural thrillers that explore our darkest impulses.
All photos courtesy of United International Pictures
What's your favorite Stephen King book made into a movie? Tell us below!