One of the best ways to unwind is through the messy, incredibly satisfying act of devouring tacos. You can throw any attempt at grace out of the window, and shove glorious tacos into your mouth without a care in the world. Go overboard with the citrus. Let the flavorful juices drip. Wash it down with a horchata, a few beers or a shitload of margaritas.
Let your hair down in these new taquerias! In here, things are bound to get deliciously dirty.
El Chapo's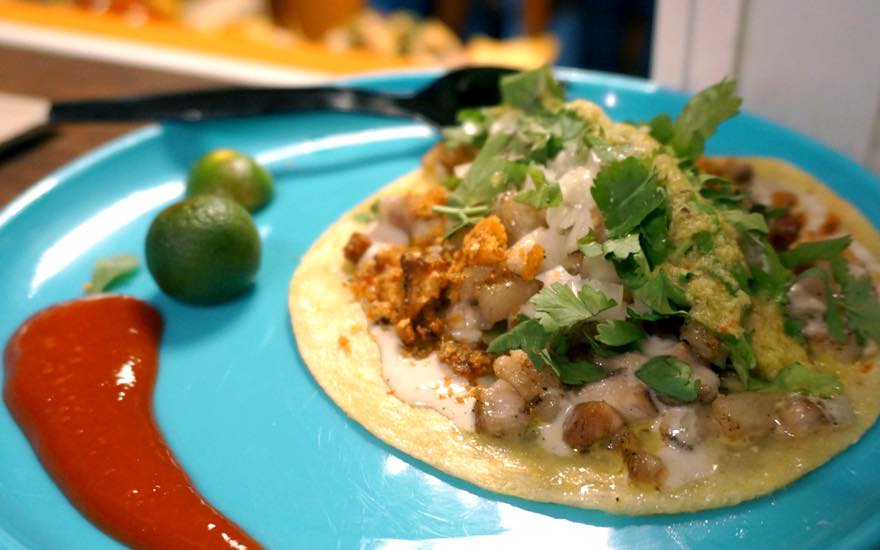 The Yard at Xavierville, 83 Xavierville Ave., Loyola Heights, Quezon City
0920 983 1619 | Facebook
Budget for two – P300
Open daily from 4pm to 12mn
El Chapo's is a Filipino-Mexican Food Cartel nestled in the massive food park, The Yard. Here, the choices are limited, but you can look forward to weekly or monthly specials. They offer three standard tacos—the fish taco with yellow fin tuna, the beef salpicao taco and the bestselling "chicharitos" or lechon sisig taco.
Macho Lucha Taco Shack
The Yard Underground, 207 Christian Route, Hill Crest Circle, Oranbo, Pasig
0917 723 0726 | Facebook
Open daily from 4pm to 12mn
Budget for two – P300
For all you food park enthusiasts, here's another one you've gotta check out. This time, the taco spotlight is in the newer, younger sibling of The Yard—The Yard Underground. Macho Lucha serves affordable, fusion, flavor packed Mexican grub. Just some of the must-tries are the ultimate bacon nachos and cheeseburger tacos.
 Guisados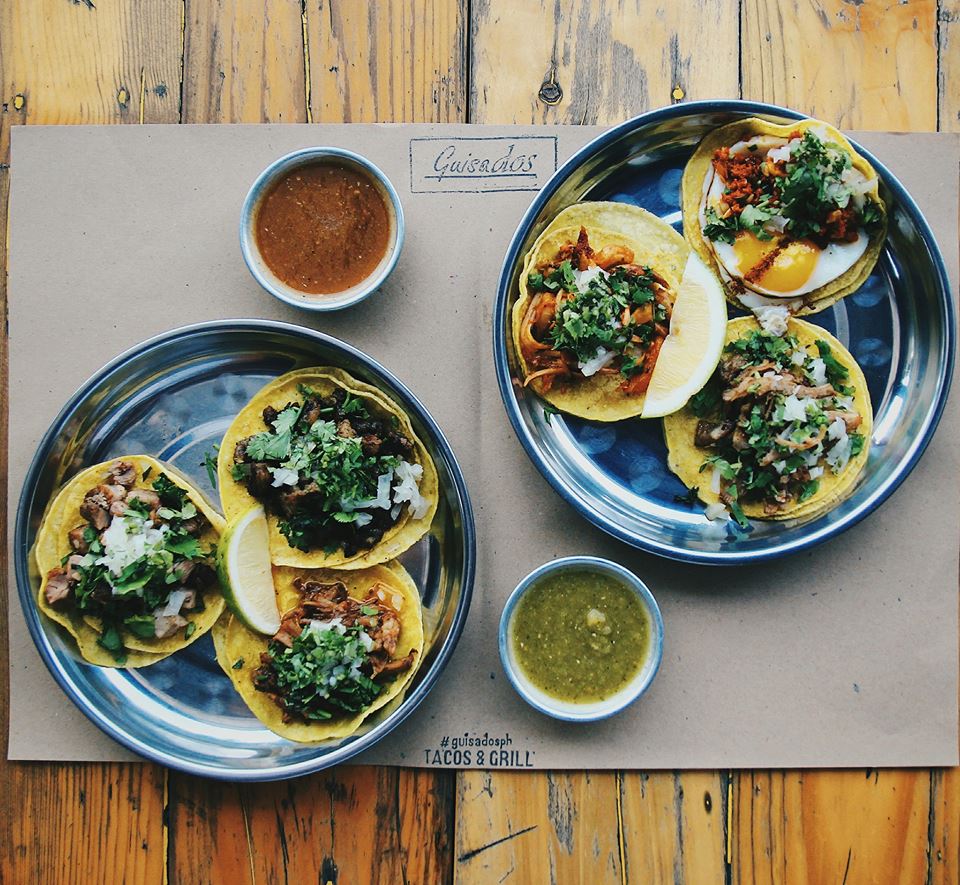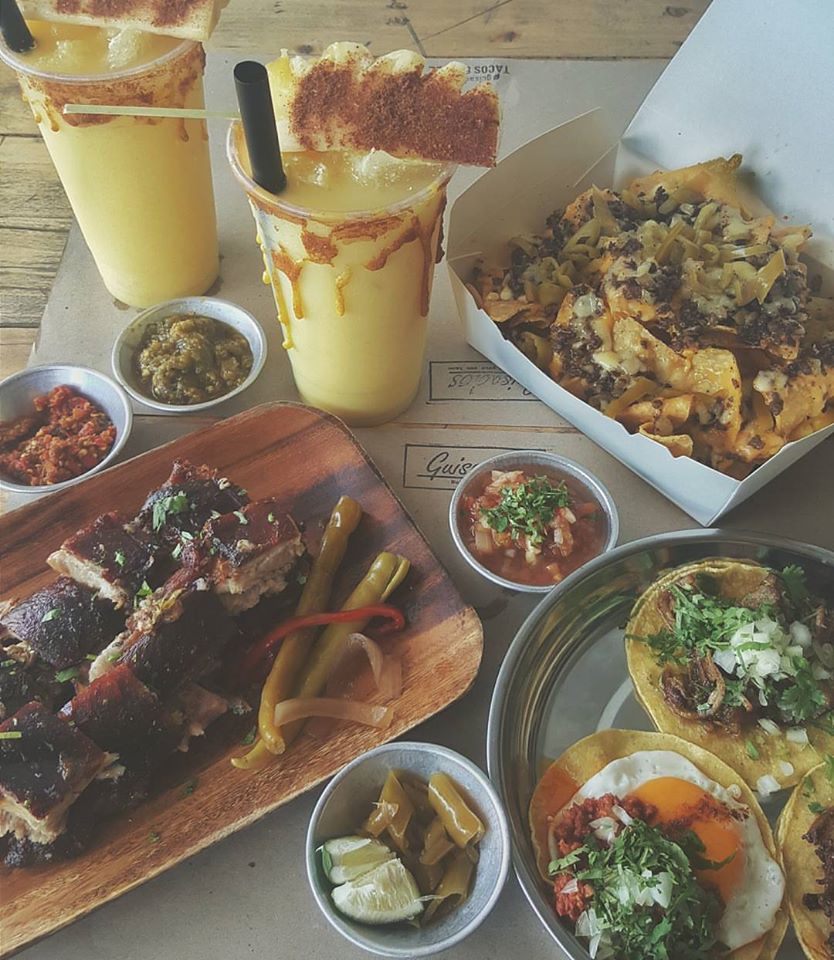 1 Salinglahi Homes, Congressional Avenue Extension, Tandang Sora, Quezon City
0998 992 2287, 0917 827 4321 | Facebook
Open daily from 11am to 12mn
Budget for two – P900
Guisados doesn't claim authenticity; instead, it prides itself with a Mexican-inspired fusion of flavors that would sit well with Filipinos. For example, you can have your tacos with rice. Just some of their unique, must-try tacos are the chorizo-egg and the chicharon. The place is also well known for fantastic lechon belly.
Titto's Latin BBQ & Brew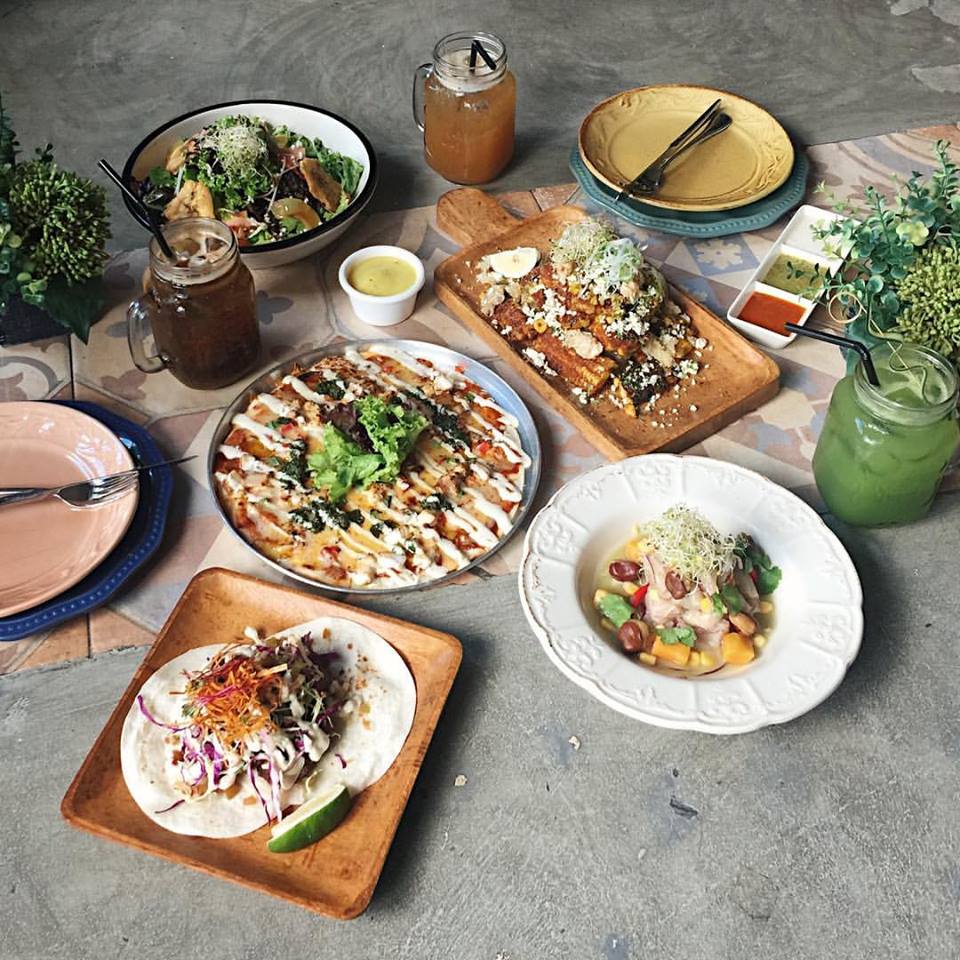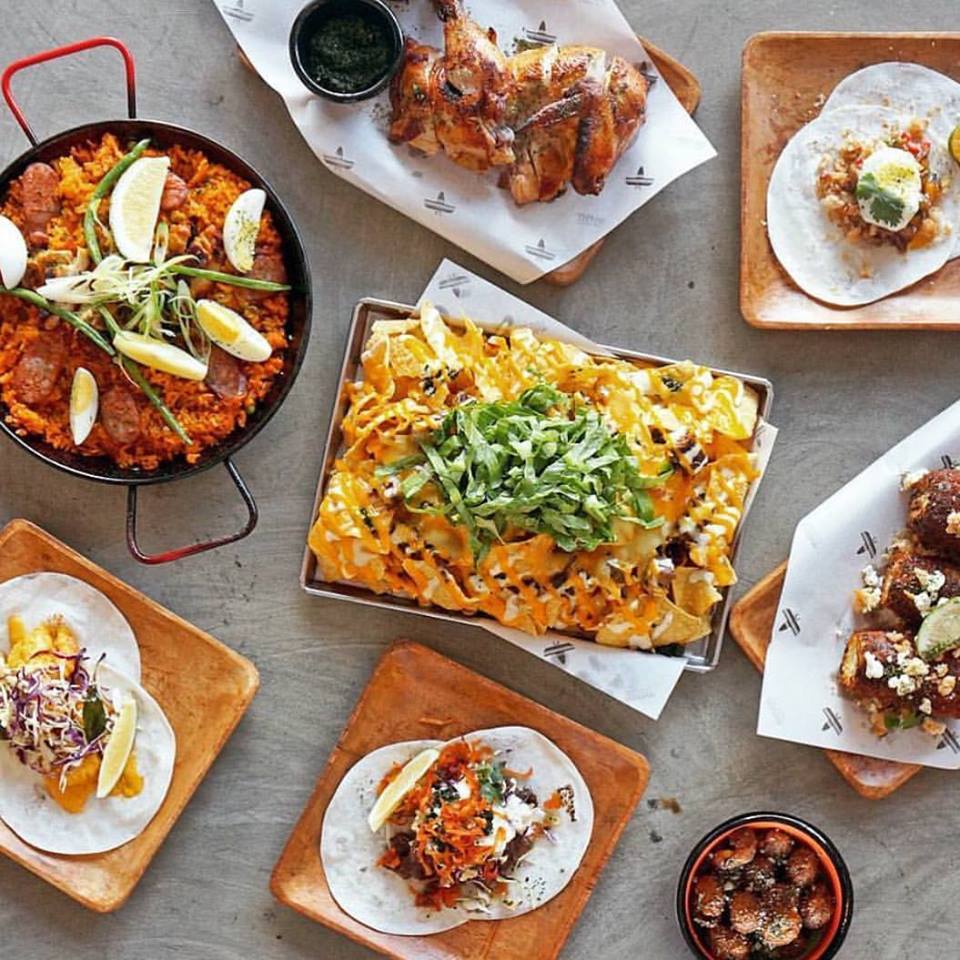 16 East Capitol Drive, Kapitolyo, Pasig City
(02) 532 3414 | Facebook
Open daily from 11am to 1am
Budget for two – P1200
Enjoy tacos (and much, much more) with a predominantly Latin American flare at Titto's Latin BBQ & Brew. The menu is a medley of several cuisines, making it very unique and exciting. Filipino cuisine, for example, appears in the Kare Kare Burrito, Sisig Street Taco and Carne Bistek. Another interesting, must-try is the Japanese and Mexican fusion—TACOyaki.
If that doesn't entice you enough, they also offer unlimited tacos every Monday and Tuesday for only P199. Gather the gang!
Taqueria 101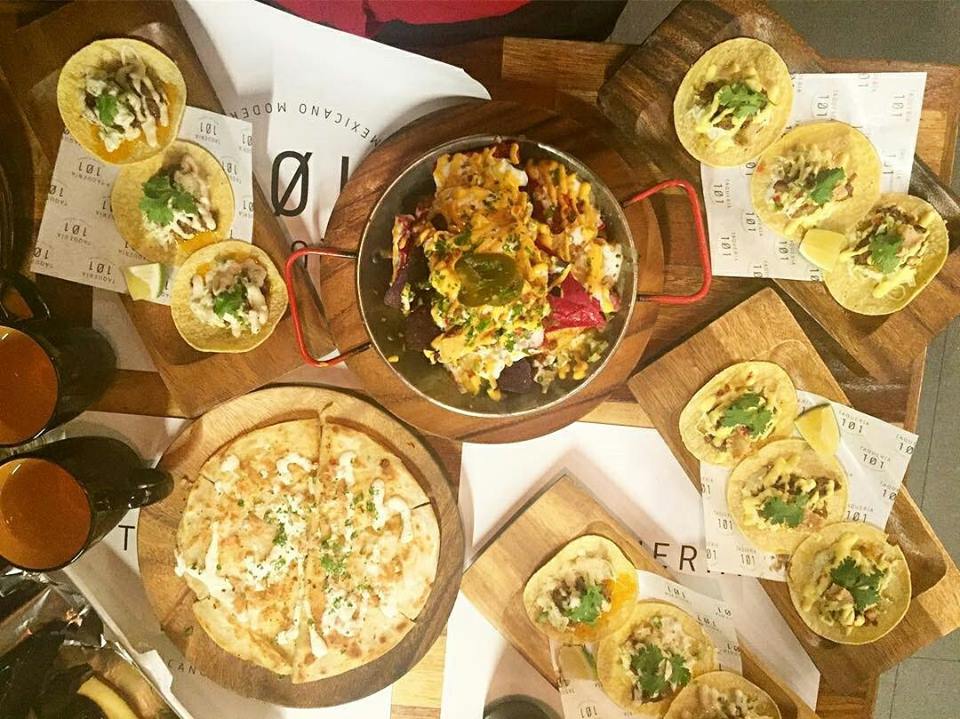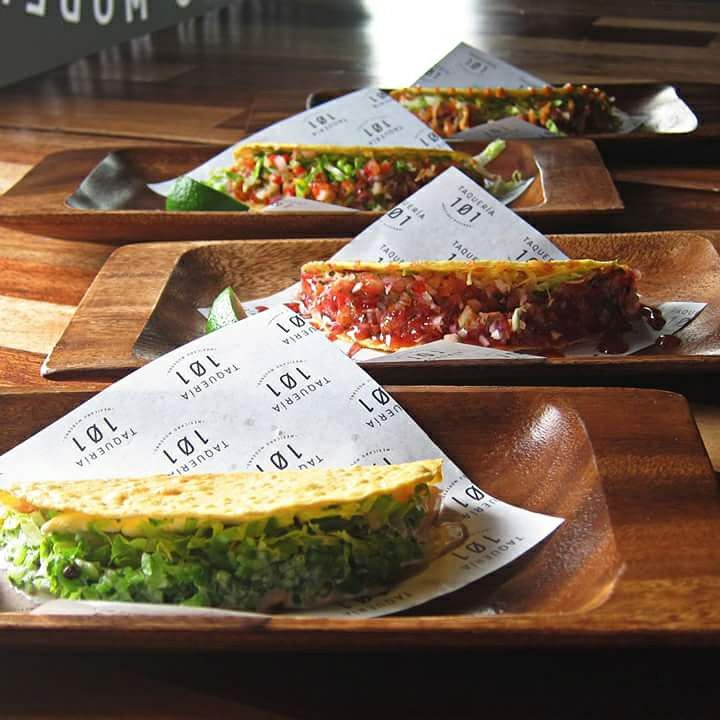 101 Doña Soledad Avenue, Better Living Village, Done Bosco, Parañaque City
(02) 807 7358 | Facebook
Open Tuesday to Saturday from 4pm to 12mn | Sunday from 3pm to 11pm
Budget for two – P700
Imagine the creativity and innovativeness of the food in Locavore, but this time, translated into Mexican fusion food. Taqueria 101 is the family passion project of Chef Kel Zaguirre, churning out unexpected Mexican dishes. For soft tacos, the oxtail with mango mayonnaise and chicharones will definitely be a party in your mouth. And how about some peri peri chicken with slaw, salsa, crema and chimichurri on your tortilla?
Taqueria 101 also serves hard tacos that are bound to be even messier, but hey, we all know that's the best part. Try the Angus Picadillo or the seasonal zucchini flowers with mushrooms.
Lo de Alberto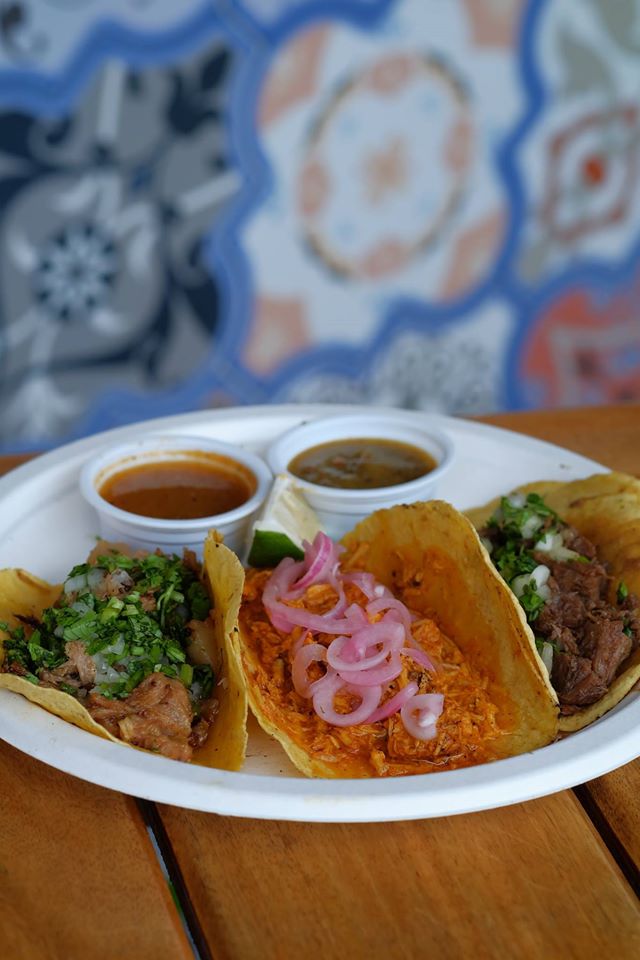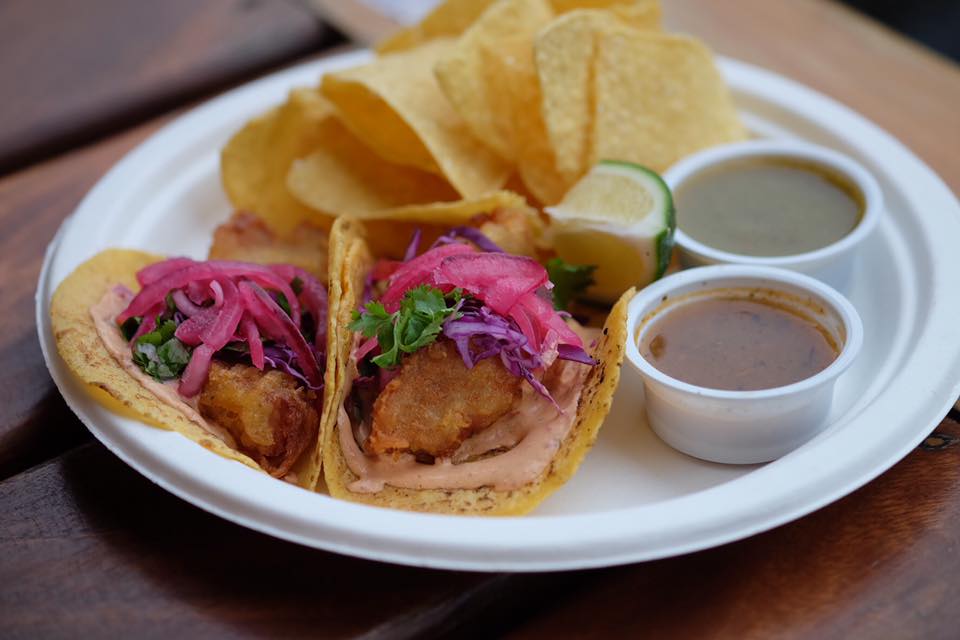 City Golf Plaza, Doña Julia Vargas Avenue, Ugong, Pasig City
0942 639 6771 | Facebook
Open Monday to Saturday from 4pm to 12mn
Budget for two – P500
One of the first things you'll see upon entering Lo de Alberto is its bold sign claiming, "the only authentic taqueria in the Philippines." With a Mexican head chef and handmade ingredients, it's hard to contest. Their tacos come in three variants—pork, beef and chicken. Pair your pick with frijoles or black bean stew, seasonal guacamole and your poison of choice.
Lágrima
GF BSA Mansion, 108 Benavidez Street, Legaspi Village, Makati City
0917 895 4157 | Facebook
Open daily from 11am to 10pm
Budget for two – P300
Làgrima is from the same makers of La Lucha, an authentic taqueria in Cebu with a cult following. For the branch in Manila, the goal is the same—to give Filipinos a genuine taste of Mexican cuisine pioneered by the passionate hands of a man from Oaxaca. As their manifesto puts it, their food is as handmade and as fresh as possible.
Choose from four different kinds of quality meat for your tacos, and complement that with an array of other Mexican staples like nachos, quesadillas and burritos.
La Chinesca
248 Aguirre Avenue, BF Homes, Parañaque City
(02) 738 0724 | Instagram
Open Tuesdays from 5pm to 10pm | Wednesday to Sunday from 11am to 2pm, 5pm to 10pm
Budget for two – P900
What started out as exclusive, obscure pop-ups in popular Japanese restaurants is finally in a permanent (tiny) home. La Chinesca is the newest Mexican baby of Bruce Ricketts—the kitchen magician responsible for Sensei Sushi, Mecha Uma and Ooma. This is the chef going back to his roots, his first love, his comfort zone. And thankfully, we get to enjoy the delicious results.
You definitely have to try everything on the menu, and don't worry, that will be a breeze. But if you're pretending to have the self-control for only a few, do not leave without trying the Tuna Tostada, Tripitas (beef intestines with watermelon) and the off-menu guacamole.
Make sure you follow their Instagram account, too, as they announce weekend specials regularly!
Where are you getting taco-loco first? Share the excitement by commenting below!