Those deep in stan Twitter might have noticed an unfamiliar name climbing the trends on a calm Friday afternoon. "Ninang Jane" is a K-pop stan who attempted to subtly shade K-pop group BTS' achievement. But instead of simply riling up the fans, she also got mentioned by the Department of Foreign Affairs (DFA), subtweeted by another government official, and now her name has allegedly been submitted for investigation. This turn of events occurred in a span of just a few hours. What happened?
Who is Ninang Jane and what did she do?
Imagine being called out by the Department of Foreign Affairs Director bc you chose to devalue the privilege just to "clapback" for the satisfaction of your fandom. How low can u go ninang jane? It's pathetic and embarrassing. pic.twitter.com/F4oNHaUmuP

— y o o n a h (@minygsg7) September 17, 2021
Ninang Jane is a Filipina K-pop stan on Twitter who took to social media to brag about "having" a diplomatic passport. She posted a photo of said diplomatic Philippine passport coupled with a Manila to Taipei airline ticket. "I had it since 2017, doesn't mean a thing," she bragged on the caption. The tweet is now inaccessible since she put her profile on private following the backlash, but by then, it was too late. Before she knew what hit her, Ninang Jane went viral in ways no one would ever want to be.
It was just a passport, what's the big deal?
A Filipino diplomatic passport holder & an exo fan, just posted her diplomatic passport and said it's just a mere thing to "clapback" at Army who just celebrating our boys red passport. Lol

She being chased by her foreign ministry now

— ²⁰¹³Yoon⁷ (@Yoonnalife) September 17, 2021
For starters, the tweet isn't as innocent as it seems. It was made soon after K-pop titan BTS were issued diplomatic passports last Sept 14 by South Korea's President Moon Jae-In himself. This is on top of the septet — RM, Jin, Suga, j-hope, Jimin, V, Jung Kook — being sworn in as presidential envoys after they were appointed in July. A diplomatic passport is only given to government officials and special envoys who have accomplished outstanding achievements for their country. It's coupled with the honor of representing your country and a number of privileges.
The fact that a K-pop group was issued the red passports was a cause for celebration for their fans, ARMY. But it was met with raised eyebrows from the other side of Twitter. Take Ninang Jane, for example.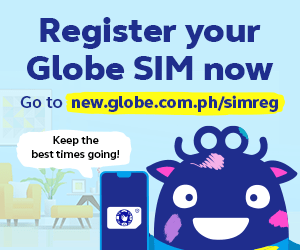 The DFA director replies
With all due respect ma'am, I beg to differ. For me, my diplomatic passport means a lot. It's a badge of honor that allows us to represent and protect the interests of our country, including those of the vulnerable overseas Filipinos. Don't say our vocation doesn't mean a thing. https://t.co/MT1IwbPsZz

— Aaron Erick Lozada (@aaron_lozada) September 17, 2021
The tweet actually reached government workers. DFA General Records and Archives Division (GRAD) Director Aaron Erick Lozada retweeted it with his own sentiments. "With all due respect ma'am, I beg to differ," he starts. He goes on to say that a diplomatic passport is a "badge of honor that allows us to represent and protect the interests of our country."
Even Abi Valte, the former Deputy Presidential Spokesman of the late Philippine President Benigno Aquino III reacted.
Diplomatic passports are issued to a select number of people in public service (PH diplomats, cabinet secretaries, President, et al) for good reason. That carries a privilege, but most importantly, the responsibility of representing your home country with honor & dignity.

— Abi Valte (@Abi_Valte) September 17, 2021
But wait, the passport isn't hers?
You know what crab mentality is? It involves pulling down anyone who's successful.

Ninang Jane here is a great example for that. Take note that the passport she's waving is her dad's, not her's. Jealousy is a disease, get well soon. pic.twitter.com/IeAhUDwBTP

— Only Bangtan PH ⟭⟬ (@OnlyBangtanPH) September 17, 2021
If you look closely, you'll actually see Ninang Jane's full name printed on the ticket. And if that didn't suffice, you could see her Facebook name underneath the passport too. She basically announced her whole identity on social media. But the plot thickens: the diplomatic passport isn't hers and she basically admitted it in a tweet before going private: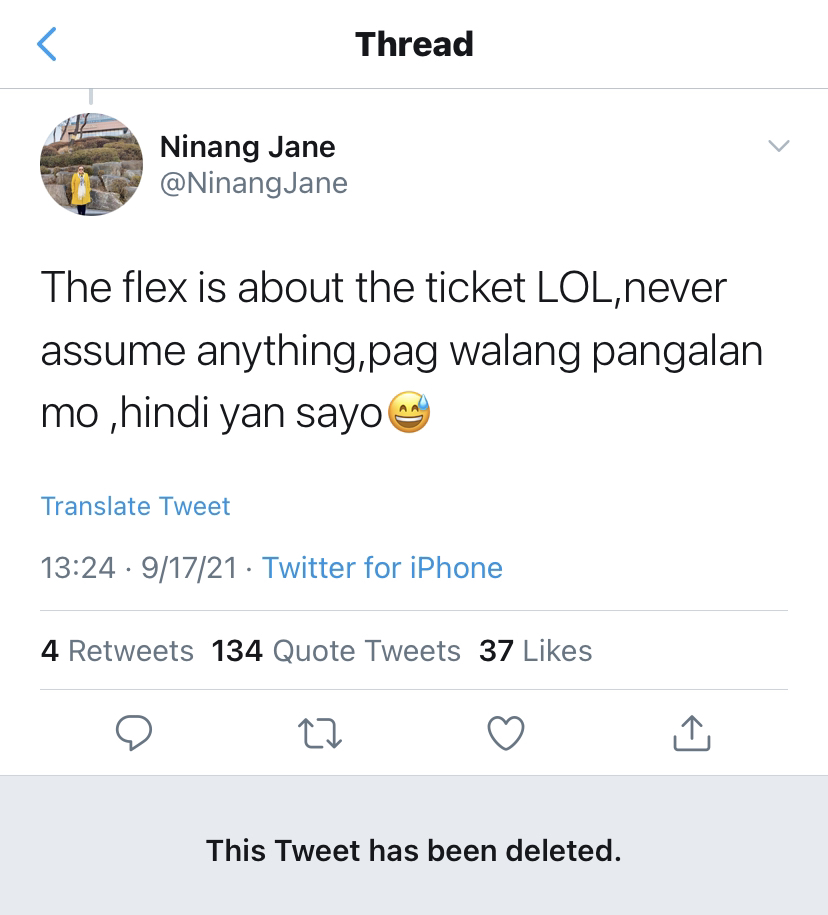 It appears that Ninang Jane might have just borrowed someone else's diplomatic passport to "flex." Whose passport, we've yet to find out.
And a fishy ticket
In fact, even stopovers for official work trips through Taiwan are discouraged because of that policy. Even for holders of official passports.

— Abi Valte (@Abi_Valte) September 17, 2021
The passport isn't Ninang Jane's but the ticket is definitely hers, since her name is on it. However, Philippine diplomatic passports can't be used in Taipei due to the One China Policy — this was confirmed by Abi Valte. Valte said that even stopovers in Taiwan are "discouraged" for holders of official passports.
These revelations would mean that A) The diplomatic passport isn't Ninang Jane's, and B) The Manila to Taipei ticket might not have been used with the passport.
Local and international ARMY reacts
Of course, ARMY — BTS' loyal fandom — wouldn't let this slip. Ninang Jane insulted the K-pop group and attempted to start a fan war but it revealed more about her than anything. Local ARMY Twitter and even international fans put in their two cents:
Ninang Jane you've already reach the international side of ARMY twt lmao.. thanks for giving us a good laugh https://t.co/EDDgKyjomp

— 크리스틴⁷ (@concchristine) September 17, 2021
In the future, when at the verge of making really really bad choices in life, maybe I will think about Ninang Jane. Ok to do smthing stupid fun once in a while but never Ninang Jane level of stupid fun. K self?

— OliviaRose⁷ (@OliviaRSnipes) September 17, 2021
THE DIRECTOR OF THE DEPARTMENT OF PUBLIC AFFAIRS IN YOUR MENTIONS DEFENDING BTS Its bad for you sweetie

— Tri ⁷ da Villain (@THEEEhottie) September 17, 2021
The situation escalates
Just talked to DFA. They want receipts. I'm sending an email of the screenshots. But as per phone call, they already know it's Jane Corpin Fabre.

— ✨Junnie⁷ (@KimNamJunnie) September 17, 2021
ARMY are deadly serious when it comes to protecting BTS. They have a long history of responding to hate towards the K-pop group by emailing BTS' management, Hybe, and leaving them to act on it. Hybe sometimes responds by tracking the perpetrators down and filing a case against them. And it looks like Filipino ARMYs are putting the practice to use. Some have already sent DFA an email regarding Ninang Jane's controversial tweet:
Email has been sent. @NinangJane pic.twitter.com/4IQQ7mvXei

— ✨Junnie⁷ (@KimNamJunnie) September 17, 2021
Lesson learned: Be careful what you post online — especially if it's against a huge fandom
A lesson for us ARMY:
-Never post sensitive info about yourself here
-THINK BEFORE YOU CLICK
-National and international matters are SERIOUS and should never be a discourse for fanwars in stan twt

Don't be like Ninang Jane. Let's be better, lovelies.

— Chai ⁷ (@abyssmoon7) September 17, 2021
Whatever those emails yield or if DFA will launch their own investigation, only the next few days will tell. But everyone learned a few valuable lessons today. Aside from the fact that bullying other fandoms and expressing hate is a juvenile move, posting your private details on the internet is an even graver mistake. Now everyone knows Ninang Jane's name, a legend in all the wrong ways.
When the Director of Foreign Affairs of your country quotes your tweet, one where you shared your full government name and a photo of your diplomatic passport, saying that having one "doesn't mean a thing" I don't think going private on Twitter would help. Goodluck. ‍♀️

— 제시⁷ (@jessikatsu) September 17, 2021
Check us out on Facebook, Instagram, Twitter, and YouTube and be the first to know about the latest news and coolest trends!