No More Mutants: 'Dark Phoenix' Kills the X-Men Movie Franchise
Jun 7, 2019 &nbsp • &nbsp Mikhail Lecaros
Serving as the finale to both the X-Men: First Class series of films and the overall franchise that began with 2000's X-Men, Dark Phoenix has arrived in cinemas. As the second attempt to adapt the iconic comic storyline of the same name (following X-Men: The Last Stand's disastrous first try in 2006), fans have waited to see if this version would pass muster.
BACKGROUND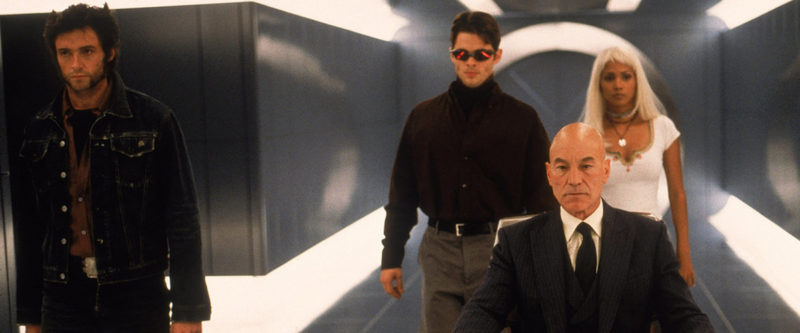 When X-Men was released in 2000 by 20th Century Fox, superhero films were nowhere near the box office juggernauts they are seen as today. At the time, aside from 1999's Blade, the only successful superhero blockbusters had been DC's Superman the Movie (1979) and Batman (1989). Approved for production largely based on the popularity of the 1992 X-Men animated series, the first film was a mid-budget affair, with an untested cast under a director (Bryan Singer) whose highest-profile project was the critically-acclaimed crime drama, The Usual Suspects (1995).
Despite being a somewhat somber affair, with the traditionally colorful mutants clad entirely in black leather, the characters were largely true to their comic book selves. In particular, praise was heaped on the relationship between Professor X and Magneto, as portrayed by theater veterans Patrick Stewart (Star Trek: The Next Generation) and Sir Ian McKellen (Lord of the Rings). Of course, the film's breakout star was Australian unknown Hugh Jackman (The Greatest Showman), who shot to fame for his role as the hot-tempered Wolverine. All told, X-Men was a hit, allowing Singer and his cohorts to broaden the stage with X:2 (2003).
THE FIRST PHOENIX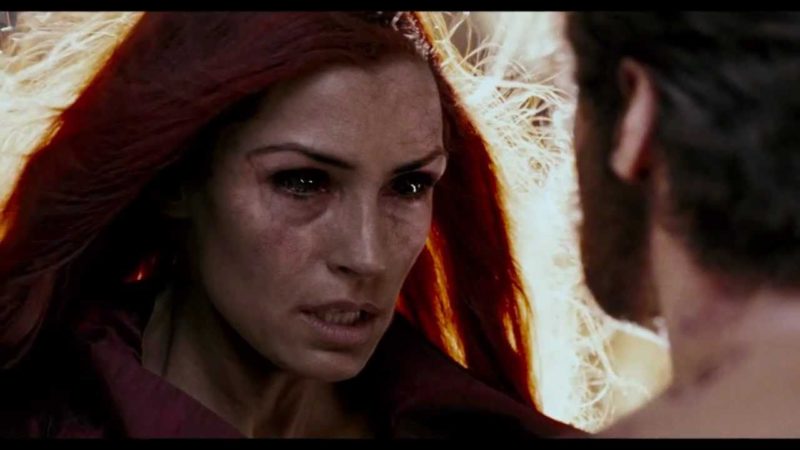 After setting up the Phoenix at the end of X:2, Singer made the sudden decision to leave and direct Superman Returns (2006). With a release date already set, 20th Century Fox was forced to move forward with X-Men 3: The Last Stand, under Brett Ratner (Rush Hour 1-3). With a compressed pre-production timeline, and a completely different director at the helm, the film's unevenness showed; while X-Men 3 was massively successful at the box office, it was criticized for its contrived plot, underutilized characters, and butchering of the classic Dark Phoenix story.
When 2019's Dark Phoenix was announced, director Simon Kinberg (taking over from Bryan Singer, who had directed 2016's godawful X-Men: Apocalypse) told media that this film would make up for the sins of X-Men 3, and do justice to the Dark Pheonix Saga.
Amusingly, what Kinberg tended to leave out of his interviews was the fact that he had actually co-written X-Men 3.
Which brings us to Dark Phoenix…
THE STORY

The year is 1992, and the extremely public events of X-Men: Apocalypse (2016) have resulted in Charles Xavier's (James McAvoy, Split) formerly hated and feared mutants being recognized as the world's premiere superhero team, and celebrities in their own right. When a NASA shuttle suffers a catastrophic systems failure on a routine space mission, the president calls upon the X-Men (using an X-Phone, no less) to remedy the situation. With Mystique leading the mission, the team blasts off to aid the astronauts before they are incinerated by an incoming solar flare. The seemingly-routine rescue nearly ends in tragedy, but Jean Grey (Sophie Turner, Game of Thrones) miraculously survives absorbing the entirety of the flare.
On returning to Earth, Jean's natural telepathy and telekinetic powers begin manifesting in sudden, uncontrollable ways. As her lack of control begins threatening those around her, and previously-forgotten memories come bubbling to the surface of her mind, Jean will have to confront a side of herself she never even knew existed.
A FAMILIAR TALE, RETOLD BADLY (AGAIN)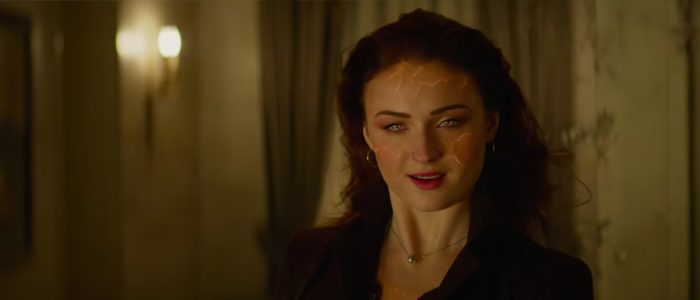 Midway through the film, the heroic mutants confront Jean at the latter's childhood home. At this point, Jean's Phoenix powers have started breaking down the mental barriers Charles put in her mind as a child, causing her to question everything she has ever known about herself and the people she trusts. As Jean lashes out, her enhanced powers result in the death of one of the series' major players, forcing her to throw her in with Magneto, who is currently living in the wilderness with his followers. As Jean succumbs to the allure of her new abilities, she trades in her outfit for a long crimson coat, darkened veins highlighting her pale skin as she wreaks a path of destruction on all who oppose her.
While this is a play-for-play of Dark Phoenix's second and third acts, it also happens to be the synopsis of X-Men 3. Sadly, copying is the least of Dark Phoenix's problems. Perhaps someone should have double checked what had gone before when they put Simon Kinberg in charge.
DIVIDED WE STAND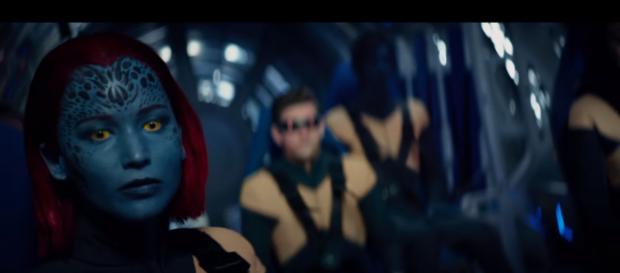 For all of X-Men 3's faults, that film at least had an interesting philosophical predicament behind its main plot. The 2019 version substitutes hackneyed arguments and faulty logic to generate drama. While Kinberg tries to inject Jennifer Lawrence's Mystique with some of the proud defiance that defined her (future) time as a villain, the effort largely comes across as poorly-manufactured conflict for the sake of conflict.  The nadir of this narrative cluelessness is an attempt at forced feminism from Mystique's part that is shocking for how tone-deaf it is. You'll know it when you hear it, because the look on Xavier's face immediately afterward matches that of every audience member forced to endure it.
A LACKLUSTER BLOCKBUSTER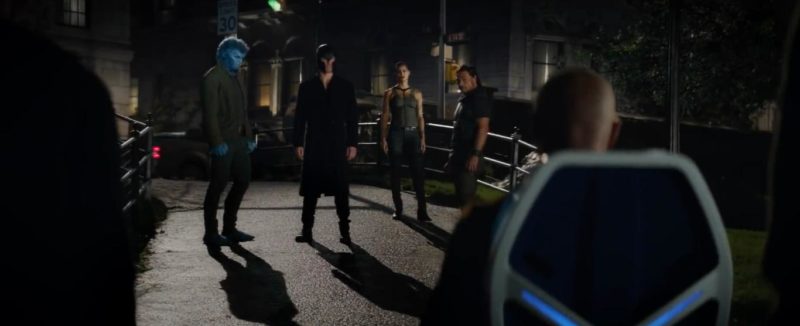 With memories of Avengers: Endgame still fresh in their minds, moviegoers have been spoiled for eye candy in recent months, and it is truly disheartening to proclaim that the action scenes in Dark Phoenix are flat, uninspired, and, worst of all, just plain dull. For a film that promised to honor the intergalactic scope of the original comics, two of this film's four major action sequences literally take place on streets in front of houses. It doesn't help that the action in those sequences actually pales in comparison to what TV's Agents of SHIELD and The Flash do on a weekly basis.
By the time the final act comes into play, with the X-Men and their enemies on a runaway train, it's simply too little, too late.
DREAM'S END

With the film's final round of marketing shifting focus away from the story to concentrate on the nostalgia aspect of the franchise ending in the wake Disney purchasing Fox, it would seem that somebody, somewhere, knew they had a turkey on their hands. What should have been a grand finale for the first main superhero franchise of the 21st century will now be notable for beating out X-Men: Apocalypse and Wolverine Origins for the title of worst film in the franchise.
THE BOTTOM LINE
While the future promises a Disney-led reboot that will integrate Marvel's merry mutants into the existing MCU, Dark Phoenix is a thumb in the eye of anyone who ever enjoyed any of the X-Men's big screen adventures over the last 19 years. With a lackluster story, uninspired visuals, and even less inspired actors, Dark Phoenix accomplishes what six decades of evil mutants have failed to do: kill the X-Men.
What are your thoughts on the movie? Tell us below!