North vs. South: Commuter Woes
May 20, 2016 &nbsp • &nbsp 8List
North vs. South: Commuter Woes

By 8List

The saga of people living in the north and the south seems to never cease. From who has the more good looking guys to which is the more happening side of the metro to who got the better hole-in-the-wall restaurants, the conversation continues. Now, let's talk about commuting and its many buwis buhay travails!
Jeepneys

South: We don't do jeepneys. Can you even imagine surviving in this heat we are swathed in right now? It's a freaking sauna out there. Thankfully, we have air conditioned FX shuttles down south that can takes us to any point—hanging out in the next village or catching a movie at SM BF.
North: Take your pick. This is our bread and butter. Jeepney-riding is probably a skill that is taught to all northern dwellers. Biyaheng Montalban, Antipolo, or Cogeo ba kamo? Taking those trips will make a man out of you—not to mention the heart-pounding power ballads playlist they max up using a makeshift disk player. Just be careful when you hang on at the back and please, pay the fare—let's cut it out with the 1-2-3s—so, yes, just pull 'd string 2 stop!
Commuting to Work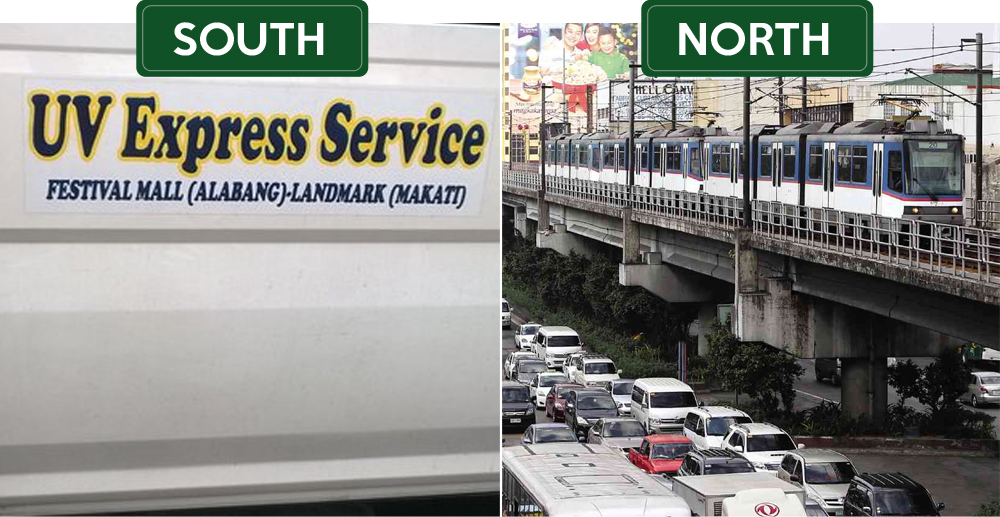 South: For people like me who live down south but hold office in Makati, we only live by two words: UV Express. Nothing is a more efficient, albeit cramped, mode of transportation. It defeats the government-subsidized modes of transportation that other parts of Metro Manila enjoy or suffer from. And oh, we don't pass through EDSA—we just choose between the Skyway and the South Luzon Expressway to get to work
North: The province of Ortigas-based? The Province of Makati-based? The Province of Manila-Based? Dude, commuting to work is like commuting to the province, yes? The northern mantra is "ride anything if it gets you there."
Commuting Home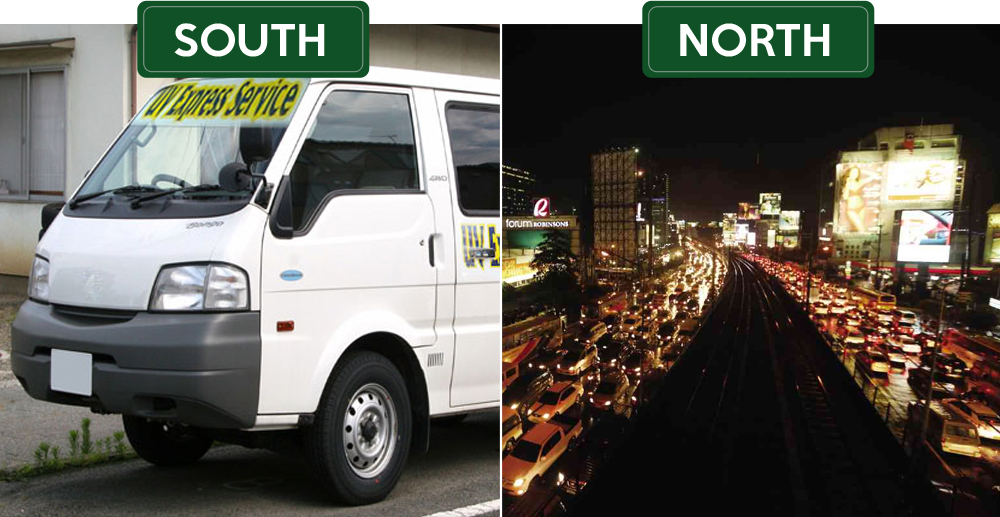 South: We go to work taking the UV Express and the same efficient method brings us back home. Our shuttles take the expressway so we skip the long queues.
North: Kahit ano nang sakyan basta't makauwi. Trapik naman sa lahat pabalik ng north eh. Bwiset!
UV Express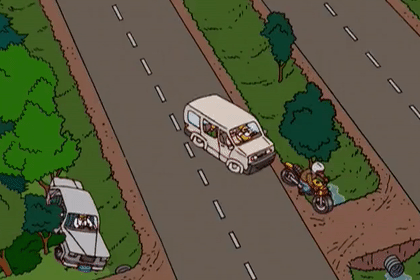 South: As mentioned above, this is the primary mode of commute in the south. We don't have that much support from government, you see. The ever-reliable drivers and barkers of the UV Express have mastered the art of swiftly delivering people to and from work. Oh, they are also great in coordinating their movements on the road, much to the disdain of the private vehicles.
North: We are forever grateful, as we are but patients being delivered to the ER (our destinations) with them ambulance-esque-driver-wanna-bes, weaving through Fury Road and more. In contrast to the dismay of private vehicle drivers, our salary deductions—due to tardiness—solely depend on these Mad Max's of Manila.