8 Oscar Movie Picks In Six Taglish Words Or Less
Jan 28, 2015 &nbsp • &nbsp Wincy Aquino Ong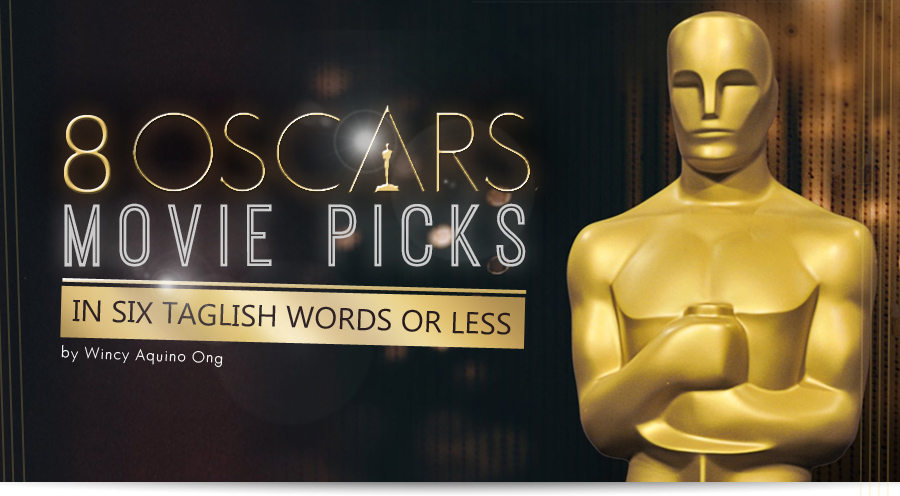 [dropcap letter="I"]t is Oscars season once again. But as much as we're curious about the worthy crop of movies that will be championed by the Academy, we are saddened by the fact that most of these movies will not be shown in our local multiplexes. (Thank God that there will be limited screenings of "Birdman" and "Wild" last I checked.)
Small wonder most of us Pinoy movie buffs resort to torrent downloads or those pirated screener copies, the ones with those pesky blinking labels "FOR CRITICS ONLY" to sate our appetites.
But yes, these movies deserve to be seen by Filipinos on the big screen—not on the laptop. So just to pique the interest of casual Pinoy moviegoers to rally and demand screenings of these acclaimed films, here 8 of them haiku-like, in easily digestible Taglish, without the pomp and pretension. (Oh, and with much help from Google Translate, I tried to do in six words or less.)


Adik sa heroin. Nag-nature-trip siya.

Babae sa likod ni Stephen Hawking.


Adventure ng hotel boy. Cute!


Henyo sa math. Lumaban kay Hitler.


Asawang nawawala. Sinong may sala?


Laos na superhero. In denial.


Drummer nangangarap. Kumag na teacher.


12 taon na shooting. Winner!
Do you have your own movie picks? Share them in the comments below!