Taraji P. Henson's gown and the shade (or lack thereof) she's been throwing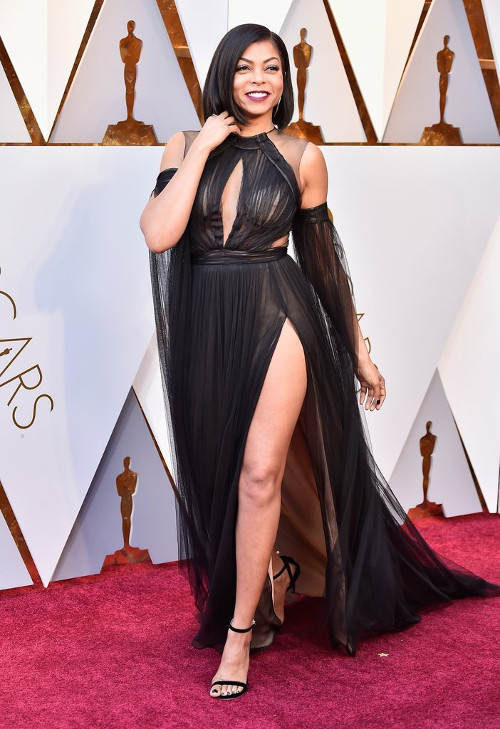 Oscars is a time for Hollywood stars to bring their A game to the red carpet, but this year, one of the stars who outdid themselves would be Taraji P. Henson. Her ultra-high slit French tulle gown designed by Vera Wang caused a collective jaw-drop among the audience and a scramble for the photographers trying to get the perfect shot.
But aside from her bombshell look, she became quite the talk of Twitter when she was interviewed by Ryan Seacrest and said some seemingly shady replies. To be fair, she cleared her intentions immediately.
Timothée Chalamet brought his mom with him!
Best Actor nominee Timothée Chalamet brought his mom to the #Oscars. "This is unbelievable," she says. "I'm so proud of him!" https://t.co/exBwXiE7dz pic.twitter.com/QSMo0RQEti

— ABC News (@ABC) March 5, 2018
The Call Me By Your Name actor-slash-Hollywood-sweetheart-slash-everybody's-boyfriend Timothée Chalamet adorably brought his mom with him at the Oscars. He even held her hand while walking down the carpet!
Timothée in all his white tuxedo goodness is nominated for Best Actor, but unfortunately didn't win. That's okay Timmy, you still have our hearts with you!
Helen Mirren and her shot of tequila because why not
Helen Mirren takes a shot of tequila on the #Oscars carpet https://t.co/2xFYHDkscT pic.twitter.com/zTH83fxLov

— Variety (@Variety) March 5, 2018
We might say Helen Mirren is our spirit animal (also watch her saying no to photographers suggesting a pose). She was photographed taking a shot of tequila nonchalantly at the red carpet. The Oscars is notably a very long ceremony: she clearly needed a boost, and where better to have it than at the red carpet! Helen apparently needed the shot especially to calm her nerves before presenting and modeling for a jet ski.
Dancing with Jennifer Lawrence
Jennifer Lawrence at the 90th Annual Academy Awards #Oscars pic.twitter.com/nUW8JO0bzH

— Jennifer Lawrence (@JenniferUpdates) March 5, 2018
There's never a dull moment with Jennifer Lawrence, and at this year's Oscars, she's more energetic than usual, and we're loving it! She did a mini dance for the photographers at the red carpet and was captured climbing over seats, wine in hand, to get to her seat. Or she probably saw Meryl Streep and just had to take a shortcut to greet her. In any case, JLaw will never get old in our hearts.
When Jennifer Lawrence saw Meryl Streep.. #Oscars pic.twitter.com/8QlCCHrrrx

— Ahmed Kharoub (@5arouB) March 5, 2018
What's your favorite #Oscars red carpet moment? Share it with us!