8 Things You Should Know about the Paris Attacks
Nov 14, 2015 &nbsp • &nbsp 8List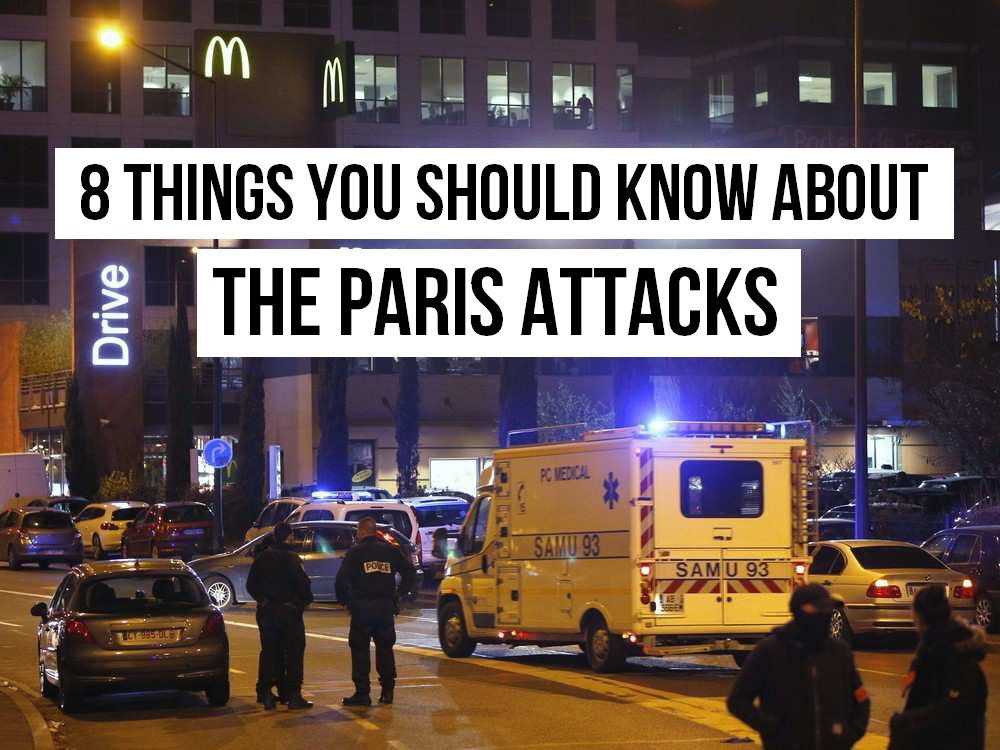 In the evening of November 13 in the French capital, at least 120 people were killed in coordinated attacks involving shooters reportedly with AK-47s and suicide bombers with explosives strapped onto their bodies.
Here's what we know now.
8. Coordinated attacks
Eight extremists dead following deadly #ParisAttacks – as many as 120 Parisians dead: https://t.co/k7NGIOWro9 pic.twitter.com/Z56qt6tg9Q

— AP Interactive (@AP_Interactive) November 14, 2015
"In the deadliest terrorist attack on Europe since the 2004 train bombings in Madrid, six venues across Paris were targeted: gunmen opened fire at a rock concert and on patrons in restaurants; and a series of bombs were detonated near the Stade de France, where the national side was playing Germany in an international friendly football match," The Guardian reports.
The BBC reports that the attacks took place at these venues:
Bataclan concert venue – gun and suicide bomb attacks
Stade de France – explosions near venue as France played Germany in football friendly
Le Carillon bar  – gun attack
Le Petit Cambodge – gun attack
La Belle Equipe – gun attack
La Casa Nostra – gun attack
Reuters confirmed another shooting incident at the Les Halles shopping mall.
BREAKING: Another shooting reported in Paris, at Les Halles shopping mall: Europe 1 Radio. https://t.co/uixSvEfEMR

— Reuters Top News (@Reuters) November 13, 2015
As of this writing, The Guardian reports that 120 have been killed and 200 injured, with 80 seriously.
7. Open fire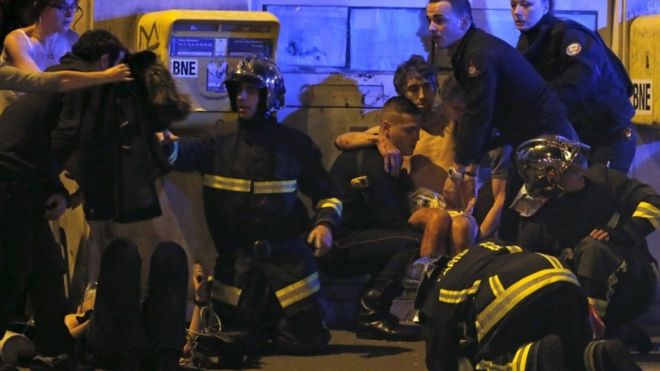 The CNN reports that "the worst carnage occurred at Bataclan, with at least 112 left dead. A journalist who was at a rock concert there escaped and told CNN: 'We lied down on the floor not to get hurt. It was a huge panic. The terrorists shot at us for 10 to 15 minutes. It was a bloodbath.' Julien Pearce didn't hear the attackers speak, but he said one friend who escaped heard them talk about Iraq and Syria. Later, he said the men were speaking French. Two men dressed in black started shooting and after wounded people fell to the floor, the gunmen shot them again, execution-style, he said."
6. Explosions at the Stade de France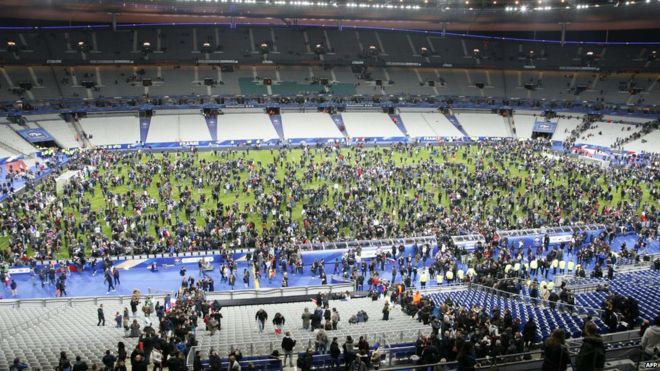 At the time of the attack, the French and German football teams were having a match at the Stade De France stadium.
A loud blast can be heard during their match in this video:
https://vine.co/v/iBb2x00UVlv
5. 100 Hostages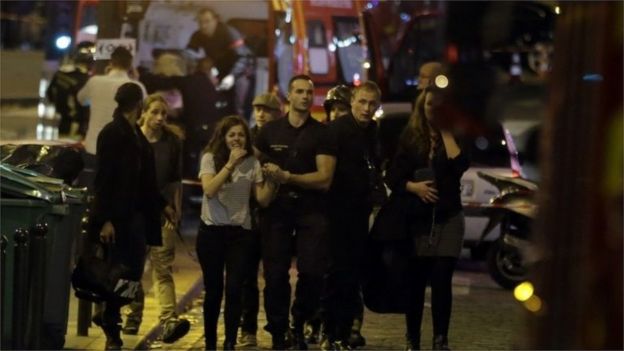 Gunmen stormed concert venue Bataclan, where the band Eagles of Death Metal were playing a sold-out concert. The Guardian reports that this is where majority of the victims have died, with 87 fatalities. 100 hostages were taken, but security forces were able to free them.
4. 8 attackers dead
According to Agnes Thibault-Lecuivre, Paris Prosecutor spokeswoman, seven of the 8 extremists were killed in suicide bombings. One was shot dead by the police.
3. Hollande declares National State of Emergency, orders borders tightened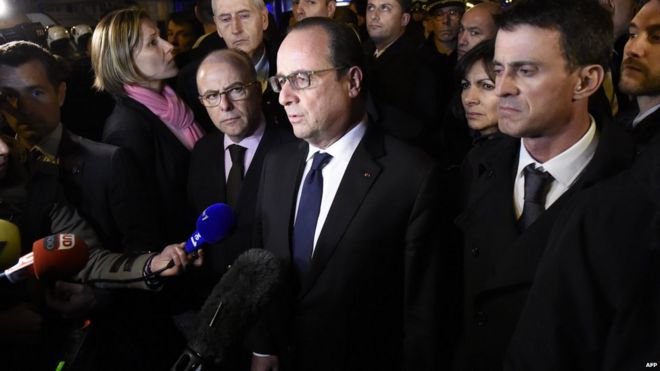 According to the BBC, the decree enables the authorities to close public places and impose curfews and restrictions on the movement of traffic and people.
This is the first time in 10 years that France is in a state of emergency.
2. The Syria connection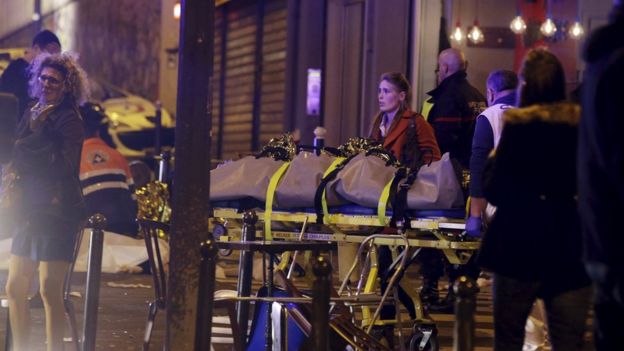 The gunmen's motives were initially unclear. However, French news agency AFP reports that an eyewitness at the Bataclan heard one of the attackers proclaiming their support for the Islamic State."It's Hollande's fault, he shouldn't have intervened in Syria," screamed the gunman.
1. Eyewitness accounts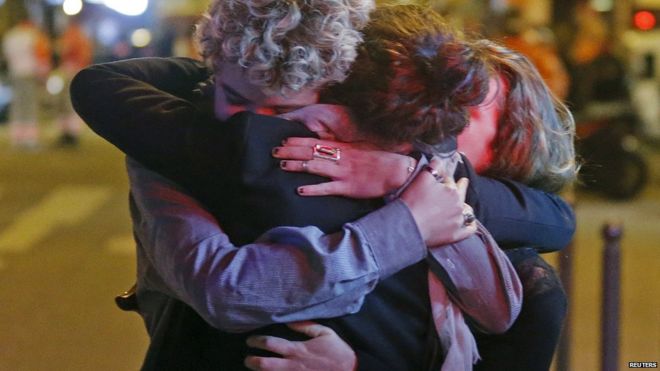 Witnesses of the incidents were seen recounting their experience to the media. The BBC reports accounts as harrowing as Julian Pierce's, a journalist:
"Several armed men came into the concert. Two or three men, not wearing masks, came in with what looked like Kalashnikovs and fired blindly on the crowd.
"It lasted between 10 and 15 minutes. It was extremely violent and there was panic. The attackers had enough time to reload at least three times. They were very young.
"There were bodies everywhere."