#ArtsMonthPH2016: 8 Exhibits You Shouldn't Miss This February
by Czyka Tumaliuan
The 1991 Presidential Proclamation 683 decrees that February is National Arts Month. Over the years, the National Commision for Culture and the Arts (NCCA) along with private and government agencies and galleries have organized shows and events to celebrate the Filipinos' natural knack for making revolutionary art. Here are 8 events that highlight the creative brilliance of local artists. Make time this month and go see them!
8. Arbitrary


Opening: 7pm, February 20, 2016
Where: Nova Gallery | Warehouse 12 A La Fuerza Plaza Compound, Don Chino Roces Avenue, Makati City
Fee: Free
In celebration of the National Arts month and the 10th anniversary of Pilipinas Street Plan (PSP), avant-garde street artists Chill and Nemo will be making some of their largest works on the fly for 18 days straight from February 2 to 20 as part of their imminent show Arbitrary. Anyone is welcome to watch them work from Monday to Saturday, 12pm-8pm.
The two are notorious for painting eye-catching images on public spaces, vivifying the humdrum of urban landscape, and making art more accessible to the masses.
7. Other: Zobel and Sanso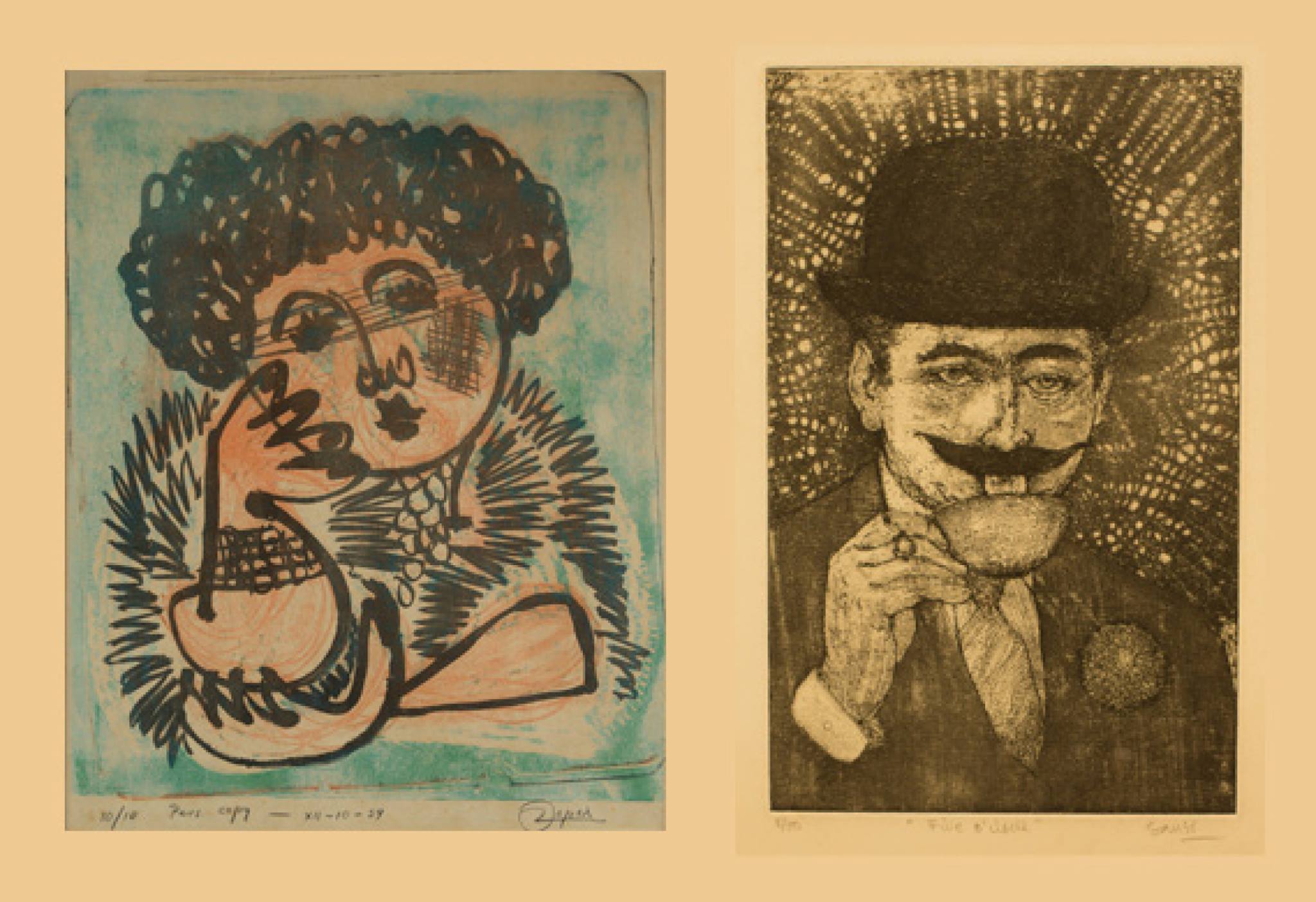 Opening: 4pm, Feb 10, 2016
Where: Ateneo Art Gallery
Fee: Free, but only 40 seats will be made available.
In collaboration with Fundacion Sansó, the Ateneo Art Gallery will launch the very first exhibit to explore the similarities between the prints and illustrations of Spanish nationals Fernando Zobel and Juvenal Sansó: Other: Zobel and Sansó. A collection of over 80 prints and travel sketches by the two masters will be unveiled, including never-before-seen pieces.
6. Escape 2016: ILOVEYOU Virus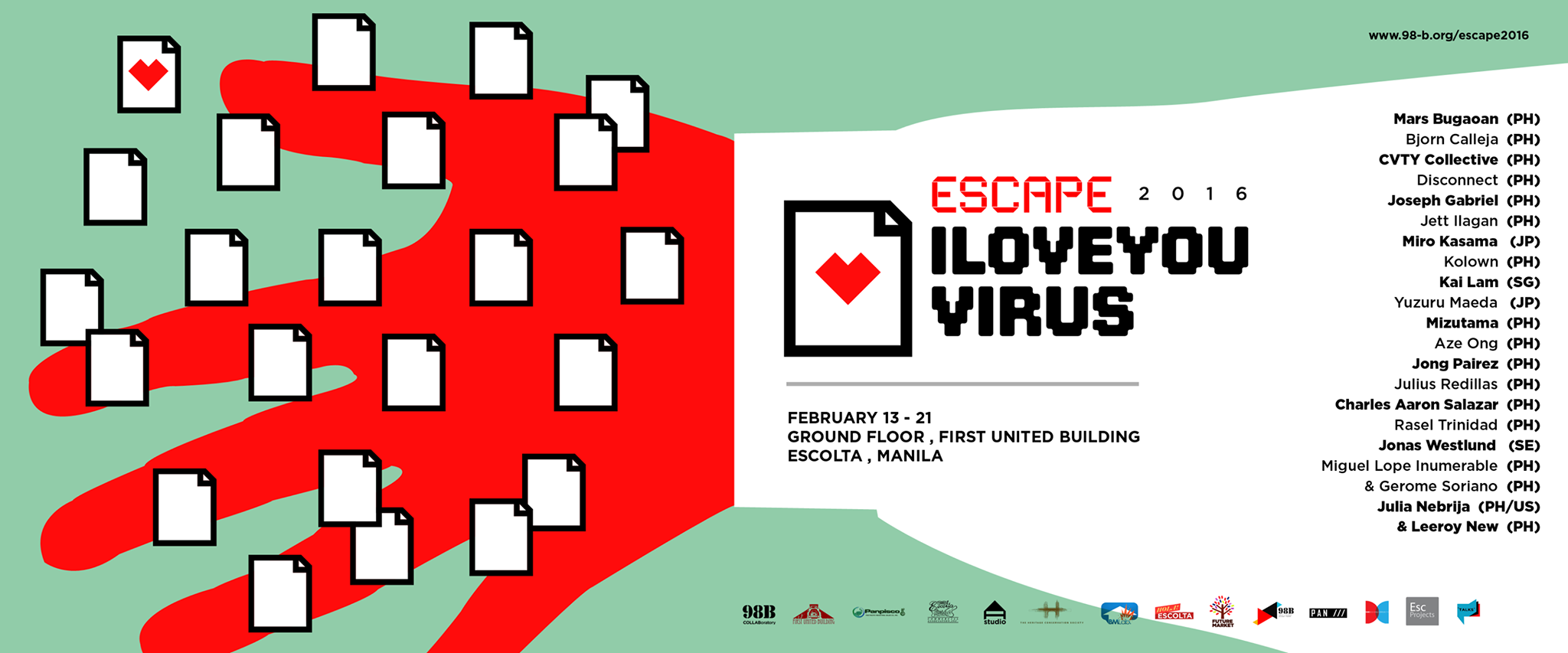 Opening: 6pm, February 13, 2016
Where: 98B COLLABoratory | 413 Escolta Street, Mezzanine Level, First United Building, Manila
Fee: Free
Also known as the "Love Letter" or "LoveBug" virus, "ILoveYou" was coded by a Filipino I.T. geek. In May 2000, this malware spread across the world in a blink of an eye, infecting 45 million computers in a single day. A bi-annual exhibit of contemporary art launched in Escolta, Escape 2016: ILOVEYOU Virus will feature artists examining how some entities and ideas move and act like contagious malware. The works will revolve around how things—whether they are thoughts, feelings, stories, a clinical condition or a social phenomenon—diffuse and turn into a global epidemic.
5. Carlos Celdran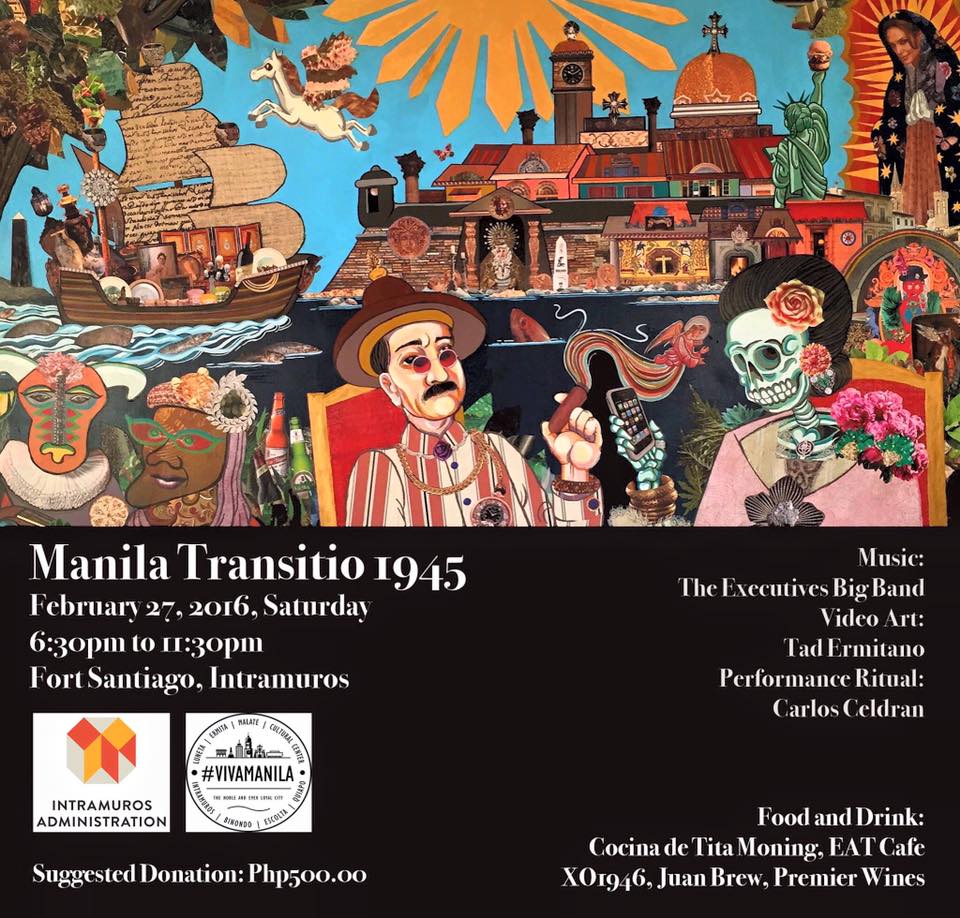 Opening: 6:30pm, February 27, 2016
Where: Fort Santiago, Intramuros
Fee: Recommended cost is P500, but you can choose to pay whatever you can afford.
To mark the 71st Anniversary of the Battle of Manila, the Intramuros Administration along with Viva Manila and Carlos Celdran will present the 7th Annual Manila Transitio 1945 at the Gardens of Fort Santiago. A multi-media art event, the cultural affair not only seeks to commemorate a special moment in Philippine history but also to connect communities and inspire collective reflection.
There will be art installations in the space with Tad Ermitaño's video at the heart of it. Performances by the Executives and Carlos Celdran will keep things fun and exciting, while food and drinks by Cocina de Tita Moning, XO1946, EAT Cafe, Juan Brew and Premier wines will keep guests happy and full.