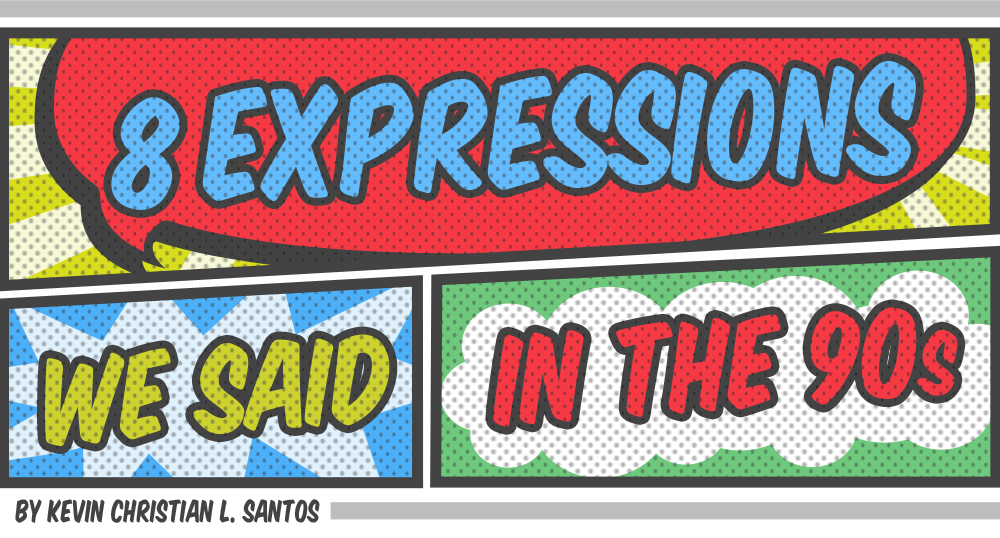 Filipinos are a creative bunch. Just look at our slang terms. No, we're not talking about j3j3 speak either. p'r4n6 +4n64 m46$471+4. Who even came up with that steaming pile of horse manure disguised as a "language?"
That said, our language changes constantly, as if it's evolving into this new dialect that will eventually rule the country. Slangs have entered our consciousness that it somehow dictates or influences our everyday vocabulary. Look at our slang. From repapips to jeproks, we now have anyare, ansabe and more.
The Pinoy slang dictionary owes its constant changes to bagets, the gay community, even to those bored people who like giving words their own meaning. Here are just some of the expressions we used in the 90s. Time to don your favorite baggy polo and jeans, millennials and gen-Xers. We're going to a trip back in time.  Some of these are still being used today.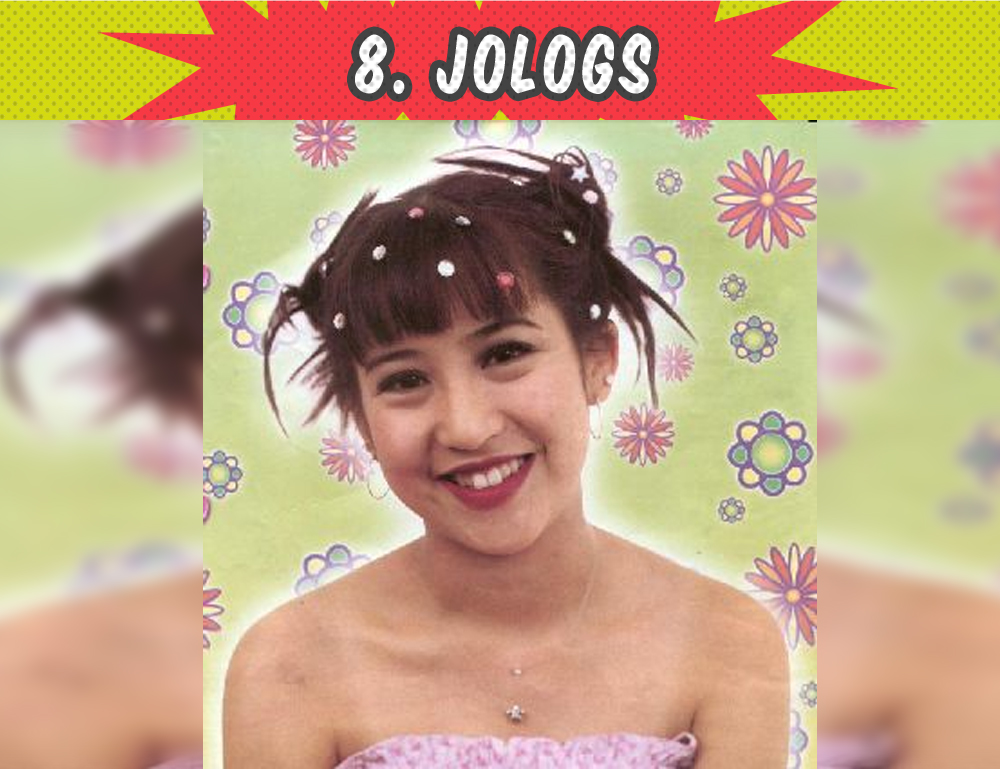 Meaning: People offer different origins for jologs. Some say it was used as a name for Jolina Magdangal's fans. Some say it was used to describe someone who was into hip-hop and metal. Some linguists even say that it came from "diyolog" which stands for dilis, tuyo and itlog—the food of the poor. Whatever the origin, jologs is used to describe someone who's baduy or tacky, corny and with unrefined taste.

Usage: "Tignan mo, o. Sobrang baduy ng porma niya. Ang jologs niya."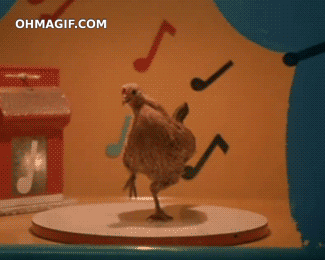 Meaning : A variation of the term 'sisiw,' chicken as a slang got famous thanks to the popular '90s sketch comedy show Tropang Trumpo. You know THAT one skit: "Caronia/Caronia/your beauty shines/with Caronia…CHICKEN!"

Similar to 'sisiw,' chicken means easy or connotes anything that's easy.

Usage: "May exam mamaya? Wala yun, chicken lang sa akin yan."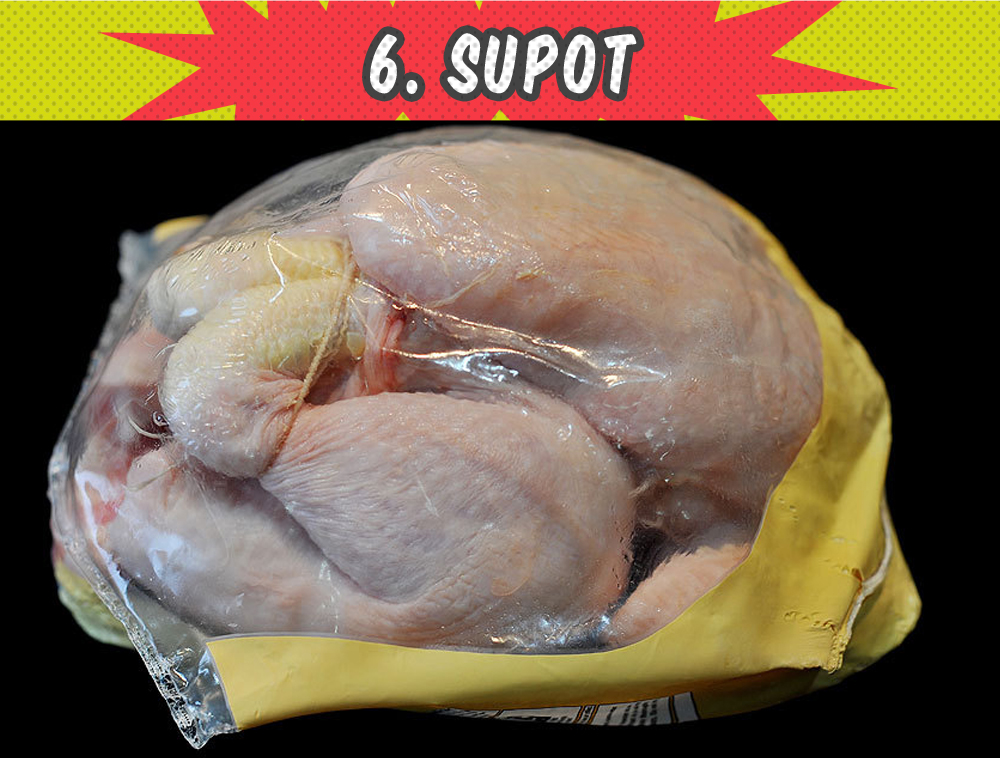 Meaning: Meaning uncircumcised, supot is a derogatory term that questions a man's masculinity. Circumcision is considered a rite of passage among males in the Philippines, so calling a man supot is essentially calling that person a coward, a pussy, or a pussy-ass coward.

Usage: "Ano? Suntukan tayo? Wala, supot ka naman e."
Meaning: A lesser deduction from the curse word "gago," gagi means fool. It's used when you want to point out a person's mistakes but you don't want to hurt the person's feelings when you say the harsher word gago.

Usage: "Ano? Mas malakas si Eugene kesa kay Goku? Gagi, mali ka!"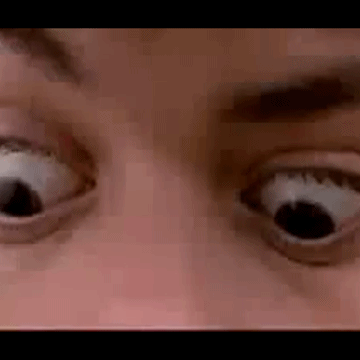 Meaning: Paranoid or neurotic. It was initially used to describe a person who's high and hallucinating on drugs, hence the person's paranoia. The term became even more popular thanks to rapper Francis M with his hit track "Mga Praning," a song in which he narrates about the perils of drug addiction.

Usage: "Si Bob Marlon, ang lakas mag-smoke ng weeds! Ayan, praning na naman!"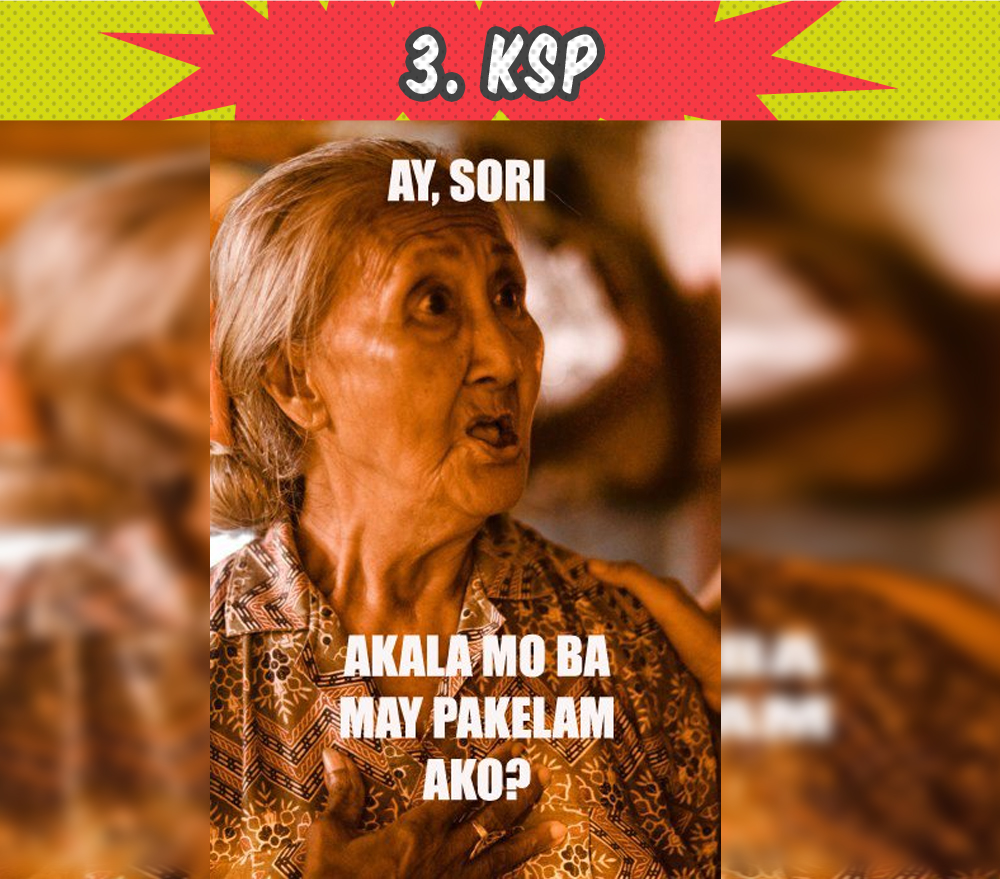 Meaning: An abbreviation for "Kulang sa Pansin." KSP basically means someone who's always asking for attention or is attention-deprived.

Usage: "Tignan mo yung head ng traffic agency. Tatayo sa gitna ng kalye tapos magdi-direct ng traffic sa harap ng media. Sobrang KSP."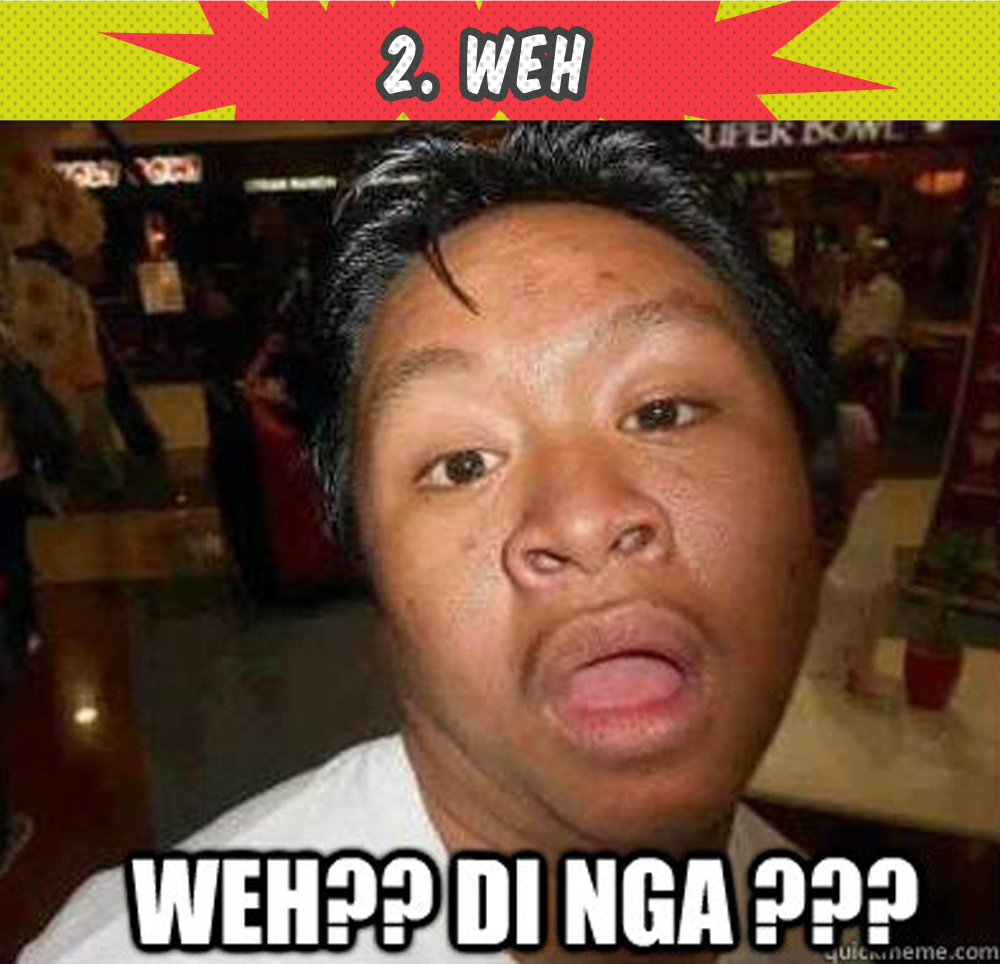 Meaning: Weh is a rebuttal to an argument or statement and is used to express doubt. When used the right way or tone, it can also be used as an insult. This is commonly followed by "hindi nga?"

Usage: "You're getting back together after he cheated on you? Weh? Hindi nga?"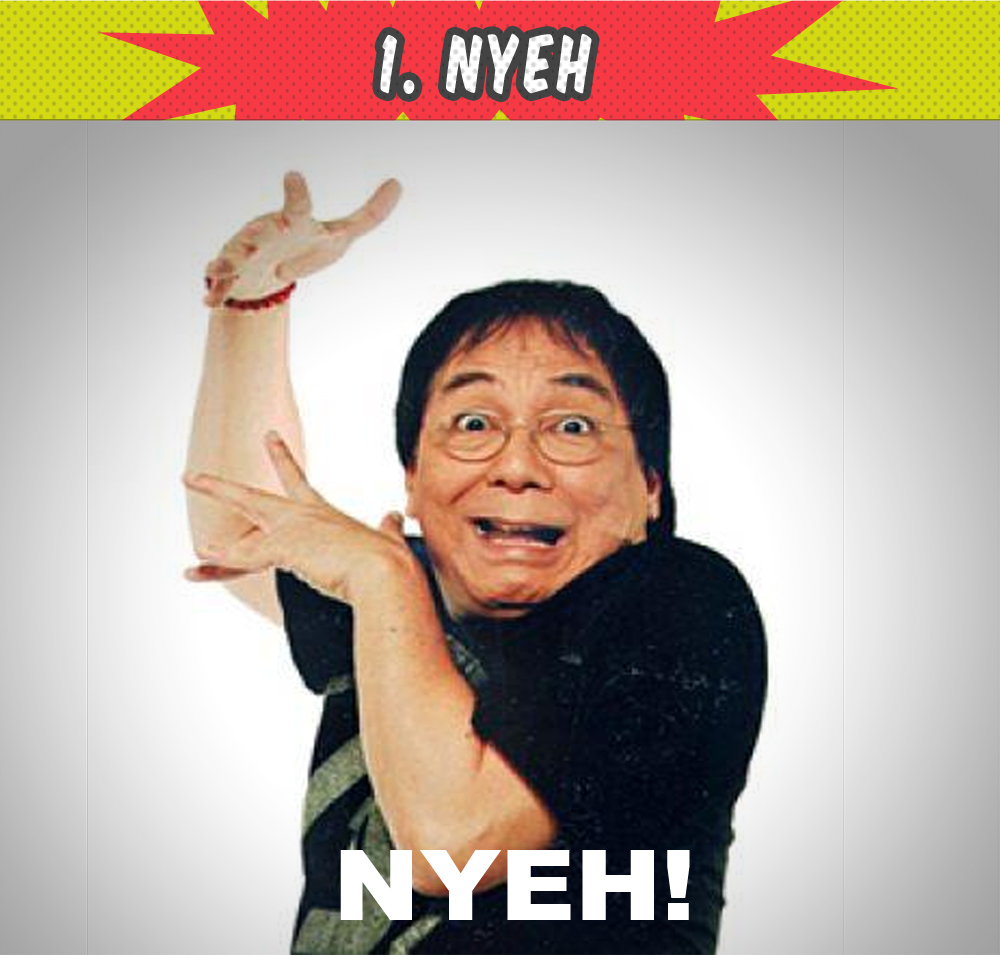 Meaning: Nye is used to humorously express shock, alarm or surprise. It's commonly used after someone makes a corny joke, or when someone says or does something hilarious, silly, or awful. The word became popular thanks to the show Ang TV (4:30 na!) and other variations include nyek, nyak and ngek.

Usage: Person 1: "Paano matulog ang kuba?"
Person 2: "Paano?"
Person 1: "Edi nakapikit."
Person 2: "NYEH!"

These are just some of the expressions we said in the '90s, some of which we still say now. And these slangs aren't even HALF of what we used to say. There's still ebak, ka-berks, you're so kaka, and 'bal?' (where you make a stupid face at the same time). Gets mo (see what we did there)?How about you? What were you favorite expressions in the 90s? Make churva your chika in the comments chenes!