8 Social Media-Famous Kids You Wish Were Yours
May 13, 2016 &nbsp • &nbsp Michi Dimaano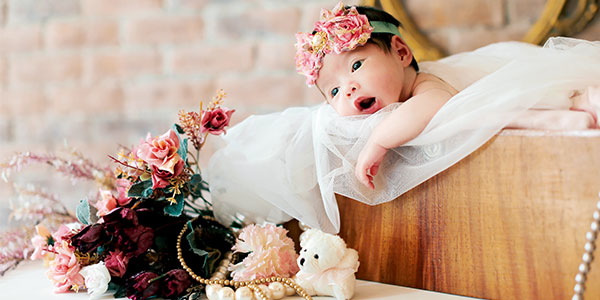 8 Social Media-Famous Kids You Wish Were Yours

The current generation that falls under the ten and below demographic are digital natives, growing up in a world where the internet has always existed. They're practically born into the internet. Some of these children even have accounts before they can speak or have hashtags dedicated to them, all documenting every aspect of their lives. There are even MRI images of babies in the womb, posted on Facebook. Some are cute, some funny and all definitely adorable—here are 8 social media superbabies you'll learn a thing (or three) from for your own future offspring.
8. Zion Guttierez
[instagram id="-8x9AjlYgM"]

Zion, the son of Sarah Lahbati and Richard Guttierez, is the kind of kid that you just want to hug. I mean, just look at his Mowgli-like tousled hair and chubby cheeks! Watch this video of him dancing and you'll definitely be captivated by his charm.
7. Zia Dantes
[instagram id="BEazuG4RCAX"]

Zia isn't even a year old, but she's already making waves online. She looks like the type of baby that makes titas go gaga whenever she enters a room. Blessed with the gene pool of her gorgeous parents Dingdong Dantes and Marian Rivera, no wonder this baby already has a following of her own.
6. Connor Consunji
[instagram id="BCaK3jHoKGQ"]

Although he's not usually seen under the spotlight like most of the kids on this list, Connor could still capture you heart with his good looks and charming smile (which he probably inherited from his parents Maggie Wilson and Victor Consunji). His Instagram shows that aside from being cute, this tot also appreciates a good bedtime story. So adorbs!
5. Olivia Reyes
[instagram id="BDQLPt_yhx1″]

Olivia just recently celebrated her first birthday, but it seems as though she's already a superstar. The daughter of Andi Manzano and GP Reyes, this mini stunner already has 189,000 followers on Instagram. This kid is also already a jetsetter and fashionista, so not only would you wish that she was your kid—you'd wish you were her.
4. Aura
He may not be a child of a famous celebrity couple, but "Aura" is definitely a kid that would make you smile. Smile is even an understatement; he'll make you laugh your socks off with his antics.
3. Alejandro Laurel
[instagram id="BCdGYzbLSmu"]

This little charmer only makes appearances on his mom, Denise Laurel's account, but the short videos of him singing or greeting other people are enough to make your day. He's the bibo kid that makes gatherings that much more delightful.
2. Ellie Eigenmann
[instagram id="BC2bheJBgcO"]

Fondly dubbed her "funsized travel pal" by mum Andi Eigenmann, Ellie is regularly seen on her mom's account on her many adventures—in fashionable outfits no less! She's a curious kid that looks game for anything.
1. Team Kramer
[instagram id="BCCck4_RxKh"]

Of course, no famous kids list would be complete without this trio. Kendra, Scarlett and Gavin have been captivating the internet for quite some time. From appearing on their parents' accounts showing their different family activities, Doug and Cheska Kramer's children are now so famous that they even have their own website. They're everywhere—I bet that jingle for their juice commercial is playing in your head right now.

Who among these social media kids are your #offspringgoals? Share away in the Comments Section!