Here's a surprise: celebrities are people too! They like doing normal everyday things. They have feelings. Despite their earned fame, they're still human. They have organs like we do. If you prick them, do they not bleed? If you tickle them, do they not laugh? If you poison them, do they not die? If you wrong them, do they not revenge? Yep, revenge. More on that later.
Thanks to social media, everyone can now speak their mind. Some people choose to hide behind a keyboard, hurling personal and derogatory attacks against other people, celebrities included. Yep, total strangers acting like they know a person and throw personal scathing attacks on them.
While some celebs choose the high road and ignore these hurtful insults, some celebs choose to fight back. Never mind that by doing so they might validate the actions and existence of the trolls and bashers. Screw that. These people have had enough, and they're gonna put these jerks in their place.
Celebrities like…
8. Maxene Magalona
Take your dick somewhere else. Also, we don't want to know where you like your dick near.
7. Kim Chiu
No one should ever kick a person while they're down, but this basher thought otherwise. When Kim Chiu was grieving over the loss of her mother, this troll thought it was the perfect time to go below the belt and insult the celebrity's mother.
Instead of lashing out and telling the troll to go f*ck him/herself, Kim pleaded not to drag her mother into this and advised the person to go spend time with their family for the sake of their happiness.
She also prayed that the basher may find peace and happiness.
Stay classy, Kim Chiu.
6. Gretchen Barretto
Laugh at a person's lack of material possessions and make fun of their appearance. Cue z-snap!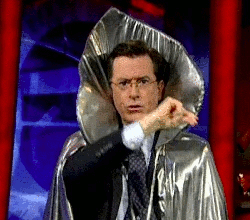 5. Rhian Ramos
If you don't have anything nice to say, don't say anything at all. Unless you want the person to retaliate with an even harsher thing to make you bathe in your own tears.
4. Benjie Paras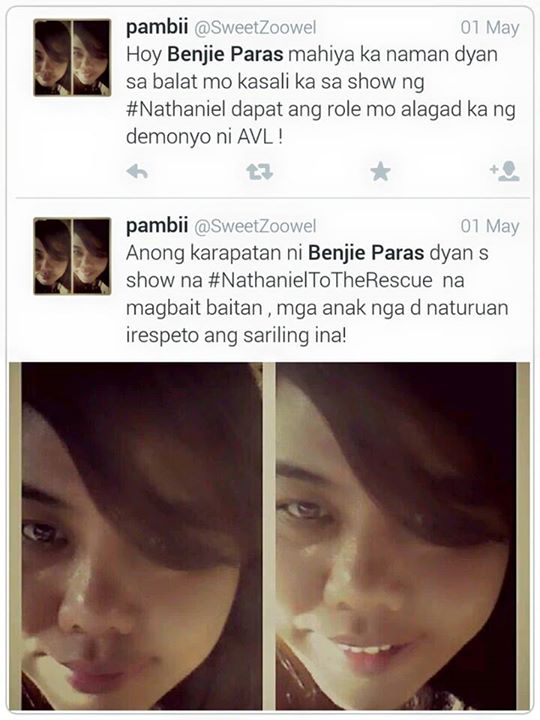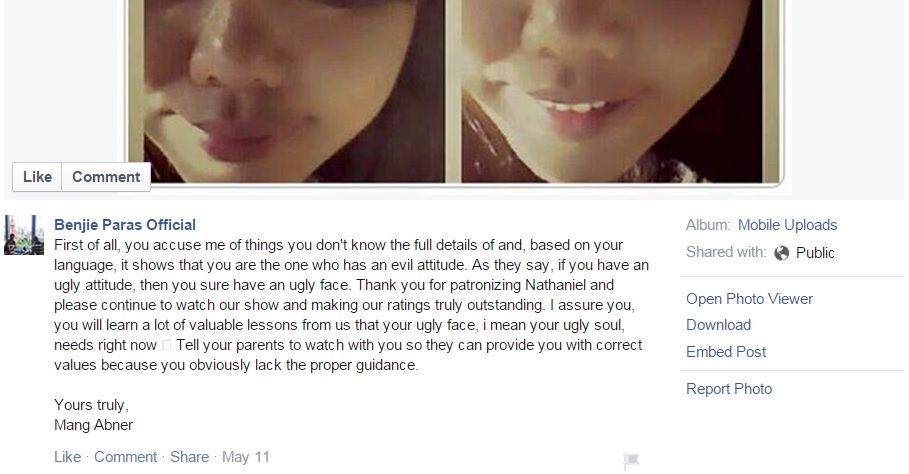 Seriously, why do people need to meddle and comment in things they know nothing about?
This person wanted to talk about values, and Benjie Paras turned the tables on her. Bonus points for plugging his own show AND telling her parents to watch it so she can be guided accordingly.
3. Kris Aquino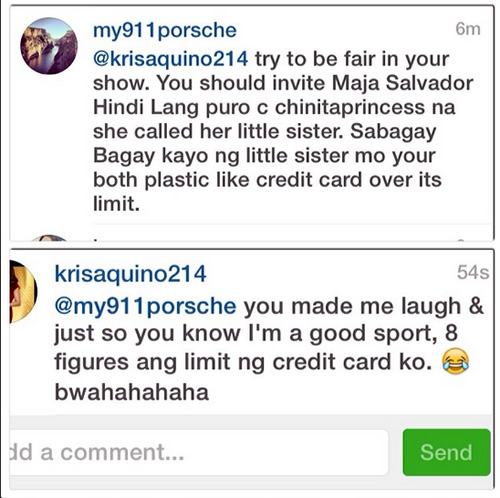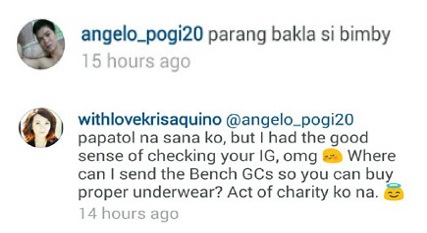 *drops the mic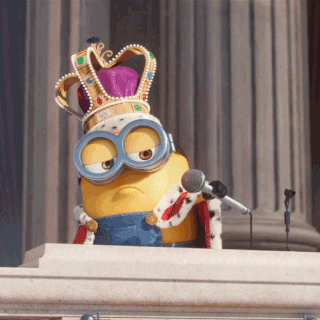 2. Luis Manzano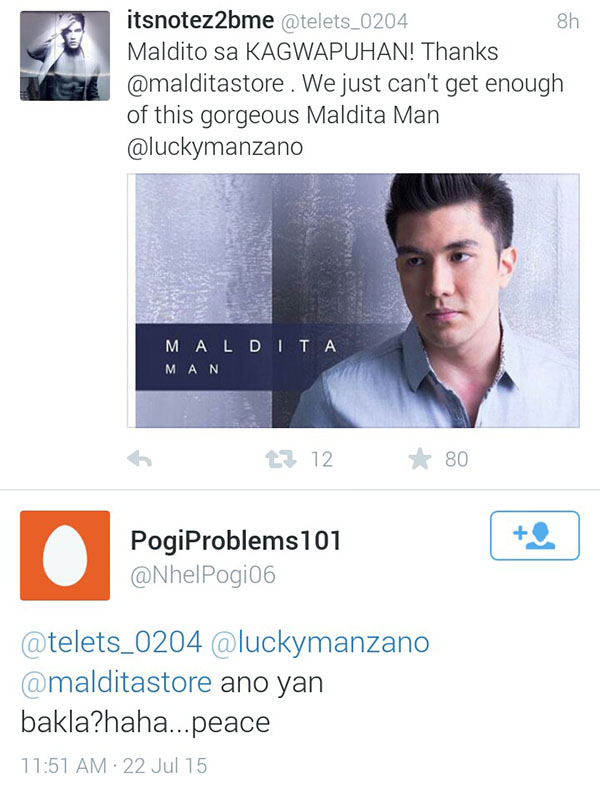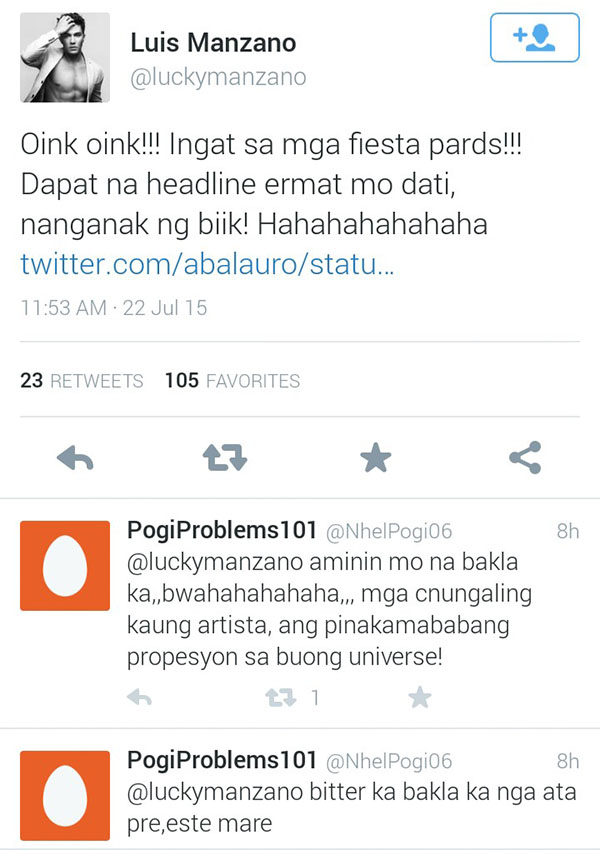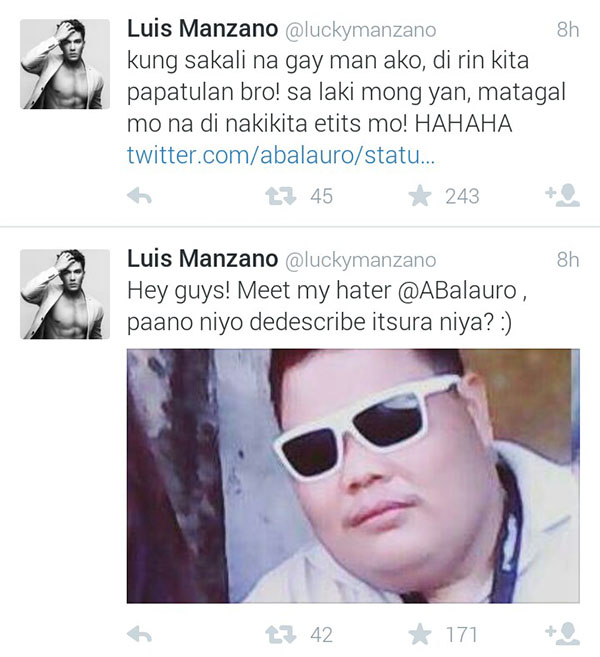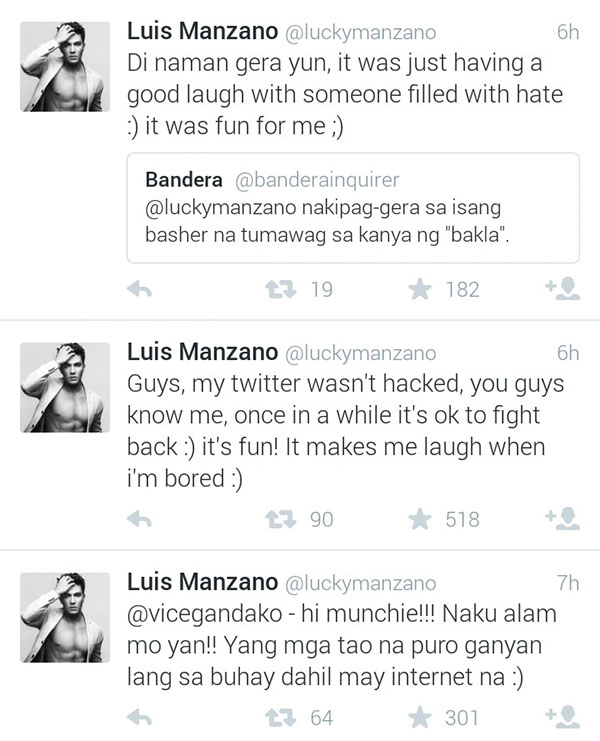 A man with nothing better to do with his time decided to call Luis Manzano a homophobic slur on Twitter. Not wanting to take this kind of garbage, Luis decided he would unleash hell on this person and make fun of his weight and manhood.
Stay classy, Luis.
1. Angelica Panganiban
Here's a tip: don't get Angelica Panganiban angry.
It all started when Angelica Panganiban posted a series of photos pretending to be on vacation. Some netizens took offense and accused of her of making fun of Bea Alonzo. That's when Angelica decided to crack her knuckles, open a can of whoop-ass and changed the weather forecast to 100% chance of tears.
However, she later addressed her haters and clarified her situation with Bea: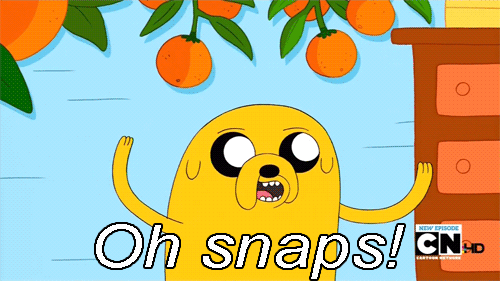 Some people have way too much time on their hands. Instead of stalking celebrities and spitting garbage, they should just do something worthwhile. Like study themselves before getting behind a keyboard.
How about you? Got any favorite or memorable celebrity versus basher smackdowns? Sound off in the comments!