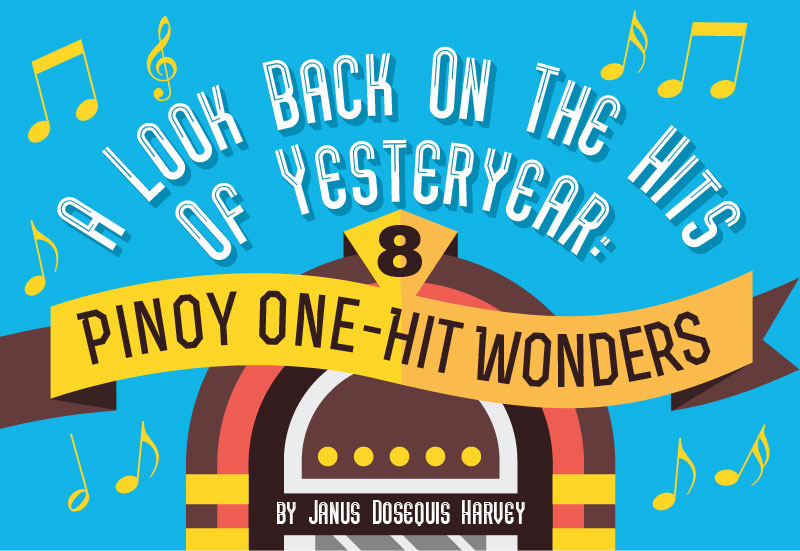 The Philippine music scene is rife with amazing musical talents who have their one moment in the sun then are practically unheard of ever again. It's not so much a knock against their talent as it is a testament to the ever-growing ranks of talented musicians in the country that makes it less and less feasible to see longevity in one's musical career.
Here are 8 of the biggest local one-hit wonders and a look at their greatest (and only) hits, and how it may or may not have changed the landscape of OPM. Why take you on this nostalgic trip down memory lane? (/Ovation Productions Voice) Because we want you to cry, too. (No, Keno isn't a one-hit wonder.)

I was heavily debating if this was going to be Ringgo Marquez or The Speaks with "High" for this one. Ultimately, I went with the former because believe it or not, The Speaks actually had a second hit in the Philippines.
Meanwhile, Ringgo Marquez was last notably heard from as one of the contributing artists for the soundtrack of the 2003 film Walang Kapalit, with the song "Paano Na."
And yes, it's perfectly fine to admit you don't remember "Tinamaan ng Lintik," let alone Ringgo Marquez himself, because you had to be a big fan of 93.9 DWKC during the early '90s to have caught his brief run-in with almost-stardom.
One. Hit. But, oh! What a hit "Rampa" was for this member of the well-respected Alonso clan! Ralion may have been a music superstar for the time it takes to drink a cup of coffee here in the Philippines, but he's been working  in Hong Kong Disneyland as a musical director for years, and simply went back to his first love of theatre after his wildly successful OPM experiment.
"Rampa" was most notably used in 1999's film Ekis, which of course starred Sunshine Cruz. I just know these things, okay?

It's safe to assume everybody remembers this song, even if they might not remember the singer. More often than not, people erroneously attribute this song to Mystica, which leads to all sorts of unintentional hilarity, when you think about it.
We pretty much haven't heard a single thing from this incredible one-hit wonder after this song, and any searches for "DJ Alvaro 2015" on the internet instead turn up a US-based club DJ known as… Alvaro. Probably not the same person who sang "Ang Tipo Kong Lalake," we're willing to bet.

I have the fondest memory of seeing Lady Dianne onstage one fine Eat… Bulaga! episode where Andrew E., at the height of the success of "Humanap Ka Ng Panget," was actually debating with a then-newbie Michael V., who responded with "Maganda Ang Piliin." It was a brilliantly subversive way of saying we have bigger problems to worry about than dating ugly or pretty people.
You might argue that "Sirang Plaka" was another hit of hers, but I would have to disagree because it wasn't even close to the level of popularity "Sa-sa-Saddam" enjoyed. I would argue that it took Chill before anyone could think of a single female rapper anywhere near Lady Dianne's popularity at her peak, and Chill is arguably another one-hit wonder herself.

Ano'ng pake mo, sa long hair ko? Most male high school students of the time were singing along to this song as they insisted on keeping their hair long, against whatever the school had to say. It was a remarkable song, and still a favorite in videoke's, often sung by guys who don't even have the luxury of growing long hair because they're balding in their late '30s to their early '40s. Are they still performing in random branches of Padi's Point to this very day? That's something you'll have to find out for yourself.
It was an epic achievement for an all-female rock group back in the day: "Scream" was just so ubiquitous and overplayed in 2000, and half of the people singing along to them had no idea they were OPM! They were like Nexxus, except instead of '90s power ballads, they thrived in alternative-ish rock with some post-grunge influences. Ultimately, they had one great song, and we will forever be grateful to them for that, wherever they may be now.

Ahhh, yes. The song that inspired so much sophomoric humor from the entire country, to the point that a TV show called Kool Ka Lang was eventually produced years later, with lead characters named Jack, Tinee, and Nadya (figure it out). This group's one and only notable hit is something we love humming to ourselves when we're dealing with the ridiculous traffic along EDSA.
And yes, the most successful all-female OPM group in history performed in a concert as recently as 2012, and sang some of their less-remembered songs (I refuse to classify them as "hits" when they're not), despite having disbanded after three albums under their collective belts. To be fair, they probably had a longer concert than Keith Martin, who probably sang "Because Of You," left the stage, then went on to live in the Philippines, whether we liked it or not.
I-Axe was probably one of the most successful bands of all time on the back of this monster hit alone. It's an instant classic, and really needs to be covered by artists some more. They should never lose the maracas and the triangle, though. That's part of the song's timeless appeal.
Know any other Pinoy one-hit wonders? Sound off in the comments below!