8 Scathing Reviews of Local Restaurants that Will Make You Cringe
Aug 19, 2015 &nbsp • &nbsp Shen Mascariñas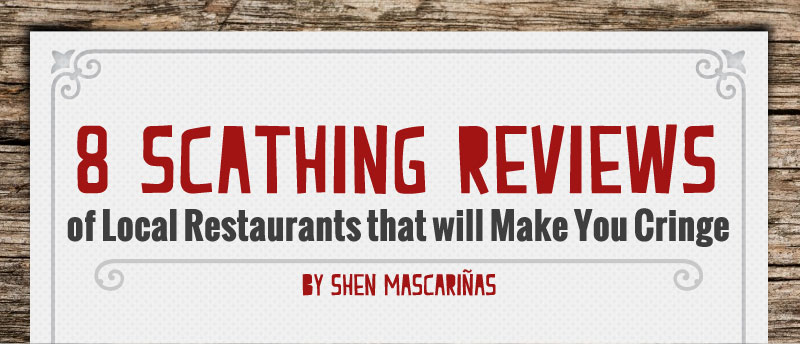 It's a blessing that we live in an age where other people's experiences with restaurants are made extremely accessible. Thanks to sites such as Zomato, Looloo and other assorted food blogs, our chances of making bad decisions or eating terrible food is lessened considerably, provided that we do ample research.
Because the Internet makes the spread of information much faster, the power of restaurant reviews has transitioned from strong to bionic.
A positive one from an influential customer could result in good business, while the contrary could make people avoid the restaurant like the plague. Restaurant reviews can also be quite entertaining to read especially when awful restaurant experiences make customers forget their table manners.
Here are 8 prime examples. Let's see if you can guess which restaurants these people are upset about.
This is a review for a famous pork chop eatery in BF Homes, Parañaque. The restaurant's interiors are predominantly green and orange.
This is a review for an upscale carinderia in Kapitolyo serving breakfast food.
This is a review for a pizza place in Salcedo Village that's a crowd and neighborhood favorite. This restaurant is also known for their unique sauce, which customers can opt to top their pizzas with for a spicy and sweet flavor addition.
This review is for a Filipino restaurant in Ayala Triangle. The name has two words; the first word has two syllables while the second has only one syllable.
This review is for a Thai restaurant in Robinsons Galleria. The color of its interiors is predominantly orange, accented by hanging lights.
This review is for a well-celebrated Filipino restaurant in Kapitolyo that puts a twist on classic Filipino dishes. This restaurant is a popular hangout for drinks as well.
This review is for a well-loved Japanese restaurant located in a compound with other specialized Japanese restaurants on Chino Roces Avenue. This one is known to specialize in fresh sushi and sashimi.
This review is for a 24/7 breakfast eatery in BF Homes, Parañaque. This place is famous for its cheap tapsilog meals.
All of these reviews were lifted from Zomato. Bato bato sa langit, ang tamaan huwag magalit!
Got any other scathing reviews in you that are just waiting for release? Don't be afraid to share! Do the public a service and leave a comment!