The Internet is abuzz once again after the SMNI presidential debate last February 15. However, even though Ferdinand Marcos Jr. and labor leader Ka Leody de Guzman were sharing the stage for the first time this campaign period (they were also joined by former Defense Secretary Norberto Gonzales and former presidential spokesperson Ernesto Abella), they weren't the talk of the virtual town. That privilege goes to Professor Clarita Carlos, one of the panelists in the debate. The 75-year-old professor proved herself an expert at asking biting questions and "grilling" the candidates until they gave satisfactory answers. But even though Prof. Carlos played the role of that thesis panelist, some viewers weren't pleased with her.
Who is Prof. Clarita Carlos?
If you're keeping up with the 2022 pre-election events, you're most likely already familiar with Dr. Clarita Carlos. She appeared on CNN Philippines, calling 1Sambayan's "united" opposition dream "inutile and irrelevant." Recently, she was also a guest at TeleRadyo's SRO program where she criticized interviews of the 2022 presidentiables.
Prof. Carlos is a former political science professor at the University of the Philippines. Her expertise in international relations stems from her degrees in Political Science and Foreign Service. And as her previous students on Twitter would attest, her blunt no-nonsense approach will either leave you in terror or leave you with new knowledge.
Many viewers loved how she handled being a panelist for the debate

Prof. Carlos was one of the panelists in the recently concluded SMNI presidential debate. It's safe to say she made quite a mark on Filipinos. She was in her element asking tough questions and watching the candidates stutter and buffer their way through answering.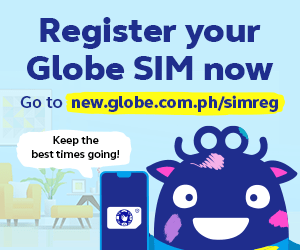 She gave everyone thesis defense flashbacks
Those who watched the debates were reminded of their respective haunting experiences during thesis defense in college.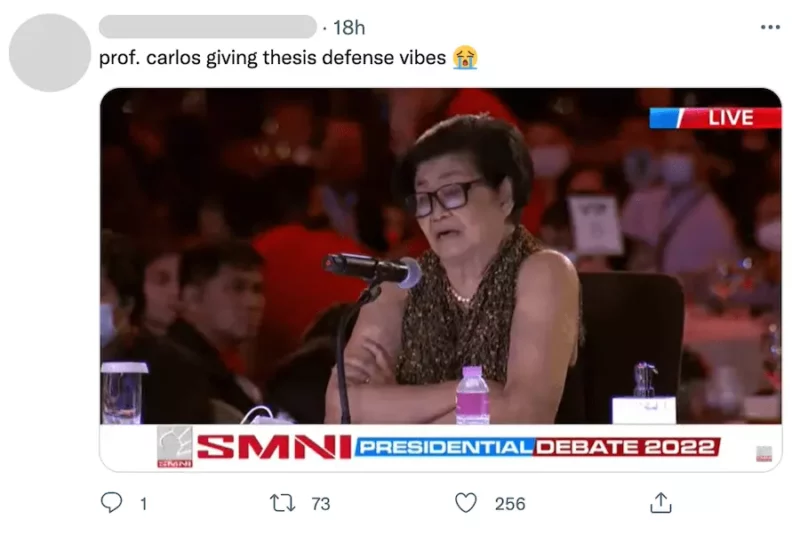 Remember those panelists who had the power to instantly make your palms sweat (and make you feel dumb) with just one question? Prof. Carlos even looked the part, with her glasses and crossed arms. She fired question after question, grilling the candidates and "not letting them get away with cliches."
Comparisons with Miriam Defensor Santiago
Like the late Miriam Defensor Santiago, Prof. Carlos also has a sharp tongue and no holds barred approach when it comes to her questions. She is, after all, trying to see if the candidates on stage are Philippine president material. That's why some netizens couldn't help but compare the two.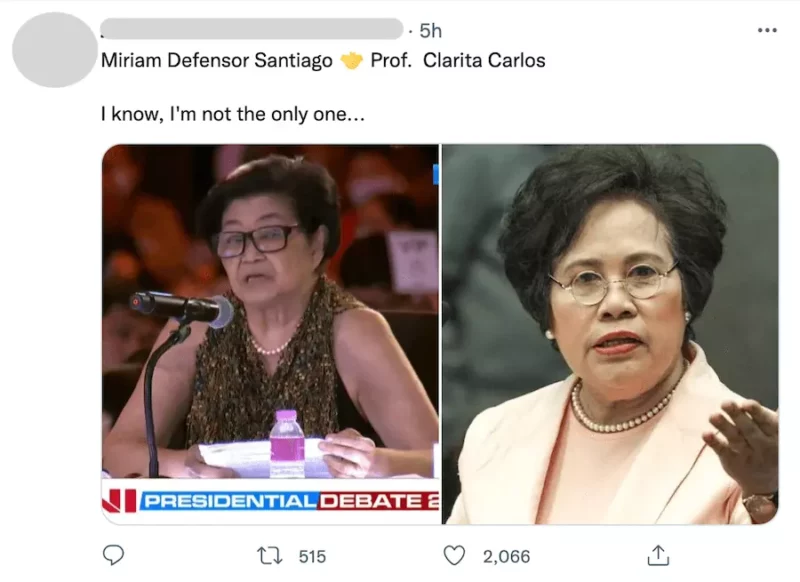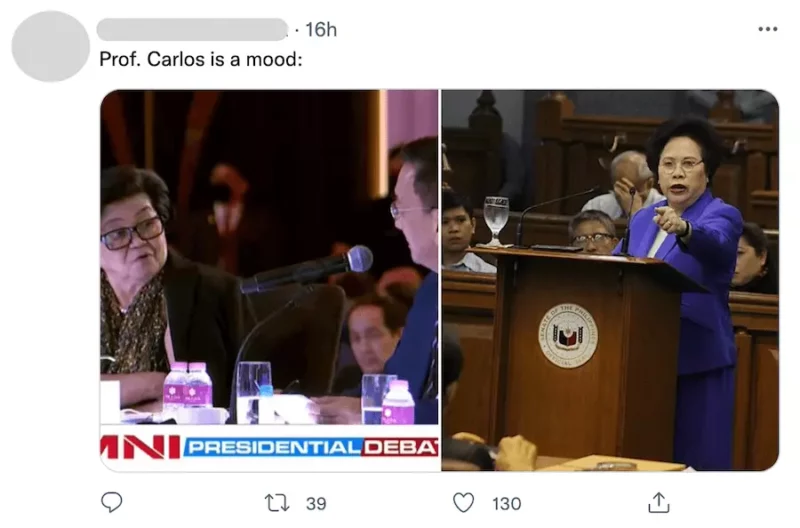 She refused to submit her questions in advance
Aside from her matter-of-fact personality, Filipinos admired Prof. Carlos even more after watching videos of her sticking with her beliefs. She told TeleRadyo that she refused to submit her questions for the SMNI debate beforehand — even though some station managers tried to ask for them.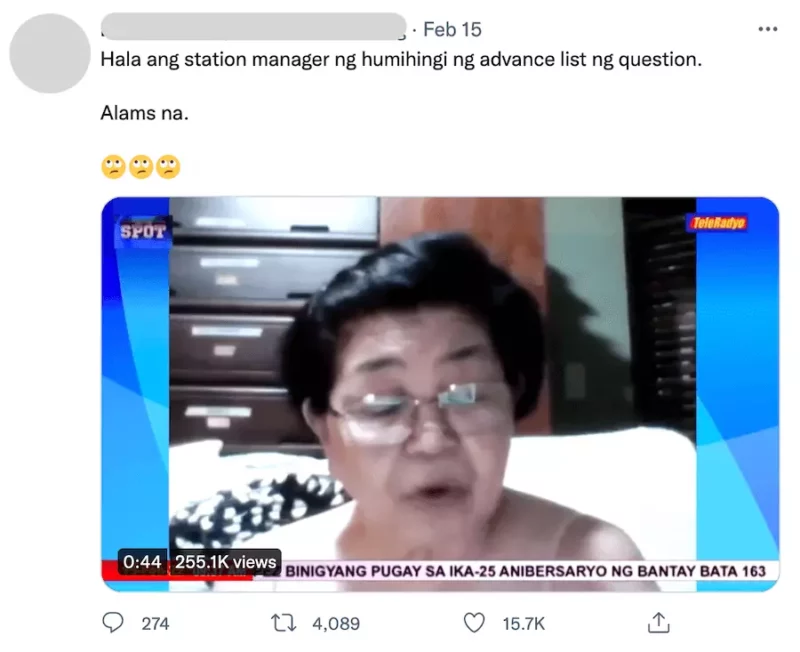 "Kailangan yung mga panelist para hindi sila mag doble-doble ng question kailangan i-submit yung question. Edi siyempre tumaas agad yung tenga ko diyan. Sabi ko 'No, I'm out of here,'" she recounts.  "I will not participate in a debate na ibibigay mo yung questions [in advance]."
In another clip that resurfaced online, the professor was grilling broadcast journalist and radio host Anthony "Tunying" Taberna for pushing his "solid north" agenda.
"I challenge that concept of 'solid.' There is no solid north, solid middle, solid whatever. I'm from Ilocos also… pero sa palagay mo ba whoever stands from Ilocos para along loka-loka i-boboto ko siya dahil galing ako sa Ilocos?" said the professor. "Dun sa 65 million voters, these are young people like you.. and they are going to vote according to their lives. So 'wag na nating gamitin yung 'solid' because it cannot be defended."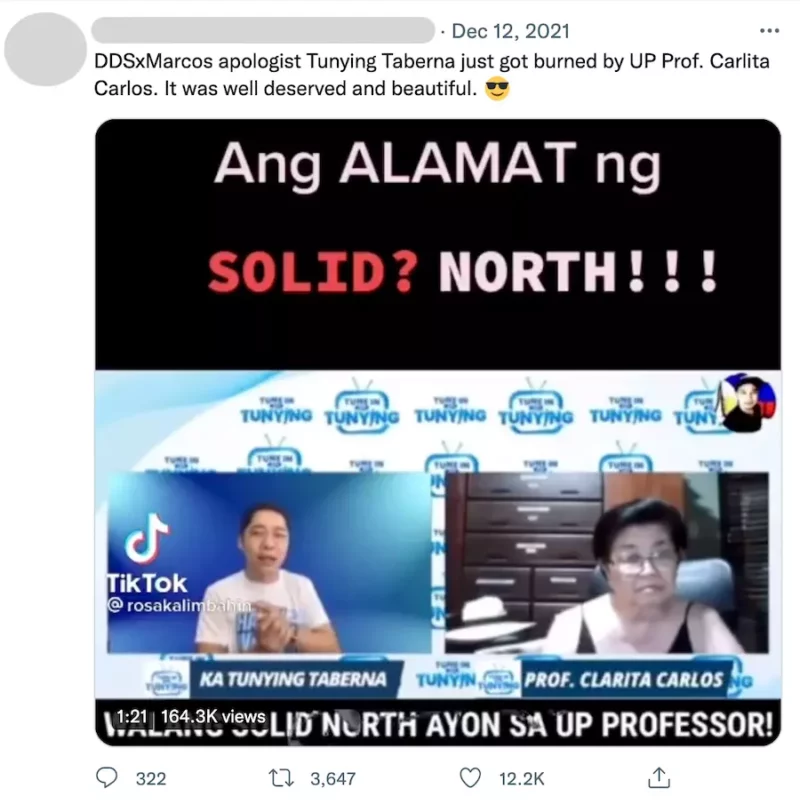 In yet another interview, Prof. Carlos criticized interviews with "cute questions" for the presidentiables.
"Bakit hindi yung malalim na questions? Inaaksaya mo panahon ng mga kandidato na kailangan yung panahon nila sa pag-kampnaya, diba? Why are you doing that? Para mag-cater ka sa mga gusto telenovela? You look for educated voters and then you feed them stupidities," she lamented.
The professor emphasized that anchors and hosts shouldn't be the ones doing the candidate interviews. They should leave the job to political analysts and economists like her who are experts in certain topics.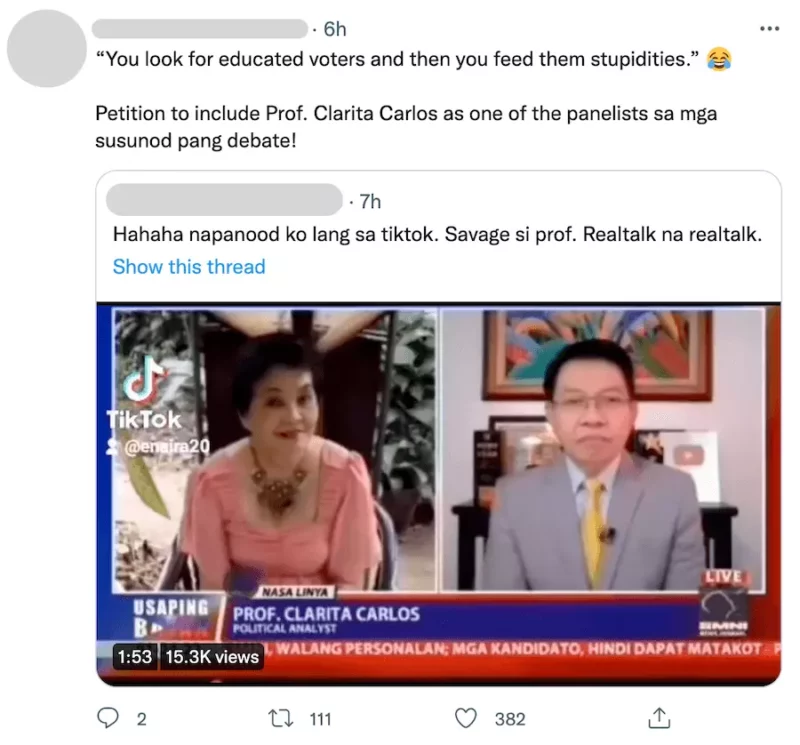 Some netizens took issue with how she debated with the candidates
Even though many Filipinos were impressed by Prof. Carlos at the SMNI debates, some thought she was loving the spotlight too much. The professor would start a back-and-forth discussion with a candidate, almost as if it was a recitation in class. She had a number of follow-up questions that took a lot of time to answer.
Netizens defended this, saying Prof. Carlos was "challenging the candidate's non-answers" and seeing if she could squeeze more out of their canned responses. After all, it's a presidential debate, so we should at least know how our bets handle themselves in the face of a "tough thesis panelist."

People were miffed that she kept promoting her books

"Can someone just give Clarita Carlos a book launch so she can stop making this focused group discussion all about her?" went one Tweet. Some viewers noted that Prof. Carlos spoke a little bit too much about her own works.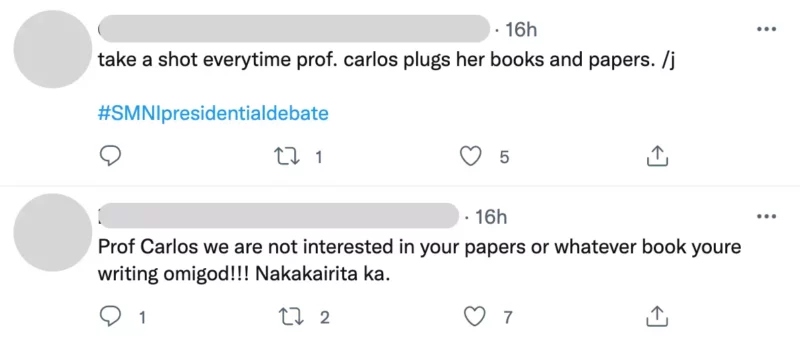 She kept bringing up papers and books she wrote, to the point where netizens had to ask if it was a "book signing" event.


Still, others want her to be present in the next debates
Prof. Carlos has certainly gotten mixed reactions from the public. While some were put off by the way she seemed to insert herself (and her works) into the debate, she still asked the hard questions we want to be answered by our presidentiables. How prepared (or ill-equipped) they were is still up for debate.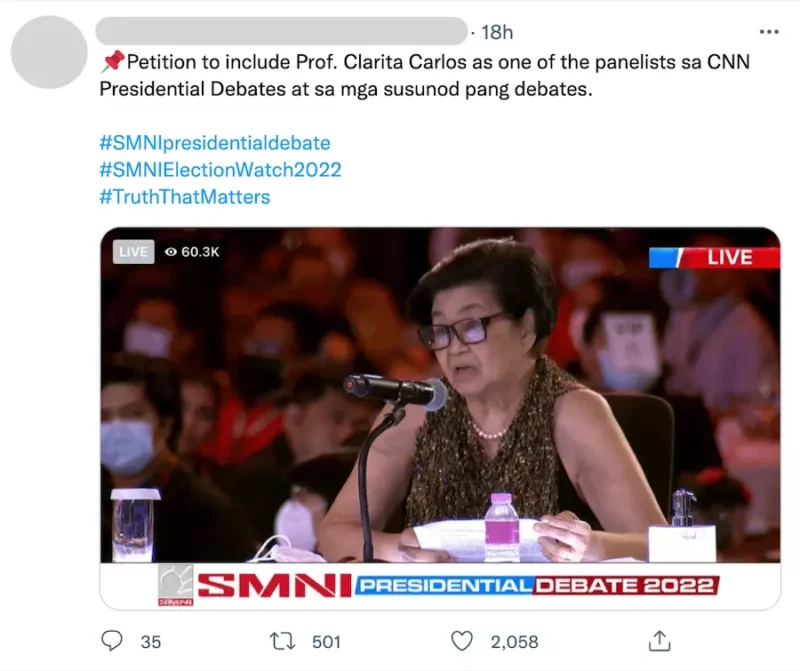 Many Filipinos even expressed how they want Prof. Carlos to be part of every presidential debate in the future. After all, we do want to know how well the other four candidates can hold their ground against her barrage of questions.

What do you think Prof. Clarita Carlos? Should she be a panelist for every upcoming 2022 presidential debate?
Check us out on Facebook, Instagram, Twitter, and YouTube, and be the first to know about the latest news and coolest trends!