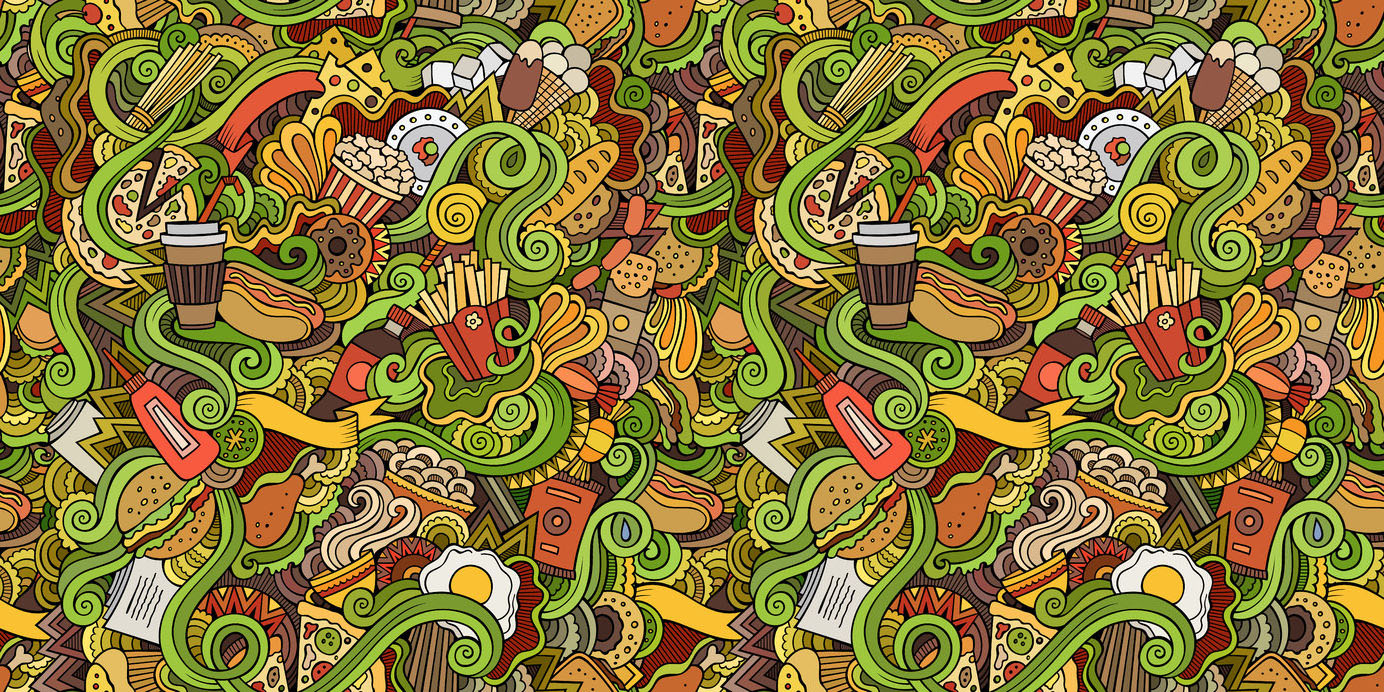 8 Weird Foods That Actually Exist Right Now
By Adrian Dy

If we are what we eat, as the old saying goes, then what we are is increasingly…weird.
Nowadays, cooking is like the wild, Wild West. No rules exist anymore. If a chef somewhere can dream it up, odds are, he's going to execute his vision and unleash it on the public. Some of it gets scarfed up because of its sheer audacity, others because they're oh-so-Instagram-able. And in other cases, hey what do you know, they taste so darn good that the fad becomes a fixture.
Here are eight so-out-of-the-box-the-box-has-been-blown-up food concepts currently being consumed somewhere on this Earth.
8. The Taco Bell "Cheetos Burrito"
A few years ago, Taco Bell mashed-up Doritos and tacos, and the result (a Cheetos Burrito) was a big hit in the U.S. Instead of the usual taco shell, the fast food chain came up first with the Nacho Cheese Doritos Locos Taco. It was such a hit that they've since brought out a Cool Ranch Doritos Locos Taco, and a Fiery Doritos Locos Tacos.
But since those were released, Burger King has seemingly one-upped them with the Mac 'N Cheetos, mac and cheese pasta covered in a Cheetos-inspired shell that is deep fried. So consider the Cheetos Burritos, their response.
Ingredients-wise, it's basically a burrito with nacho cheese, beef, and rice, plus Cheetos. That may sound simple, but given how "hyperpalatable" Cheetos are said to be, Taco Bell may have the most addictive new menu item of the year.
7. The Blue "Latte" aka "The Smurf"
Let's say for some reason, you have a craving for a hot beverage. However, you're way past all of the various waves of coffee, and have sampled all sorts of tea combinations. What's next for you?
Would you believe, algae?
The Matcha Mylkbar in Melbourne, Australia has come up with a bright blue drink that gets its distinct color from "E3 live blue algae powder." That's right, it's alive, like the lactobacilli shirota strain in your Yakult. Rounding out the drink's ingredients are "lemon, ginger agave, and coconut milk."
So yeah, it's hardly coffee, doesn't have caffeine, and smells more like a sushi roll than anything else. But man are people going bonkers over it, especially to put it on IG.
6. Starbucks' "secret" pink drink + donut
Okay, if the Aussies won't serve a proper coffee, maybe Starbucks will, right?
Truth be told, the hottest item right now in US branches is not coffee, but an off-the-menu item known as "the pink drink." It's basically Starbucks' strawberry acai refresher, but instead of water as the drink's base, your barista instead uses coconut milk, to give it a milky color. While some might say it reminds them of cough syrup, it also looks a lot like a funky neon strawberry shake, a color combo accentuated by the addition of an (optional) pink-frosted donut that customers put on top themselves.
Just how popular is it? Well, Starbucks are running out of coconut milk, so yeah, pretty popular.
5. Sandwiches with an avocado bun
The Netherlands' Colette Dike is on a bit of an avocado kick on her blog Food Deco.
Earlier this month she was sharing photos and recipes for avocado "tartare," an avocado and banana pancake, and an avocado "truffle" (stuffed with goat cheese, and coated with a bacon crumble). Her latest innovation though? Getting rid of bread in sandwiches, and using instead, you guessed it, avocado.
She's actually made a trio of these "sandwiches," a cheese burger, a breakfast burger, and a full-on veggie burger with a chickpea patty.
Given how avocados are in fact in season right now, if those sound right up your alley, there's no reason you can't try them out yourselves.
4. Fried water
Summer in the U.S. means county/state fairs, and that's where you'll find all sorts of fried things. This is where fried candy bars, fried pastries, heck, even fried butter, originated, after all.
But then this one mad scientist decided to try and fry water. Using calcium alginate to spherify water, he dipped it in flour, rolled it in egg, and covered it in panko bread crumbs, before dropping it off into a fryer. Did it work? Yes. Did it taste good? No, because it's water for crying out loud.
3. Rosé gummy bears
The idea of alcoholic gummy bears is nothing new. Tons of recipes abound online for vodka-soaked gummies and the likes. But for some reason, when Sugarfina began importing these candies from Germany, made with Whispering Angel Rosé, people began freaking out.
A look at their online store says that the product is SOLD OUT, and there's a lengthy waiting list to get them when new stock comes in. How long you ask? As of July 27, that list is 14,000 person-deep, according to Today.com.
Why all the fuss? It might not be Valentines' Day anytime soon, but they're considered to be assets when comes to seduction and marriage proposals.
Willing to try something else? The company has all sorts of other bubbly treats like champagne-soaked bears, peach bellini gummies, cuba libre gummies, even gummies that look like pints of beer.
Hopefully, your S.O. isn't picky when it comes to her booze.
2. Ketchup and mayo ice cream + fries
A photo posted by BURNT CRUMBS (@burntcrumbs) on
Everyone has that friend, heck you may be that person in your barkada, that can't help but flavor his or her fries with a glob of ice cream from his hot fudge sundae.
Well, local chef Miko Aspiras has something specifically for those people in his newly opened dessert bar Freezer Burn, at Bonifacio High Street. The man behind Le Petit Souffle and Scout's Honor came up with the idea of making a ketchup and mayo ice cream, and then serving it with salt-and-pepper fries. The result? Something that sounds extremely weird, but is quickly becoming a favorite among those with the courage to try it.
The joint has other quirky combos – chocolate ice cream paired with churros, maple bacon ice cream with brioche toast, and a corn and cheese ice cream with honey cake and popcorn – but of course, none can dethrone ketchup and mayo ice cream.
1. Spaghetti grilled cheese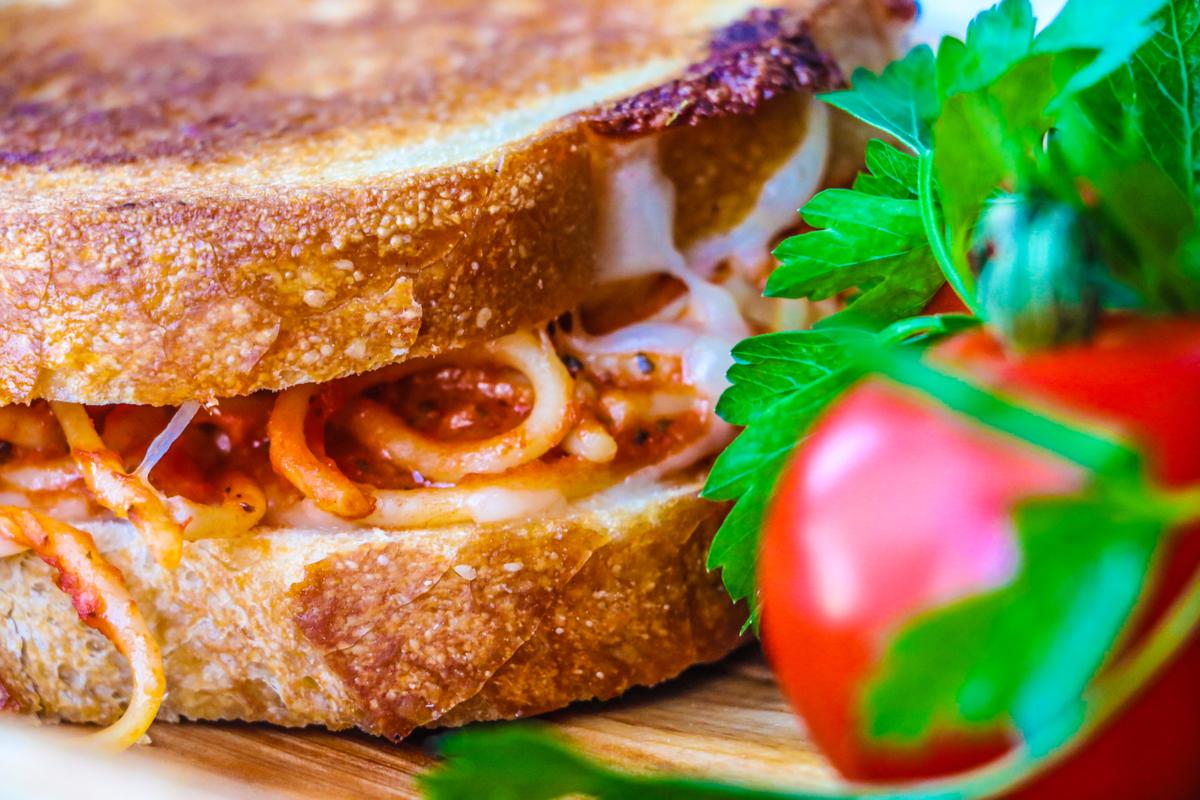 There's carbo loading, and then there's CARBO LOADING. A spaghetti grilled cheese sandwich, obviously, falls into the latter category.
While it's hard to say that it's a wholly original idea, the folks behind California sandwich shop Burnt Crumbs have probably perfected the recipe.
In an article in The Orange Country Register, Paul Cao, described how he used to make burnt spaghetti, aka extra crispy spaghetti, back in college. That provided the seed for the sandwich, which sees spaghetti with meat sauce mixed with mozzarella, cooled down, then wrapped in more cheese. The gooey mix is then embraced by grilled garlic bread, before getting popped into the oven.
A few years ago, spaghetti tacos, because of the Nickelodeon TV show iCarly, were all the rage. But for whatever reason, spaghetti grilled cheese makes more sense, probably because it's a lot like ordering some pasta and squishing everything between the complementary garlic bread, but taken to new heights.
But, hey, don't let that stop Taco Bell from coming up with a spaghetti-taco-Cheetos hybrid next.
Got any other weird food combos you'd like to try? Tell us below!