8 Reasons to See Train to Busan 

(aka that Korean zombie flick everyone's talking about)
by Mikhail Lecaros

If you've been on social media the past week, you probably noticed a film called Train to Busan popping up on your feed. While it would be somewhat redundant to refer to the flick as a roller-coaster ride, it most definitely fits the bill. Depicting a fateful rail commute from Seoul to the titular city in the midst of a zombie outbreak, Train to Busan is shaping up to be South Korea's biggest crossover blockbuster of all time, with audiences all over Asia flocking to see it, and we've got eight reasons why:
8. LIKABLE CHARACTERS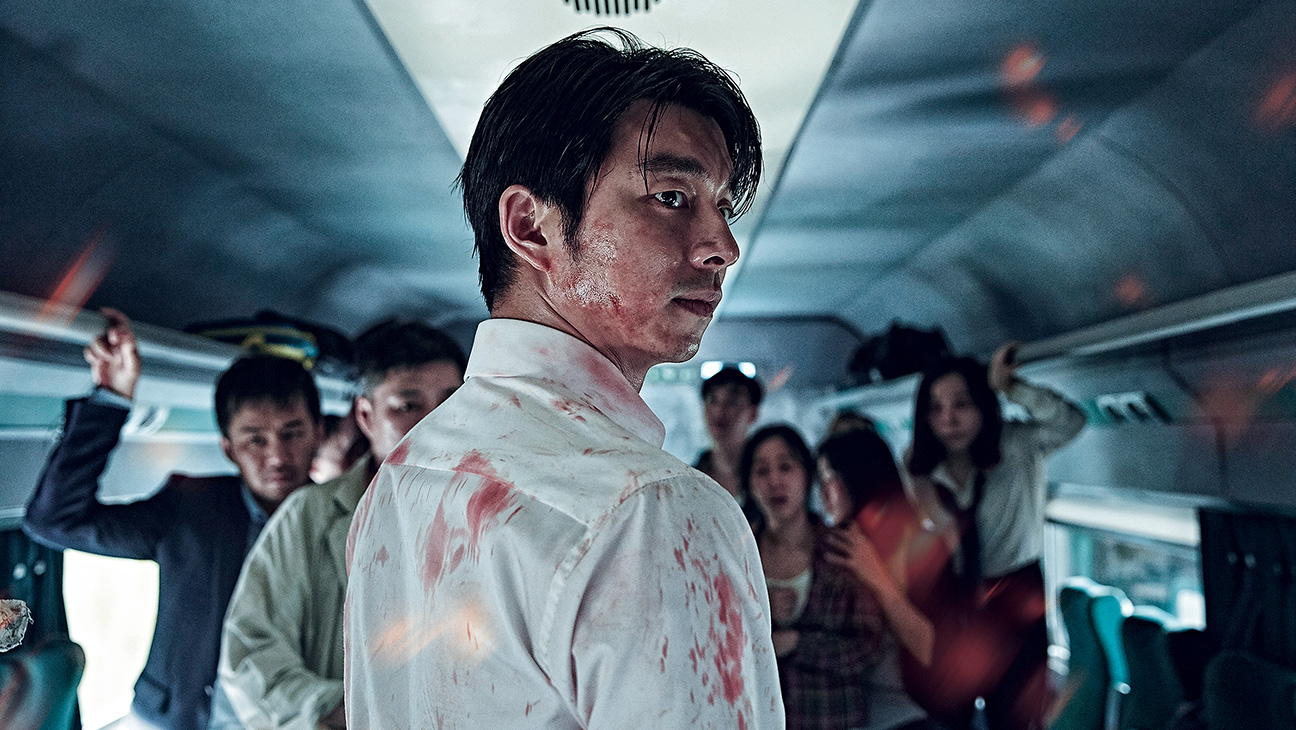 Gong Yoo (TV's 1st Shop of Coffee Prince) stars as Seok-woo, a business executive who, for all his success, is in a broken marriage. His wife lives in Busan, while their precocious daughter Su-An (child actress Kim Su-an) would like nothing more than to be with her. The film kicks off when Seok-woo agrees to bring his daughter to Busan, and follows his attempts to keep them safe when the zombie outbreak occurs. Despite being something of a jerk when the film opens, he is never a complete douchebag.
By far, the film's most memorable character is Ma Dong-seok as Sang-hwa, a seemingly indestructible father-to-be whose determination to protect his pregnant wife doesn't take away from his basic human decency. His ability to beat zombies over the head before picking them up bodily and hurling them into other zombies turns out to be a useful skill as the film progresses.
Also along for the ride is the Wonder Girls' Sohee as Jin-hee, a high school cheerleader travelling with her baseball team when things go undead pear-shaped. While her presence could very easily have devolved to mere eye candy, her fierce loyalty to her friends (and others) add to the film's emotional texture, as well as the prevalent social commentary.
7. (BITING) SOCIAL COMMENTARY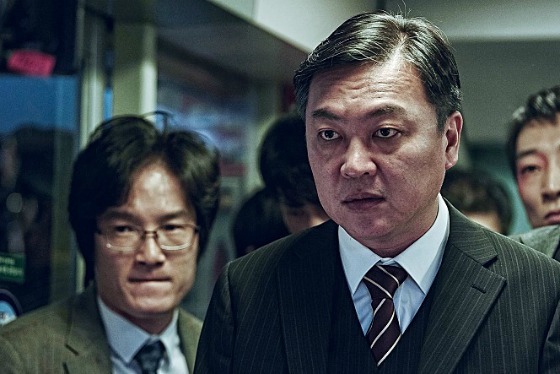 Much like similarly-Korean-directed-social-commentary-on-a-train-flick Snowpiercer, Train to Busan chooses to eschew subtlety as it swipes at class structure, throwing values-based shade via each character's priorities based on their social status. Completely valid, but about as on-the-nose as it gets. Heck, the rich hero's redemptive arc towards becoming a decent human being begins on the day he chooses his daughter over his morning meetings. It's a good thing, then, that zombies appear to set him on the straight and narrow by showing him what's really important in life (as they do).
6. IT'S SMART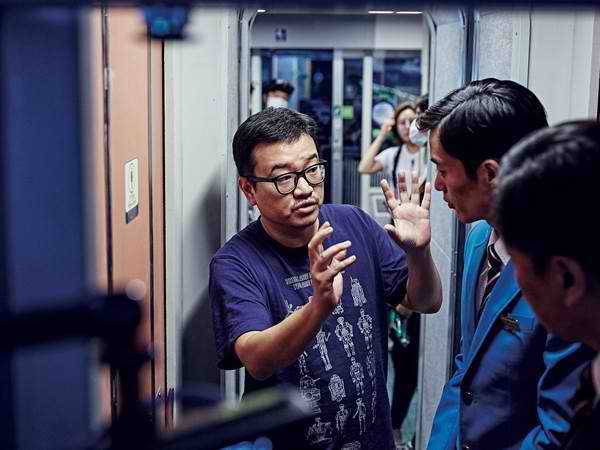 Directed by Yeon Sang-ho, whose King of Pigs (2011) became the first Korean animated feature ever to be screened at the Cannes Film Festival, Train to Busan doesn't insult the viewer's intelligence with contrived situations or boneheaded decisions on the parts of the characters. The film is filled with well-thought out scenes, as when Seok-woo and Sang-hwa prepare to traverse a zombie-filled train car by covering their forearms with the baseball team's athletic wraps and tape. By keeping things within the realm of believability, isn't hard to for the viewer to imagine what they would do if placed in similar circumstances (unless they're imagining such a scenario happening on the local MRT, in which case, there was never any hope to begin with).
5. IT'S SCARY, NOT BLOODY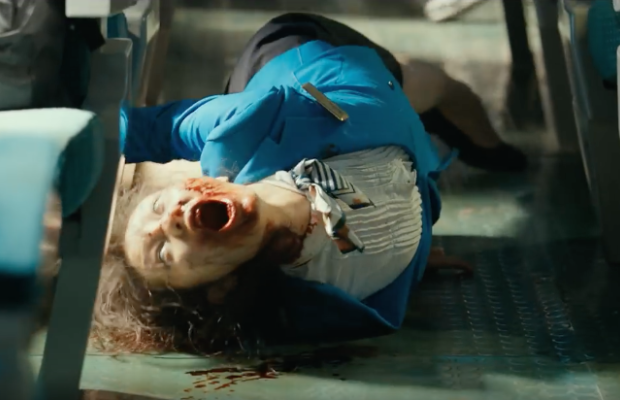 Nothing quite brings people together like a good shared experience, and in this case, you'll be bonding with your fellow audience as you gather your collective breath wondering when the next attack will happen. Throwing in the fact that the zombies here are of the quick-resurrecting, fast-moving variety, this is one viewing experience sure to stress you out – don't even get me started on the framerate cheats and bone-crunching contortionism that signify when someone has turned. Surprisingly, much of the gore in Train to Busan is implied, rather than shown, a far cry from the The Walking Dead's gratuitous brutality or Ash vs Evil Dead's geysers of viscera. Whether this was a budgetary decision or an artistic one, it works.
4. THIS GUY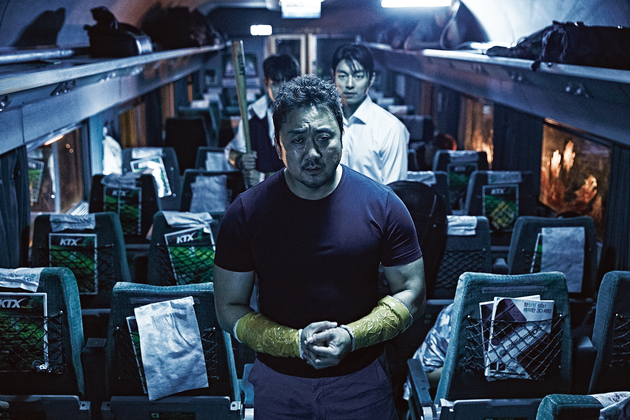 If you've seen the movie, you know who he is. If you haven't seen the movie, I feel bad for you. Dressed conservatively in a garish blue blazer when we first meet him, it's when Sang-hwa loses the hideous garment that Train kicks into zombie-smashing high gear. The fact that we don't know if he's a pro-wrestler, bodyguard, or just a badass cage fighter on his day off don't take away from the fact that this is someone you'll want on your side when the zombie apocalypse inevitably hits.
3. IT'S EXCITING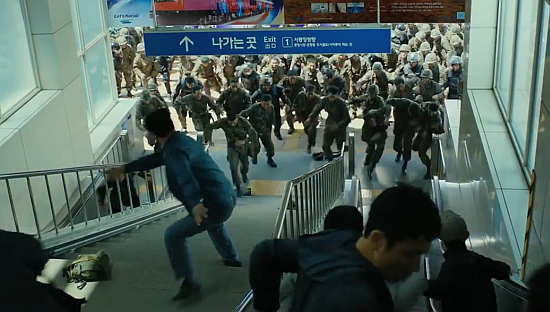 It's a good director that knows to make use of what he's got, and Yeon Sang-ho knows he hasn't the resources to go head to head with the likes of World War Z and its Hollywood resources. By containing the action to a single location (the train), Yeon cohorts were forced to be creative, piling on the tension for the audience while coming up with increasingly clever (un)death-defying scenarios for the characters to overcome. In this way, for the rare occasion when digital trickery does come into play, it becomes all the more impactful, especially when compared to the relatively restrained visuals inside the train. For other things they didn't have the money to show us, Yeon uses snippets of newscasts, frantic phone calls, and yes, Twitter, to paint a larger narrative canvas.
Speaking of Twitter..
2. ZOMBIE FLICK FOR THE SOCIAL MEDIA AGE
Social media, streaming news, hashtags, cellphones – even ringtones play a part in Train to Busan, and it is glorious to see. Even TV favorite The Walking Dead never showed us how a zombie apocalypse would play out if it hit the world in its current state of smartphones and interconnectivity (but, to be fair, that's probably because that show's main story starts months after things like electricity aren't widely available). Indeed, Train may be the very first mainstream entertainment to do it; here, we see everyone from grandmas to Su-An reach for their phones when they sense strange things are going on. Because who among us doesn't turn to Twitter to find out what the heck is going on these days?
1. BUT WAIT, THERE'S MORE! THERE'S A PREQUEL!!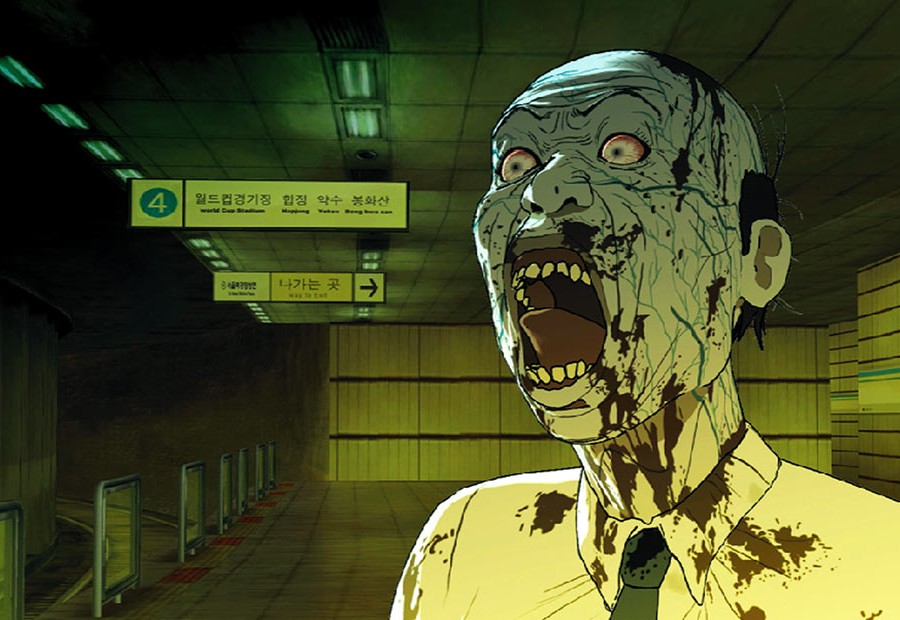 For those who can't get enough of the world introduced in Train to Busan, fear not! Yeon Sang-ho also directed an animated prequel film, Seoul Station, that hit Korean theaters a couple of weeks after Train to Busan was released. The film tells the story of a young woman's quest to escape her life of prostitution, not knowing that her father has come to the big city in hopes of finding her and bringing her home. With the zombie outbreak in its early stages, and the army having been called in to combat it, father and daughter will be forced to survive by any means necessary if they hope to get out alive.
While there's no word yet on Philippine screenings, if we were to go by Train's overwhelming popularity, we wouldn't be surprised if a local release was in the works.
Have you  seen the flick? Tell us what you think!