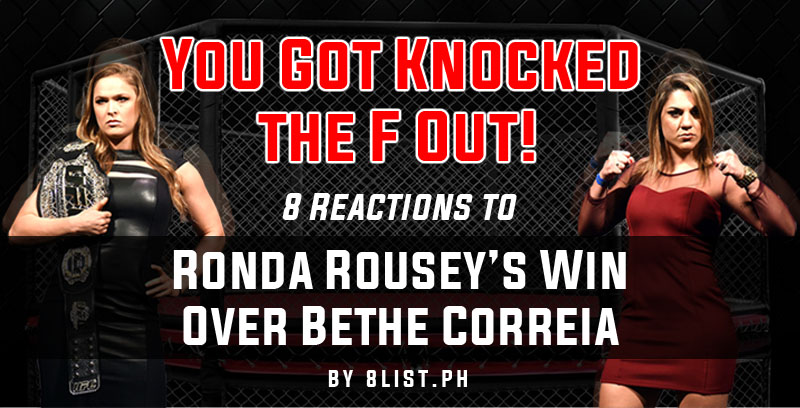 The weekend was full of interesting news from the world of mixed martial arts (MMA). There was the Diaz Brothers being involved in a crazy brawl against UFC Lightweight Khabib Nurmagomedov at a World Series of Fighting (WSOF) event in Las Vegas. The first brawl happened cageside and broke out again after the event was over at a Planet Hollywood.
At the same event, WSOF welterweight champion Rousimar Palhares successfully defended his belt against Jake Shields, but his win was marred with controversy. After submitting Jake Shields with a kimura, Palhares continued to crank the submission hold even after Shields had already tapped out. This isn't the first time Palhares has done this. In fact, this was the reason he got fired from the UFC. What's more, Jake Shields is accusing Rousimar of eye gouging during their fight.
But the biggest news was UFC Bantamweight champ Ronda Rousey's complete domination over Bethe Correia. After all the bad blood, the personal insults and jabs at suicide, it only took the Rowdy one 34 seconds to knock Correia out cold with a face-planting knockout.
Everyone from fellow fighters, celebrities, and people with too much time on their hands reacted to Ronda's win. Check out some of them below:

Guaranteed she won't do that to me #RouseyTatelll #ImComingForGold https://t.co/0uf9HotTp0 — Miesha Tate (@MieshaTate) August 2, 2015

Now, now Miesha. Remember what happened the first two times the two of you squared off?


The female version of #miketyson @RondaRousey @ufc @#UFC190 #UFCRio — Will Smith (@iWillSmith) August 2, 2015
Coming from the guy who played Muhammad Ali in a movie.

Good fight for Honda. My next fight is 140lbs, then I hope we get a chance to give fans the WMMA fight the most… http://t.co/41gZKCw00C — Cris Cyborg (@criscyborg) August 2, 2015
Cristiane "Cyborg" Justino Venancio may be the scariest threat to Ronda Rousey's reign. Let' all hope that this megafight happens.

Rhonda rousey is a beast Daaaaaaaaaam

— SHAQ (@SHAQ) August 2, 2015

Words from the man that gave us Shaq Fu.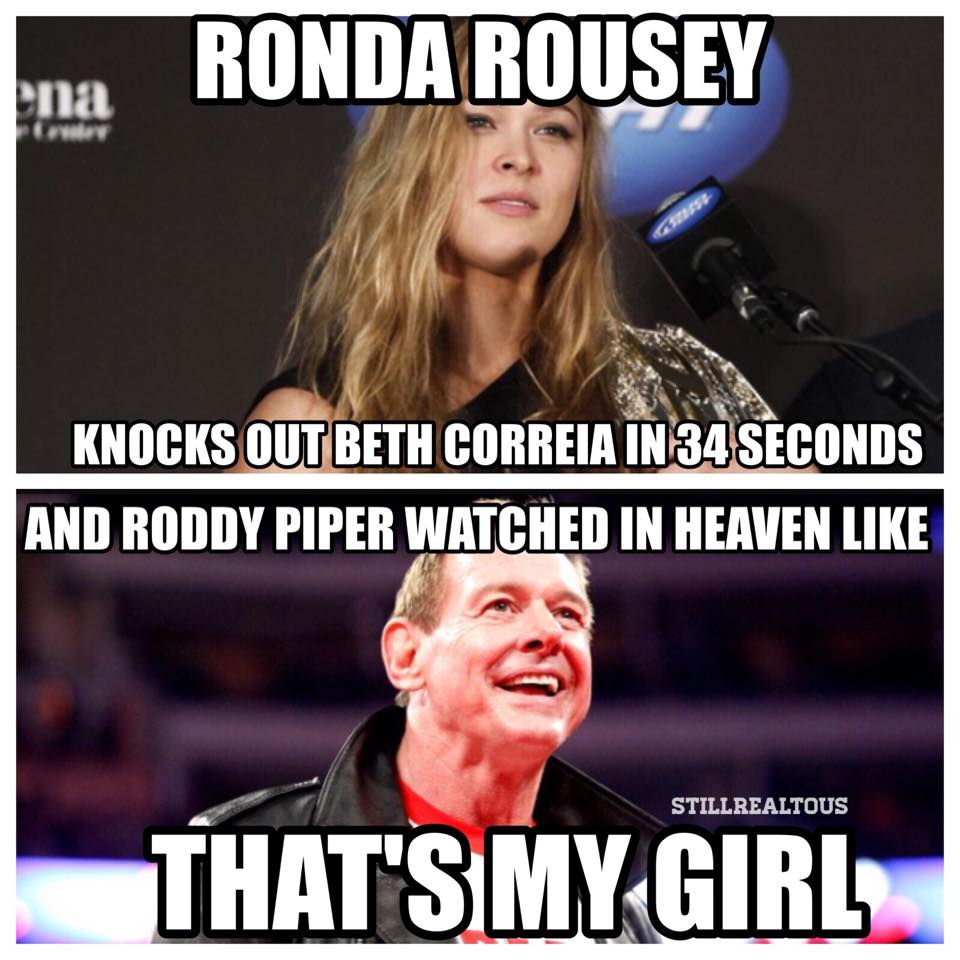 Following the tragic death of pro-wrestler "Rowdy" Roddy Piper, Ronda Rousey dedicated this fight to his memory. It was also Piper who gave his blessing to Rousey to use the "Rowdy" nickname.
"We lost a close friend, Roddy Piper, who gave me permission to use his nickname. I hope him and my dad enjoyed watching this together," Rousey said after the fight.

Correia made some comments about suicide, hoping Rousey doesn't kill herself after what happens in the fight. Given the context, Ronda's father took his own life when she was 8. Ronda took the comments personally and vowed to embarrass Correia in her home country.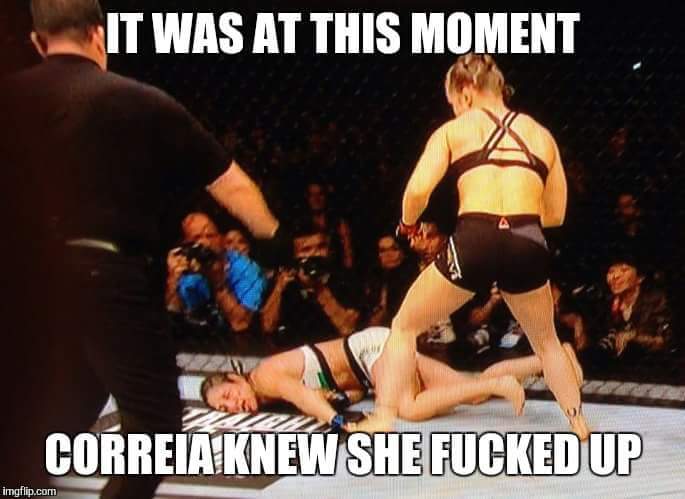 During the pre-fight staredown, Correia kept telling Rousey "don't cry." This would then come back to haunt her. As Rousey walked away victorious, she tells Bethe "don't cry."
Rowdy's on a roll!
How about you? What did you think of the Rousey-Correia fight? Leave a comment below and let us know!