Show Me The Money:
More Crazy Plot Twists in the
Money Laundering Hearing

By Kevin Christian L. Santos

We're already more than a month into the $81 million Bangladesh money laundering scam and though we're still waiting for a primary suspect to be named, the case has seen plenty of twists and turns recently:
8. Philrem is not registered as a remittance company
Philrem served as one of the instruments that aided in the coursing of the allegedly stolen $81 million. The problem? Philrem isn't a registered remittance company. According to BIR commissioner Kim Henares, Philrem is registered as a land transport firm. In addition, the firm hasn't been paying the right taxes for years. They haven't been issuing the correct receipts either. How were they able to operate as a remittance firm?
7. Philrem messenger appears in court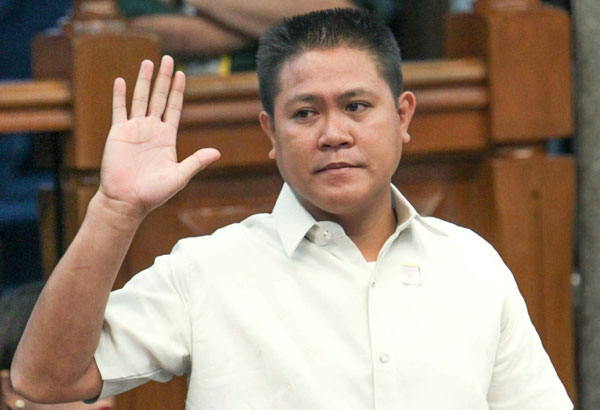 After no-showing the past hearings (citing "not feeling well" as an excuse), Philrem messenger Mark Palmares finally shows up in the senate probe on the scandal. Philrem president Salud Bautista said she was with Palmares when they delivered part of the $81 million to casino junket operators. Bautista said she delivered the money to a certain Weikang Xu at Solaire Resort and Casino upon the instruction of RCBC Jupiter branch manager Maia Deguito.
The clincher? Senator Teofisto Guingona III earlier told Bautista "niloloko niyo kami," when Palmares and Michael Bautista were unable to attend the senate probe.
6. Lawyer denies signing Palmares' affidavit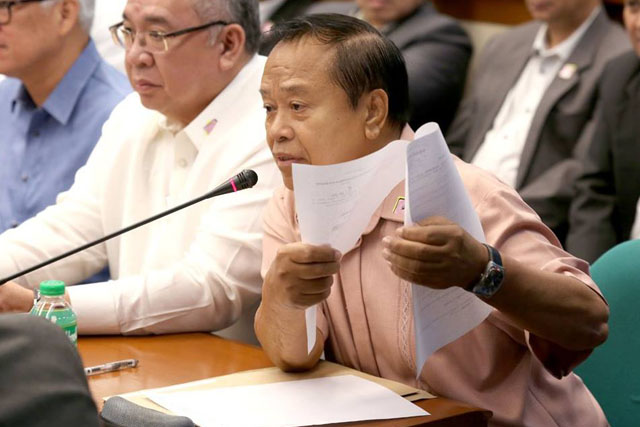 Mark Palmares presented an affidavit during the hearings that he wasn't able to attend. However, the affidavit's signatory, Atty. Renato De Jesus, denied signing the affidavit nor ever meeting Palmares.
De Jesus said the signature on the document was not his. "Hindi po ito totoo. Hindi ko po ito signature. Hindi po ako ito. Wala po akong kinalaman dito tungkol sa bagay na ito," said De Jesus.
Palmares refuted De Jesus' claim, saying "Pumunta po ako sir sa Pasig City Hall po. 'Yun po yung naka-pink (referring to De Jesus). Binigay ko po sa secretary niya yung papel ko. Ito pong affidavit na ito." It became a he said-she said hearing.
5. Palmares' mansion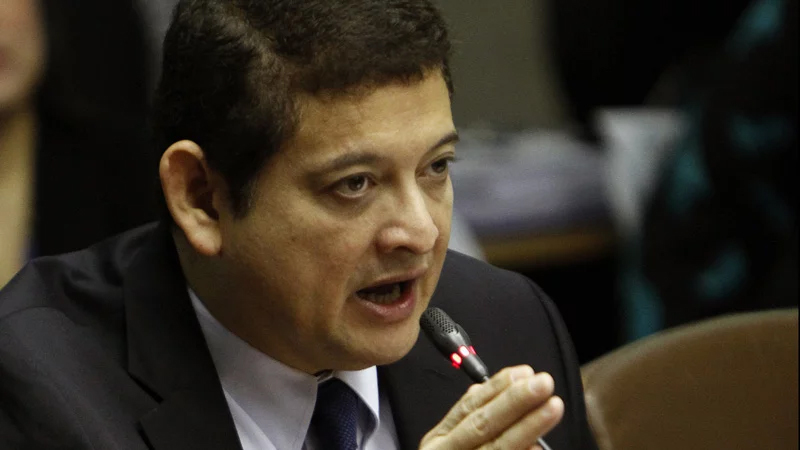 Though Senator Juan Ponce Enrile found Palmares to be more credible than De Jesus, the Philrem messenger wasn't off the hook. Senator Guingona questioned pictures of a large mansion they found on Google Earth which was allegedly Palmares' address. "Ang laki-laki ng bahay. Ngayon lang ako nakakita ng bahay ng delivery man na ang laki-laki ng bahay," said Guingona.
4. Philrem,"consistently inconsistent"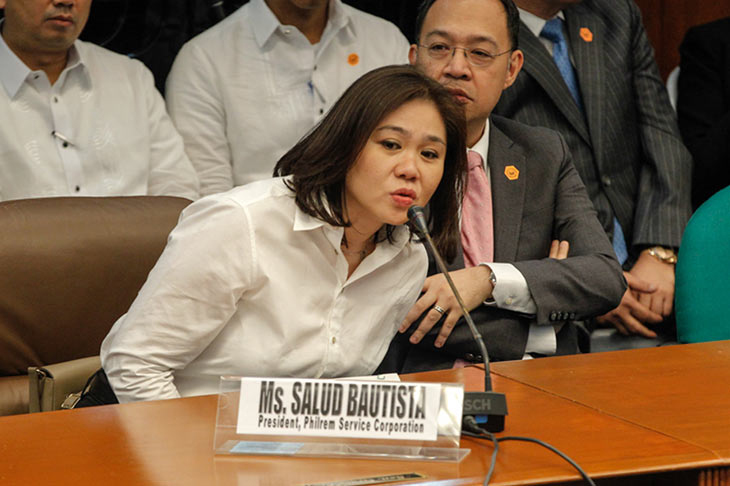 Senator Guingona called out the inconsistent statements of Philrem president Salud Bautista and treasurer (and Salud's husband) Michael Bautista. In an interview with ANC, Guingona said "one thing is consistent: they are consistently inconsistent. They contradict themselves today. In the previous hearings, they did say everything was delivered to Solaire. Today, they're saying not everything was delivered to Solaire. Before they said, everything, all P600 million and $18 million were delivered to Solaire, to Mr. Weikang Xu. Now they are saying not everything was delivered to Solaire, only a portion of it."
He was referring to Salud Bautista's statement saying she delivered the $600 million and $18 million directly to Weikang Xu. She later changed her statement saying she delivered a part of the money with the messenger bringing the remaining amount. Take note that Guingona told Bautista earlier that, "niloloko niyo kami," when Palmares and Michael Bautista were unable to attend the senate probe.
Senator Serge Osmena would also threaten Salud Bautista with contempt when the latter refused to name their company's accountant.
3. Kim Wong vs Philrem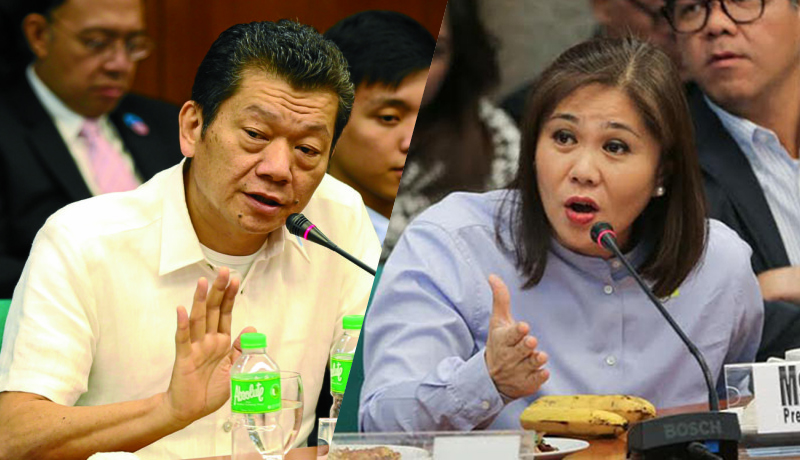 It's he said/she said once again. This time, it's mano-a-mano between Philrem's Michael and Salud Bautista and casino junket operator Kim Wong contradicting each other's statements. Wong said that the missing $17 million is with Philrem, which the remittance company denied.
Philrem said the money was delivered in six tranches. The first was personally delivered by Salud and a Philrem messenger to Weikang Xu, Kim Wong and certain Chinese nationals at the Solaire Resort and Casino. The rest were picked up from the Bautista's home. Philrem said the first delivery involved P90 million and $500,000. Only $80 million was delivered according to Wong. On the second delivery, Philrem said Wong received $110 million and P3 million. Wong said he only got P100 million and $3 million, which was short by $10 million. Furthermore, Michael and Salud Bautista stated that Xu was present during all the deliveries. Wong tried to refute their statement by saying that he didn't have any knowledge of the remittance company's fifth and sixth dealings with Xu.
Michael Bautista said the instructions came from RCBC branch manager Maia Deguito. Deguito denied this, saying she didn't know Weikang Xu and that her instructions were restricted to bank transactions.
2. Who's lying?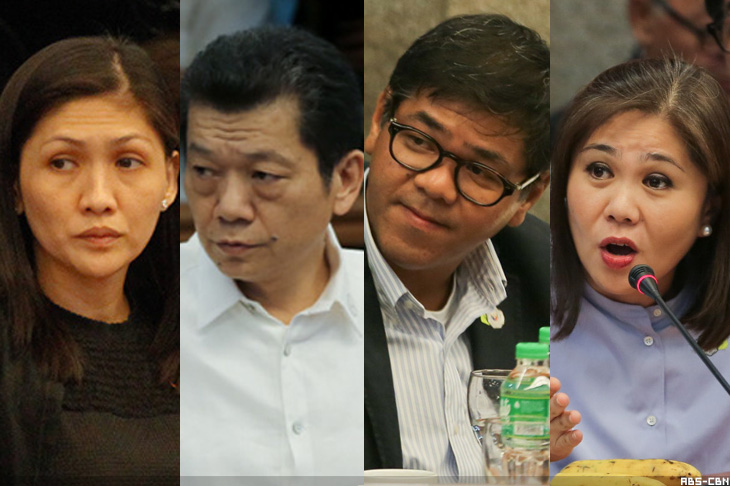 "Whoever is lying has the money," said Senator Guingona. He said that the money can be found by whoever's lying among the parties involved: Maia Deguito, Philrem and Kim Wong. In an interview, Guingona evaluated the levels of credibility among the key players. "But at this point, we can say there are levels of credibility. Most certainly, Kim Wong has a higher level of credibility than Maia Deguito or Philrem. The lowest being Philrem, which has almost zero credibility," said the senator.
1. Maia Deguito admits to lying
In another shocker, Maia Deguito admitted to lying in order to protect the personalities involved in the scam.
The stolen cash was transferred to the accounts of Michael Francisco Cruz, Jessie Christopher Lagrosas, Enrico Teodoro Vasquez, and William Go. Maia Deguito said it was Go who instructed her to transfer the funds, a claim that Wong has denied. Senator Serge Osmena questioned her claim, saying "You know that the four individuals own the accounts. Theoretically, if they exist, the owners of the four accounts should have been the ones telling you, giving you instructions. Why did you receive instructions from Mr. Wong?" Deguito said that Kim Wong acted as their authorized representative.
RCBC legal chief Maria Estavillo countered Deguito's statement. "It's not allowed. There are no documents to support what she's saying and in fact your honor in her letter to us, she categorically told us that it was Mr. Lagrosas himself who gave her instructions on the transfer of funds to William Go. So she's contradicting her own written statement to the bank," said Estavillo.
When asked by Osmena, Deguito said she was not prepared to reveal the identities of the people involved in the controversy. Osmena prodded her. ""You did not want to name Mr. Kim Wong? That's what you're saying? And you'd lie and say it was Mr. Lagrosas who gave you the order. Is that so?" Deguito replied, "Yes your honor." "If you will consider that lying, yes I would acknowledge," Deguito added.
The senate probe continues on April 26.
What are your thoughts on the matter? Sound off in the comments section below!