8 Signs Your Cat has Claimed Ownership of Your Soul
Jul 1, 2015 &nbsp • &nbsp Dominique Tiu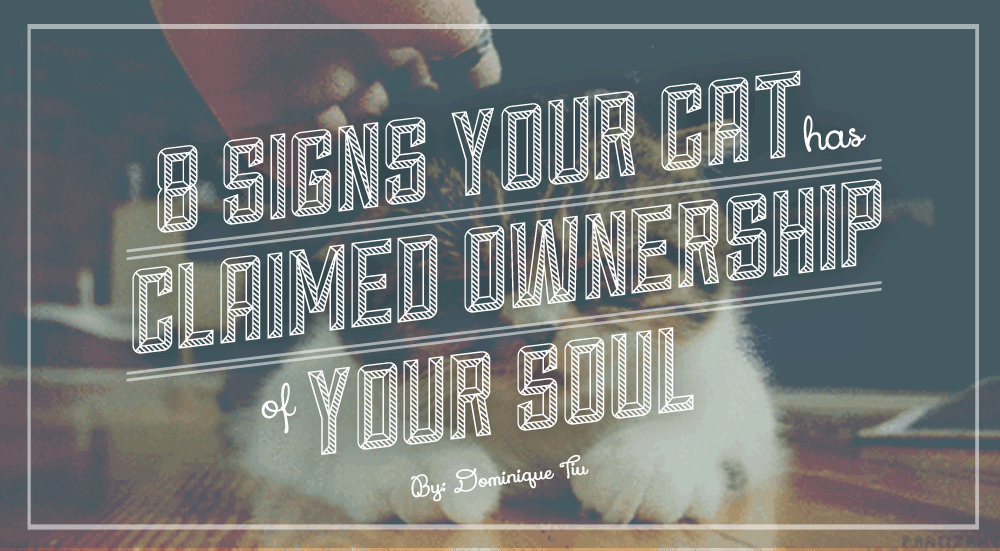 With the recent influx of cat-loving personalities and hipster kitty cafes, the number of people getting their hands on a "ming-ming" within this once exclusively dog-loving country has grown exponentially. Thanks to Taylor Swift, having a resident feline in your household is now deemed to be cool.
What most "self-proclaimed" cat owners don't see is that they never really gain full ownership of the cat… because the truth of the matter is that your Cat actually owns you. Don't believe me (and even as you're reading this, still tending to your kitty's every beck and call)? Here are some sure-fire signs that your cat has claimed ownership over you!
8. The cat nuzzles its person on your calves & legs
Before you go "aww" because you think it's your cat's way of getting your attention, think again! Cats rub themselves on their humans because they want to leave their scent and "mark their territory." They're essentially making sure that no other animal in the vicinity is going to distract you from catering to their every whim.
7. You can only touch the cat when he/she feels like it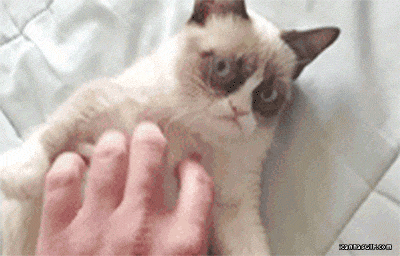 Cats only go up to you for petting when they feel like it. Don't even think about picking them up, buddy! You aren't the boss here. They decide when you're worthy enough to touch them. Just do what you must, wait for them to bop their head on your palm, and only do it for a rough 5 – 10 minutes like the good little human minion you are.
6. The cat watches your every move (especially when you're asleep)
Felines are natural predators and it likes to watch its prey's every move. If the cat is keeping an eye on you, try not to do anything funny. It knows you're up to something and it will be all over you like an obsessed girlfriend on New Year's Eve.
5. The cat is your perpetual chaperone to the john
A lot of things can happen while you're doing your business in the crapper and the cat always wants "in" on whatever it is that you're doing in there. Even when you're simply sitting and reading the morning news on your phone, it situates itself within a suitable distance and stares. Now you'll never be alone!
4. Your body is a blank canvas for claw/teeth-related battle scars
Like a painting, the cat finds ways to transform your flawless skin into a work of art! It's not enough that they smell themselves on you, they need to literally equip you with noticeable marks so they know you're their human.
3. By extension, the cat owns your head pillow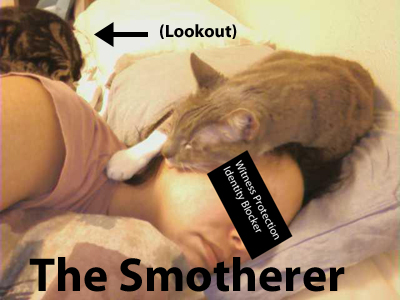 2. The cat allows you to eat only after they've taste-tested it first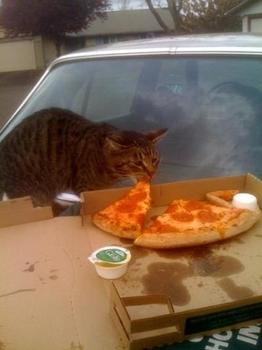 What is yours is theirs, especially when it comes to food… and they are very strict with rationing. You've learned to share, but it was a painful lesson you now regret. Even if the food's not typically protein, they always need to sniff and lick it first. You relent because otherwise, you end up with a cat faceplanting itself on all your meals.
1. The cat pets you (not the other way around)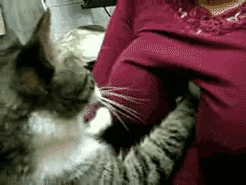 Most humans call this act "kneading." Often thought of as a trait they acquired from their kitten-hood in order to stimulate milk from the momma cat's teat and thus provide them with comfort. When they feel like it, they situate themselves near a fat and fluffy area on your body and "knead" you for comfort. It's their way of knowing that they love (and own) their humans.

Have you noticed any tell-tail signs that your cat owns you and everything you are? Share them with us in the comments!