The year is about to end but that doesn't mean that our passion for fashion has to pass with time. Be bold and make a statement this coming 2020 by donning Pantone's color of the year, Classic Blue. Exuding comfort and confidence, this shade of blue is something anyone can easily rock any day.
Here are some Filipino brand items in shades of blue that you can fill your wardrobe with.
Kamiseta's Myrle Knitted Blouse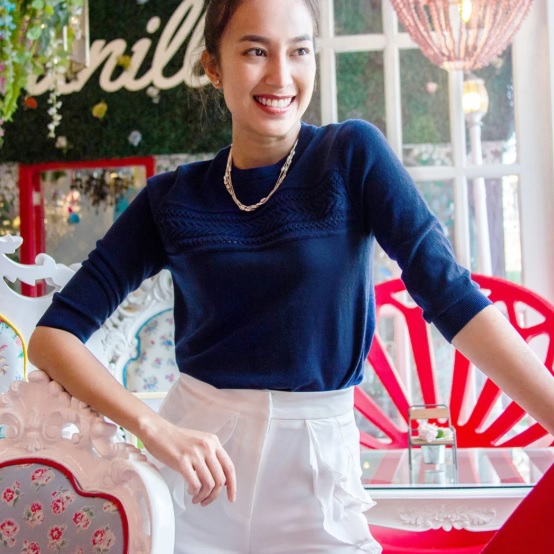 Here's a chic long-sleeved top that is comfy as it is fashionable. Have fun mixing n' matching this item with other garments and accessories in your dresser.
Maldita's Off Shoulder Chambray Romper
Spend a beautiful day outside in this cute denim romper. Whether it's to walk your dog or to hang out with friends, this summer-friendly piece is a safe garment to wear.
Apartment 8's Custard Dress in Navy Blue
Invited to a special event? Whether it's the beach or the ballroom, this ruffled dress will certainly make you the belle of the ball.
Penshoppe's Retro Sunglasses
Protect your eyes from the sunlight without straying away from fashion with this cool pair of blue tinted sunnies.
Figlia's Blue Sling Bag
A girl simply can't leave home without certain essentials and what better way to carry these items around than to stuff them in this stylish sling bag.
BNY's Cropped Low-Waist Pants
One can never go wrong with denim pants. Every wardrobe needs a pair or two and this cropped-denim pants is a perfect addition to the set.
Penshoppe's Asymmetric Skirt
Enter the new year by creating a hip and trendy ensemble with this asymmetic skirt and the things you can pull out of your closet.
Figlia's Wedge Sandal
No need to strain your legs on thin heels. Grab a pair of these wedge sandals to cheat your height without sacrificing style and comfort.
And don't forget that any look can be pulled off as long as you put the right amount of confidence in your strut!
What are your other wardrobe must-haves? Tell us below!