Due to the COVID-19 pandemic, classes have been suspended and companies are now switching to work from home schedules. But staying at home can get boring, which is why people are finding more ways to keep themselves entertained. Thank God we have the internet. If you're on Facebook, you've probably gotten an invitation from one of your friends to join the group Subtle Clown Traits. The group has been around since December 2019 but its number of members has been increasing rapidly over the past few days. Last night alone, the group had 90,000 members, and as of writing, the group has reached 164,000 members!
Subtle Clown Traits is basically a funny support group for failed relationships, asado moments, hookups, and everything in between. Basically, it's a gold mine of funny conversations full of clownery and no one judges them. Please cue in the clown music! Lahat naman tayo naging tanga at marupok din at some point, ano? We gathered some of the most hilarious conversations shared by co-clowns and it's honestly comforting to know that we are not alone:
forwarded.jpeg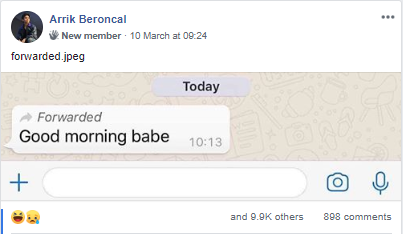 And 9.9k clowns agreed in unison. Imagine getting excited over that good morning text only to find out it was forwarded. So ilan kayo? Also, why didn't they just make a group message? With that classic 2010 GM signature. Time to block that person, hon!
Ah, friends.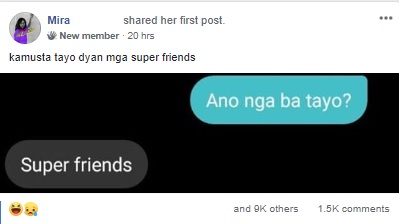 Us against the world not as superheroes but super friends. Stomoyon? After they make you feel ~things~ and asadong-asado ka na, they'll just say you're friends. Labo! Lesson: if you're not ready to commit then don't make someone feel like you're going to be together! Don't make them fall so deep if you'll just drop them.
Faith in humanity: restored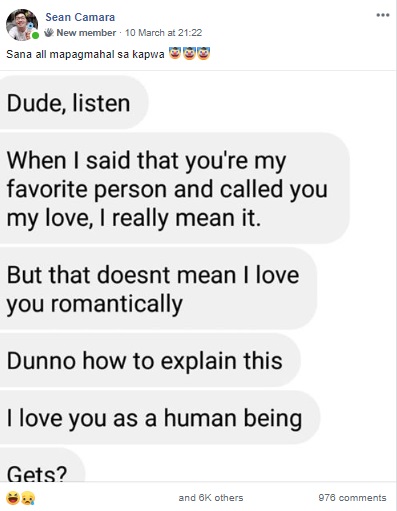 If the world is full of people as loving as this person, then living wouldn't be so bad after all. Here's a better explanation: you just enjoy the feeling of having a favorite human being but you're too scared to commit because you just want to love more human beings. Tama ba?
Homeless
Then I guess you're homeless now? Stomoyon, all this time you thought you were building a permanent home but for them, it was just rent? Hay, sayang yung investment, bimb.
Utang Na Sis: Funniest Marites Tindera Posts To Make You LOL Today
Utang Na Sis: Funniest Marites Tindera Posts To Make You LOL Today
Bianca Katipunan | Jan 29, 2020
Prank gone wrong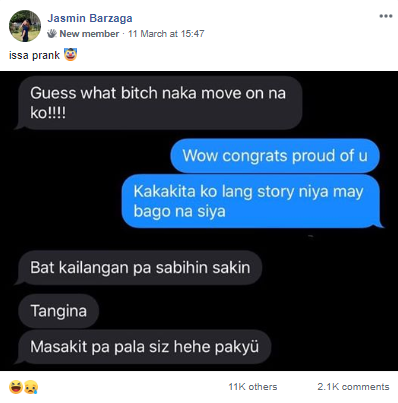 You probably have that friend who keeps on telling you they've moved on but the moment they hear an update about their ex, they're back to square one. OP was just joking, only to find out their friend was still healing. It's okay siz, take all the time you need.
How to confirm you've moved on: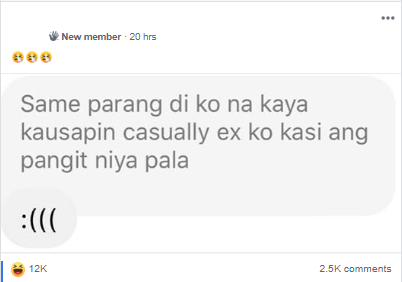 We all have different ways of trying to move on. Some travel, stay at home for n days, or they just realize that they needed glasses all this time. They say looks don't matter kasi sa personality naman talaga, but this one reached the final stage of grief. They just accepted that their ex isn't that attractive at all.
Ready but…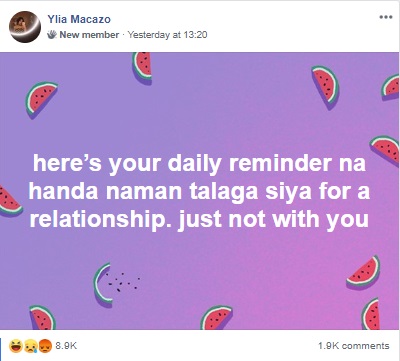 You just took a DNA test turns out you're a 100% NOT that bitch. Here's your daily reminder to stop trying to be with someone who clearly doesn't want you. Remember that it's their loss. Or maybe you need to evaluate yourself why your crushie isn't ready for you. This time around, maybe it's you and not them. Or malandi lang talaga siya.
Marupok 101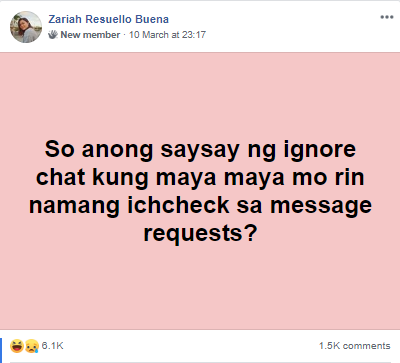 You swore upon your life that you'll never open your partner/ex's messages but why are you camping in your message requests? One notif and you jump at your phone. The Flash ka ghORL? At this rate, you're only putting alcohol onto a fresh wound.
They say don't talk to strangers but how can you not when you see a group of people who experienced the same? The clownery continues but let's just hope that people would be mindful of their actions because these conversations may be funny at first but they can really hurt like hell. Today, we thank the internet for providing some things to laugh about amid the crisis.
Have you experienced these clown moments? Share them below!