The positive cases for COVID-19 in the Philippines have jumped from just 3 last week to 53 as of writing. Two people have died from the virus: one Chinese man and a Filipina who developed pneumonia.
The World Health Organization (WHO) on Wednesday evening has declared COVID-19 as a global pandemic. This means the virus is spreading aggressively around the world but it doesn't mean it can't be stopped.
"We have never before seen a pandemic sparked by a coronavirus. This is the first pandemic caused by a coronavirus," WHO Director-General Dr. Tedros Adhanom Ghebreyesus said during the media briefing. "And we have never before seen a pandemic that can be controlled, at the same time," he added, emphasizing that there is hope in the situation.
If countries tighten their COVID-19 watch to detect, test, treat, isolate, and mobilize their people, we have a greater chance to turn the tide on the virus. One of the first steps to make is social distancing.
What is social distancing?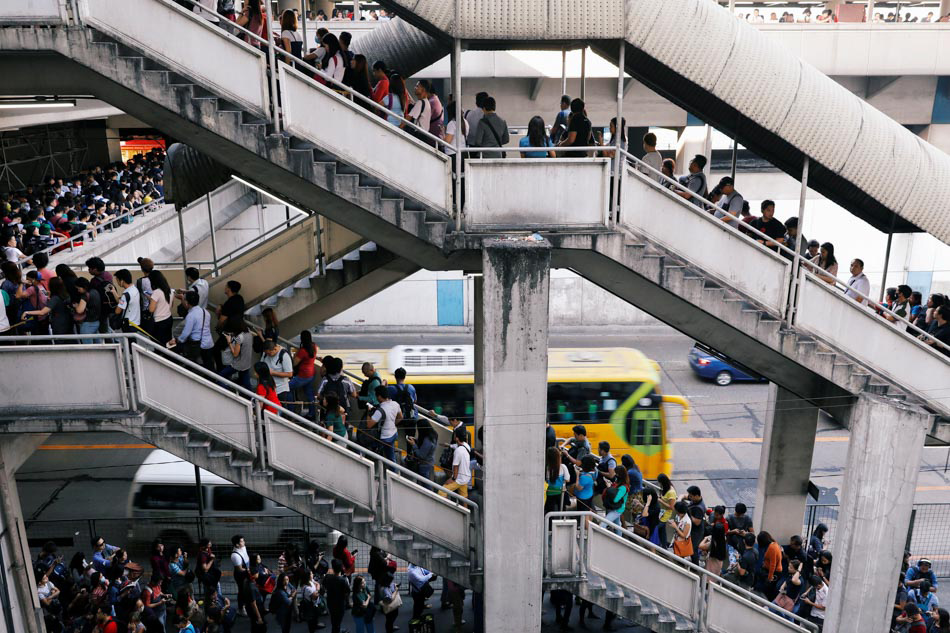 Social distancing is limiting interaction with other people by keeping a safe distance so as not to spread any kind of disease. This is the reason why most events and gatherings scheduled for the next few months have been either canceled or postponed. A huge group of people clustered in one place makes it easier for the virus to jump from one person to another.
Work from home and canceled classes are imperative
A worker spraying disinfectant to sanitize a school in San Juan 
More than missing a couple of concerts or other social events, canceled classes and work from home orders are also steps to implement social distancing. The majority of offices in Metro Manila are adjusting to this week's first prolonged work-from-home scheme and students are transitioning into online classes. Streets in business districts are mostly empty, with everyone holing up at home with their stock of rubbing alcohol. Empty streets and landmarks would've been a nice sight if it were in a different situation.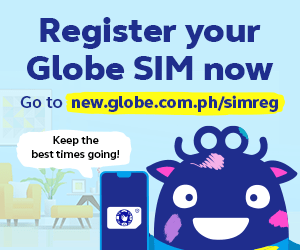 What will happen if we don't do social distancing?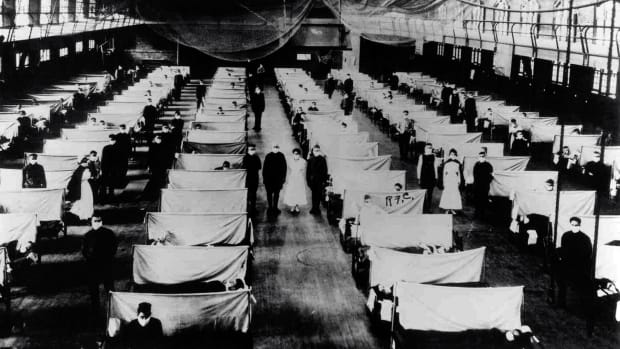 A ward in the United States during the 1918 Influenza pandemic
Global history on pandemics has taught us a thing or two about the importance of containing a virus. Long ago, before the cities and complexes we know of now, civilizations were able to contain outbreaks. Now, in a city as huge as Manila with a population of over 13 million and houses clustered together, it's going to be a feat.
But it isn't impossible.
Cities and countries have learned to lock down certain areas and ban people from going in and out. If there's anything the 1918 influenza taught humanity, it's that not implementing closures and canceling events helped spread the disease faster. Philadelphia, which held a parade for thousands of people shortly after the first case of the flu, had more death rates than St. Louis, which immediately closed stores and universities. So in short, social distancing works.
How would you know if you need to quarantine or even isolate yourself?
These days it's easy to freak out over a simple bout of "I don't feel well," and you probably should if you've interacted with a large crowd recently. COVID-19 symptoms are coughing, fever, and difficulty breathing with a few body aches and pains. Worst case is you feel all this at once, you should get yourself tested. If it's mild, you can stay at home, medicate, and rest just like what this coronavirus survivor did.
If you've also visited a place that has multiple cases of the virus or you just flew in from abroad, you should place yourself in self-quarantine for at least 14 days to reduce the risk of spreading the virus to those around you.
How to Protect Yourself Against the COVID-19 Outbreak
How to Protect Yourself Against the COVID-19 Outbreak
Ina Louise Manto | Mar 10, 2020
Education is always key
Some Unsolicited Advice from a Concerned Lolo

Dahil nag-aalala ako para sa inyong lahat sa biglang pagdami ng kaso ng COVID-19 at sa nakikita nating pagresponde dito, heto ang kaunting payo mula sa isang concerned lolo:

— Chel Diokno (@ChelDiokno) March 11, 2020
The virus could be transmitted via droplets of moisture in the air, from person to person, and from bacteria that can linger on surfaces for hours. At this stage, keeping calm and avoiding causing mass panic is the most important thing for the public. How else will people be at ease if they don't educate themselves?
Remember to practice proper hygiene such as washing your hands frequently, avoiding these common things that might put you at risk for COVID-19, and taking supplements and eating right to boost your immune system.
Beyond these, however, it's important also to remain informed and to distinguish fake news and fear-mongering from facts. Make sure you follow only the official social media pages of news outlets and verify everything you see before sharing it.
Here's How You Can Disinfect Your Daily Household Items
Here's How You Can Disinfect Your Daily Household Items
Kyzia Maramara | Mar 10, 2020
The goal is to slow down the virus
Test kits developed by the University of the Philippines National Institute of Health (UPNIH)
Whether we like it or not COVID-19 is already present all over the world. Instead of panicking over it, we must focus on slowing it down and giving researchers and scientists enough time to develop a vaccine and a cure. Stay at home, binge-watch a few movies if it gets boring.
Consider everyone else, not just yourself
Again, the numbers are EXPECTED to rise. It's sad but no reason to panic. Buy only what you need and please be considerate of your fellow countrymen. #NoToPanicBuying https://t.co/570s0SIz4J

— Good Morning Nate (@natepunzalan6) March 11, 2020
Sometimes even the simple instruction of "Do not panic" fails to get through everyone's heads. We've seen cases of panic buying in local grocery stores and even people hoarding bottles of rubbing alcohol only to sell it at an even higher price online. This is the time to consider your fellow Filipinos. If we rob each other of the chance to buy soap, tissues, and food, we're dooming other people to not being able to sanitize or clean. In turn, we're letting the virus spread. Quit the fear-mongering and help each other out. Even if a lockdown were to be implemented, there's plenty of food and supplies for everybody.
Who to contact if you feel like you might have the virus
Early detection will literally save you and the people around you. Get yourself tested at these hospitals if you believe you might have the virus, and contact them ahead of time so that they can take the necessary precautions.
Also, you can still go out for supply runs but limit your interactions. You might be better off wearing one of these if you dare:
Stay safe, everyone!