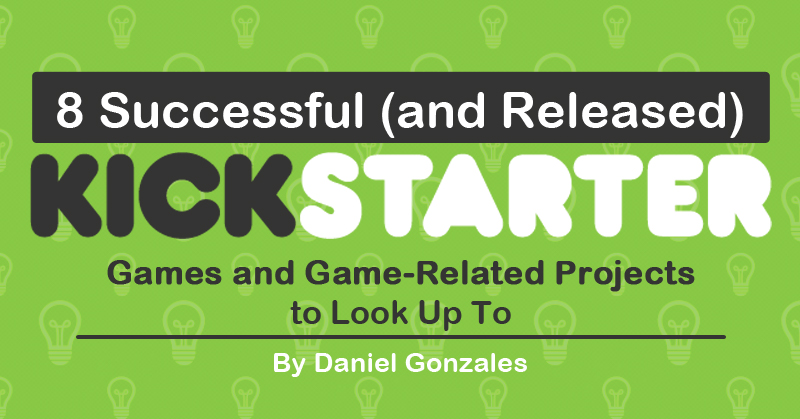 Kickstarter, a funding platform for creative projects, has helped the videogame industry a lot. It allows users to publicly fund various independent developers into making their dream games, mid-tier developers into making sequels or new games that fans are seeking, and innovations and technologies proposed that will interest users. In return, the backers receive rewards such as customized merchandise, meet-ups, early accesses and betas, a lot more.
Here are 8 gaming-related Kickstarters that were found to be successful.
8. Divinity: Original Sin
Pledged: $400,000
Reached: $944,282

"Divinity: Original Sin" is the latest release of the Divinity series, developed by Larian Studios. The Divinity series is a niche, hardcore RPG series developed for the PC, and Larian Studios is one of the last mid-tier independent PC developers. The game received high score (highest scored Divinity game to date) and it sold over 500,000 copies worldwide, indicating it sold well above expectations.

7. Tropes vs. Women in Video Games
Pledged: $6,000
Reached: $158,922
This is a videogame webseries by Anita Sarkeesian (a known feminist and media blogger) featuring a documentary of female stereotypes and studies around them. Initially funded in 2012, the series was pushed back to March 2013 yet garnered good reviews as being a must-watch series.

6. FTL: Faster Than Light
Pledged: $10,000
Reached: $200,542

"FTL: Faster Than Light" is considered as one of the first Kickstarter games to have a successful and well-regarded launch. Reviewers have mentioned that the game successfully captivates the users by allowing them to have full control of their ship and a rogue-like world (randomized). The game has won several awards in videogame design and music.
5. The Banner Saga

Pledged: $100,000
Reached: $723,886

Developed by the former members of BioWare, The Banner Saga received many positive reviews for having fantastic artwork and having a good story and allows the users to make meaningful choices within the game. This takes inspiration from Final Fantasy Tactics and Shining Force. The Banner Saga has also become a series in a short span of two years wherein they announced The Banner Saga: Factions (a free turn-based multiplayer game) and they have recently announced The Banner Saga 2.
4. Shovel Knight

Pledged: $75,000
Reached: $311,502

Dubbed as one of the Games of 2014 and Indie Game of 2014. Shovel Knight was developed by the former developers of Shantae. Inspired by the 8-bit aesthetics, Shovel Knight was known to pull of the old school difficulty but adding in the fun that can capture the modern gamers. Many reviewers have said that this game pays homage to the early videogame era but at the same time added innovation.
3. Broken Age

Pledged: $950,000
Reached: $8,596,474

Known as the Double Fine Adventure Game, Broken Age is one of the very first video game Kickstarters and it influenced a lot of campaigns for video games. Double Fine is known for their adventure games and one day they sought out funding for a niche genre due to increasing development costs. Though the game shared its share of controversies such as splitting the game into two parts to seek out more funding, the first episode was reviewed well still. The game was funded 100% in under eight hours.
2. Ouya

Pledged: $950,000
Reached: $8,596,474

Ouya was revealed as an Android home console that plays allows you to download Android games and play them on a console. The system is packed with a battery-operated controller. Despite the negative reviews when it launched due to the poor connectivity, poor game support, and controller lags, the system was able to amass a large sum of funding.
1. Oculus Rift

Pledged: $250,000
Reached: $2,437,429

Oculus Rift is probably the most successful videogame in Kickstarter. Though the device is still on beta, it currently shows one of the most advanced 3D virtual reality technologies and boasts of a strong immersion in video gaming. In the end, Oculus Rift was bought out by Facebook for a whopping $1.6 billion in Facebook stock and $400 million.
Do you have other successful Kickstarter games to suggest? Share them in the comments below!