Kayo Na! Why Taylor Swift and
Calvin Harris are Our #CoupleGoals

Taylor Swift's living the American Dream right now—three Grammy Awards, international fame, a loyal fan base, a squad of beautiful and rich people, long legs, and most of all, a love life that looks like it has a higher chance of ending without a bitter love song about. Just this month Swift and DJ boyfriend Calvin Harris celebrated the anniversary of their love story. Life has been great for the two lovebirds since they started, and we can't help but be happy with them. Let's just hope Tay won't be writing any breakup songs any time soon. Or ever.
Here are 8 reasons why Talvin is our new #CoupleGoal.
8. They have the seal of approval from friends and family
One should be ready to take their lives on the line to enter the most exclusive circle to ever grace the face of Hollywood: Taylor Swift's BFF squad. Good thing for Harris, he easily got Tay's friends and family's thumbs up like he was born to do it.
Just look at the BFF squad soaking up in a pool.
7. The exes don't bother them
And look at Talvin adorably clinging to each other.
Which ex are we talking about? The guy who started it all: Joe Jonas. Talvin traveled to London with Jonas and supermodel and Tay BFF Gigi Hadid, while Karlie Kross, yet another Swift defender, came as a comfortable fifth wheel.
6. They're reaaaaally cheesy
Here's Talvin matching their outfits.
.@taylorswift13 & @CalvinHarris together in matching outfits…that pretty much means they're going out, yeah!? pic.twitter.com/8KXecnq3An

— Tom and Claire (@tomandclaire) March 27, 2015
And their cute initials on the sand.
5. They're the most powerful couple of music now
Not even in Talvin's wildest dreams would they have thought that it possible beating Queen Bey and Jay-Z from music's most powerful list. Yeah, Talvin, who've only been together for a year, beat Jay-Z and THE Queen Bey in their 2015 highest paid celebrity couple list. With an annual income of $145 million last year, Talvin officially beat the Jay-Bay power couple who has $110 million. If all this moolah isn't convincing you that Talvin is the most powerful, let's not forget Swift's insane and loyal fan base, her Grammy award-winning album 1989, and how she bitch-slapped Spotify by pulling out her songs from the steaming service because she thinks musicians deserve more than what they're getting from them. She's also the only musician that forced Apple to pay musicians their royalties during the company's free trial period. Just how fearless is that?
Harris on the other hand, has settled deals with Giorgio Armani and Sol Republic headphones. He was also the highest paid DJ in 2013, earning $46 million in 2013 alone.
4. They look insanely good together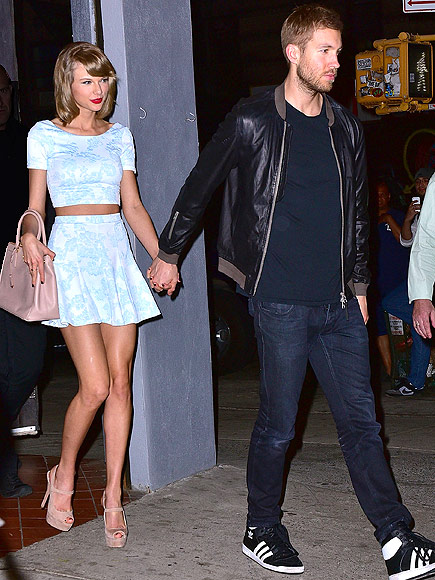 Via people.com
Insanely good. Beautiful people dating other beautiful people should be illegal.
3. They love their fans as much as they love each other
An unexpected guest surprised Talvin at one of their romantic dinner dates as a fan sat down on their table to take a picture with them. He captioned the photo, "Awesome dinner with mom and dad," and they can actually pass as a normal family but with mom and dad as multi-million pop stars.
2. They support each other's career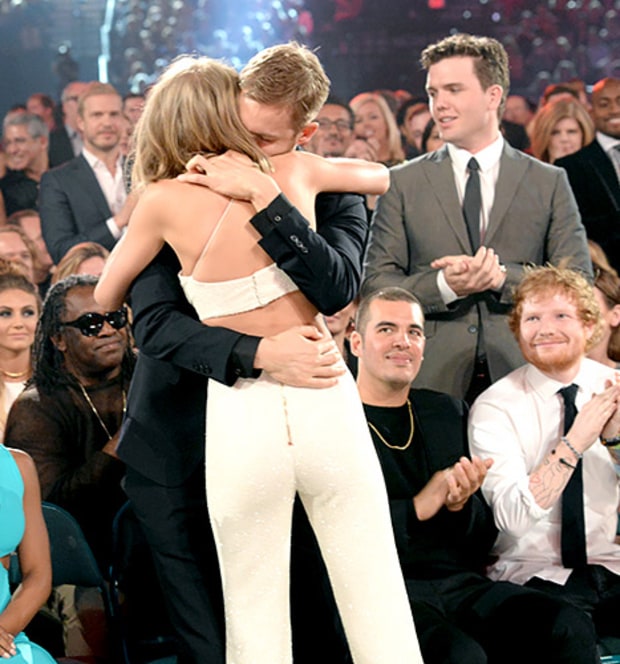 Via usmagazine.com
Harris congratulating his beautiful girlfriend for winning album of the year.
I just played a gig inside a giant owl and my girl just changed the entire music industry what a day

— Calvin Harris (@CalvinHarris) June 22, 2015
Calvin congratulated Swift again when she won her case against Apple.

Via dailymail.co.uk
Taylor dancing to her beau's sick beat on New Year's Eve.
These two have always been all-out with their PDA and cute candid-but-not-candid photos together, but another thing that they proudly show to the world is their support for each other's career.
1. Their anniversary
A photo posted by Taylor Swift (@taylorswift) on
The customized anniversary locket from Harris that we're going to see all Swifties wear in the near future.
The homemade cake and a goofy commentary from Harris. AAAW.
Music's most powerful couple celebrated their first anniversary last March 6, and it's really hard to believe that it's been a year since we've been gushing over Talvin. The cute anniversary vacation of the power couple assured us even more that they are the number one #CoupleGoal we will never attain. Ah, such is life. But we are happy that Taylor found someone post-Harry Styles.
From the are-they-or-are-they-not stage to their #swangoals, from enviable barkada photos to their gorgeous vacations together, from the cute cakes and the heart lockets, it's been a great love story so far, Talvin. And we can't wait for what'll happen next.
A photo posted by Taylor Swift (@taylorswift) on
So is it gonna be forever, Tay?
Think Talvin is here to stay? Tell us what you think in the comments below!